Japanese festivals are not only for locals but are big events that attracts many people all over Japan.
These traditional Japanese festivals are held all over the country.
You can also see many food stands and beautiful decorated floats and shrines.
If you come to Japan, why don't you join a festival having been created through local heritage?
Here are some 31 popular festivals ranking you would like to visit in Japan.
Festivals held all over Japan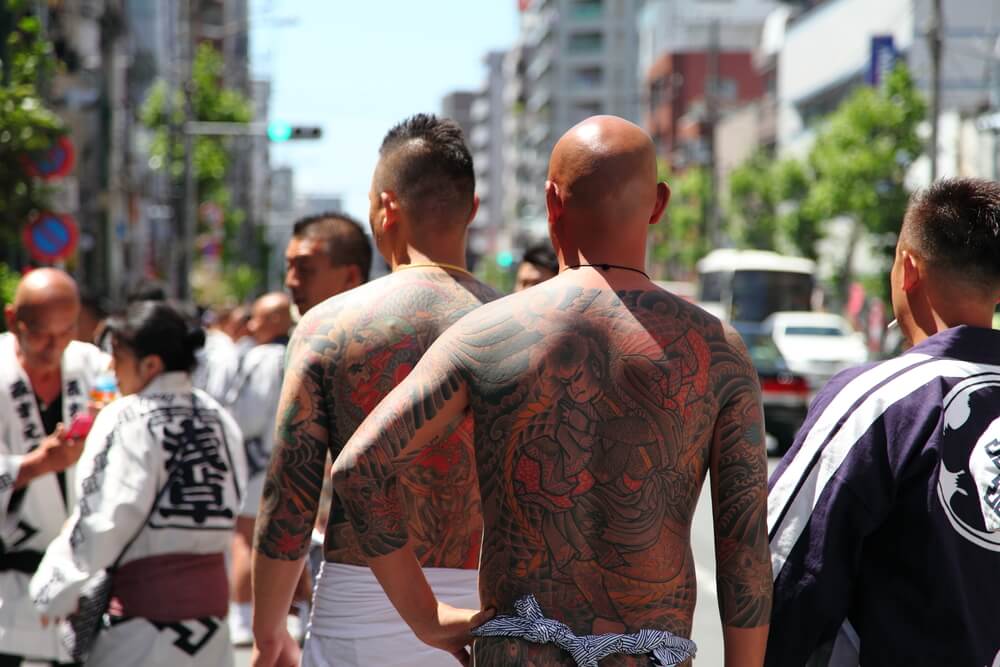 Japan has long been thought to be a place where God lives in everything from nature such as mountains and the sea to things such as houses and clothing.
Various festivals were born in all over Japan due to the polytheism that "God dwells on everything in the forest".
Japanese festivals used to be held to pray to all gods.
Since the Edo period religious nature of the festival was disappeared and It developed as a recreation for the common people.
Modern festivals are characterized by flashy and powerful performances such as mikoshi, floats, and shishimai.
Kanda Festival (Tokyo)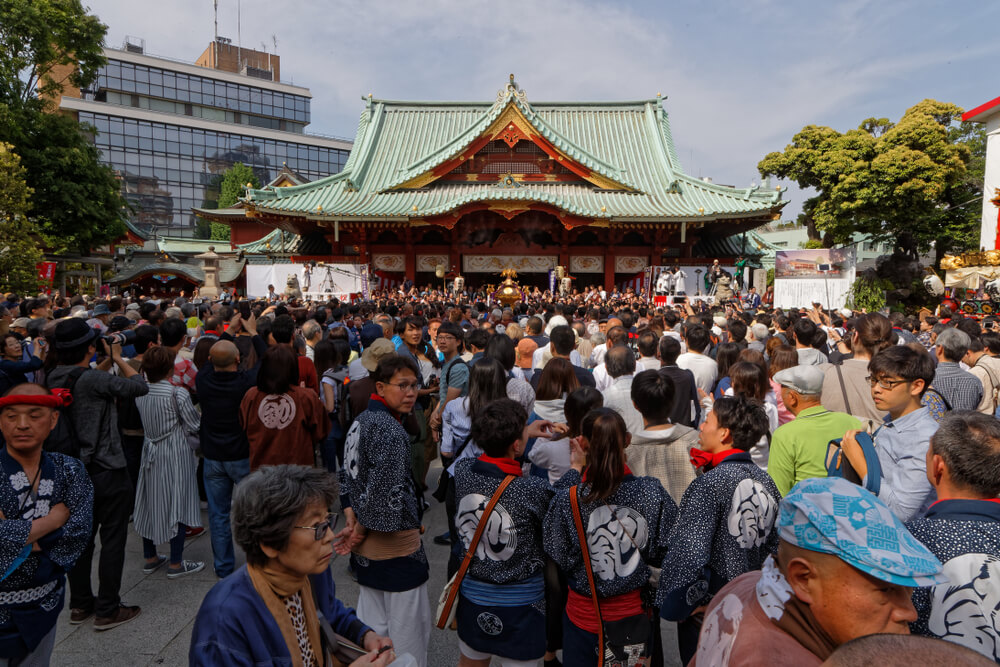 This festival is held at the shrine "Kanda Myojin" in Chiyoda-ku, Tokyo.
The Kanda Festival is one of the three largest festivals in Japan along with the Gion Festival in Kyoto and the Tenjin Festival in Osaka.
Heian Period Costume "The "Shinkosai" is a must see where 500 people who walk through Akihabara and Marunouchi.
Sanjya Festival (Tokyo)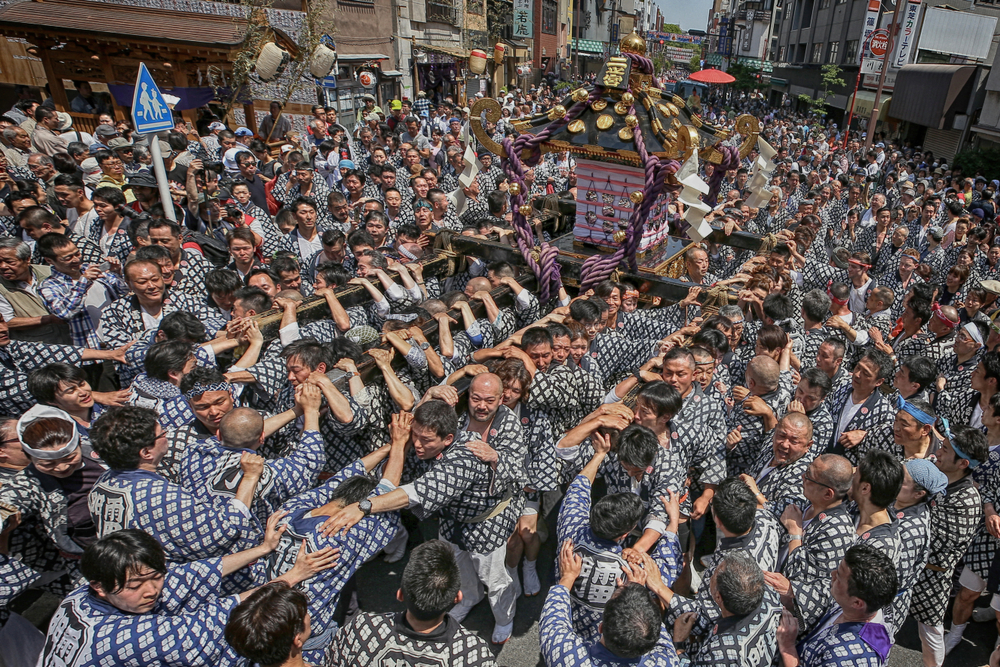 It is held every weekend for three days in the middle of May at Asakusa Shrine in Asakusa, Tokyo.
From around Asakusa Shrine,Edokko heads for Asakusa Shrine while carrying 100 shrines vigorously. 
Asakusa Shrine is right next to Sensoji Temple and is easily accessible.
The nearest stations are Tokyo Metro and Asakusa Station on the Toei Asakusa Line.
On the day of the festival, trains and the area around the station are quite crowded so let's head on early.
Sanno Festival (Tokyo)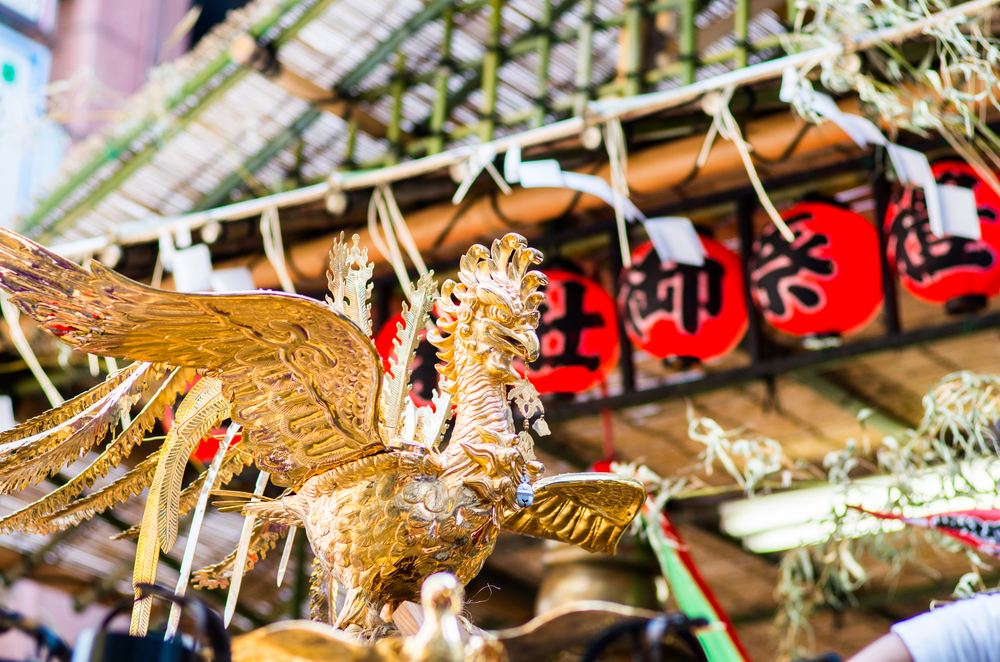 The largest festival in Tokyo the Sanno Festival is one of the three major Edo festivals along with the Kanda and Fukagawa festivals.
Hie Shrine is crowded with people who enjoy the sounds of drums and fun songs and dances.
You can also experience Japanese culture such as festival music, tea and flowers which are traditional performing arts from the Edo period.
Fukagawa Hachiman Festival (Tokyo)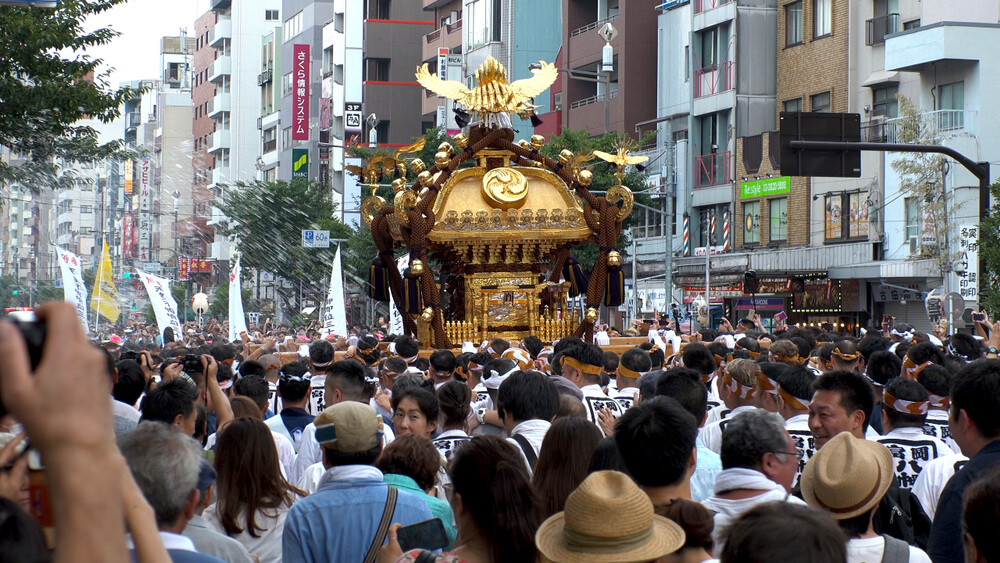 The Fukagawa Hachiman Festival is one of the three major Edo festivals visited by more than 300,000 people every year.
During the Edo period, it is said that the Eitai Bridge collapsed due to too many people.
There are buckets along the road and it is sometimes called the "Water Festival" because there is a custom of pouring the water over people who carry the shrines.
Don't miss the fun of walking around each city in Fukagawa while carrying over 120 luxurious shrines, the largest in Tokyo.
Torikoe Festival (Tokyo)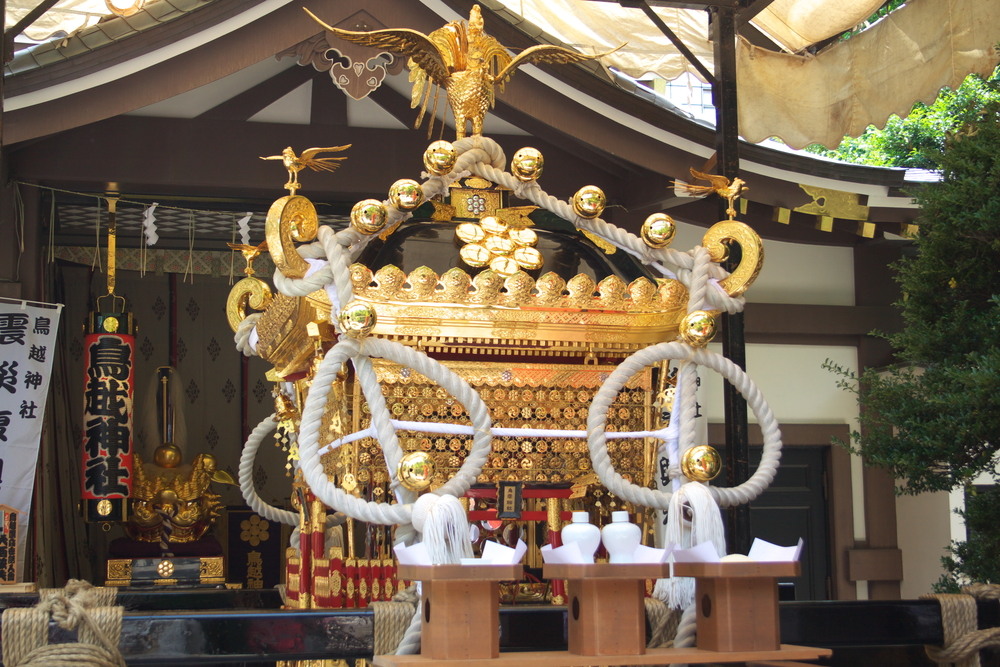 The Torikoe Festival held at Torikoe Shrine which boasts about 1360 years of history and held every June.
Senuki Shrine's large shrine is the largest in Tokyo weighing about 4 tons and 500 people carry the shrine.
During the night festival local children walk around the town with lanterns and head to the shrine.
Kishiwada Danjiri Festival (Osaka)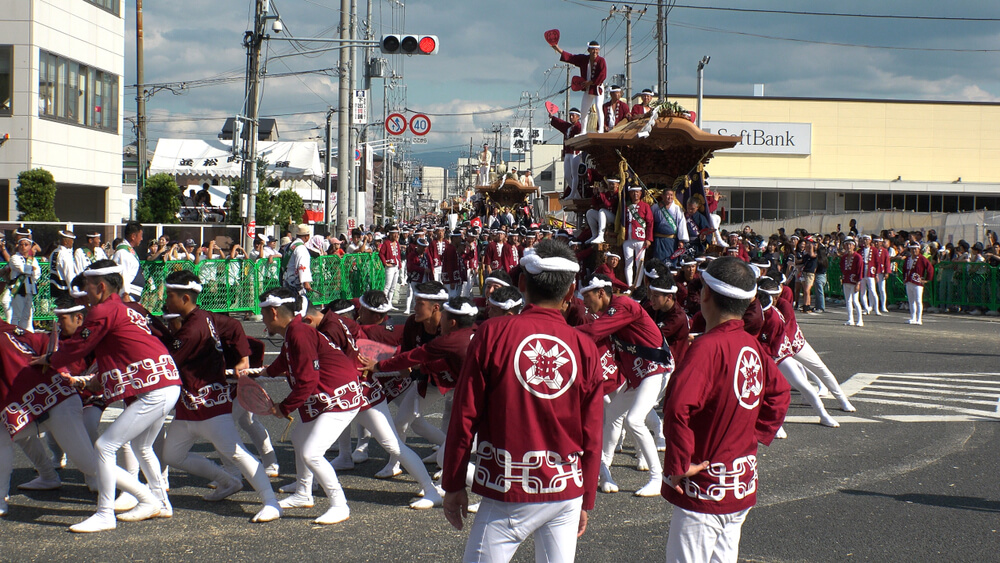 Kishiwada Danjiri Festival has a history of about 300 years since the Edo period.
The festival is held twice a year in September and October and the festivals in Kishiwada and Haruki which are held in September are especially popular in the media.
The biggest highlight is "turnaround", which draws a right-angle curve with a weight of about 4 tons.
Sumiyoshi Taisha Shichigosan Festival (Osaka)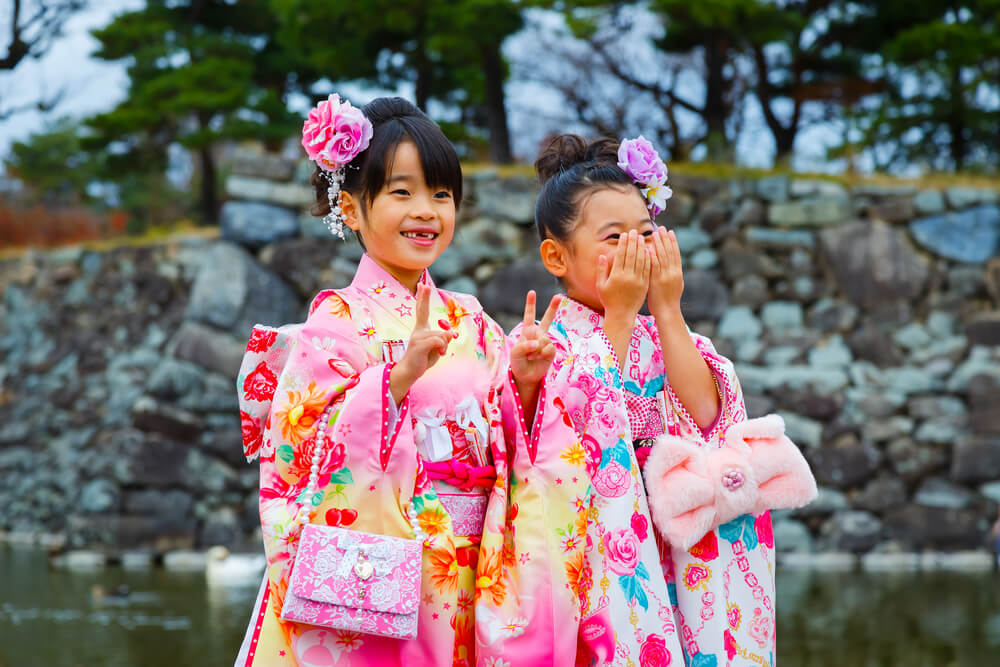 A traditional festival at Sumiyoshi Taisha for praying for the growth,
appreciation and sickness of children aged 3, 5 and 7 years old.
The day of worship is generally November 15, but the recommended timing is
September to December, when you can take pictures with beautiful autumn leaves in the background.
Hakata Gion Yamakasa (Fukuoka)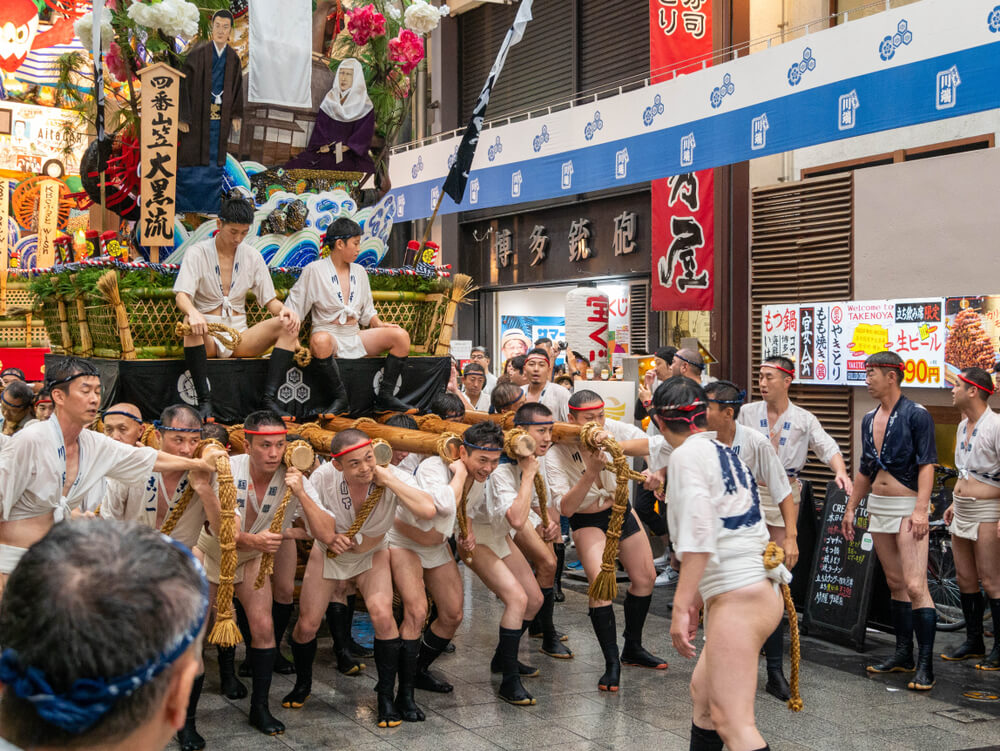 Hakata Gion Yamakasa, a summer festival dedicated to Hakata's total guardian Kushida Shrine, is registered as a UNESCO Intangible Cultural Heritage.
A must-see is the "Group Mountain Show" where you can fully enjoy Yamakasa.
You can easily enjoy the luxurious Yamakasa feeling around Hakata Station and Tenjin.
Red leaves Festival (Fukuoka)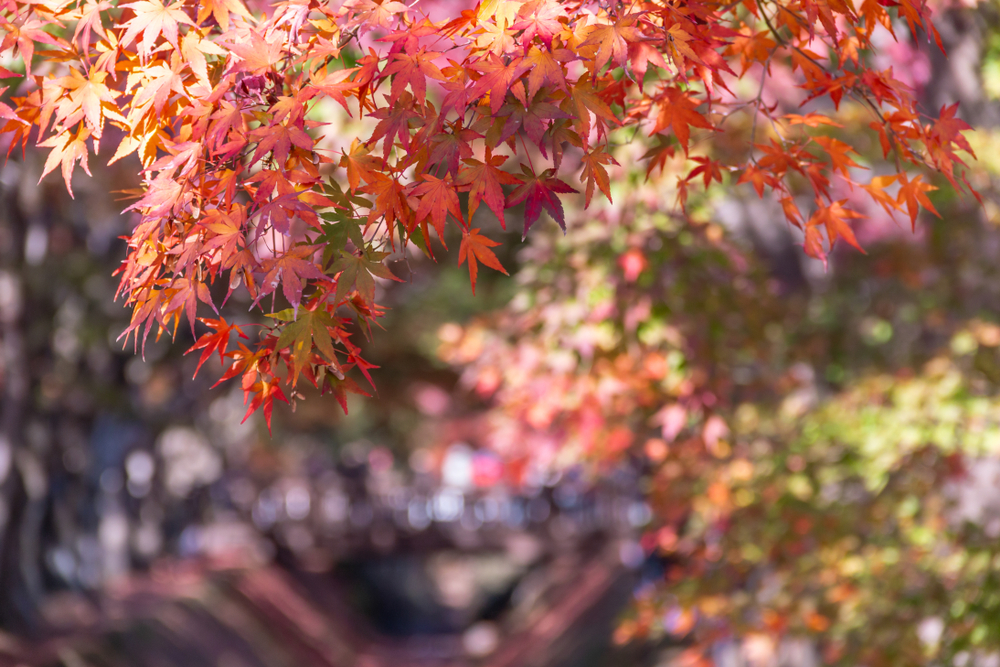 A beautifully colored autumnal festival is held under trees over 200 years old.
There are stalls in the precincts, performances by mini-concerts and street performances, and lighted up fantastically at night.
Gion Festival (Kyoto)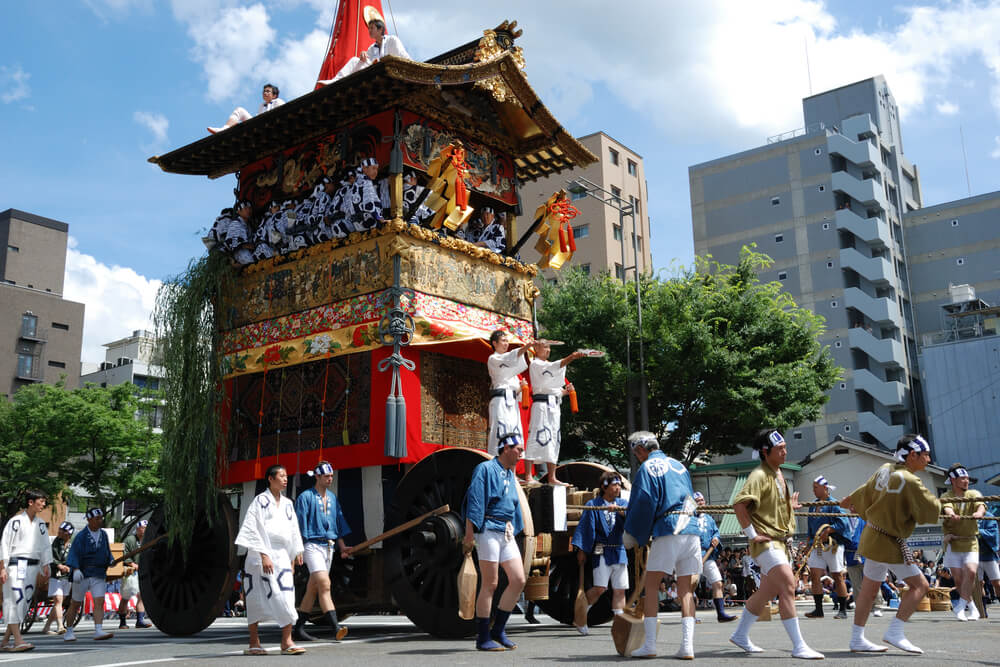 The "Kyoto Three Major Festivals" are"Aoi Festival", "Gion Festival" and "Jidai Festival" are all brilliant, beautiful and Japanese traditions.
The Gion Festival, which has a history of more than 1,000 years, is registered as one of the three major festivals in Kyoto and is a UNESCO Intangible Cultural Heritage.
Yasaka Shrine is a festival of various festivals during the month of July.
The pre-festival held on the 17th and the post-festival on the 24th, the tour of the foothills was a great
excitement when the city of Kyoto was wrapped in enthusiasm.
Period festival (Kyoto)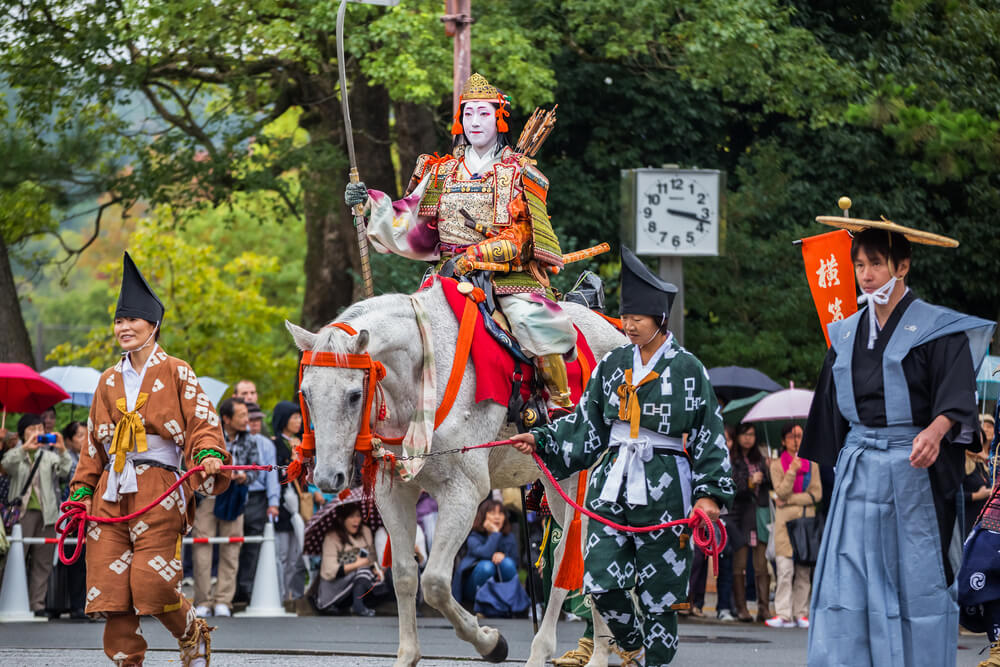 One of the three major festivals in Kyoto, the "Jidai Festival" is the Heian Shrine Grand Festival held on October 22nd.
Costumes and festival equipment are all made of authentic products based on strict historical evidence.
From Kyoto Imperial Palace to Heian Jingu Shrine, about 2,000 people will wander with the sound of the whistle and drums played by the mountain corps.
Sapporo Snow Festival (Hokkaido)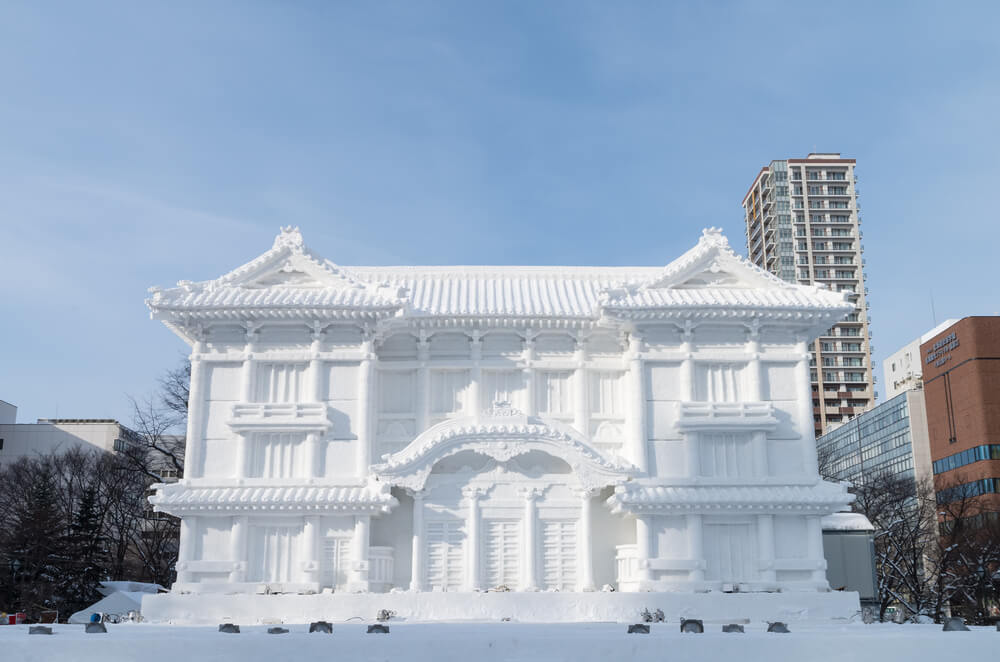 The history of the Sapporo Snow Festival began in 1950 when local junior and senior high school students created a snowman in Odori Park.
The Sapporo Snow Festival now has over 2.6 million visitors, and the number of snow statues has grown to over 200.
It is lit up at night and has a different atmosphere from day time.
Abashiri Okhotsk Drift Ice Festival(Hokkaido)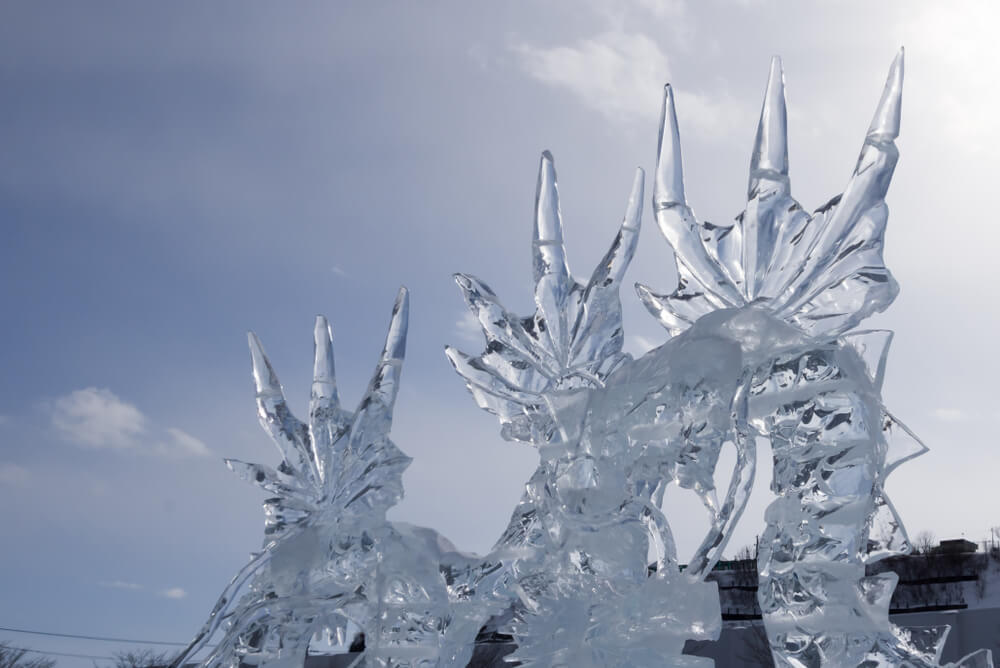 Held every year in early February, you can enjoy specialties such as king crab and soy sauce pickled while watching "Drift Ice Mikoshi".
Don't miss outfits with embroidered patterns from the northern minority wilta.
Nagasaki Lantern Festival (Nagasaki)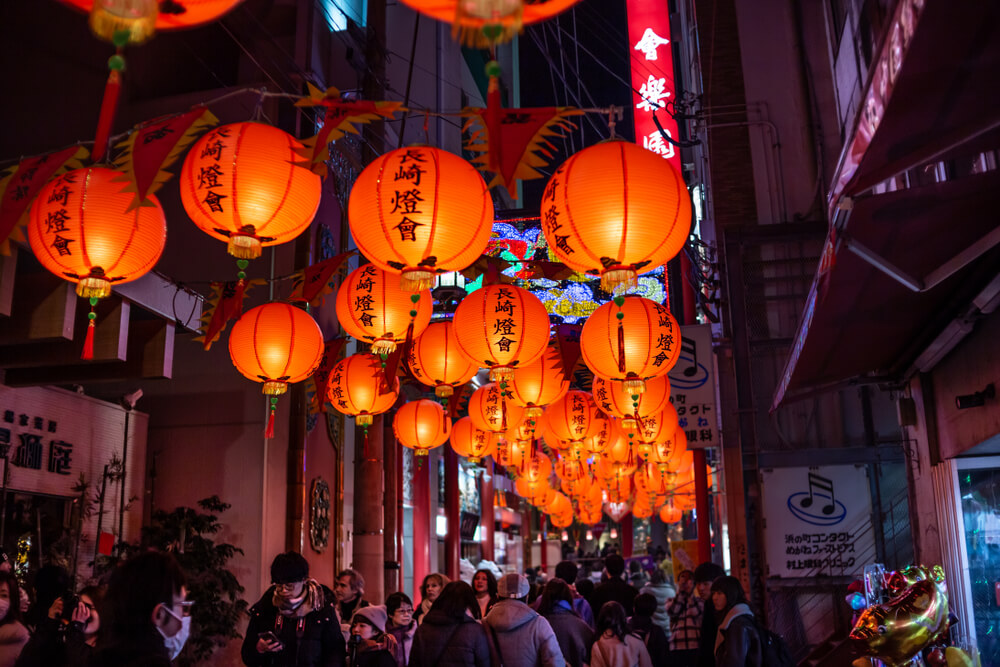 The Nagasaki Lantern Festival is an event that celebrates the Chinese New Year which is influenced by the Chinese festival "Spring Festival".
Every year from February to early March, more than 10,000 colorful lanterns are displayed throughout the city, attracting about 1 million tourists.
Kawatana Katashima Bamboo Lantern Festival (Nagasaki)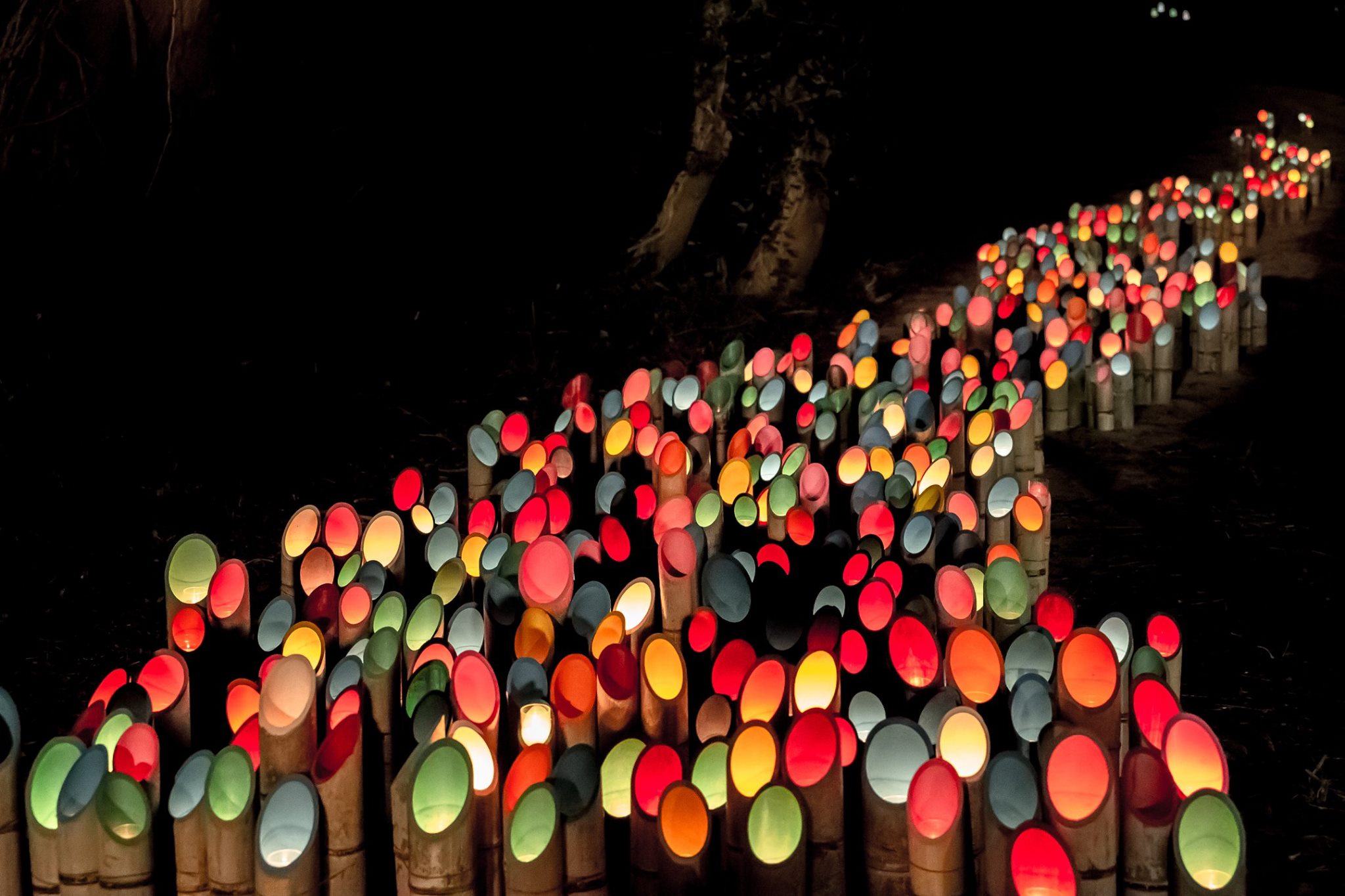 It is a festival that wishes for peace, with more than 10,000 bamboo lanterns and candle lights in the 100-year-old war remains.
With the theme of "Peace begins with a smile", we produce bamboo lanterns using "bamboo" that grows naturally in the town.
Owara-style Bon (Toyama)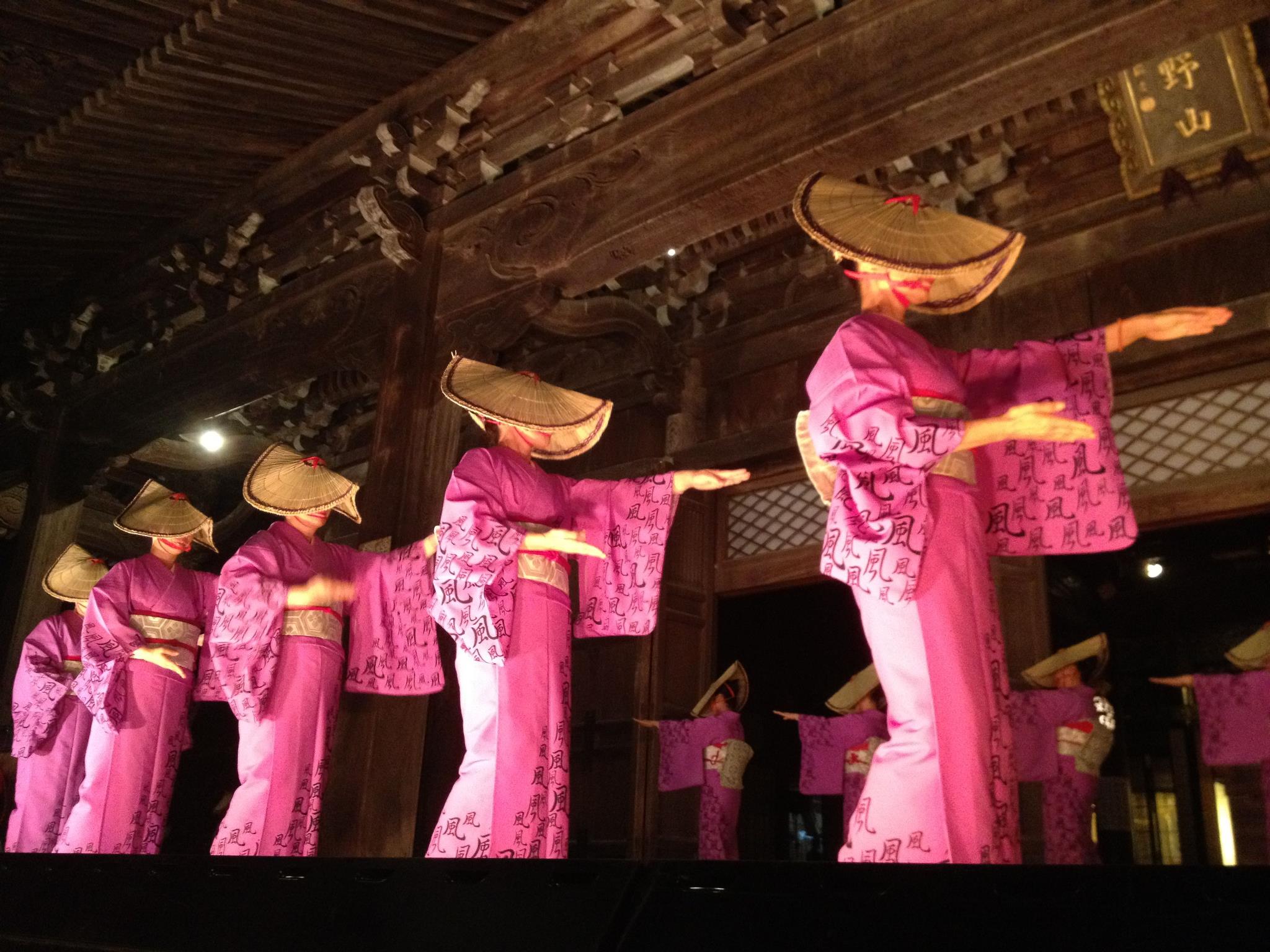 The Owara Kaze no Bon, which has a history of more than 300 years, is a festival where local people hold street dances.
Held every year for three days from September 1st you can enjoy singing and dancing to the drums.
Toyama Festival (Toyama)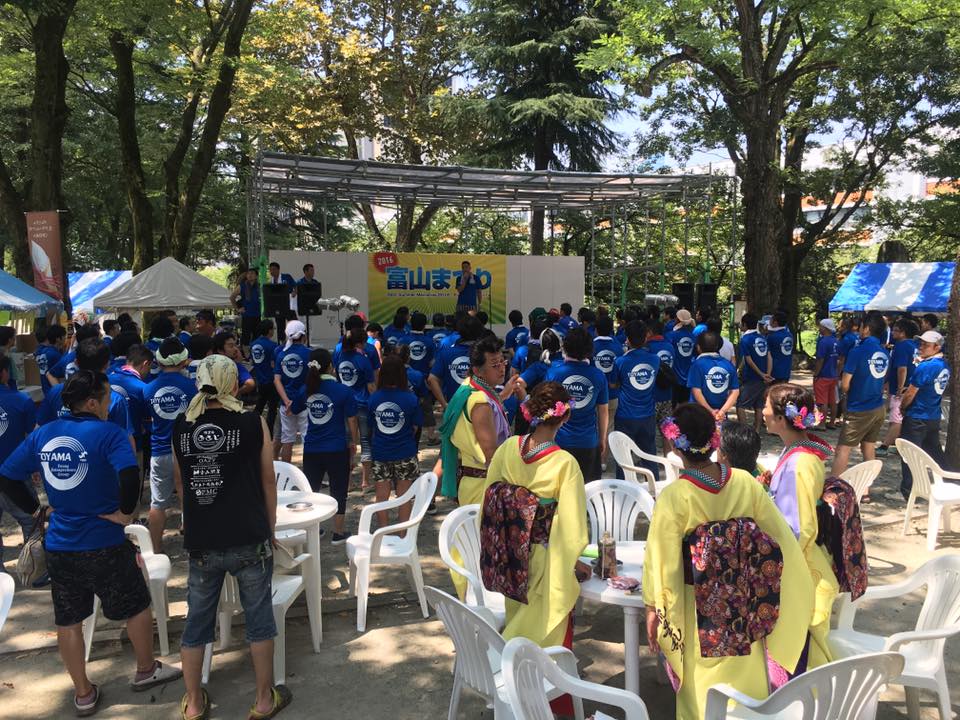 This is a large-scale ring dance performed by a large number of participants every year.
There are events such as parades, stage performances, and "Dance Events & Concerts for the People".
Takayama Festival (Gifu)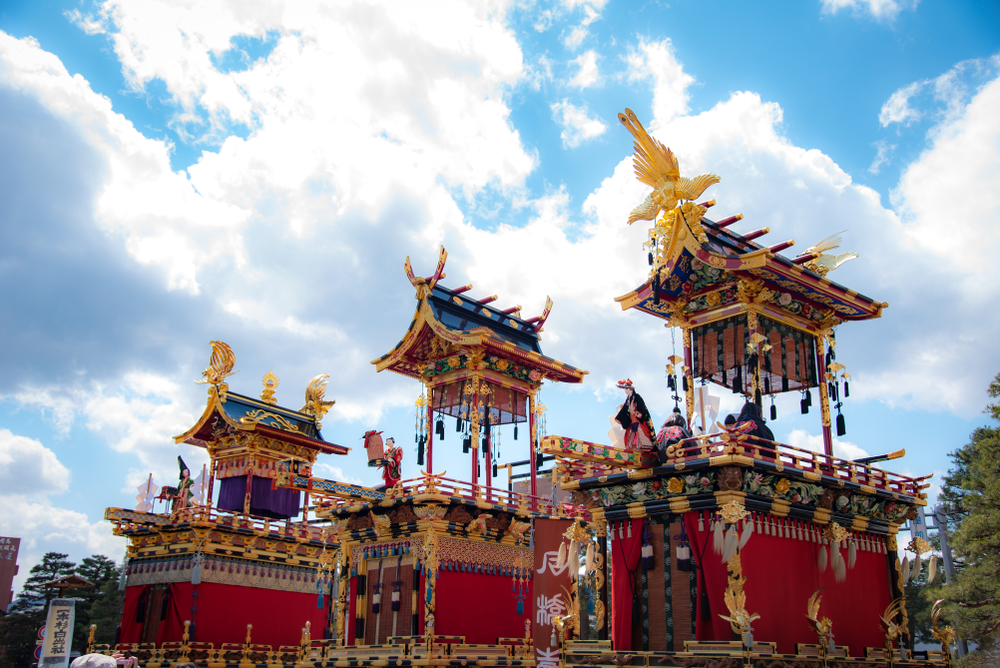 The three major beauty festivals in Japan, the "Takayama Festival", include the "Sanno Festival" held in spring at Hie Shrine and the "Hachiman Festival" held in autumn at Sakurayama Hachimangu Shrine.
They will perform folk performing arts such as gorgeous karakuri dolls,lion dance and cockfighting.
Yumori Mori Maple Festival (Gifu)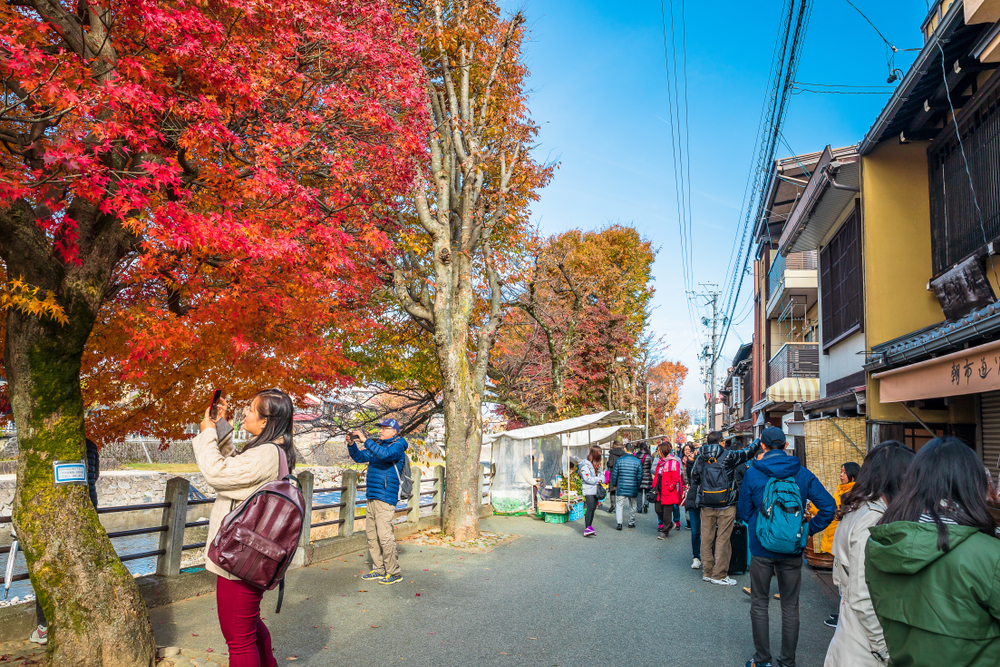 It is a festival where you can enjoy camping with the whole family while enjoying the beautiful scenery of the autumn leaves and the beauty of the valley.
The November-limited evening forest maple of 15,000 autumn leaves is a masterpiece.
Aomori Nebuta Festival (Aomori)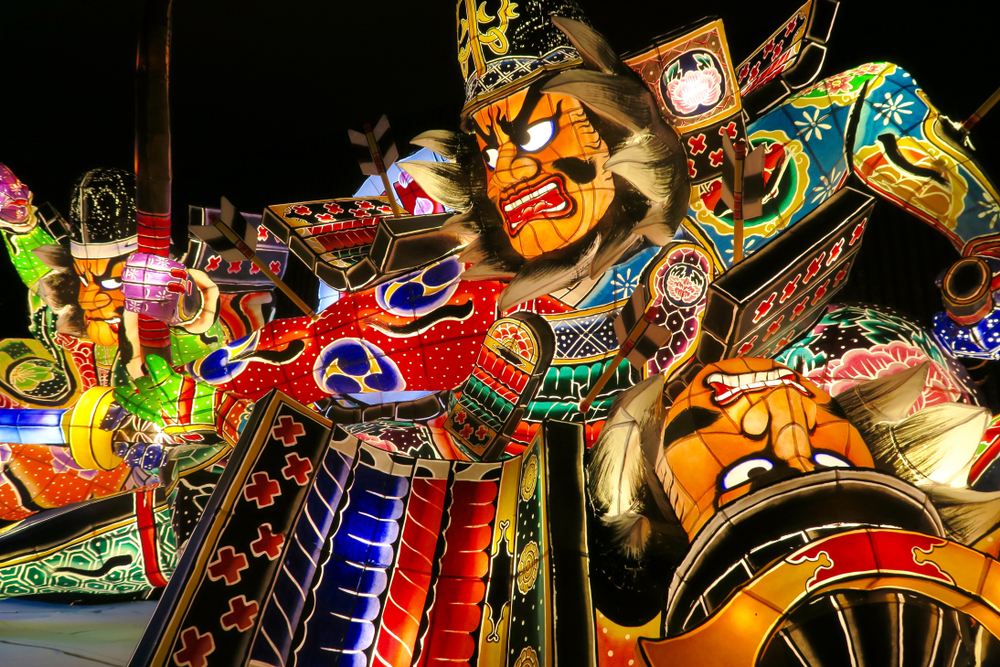 Aomori Prefecture is known as one of the most exciting festivals in Japan including Nebuta.
The Aomori Nebuta Festival, held every year in early August is designated as an important intangible folk cultural asset of the country.
Many young people walk behind the giant "Nebuta" with Kabuki dancing with a shout of "Lasse!".
Hachinohe Sanjya Tsisya Festival (Aomori)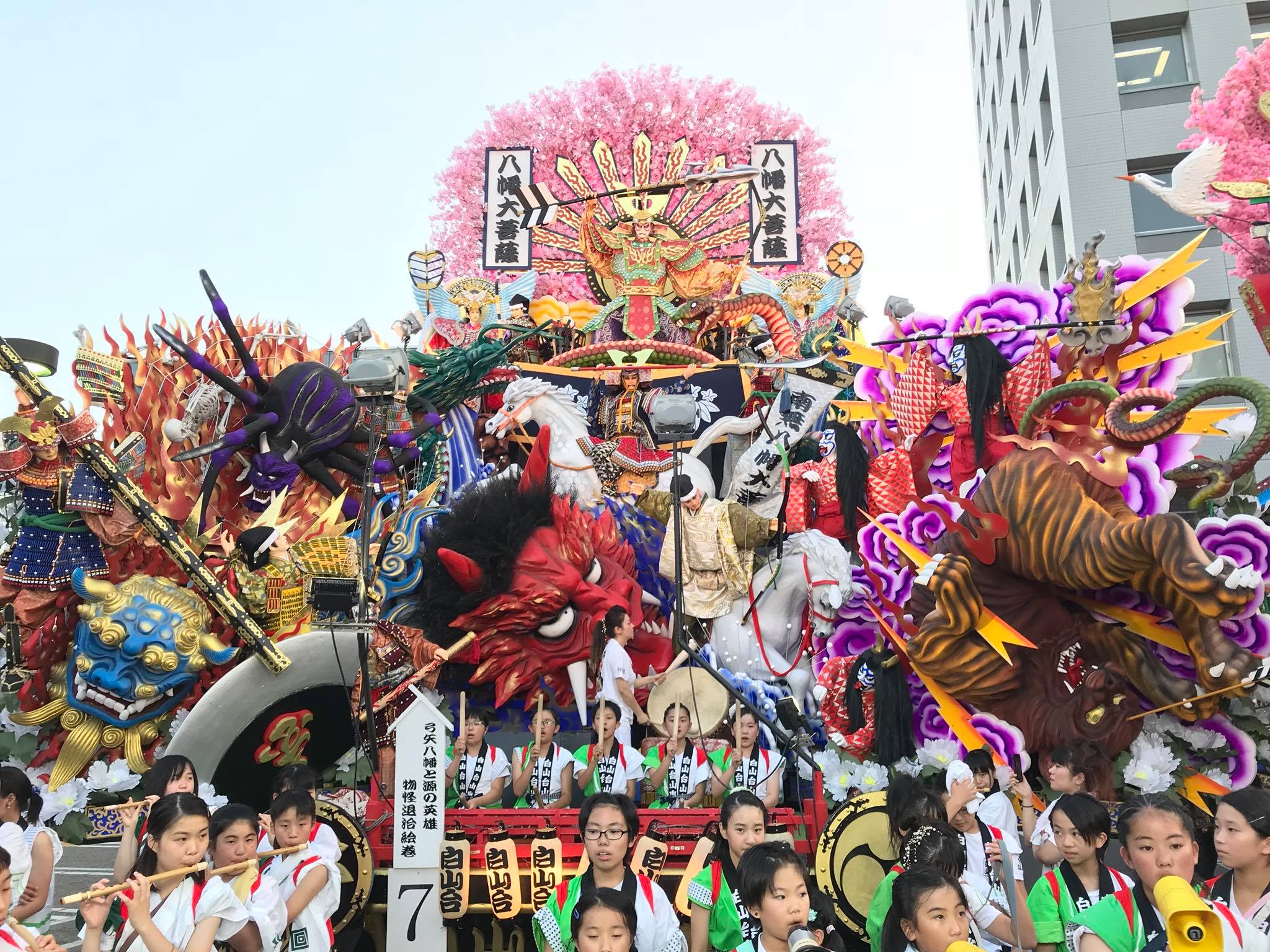 There are 27 floats in total, which are called "Hachinohe Shrine Festival floats" and are designated as an important intangible folk cultural properties.
Sendai Tanabata Festival (Miyagi)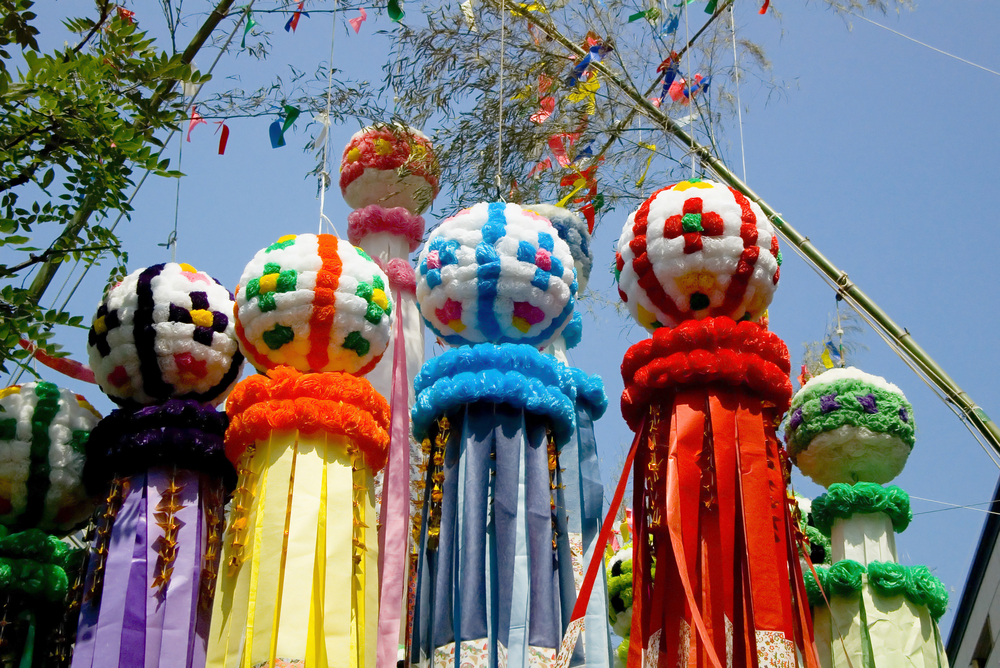 Miyagi Prefecture in Tohoku has traditional nostalgic festivals such as traditional shrines, Bon festival dances, festivals and Tanabata festivals.
The Sendai Tanabata Festival, one of the three major Tohoku Festivals with Aomori Nebuta and Akira Akita, is a big event that attracts more than 2 million people every year.
Beautiful and gorgeous Tanabata decorations lineup from Sendai Station to Chuo-dori and Ichibancho-dori Arcade Street.
SENDAI Light Pageant (Miyagi)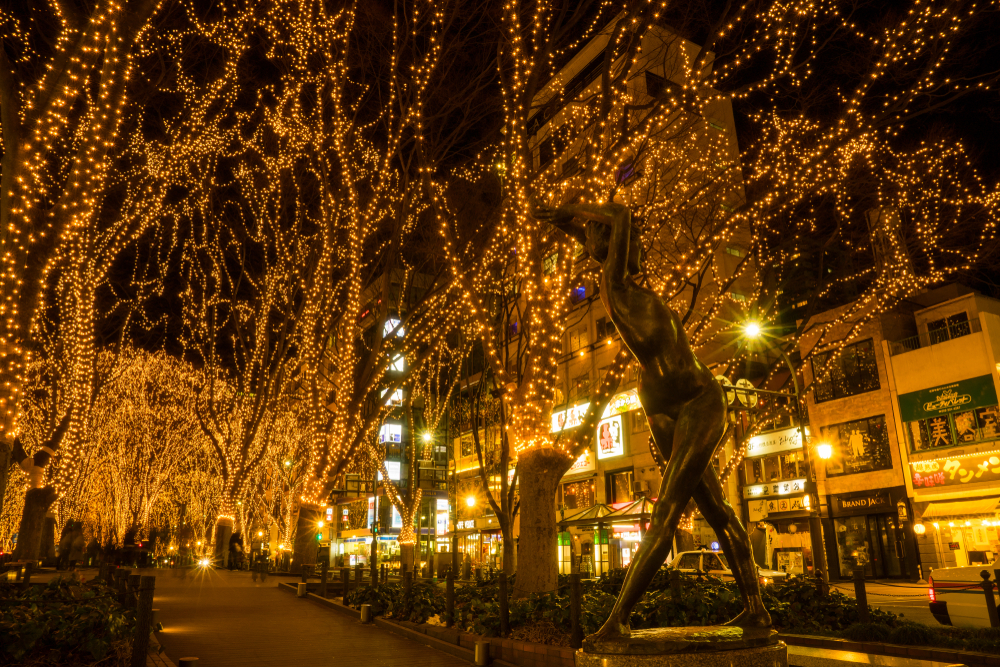 It is a festival that lights up with hundreds of thousands of LEDs attached to Jozenji-dori and Aoba-dori zelkova trees in the center of Sendai.
Kanto Festival (Akita)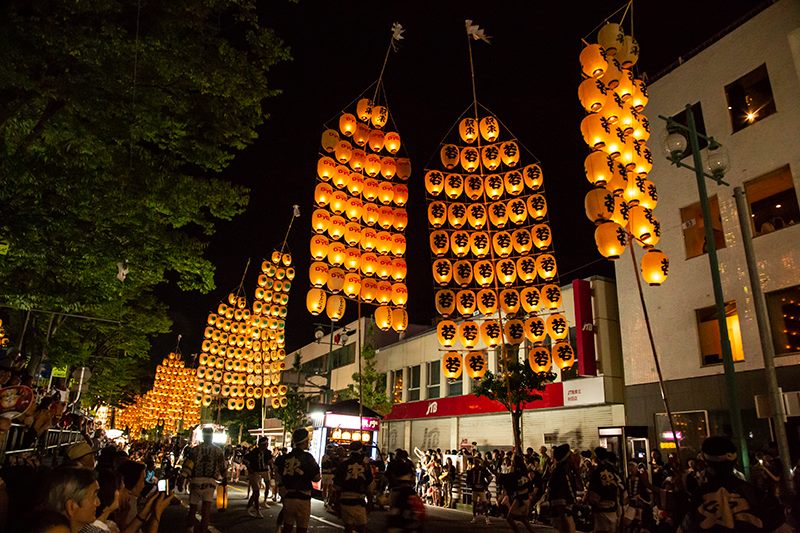 Akita's Kanto Festival is one of the three major Tohoku festivals along with the Aomori Nebuta Festival and Sendai Tanabata Festival.
Lighted lanterns are fantastically dyed in the night sky to get rid of the midsummer sickness and evil spirits.
Kakunodate Cherry Blossom Festival (Akita)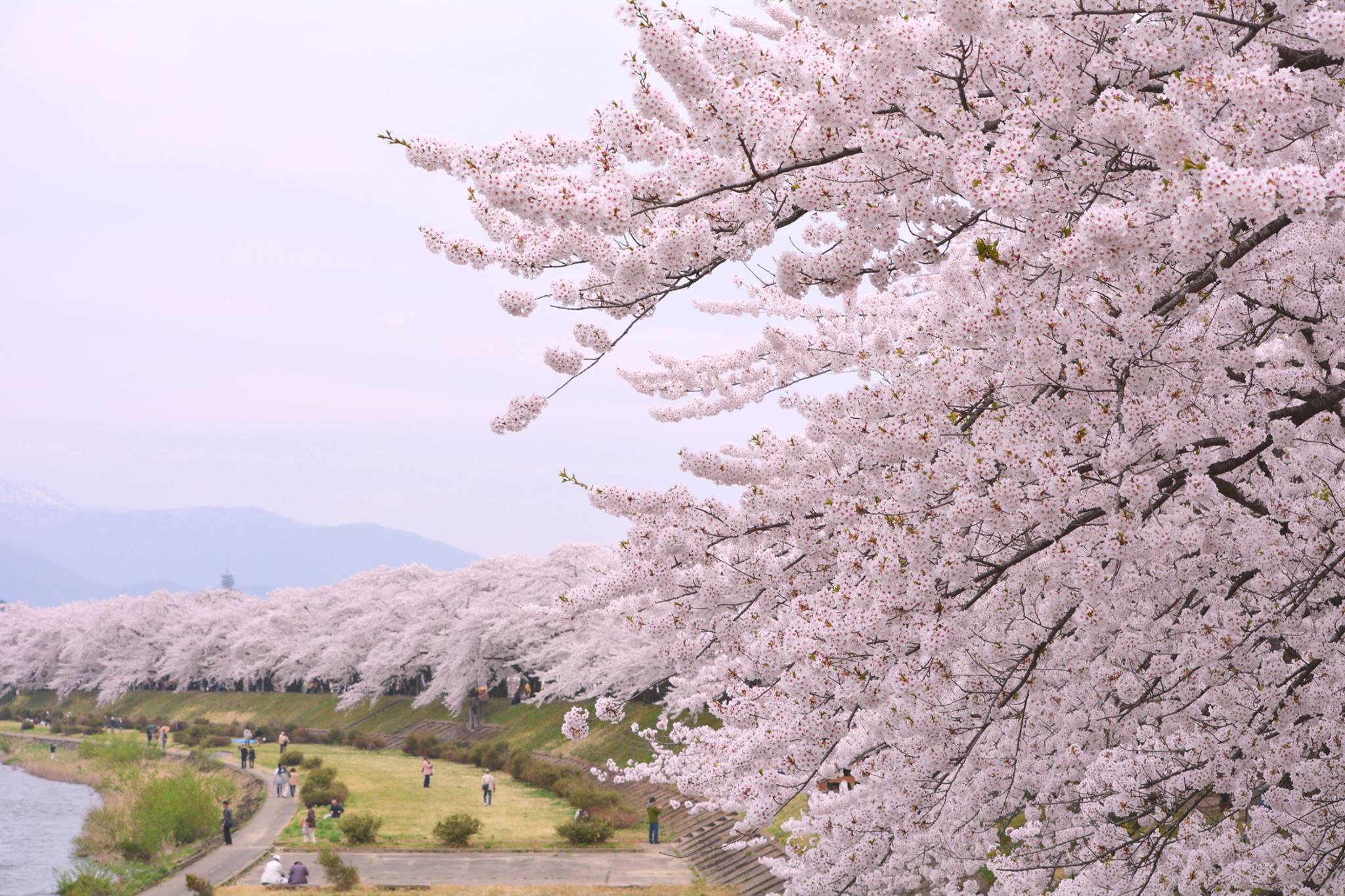 The row of cherry blossom trees that has been planted to commemorate the birth of the Majesty Imagami and continues for about 2 kilometers is a superb view.
Awaodori (Tokushima)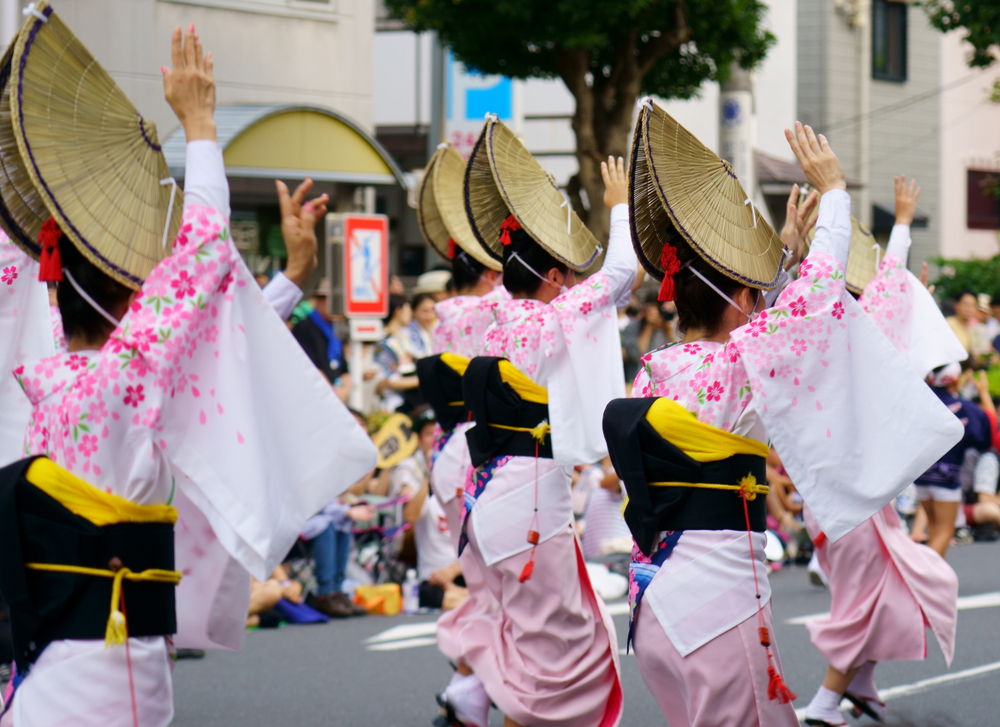 "Awaodori" held in Tokushima Prefecture during the Bon Festival is a unique style of dancing and walking among the audience.
A shamisen and taiko are added to create a unique rhythm for young and old men and women.
Because it will guide you to dance, even a beginner one can participate easily.
Ichiu Furusato Festival (Tokushima)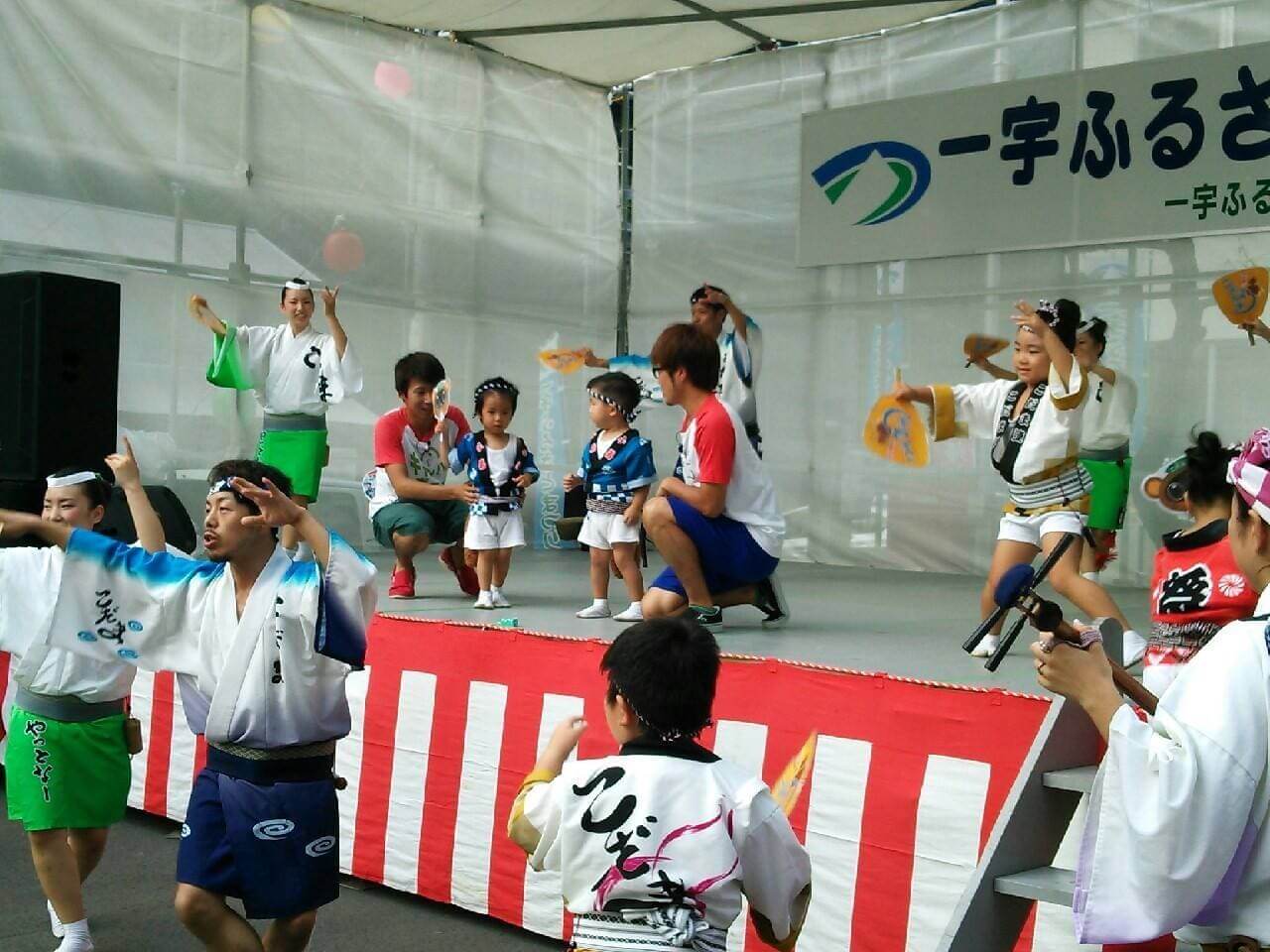 During the Bon Holiday, people who return home enjoy a variety of nostalgic events such as Awa Odori performances.
The food stalls that sell local foods such as Sadano-dango are also popular.
Yosakoi Festival (Kochi)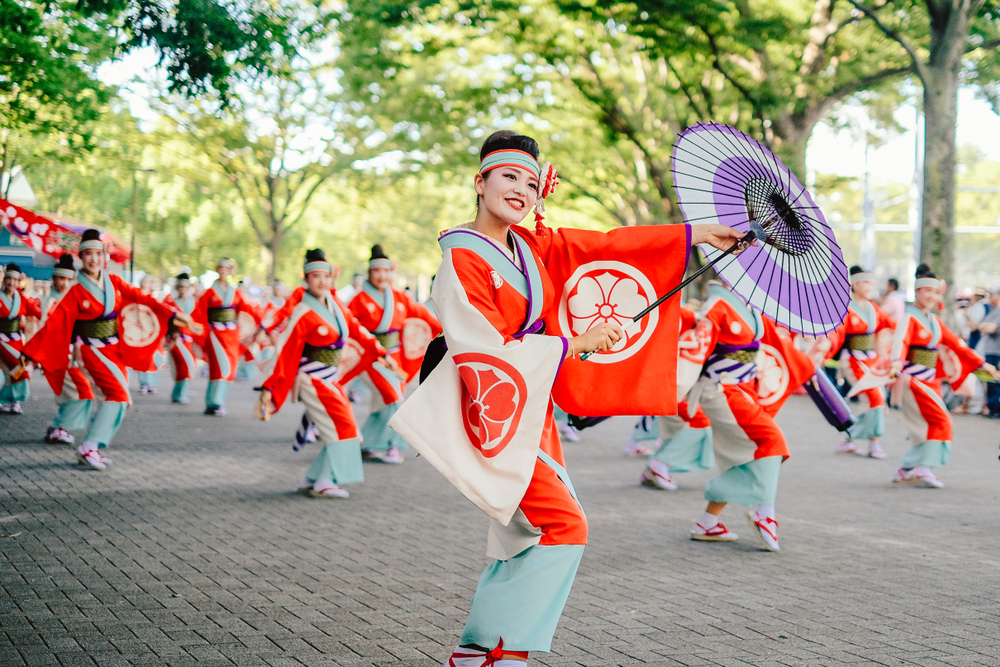 The Yosakoi Festival, which has a history of more than 50 years is held in the center of Kochi City for 4 days from August 9-12 every year.
There is no choice of dance and choreography and is free when combined with an instrument called "Naruko".
Dancers who dance rock, samba and hip hop in kimono will also appear.
Ekin Festival (Kochi)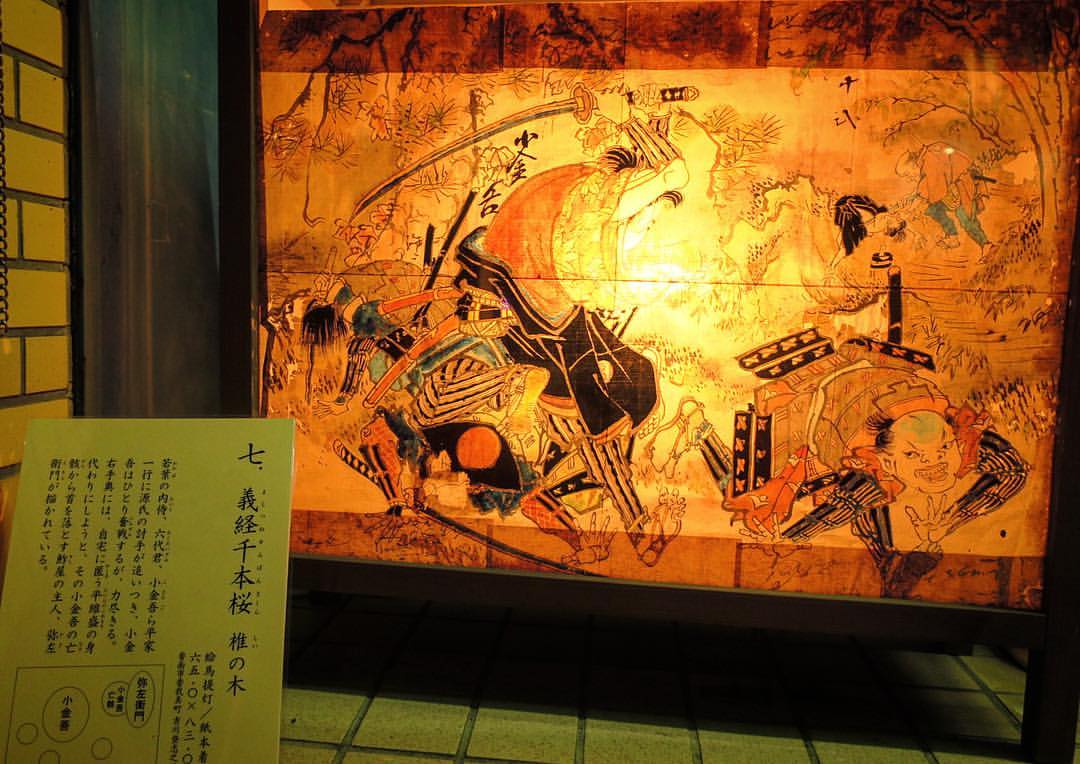 It is a lively festival where a lot of events are held in order to decorate the shopping street with a picture-style display of picture gold on the shopping street.
Twenty-three play-style screens displayed at the Ekin Festival were designated as protected tangible cultural properties of Kochi Prefecture.
Okinawa All Island Acer Festival(Okinawa)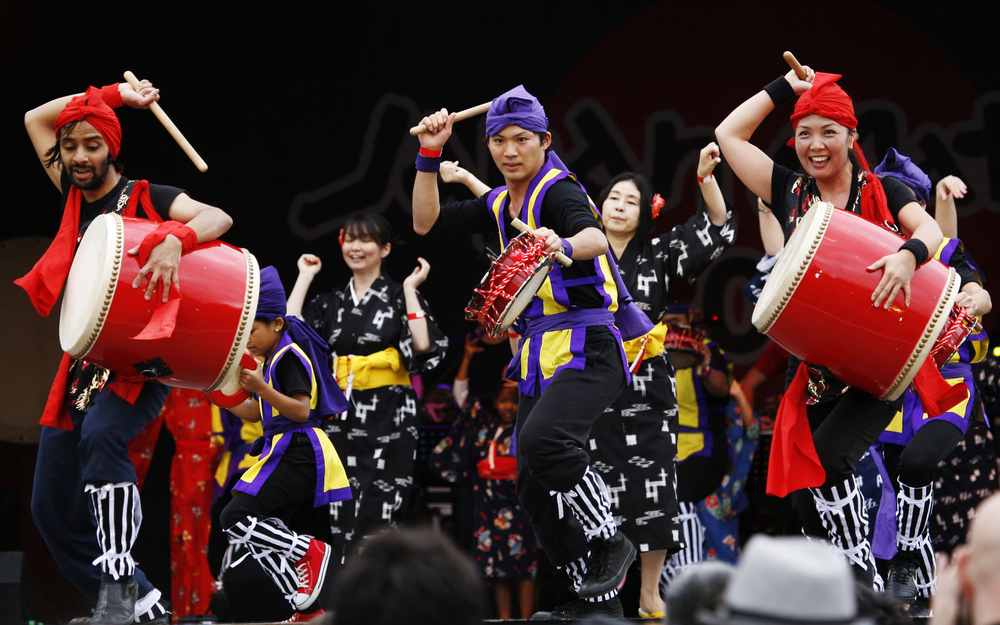 Okinawa still has rituals and rituals that were influenced by the Chinese calendar and China.
You can enjoy Okinawa's traditional performance "Acer" by many groups at the athletics stadium of Koza Sports Park.
The drums that match the song and the third line resonate and fireworks display at night.
Naha Kokusai Street 10,000 Acer Dance Corps (Okinawa)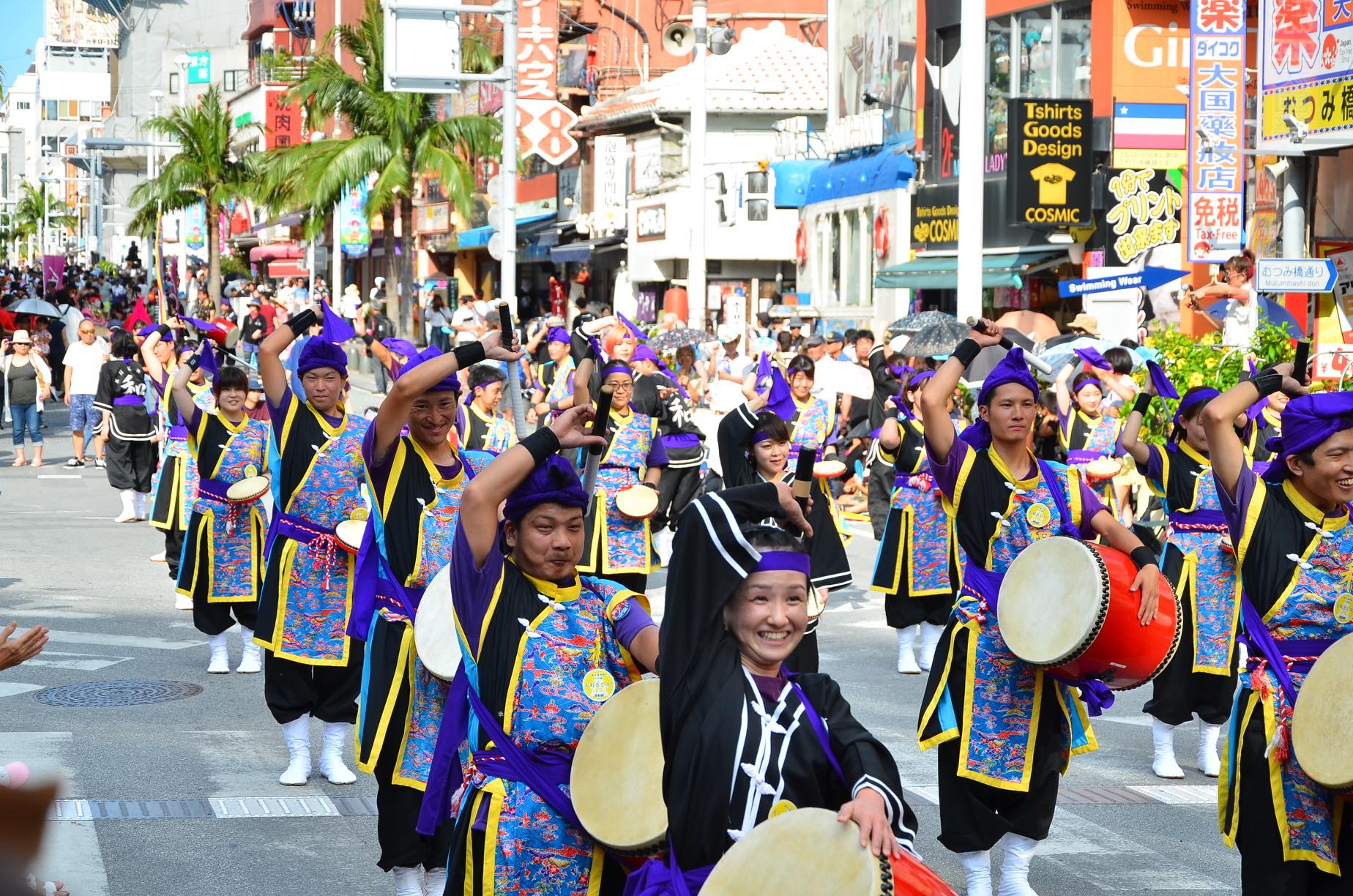 Every year on the first Sunday of August, Naha Kokusai Street is a pedestrian paradise.
More than 1,000 people practice traditional Acer and modern dances while performing.
Summary
The festivals are crowded with many people so let's go out with comfortable clothes and shoes.
If you are visiting by train, it is convenient to buy a return ticket in advance.
Please have fun and enjoy yourself in Japanese festivals.