Japanese drums called Wadaiko and its lessons are popular both in Japan and overseas.
Wadaiko classroom is where you can experience the Japanese culture.
When you hit a Japanese drum, a big heartbeat resonates in your heart.
We will introduce the charm of wadaiko and the popular lesson called "HIBIKUS".
What is Wadaiko?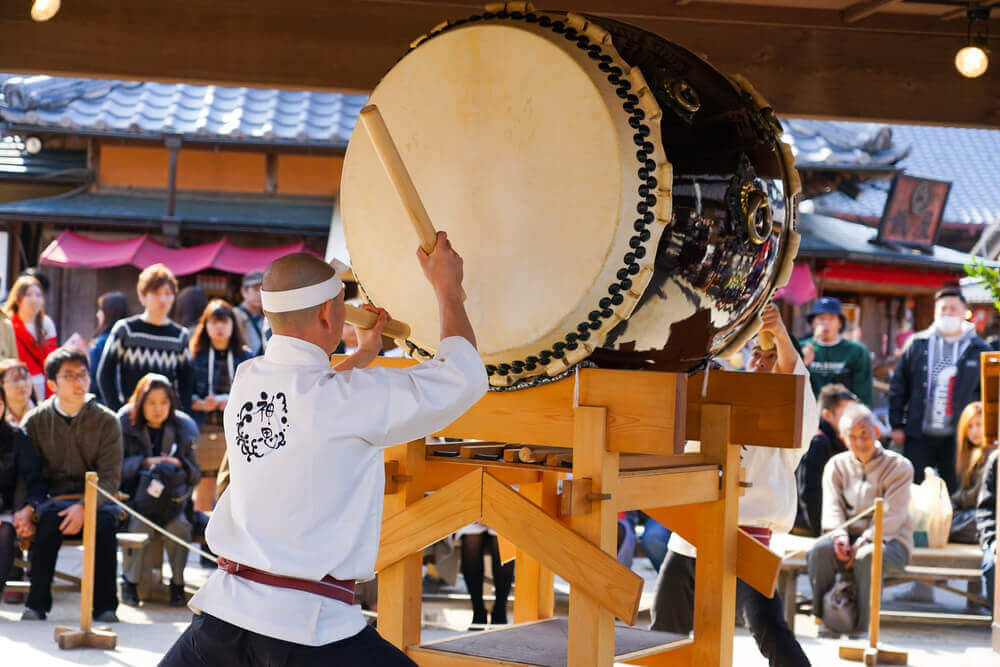 "Waiko" is a general term for percussion instruments that have been representative of Japan since ancient times.
There are various types of Japanese drums and the sound changes depending on the material, thickness ,size and length of the drum.
Waiko is roughly divided into 3 types
Nagado daiko/Long drum
Shimedaiko
Okedo daiko
In addition to traditional performing arts such as Nou and Kyogen, Japanese drums are indispensable for festivals and Bon Odori.
About the history of Japanese Drums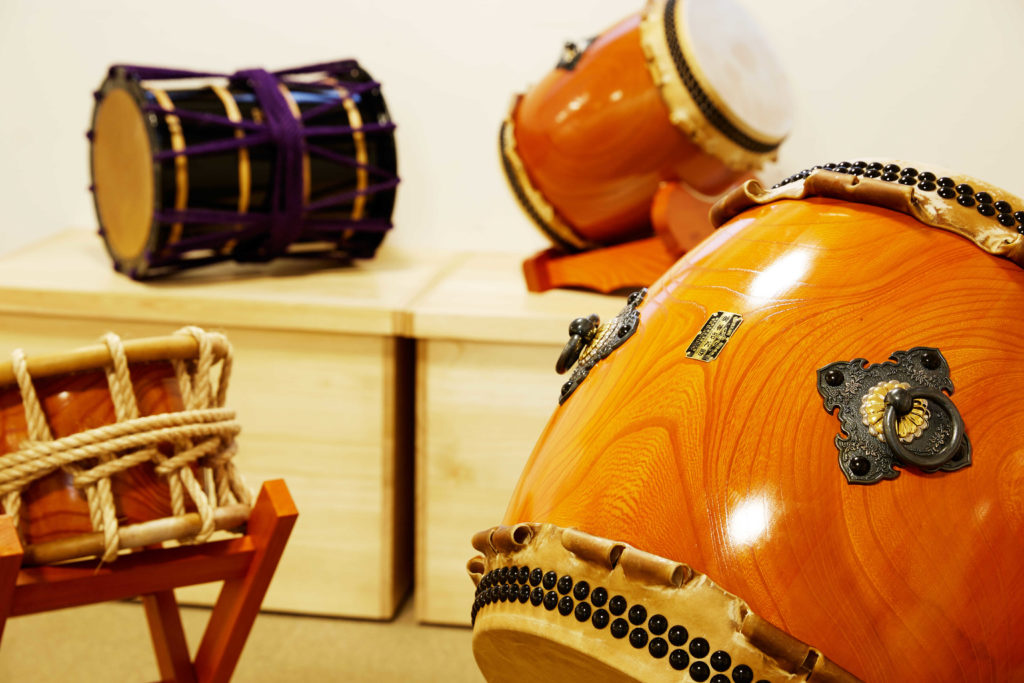 The history of the Japanese drum "Wadaiko", which is familiar to Japanese people, dates back to the late Kofun period around 500 BC.
In ancient Japan, membrane devices were collectively called "tsuzumi.
"The oldest drum material in Japan is Haniwa which was excavated from the Tenjinyama burial mound in Gunma prefecture.
A ceramic doll Haniwa and a wreath were found hitting the drum from the body.
The origin of "Wadaiko" has changed from "Taiku" to "Taiko" which means Chinese Taiku.
Hayashibayashi drums became popular during the Kamakura period (1185-) .
And during the Warring States period (1943-) an army called "Zin Daiko" was created to boost war and morale for the soldiers.
During the Edo period (1603 onwards), it was used as an accompaniment to competitions and festivals where art and technology were competed.
Wadaiko is a hot Topics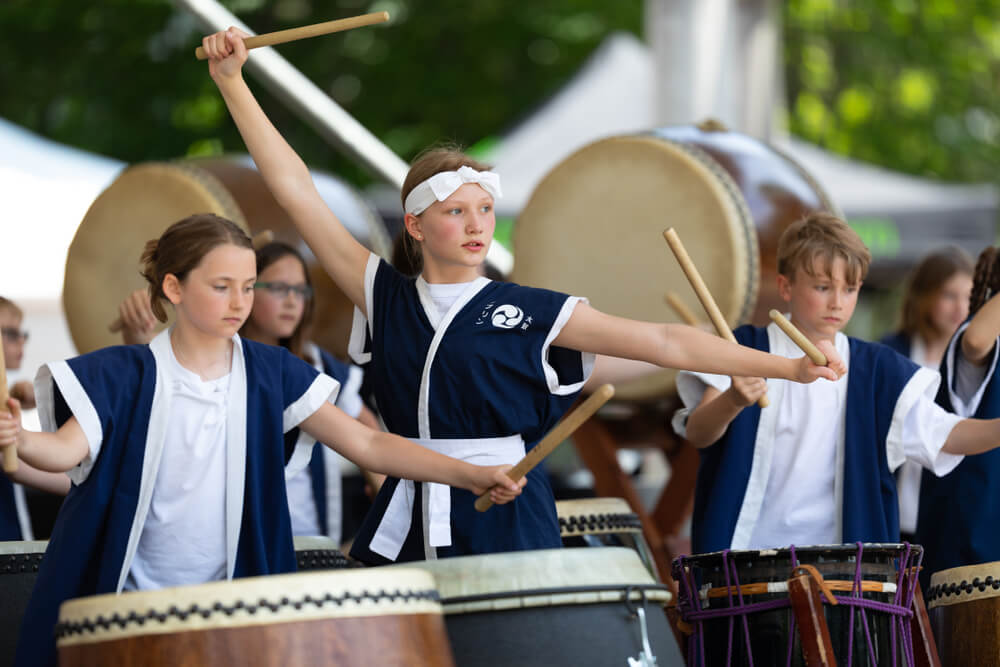 Modern Japanese drums such as "amateur drums" and "Kumi drums" in a professional group.
There are many Wadaiko artists who are active overseas and are receiving worldwide attention.
Wadaiko performances and videos of Wadaiko,a Japanese traditional craftsman are very popular on YouTube and social media.
KaDON, a U.S. subsidiary founded by Unosuke Miyamoto Shoten.
They offers Wadaiko lessons through the web to open up more possibilities of Wadaiko for drummers around the world.
The kaDON project holds workshops in various locations and sells taiko-related merchandise.
They have an online store and other initiatives to promote wadaiko to the world.
Japanese Drum Learning Classes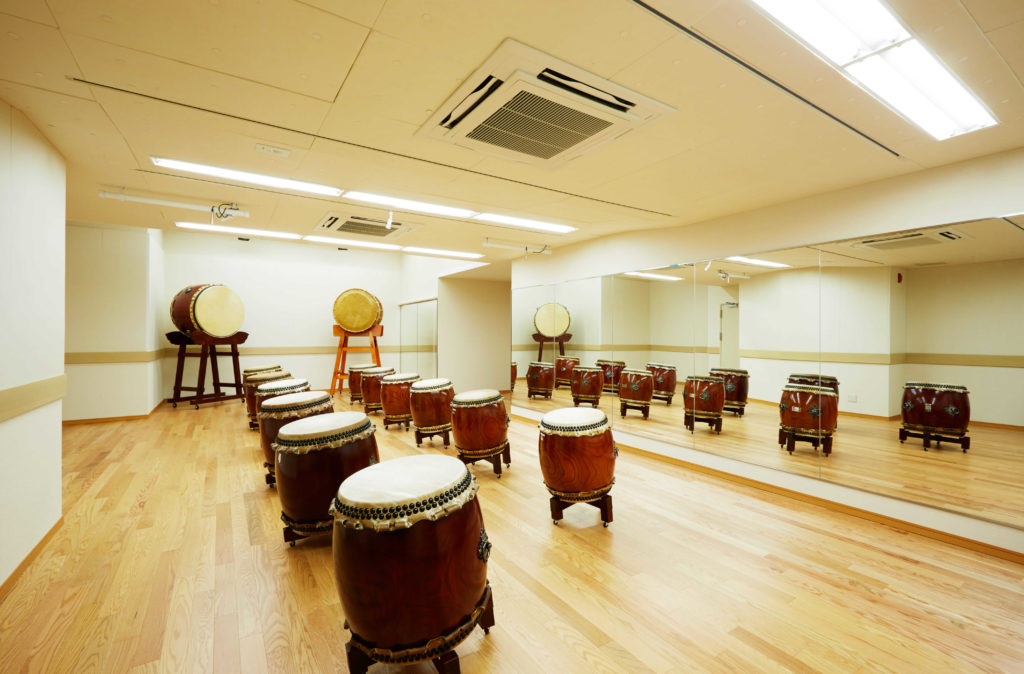 If you want to learn Japanese drums or play Japanese drums, so why not join us for a lesson?
"HIBIKUS" is a classroom where you can experience the fun of drums, as there is a beginner class for Japanese drums.
There are various lessons for each level, so you can learn in stages.
Popular classes "HIBIKUS"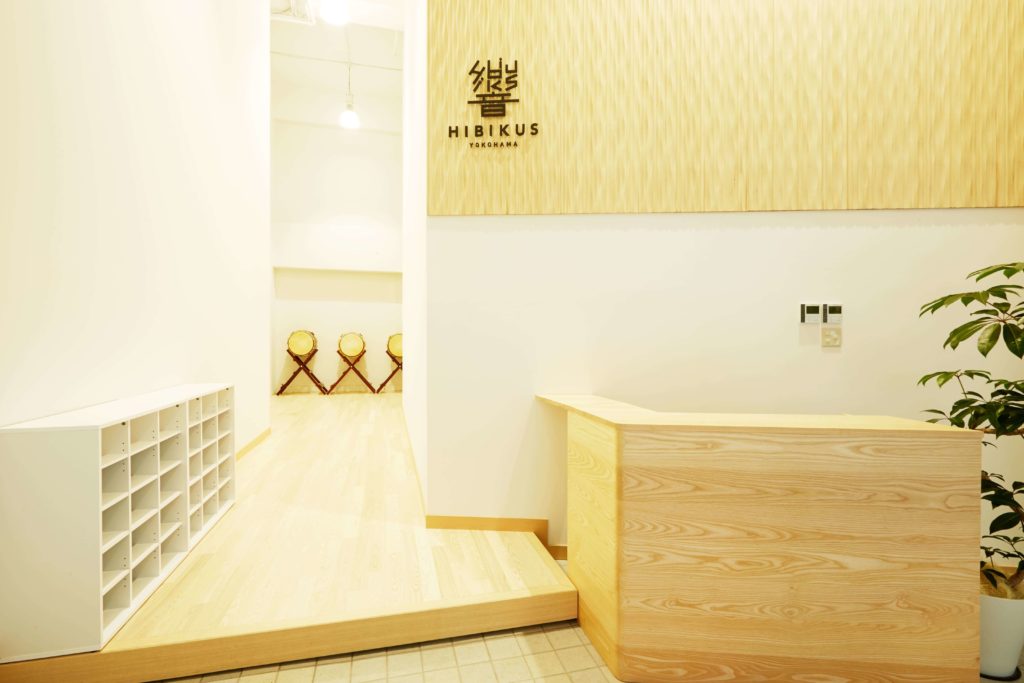 HIBIKUS is a coined word that combines "HIBIKU/Resonate"and "US".
HIBIKUS is developed in three classrooms in Yokohama, Asakusa and Tenjin.
Their concept is to convey the enjoyment of Japanese drums to many people.
HIBIKUS Yokohama classroom is an open space with a white and wood-grained atrium.
The taiko experience will be carefully taught, so it's ok for beginners who have never touched the drum.
Before the lesson, prepare in the locker room, then head to the classroom and begin the preparatory exercises.
The teacher checked each hit position and posture,finally play the drums.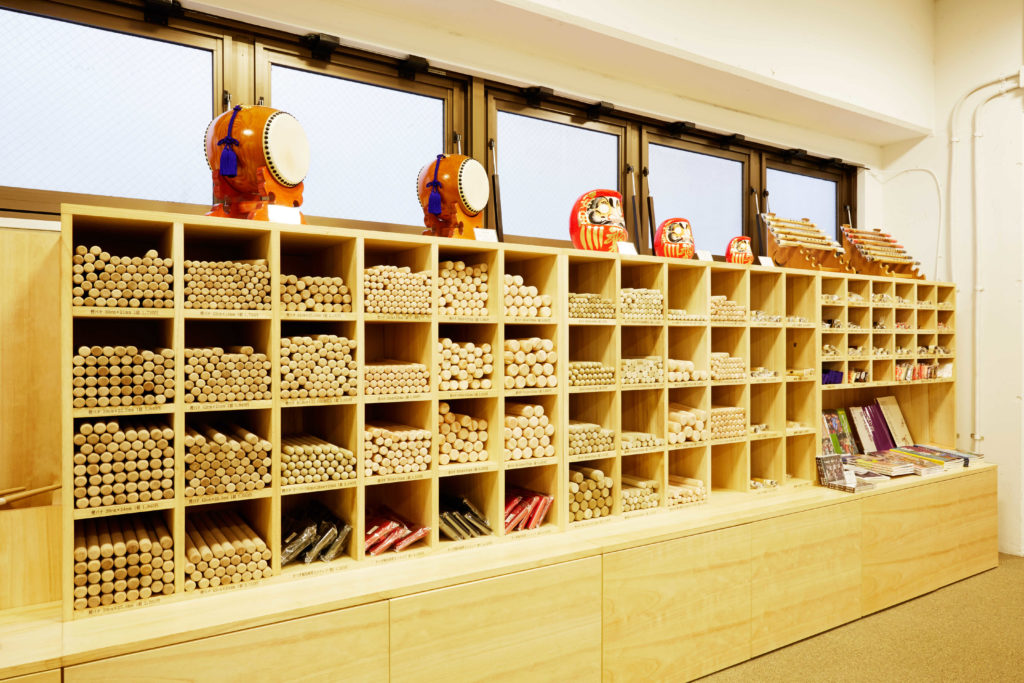 Following the teacher, everyone played the drums rhythmically from low to high and then from high to low.
If you dare to hit a loud sound, the sound of the drum will echo to the bottom of your stomach, eliminating stress !
You can feel a sense of unity even when you meet the members for the first time when you beat the taiko with a shout of "Ha! ".
As the lesson progresses, those who wish to learn more specialized techniques such as slanting, cross-striking, and set strikes.
HIBIKUS has a level-based program that even beginners can learn from the basics at ease.
The target age is 3 years old and up,unlimited age range students are various age groups.
Beginner Class
The beginner class is aimed at those who play Japanese drums for the first time or who have played the drums but want to learn the basics.
It is a course so enjoy the lessons as a beginner class while learning how to hold the drumstick, how to play the drums and the drums with your friends.
This program is suitable for children and adults of all ages.
While playing the drums along with the song, you can feel free to enjoy the Japanese culture while taking lessons.
You don't need to worry about how to catch up with others for the sense of rhythm.
"The beginner course" is transferable and you can choose a course that you can take according to your work or school schedule, so it is easy to participate.
Classes may start at 20:00 in the evening, So you can take classes at work or after school.
Taiko lessons can be continued comfortably and beginners will improve.Beginner classes are only accepted at Yokohama and Tenjin.
*HIBIKUS Asakusa basement is not available.
Intermediate class /for experienced people
Intermediate classes are for those who have played Japanese drums before.
In the intermediate class, we will continue to work on technically advanced performance techniques even after finishing the beginner stage.
Learn how to control sound dynamics and quality with the right strokes and how to generate sound.
While experiencing various performances, you can experience the enjoyment of Japanese drums.
Special class /for experienced people
In this special class, you will learn various batting methods through the intermediate class.
Learn how to get the most out of your instrument, make music in rhythm and listen with your friends.
▽Yu Yu class /for senior generation
Yu-Yu class is a lesson for the elderly to enjoy Japanese drums.
You can learn the basics, stretch without problems and play with the correct posture.
It's perfect for relieving stress and lack of daily exercise because you can enjoy it with your friends.
Child class, parent-child class
The children's classroom is for elementary school students and the parent-child classroom is for infants and parents.
Develop a fun and rhythmic sense to play with friends.
Ensemble class (all)
This is a one-time course where you can learn the basics of Japanese drums. The course fee is per session.
Even if you take a break, you will be transferred to another school, so you can easily continue.
Wadaiko School HIBIKUS
・1 hour free trial lesson
・Admission qualification from age 3
・Enrollment fee: 11,000 yen (tax included)
・Monthly fee Depends on the class
・Tuition fee : 4,000 yen and up
・Transfer system : available
Asakusa underground
Intermediate Class
Hours :10:00 to 22:00
Phone number : 0356031661
Yokohama
Lessons are special classes
Hours : 10:00 ~ 22:00
Phone number : 0452425656
Tenjin
Lessons are special classes
Hours :10:00 ~ 22:00
Phone number : 0927177388
Some of the hours may have been changed due to COVID-19.
Please refer to the HIBIKUS website for details.
Summary
If you can play Wadaiko the Japanese drums which is gaining attention in the world ,you will be proud of yourself.
When you hit the drum,the deep bass sounds echos to the bottom of your stomach and you can enjoy playing it with your friends.
Please try the taiko drums on this special occasion !