Osaka representing Western Japan is an exciting city and destination.
Everything from comedy culture, food culture, large theme parks and night view spots.
When you visit Osaka for the first time, you may check the classic sightseeing spots and local gourmet food.
Tips for walking around the city and 5 recommended sightseeing spots and transportation in Osaka.
Where is Osaka located?
5 must-visit sightseeing spots in Osaka
Check out 5 must-see sightseeing spots in Osaka.
①Dotonbori Shopping Street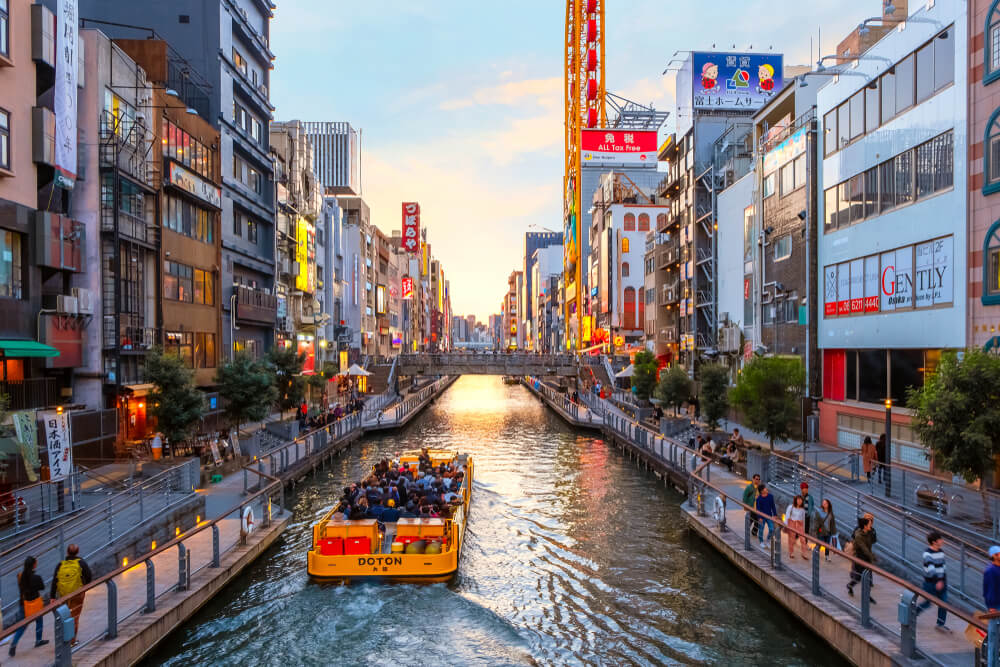 Osaka Minami known as Namba is aniconic tourist attraction.
Also "Dotonbori Shopping Street" is a gourmet spot where you can find all the gourmets of Osaka.
In downtown shopping areas you can enjoy traditional osaka food to the fullest while walking around the streets and taking pictures.
You can enjoy osaka's famous traditonal takoyaki, okonomiyaki, skewered cutlet,seafood restaurants.
The Dotonbori Shopping Street is always full with foreign tourists and locals with Glico signs and Kuidaore Taro dolls.
Osaka is currently developing a promenade called "Dotonbori River Walk" along the Dotonbori River as a project aimed at reviving the "Water City Osaka".
Beautiful neon lights reflects on the surface of the water and looks very colorful.
When you take a leisurely stroll through the red light district at night you will feel the real charm of town.
There are many restaurants and docks along the river and tourist boats cruises.
②Osaka Station City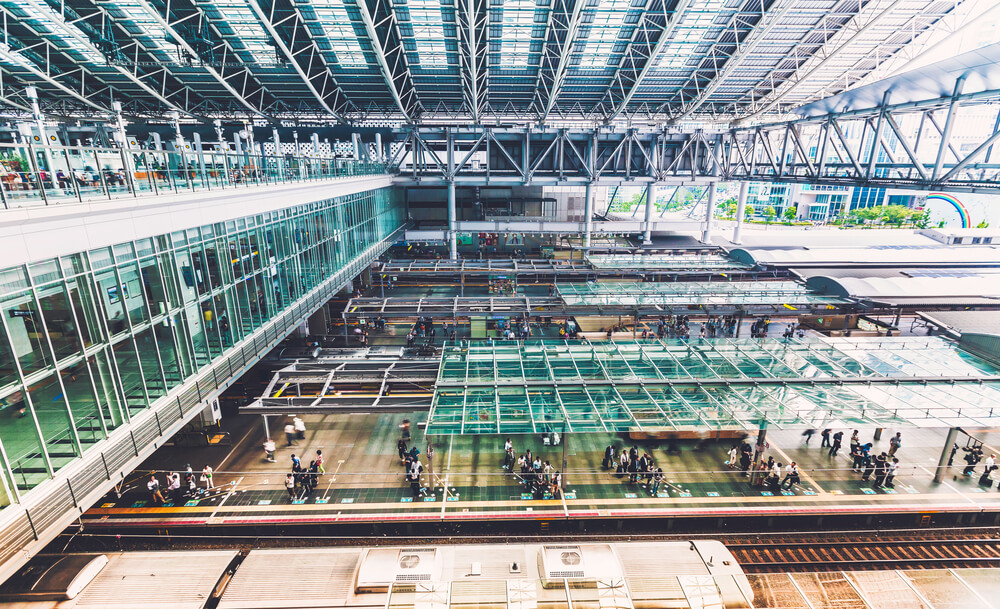 Opened in May 2011, Osaka Station City is the largest complex in western Japan.
It is directly connected to "Osaka" station as a re-development project of JR Osaka station.
There are plenty of restaurants in the shopping malls such as LUCUA 1100, Daimaru Umeda store located in the south of the city.
Also eight recreational squares on the premises and you can take a rest and relax on a sunny day.
The long-established department store in South Gate Building is lined with luxury brand shops.
③Umeda Sky Building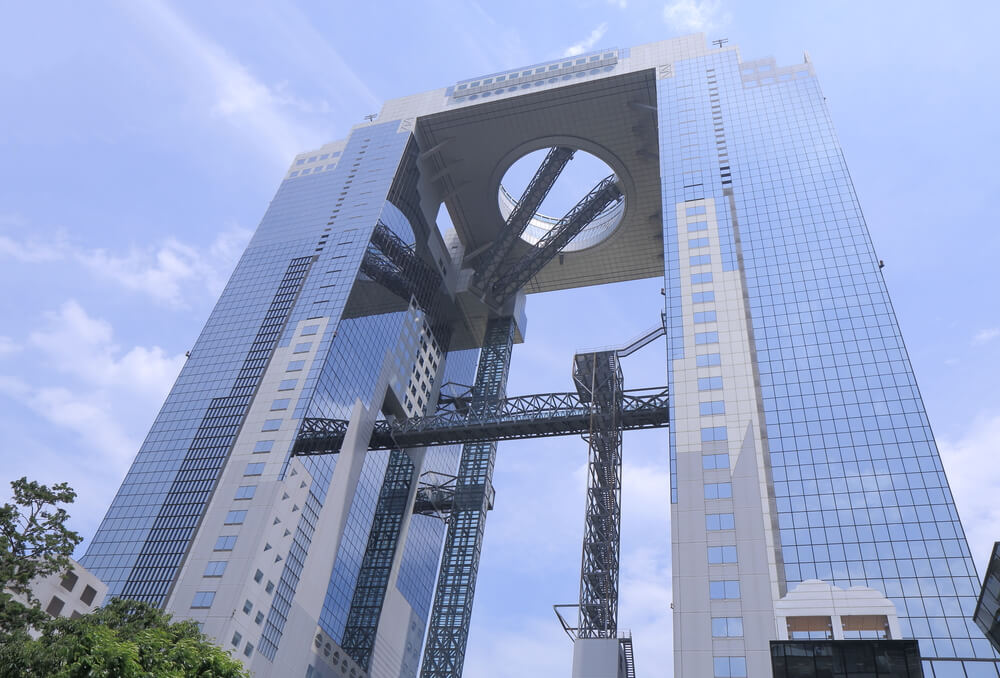 Opened in Shin-Umeda City in March 1993, Umeda Sky Building is the world's first 40-story connected skyscraper.
It is also called the "Namaya Arc de Triomphe," and the 360-degree aerial garden.
On the top floor has become so popular that it frequently appears on SNS for foreign visitors and tourists.
The night view of Osaka from the aerial garden observatory and the scenery of Awaji Island shines like a diamond.
It has been selected as one of the "Night Scenery Heritage" and "Japan's 100 Best Sunsets".
④Namba Parks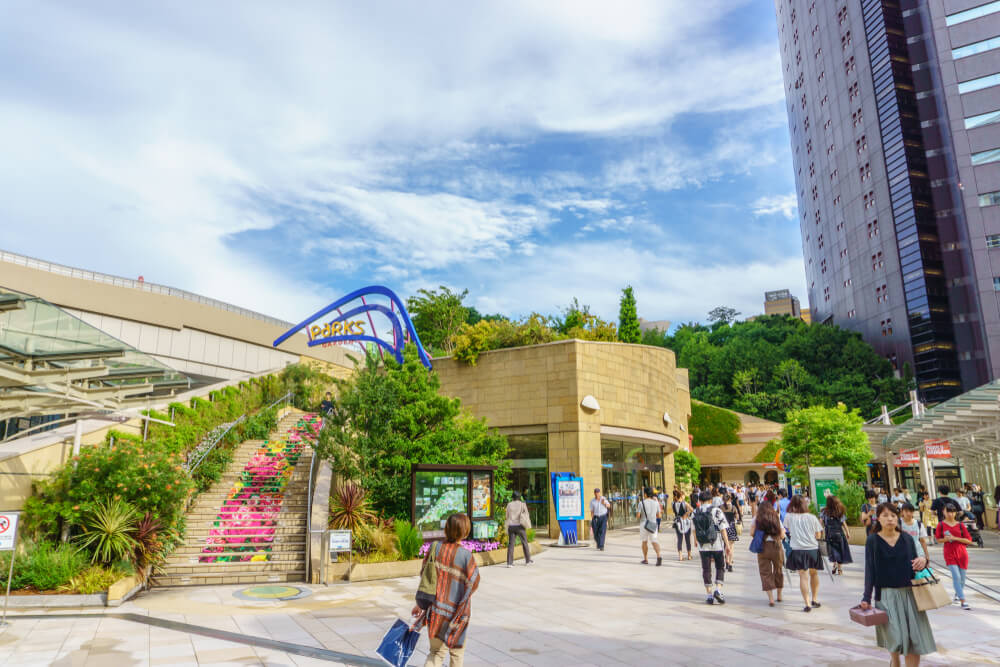 Namba Parks, a complex facility in Osaka Namba is a secret spot where more than 200 shops and restaurants are located..
Designed under the theme of "people coexist with greenery"a new urban development called "Parks Garden" is progressing.
While walking and strolling around the city you can enjoy the rooftop garden with a green hill.
They have a fashionable bar, a café and a restaurant.
The largest complex movie theater in Osaka and its beautiful illuminations are great.
There are many restaurants of delicious gourmet lined up such as yakiniku, sushi, kaiseki cuisine and all kinds of Japanese food.
⑤Nakanoshima area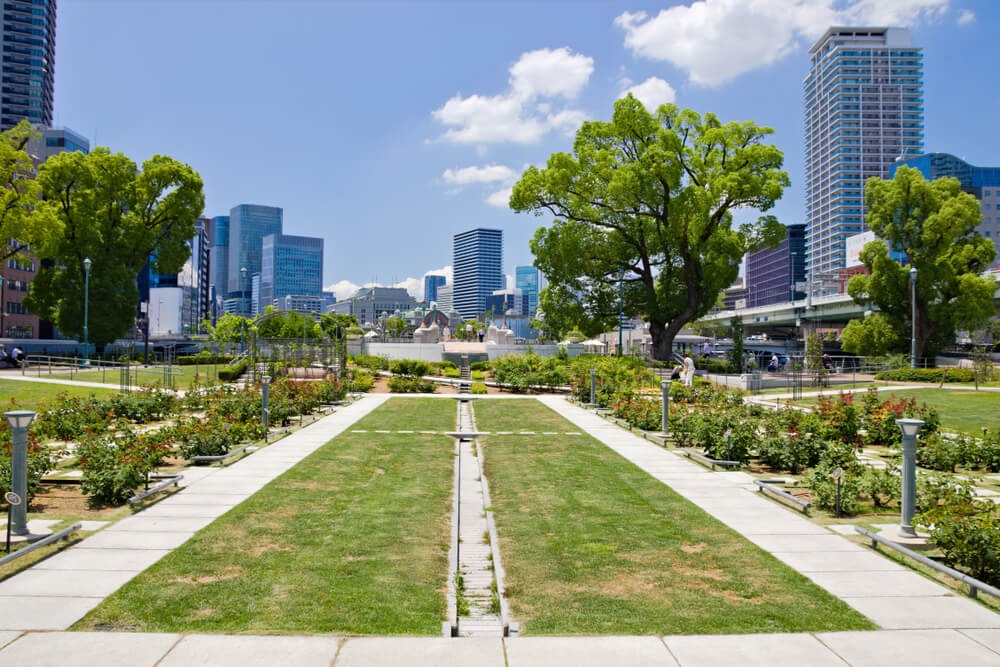 Nakanoshima is an area where the Osaka City Hall and administrative institutions are located.
There are many historic buildings designated as important cultural properties.
From May to October, In the rose garden of Nakanoshima Park,there are about 3,700 roses of about 310 types are in full bloom.
And when you visit you will be healed by the beautiful scenery.
In recent years, Osaka water bus, A waterside open cafe has also opened.
It is new spot where you can feel the water city of Osaka which become a new attraction.
How to travel while sightseeing in Osaka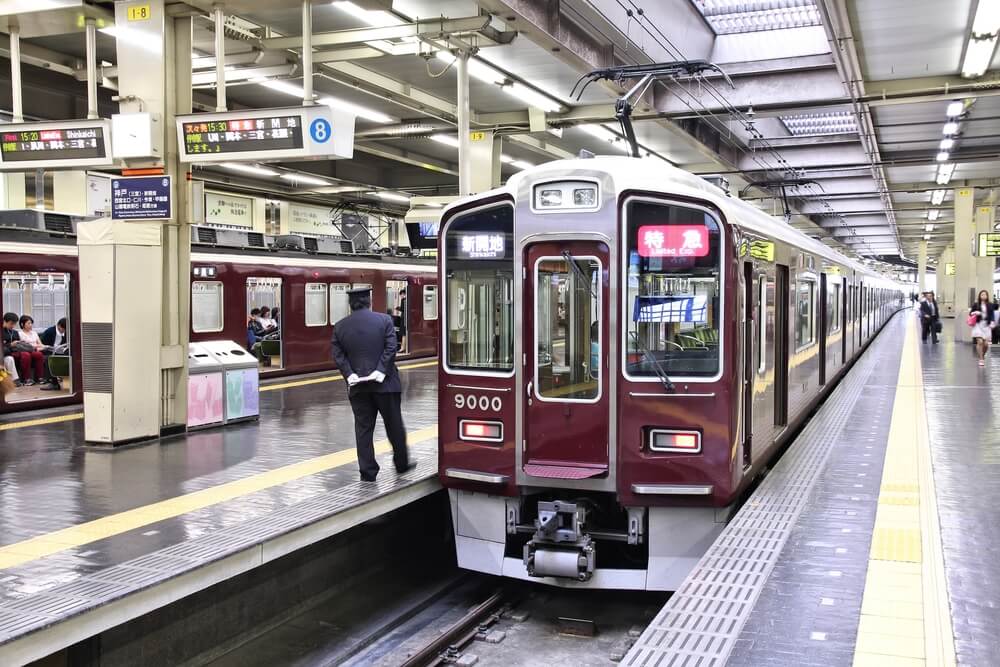 if you use your pass accordingly you can travel in and around osaka efficiently"Osaka Tour Pass" (2,500 yen) .
It's an all-you-can-ride train / bus ride and you can enjoy over 35 sightseeing spots for free.
Free facilities include Umeda Sky Building, Floating Garden, Tsutenkaku and Tempozan Ferris Wheel.
Osaka sightseeing activities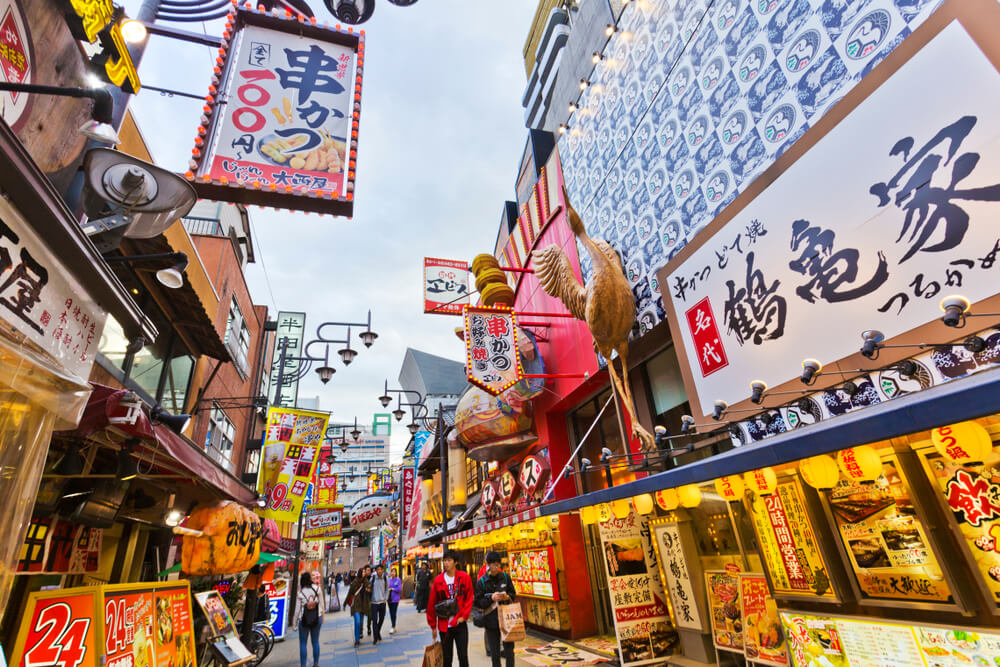 You can take a walk around Osaka and check out "Grand Front Osaka".
It's rising rapidly in the redevelopment area on the north side of Osaka Station and Umeda Station.
Divided into the South Building (Tower A) and North Building (Tower B / Tower C) .
It's a complex facility with a shopping mall, restaurant / cafe, office, hotel, convention center and theater.
The Tenjinbashi Shopping Arcade is good for those who want to enjoy the local walks of Osaka.
From Tenjinbashi to Tenjinbashi 7-chome, the longest shopping district in Japan.
It has a total length of 2.6 km, is lined with over 600 stores including local famous foods and side dishes, pharmacies and confectionery stores.
For students ,we would recommend the American Village which is called as "Amemura".
Where mostly the youth hangs out and is located near Shinsaibashi.
It's s got a lively and bright atmosphere with a new fashion trend shops and street food is very popular.
The famous Mitsu Park is called "Triangle Park" because of its triangular shape.
Osaka in activities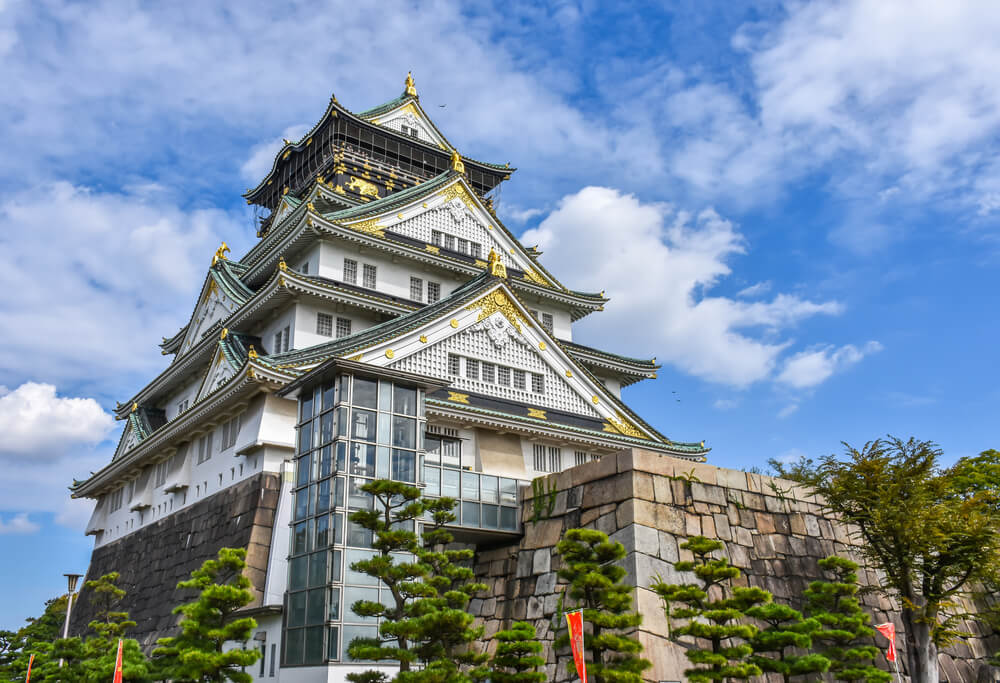 Osaka has the image of a big moving city with its famous gourmet and shopping.
But there are also many beautiful natural places and parks in and around the city.
So you can enjoy activities while touching nature in and around Osaka.
For the families with children Osaka Castle Park is a great spot located in the center of Osaka.
Around Osaka Castle Tenshukaku, about 3,000 cherry trees are in full bloom in the spring.
The cherry blossoms are lit up beautifully at night in the Nishinomaru Garden.
The Harvest Hill on a vast site is popular with local families as a hands-on agricultural park.
In an area which is an open space where they have animals so you can play with rabbits and tortoises, horseback riding and milking cows.
you can ride on a 4-seater bicycle and take a walk around the flower garden and regularly hold activities such as archery.
Meals in Osaka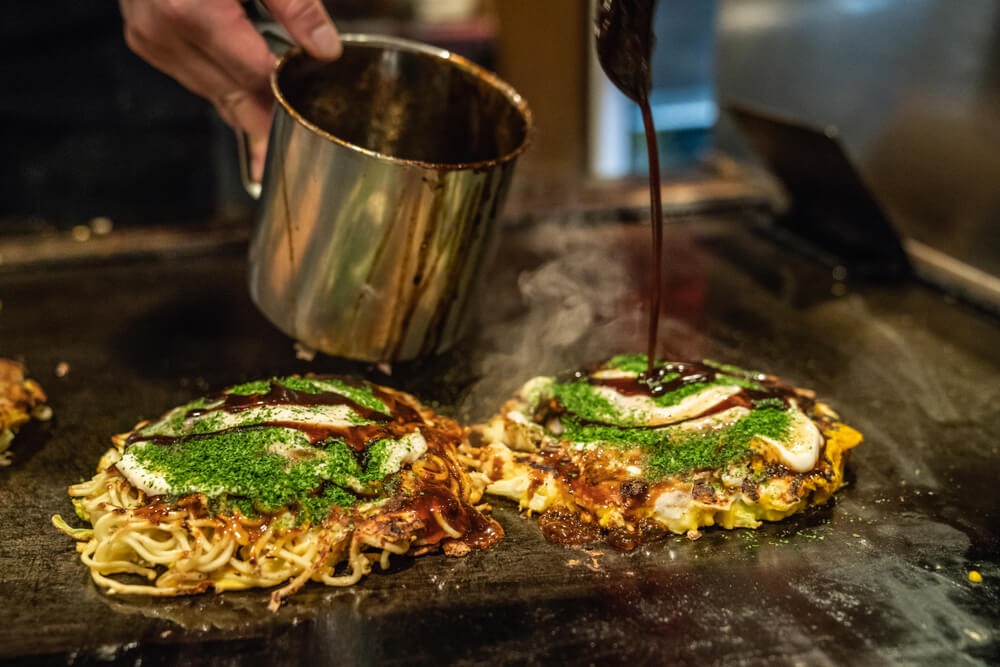 You can enjoy the famous osaka takoyaki, okonomiyaki, skewered cutlet, etc.
Also try to check out the Kuromon Market also known as the Osaka kitchen.
The Kuromon Market, located in the center of Minami,which is a food market that is a purveyor of Japanese restaurants.
It is a popular spot for tourists because there are plenty of shops to visit.
You can taste the finest tuna, puffer fish, sea urchins and shellfish.
Osaka's "Tecchiri" is very delicious so please try that and enjoy it.
▶【Recommended Restaurants in Osaka】7 local foods to eat during Osaka sightseeing
Shopping in Osaka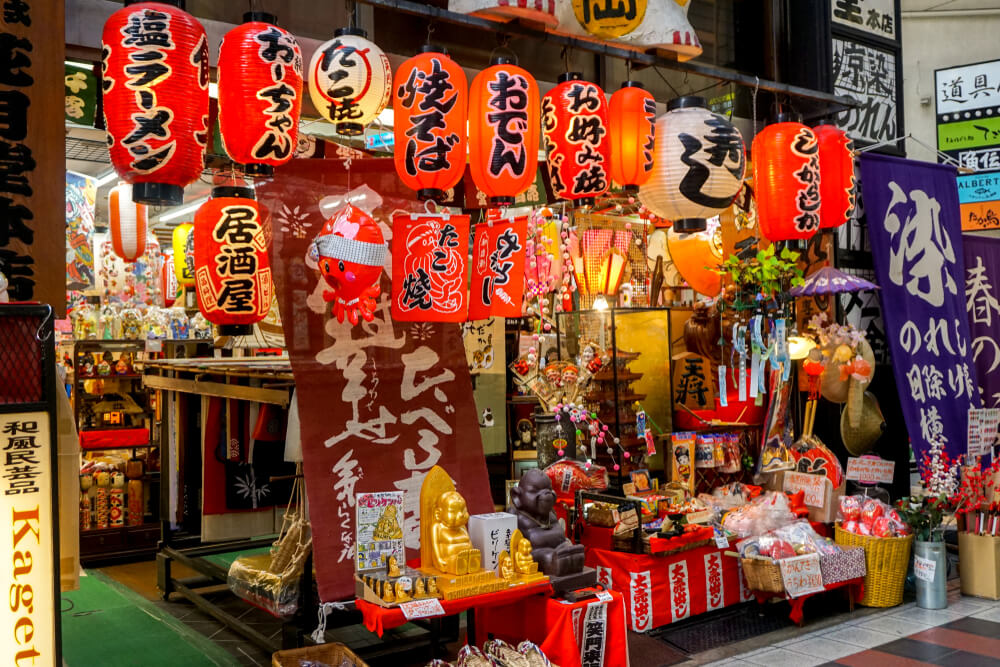 There are many shops everywhere in Osaka so you can find all kinds of souvenirs and gifts.
Shin-Osaka Station is where Tokaido Shinkansen and Sanyo Shinkansen runs through and there are JR Shin-Osaka Station and Subway Midosuji Line.
There is "EKI MARCHE" on the second floor of JR Shin-Osaka station conventional line platform and there are plenty of special Osaka souvenirs.
Midosuji Line has "Entrée Marche" and "sweets street" outside the ticket gate.
There are plenty of Osaka-limited products and sweet treats, so please check it out.
Best season for Osaka sightseeing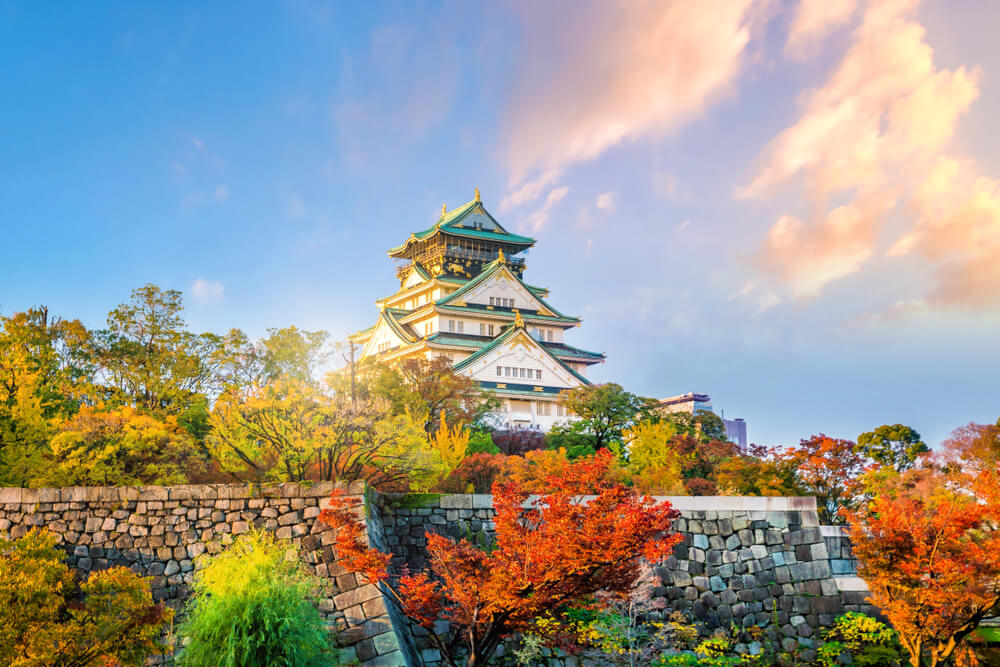 The best season to visit Osaka is in spring when the cherry blossoms are in full bloom and the Autumn.
Spring in Osaka is from March to May and you may wear a thin comfortable jacket to walk around. 
The fall season in Osaka is from September to November.
During the day even if you have summer clothes you may wear a thin Jacket and go to see the beautiful autumn leaves.
The summer season in Osaka is from June to August.
You may wear shorts and short-sleeved shirts during the day.
But you can always bring a folding umbrella in mid-June to mid-July just to avoid the sunshine and the heat.
The winter season in Osaka is from December to February.
Sometimes there is light snow so you may need a warm sweater ,a coat hat and gloves.
During the summer, Osaka is very busy and has many festivals and events including major fireworks.
The temperature and humidity are very high it's good to carry a bottle of cold water and stay cool.
Summary
We introduce the recommended sightseeing spots in Osaka and tips while walking in and around the city.
There are countless tourist spots in Osaka including delicious local gourmet food, comedy theaters and historic buildings.
We hope you enjoy your stay in wonderful Osaka !