Osaka is one of places full of laughs and food.
You would meet delicious food everywhere in Osaka.
So Osaka is called "kuidaore no machi" (a city that people spend money on food).
Some people stay in Osaka to eat Oasaka food.
So we introduce must eat Osaka food.
Must eat Osaka food
Okonomiyaki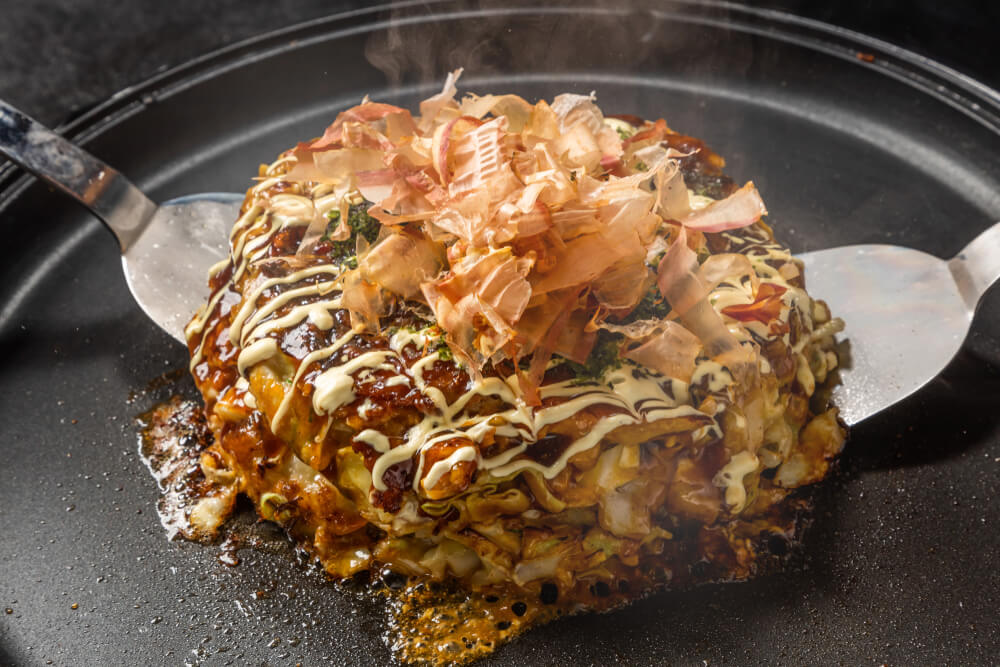 When it comes to Osaka, okonomiyaki (Japanese savory pancake ) is the most famous Osaka food.
After the war, wheat flour dish was recommended to eat because Japan was shortage of rice.
Osaka created the original wheat flour dish. It's okonomiyaki.
The feature of okonomiyaki is cheap price and harmony of ingredients.
You eat not only standard okonomiyaki but also various one, such as negiyaki cooked with lots of green onion and beef tendon in Osaka.
Takoyaki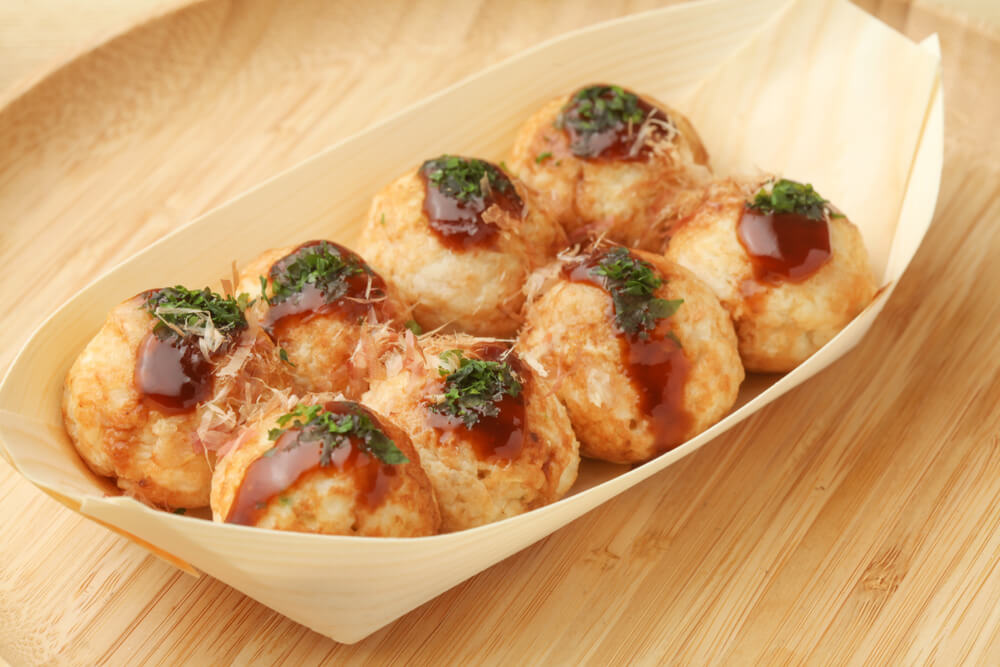 Takoyaki (octopus dumplings) is as famous cheap eats in Osaka as okonomiyaki.
Takoyaki is made from wheat flour and water.
And it contains some vegetables and octopus.
It is a little ball-shaped snack. So it is good to eat while walking in town.
88 percents of people in Osaka have takoyaki maker.
Now, Takoyaki is popular to foreign tourists because it is easy to eat during walking around.
Ikayaki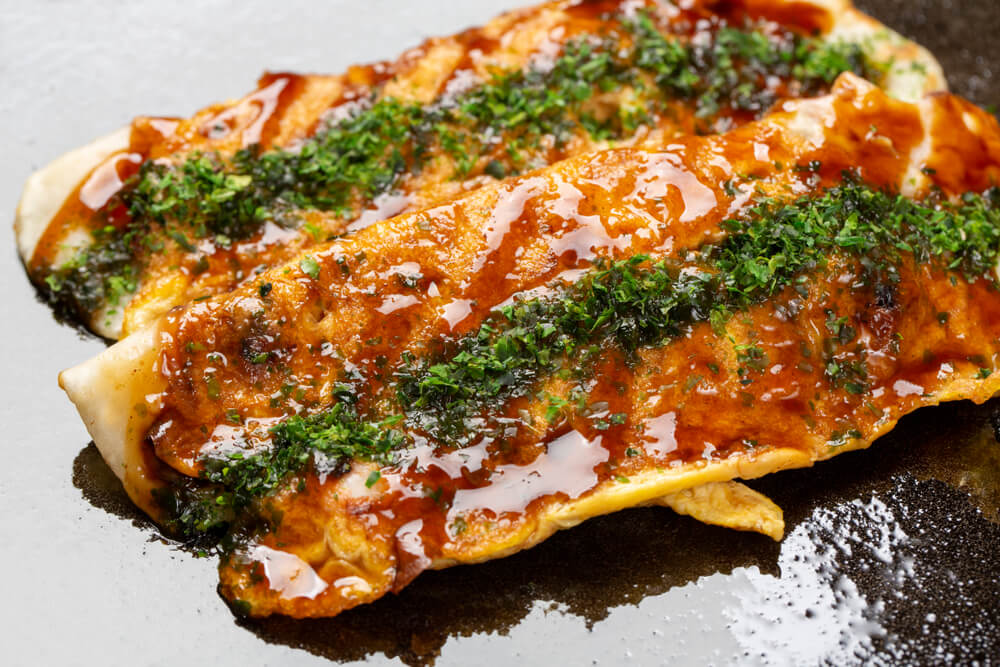 Ikayaki (Japanese squid pancake) is also well-known like okonomiyaki and takoyaki.
Ikayaki is made from wheat flour, water and cut squid and flavored with sweet and salty sauce.
Ikayaki is really thin pancake because it is pressed on the iron plate while cooking. However, The texture is soft.
Some people love Ikayaki rather than okonomiyaki and takoyaki.
To eat while walking in Tokyo is crepe. In Osaka is Ikayaki. It is good snack during walking around Osaka.
Kushikatsu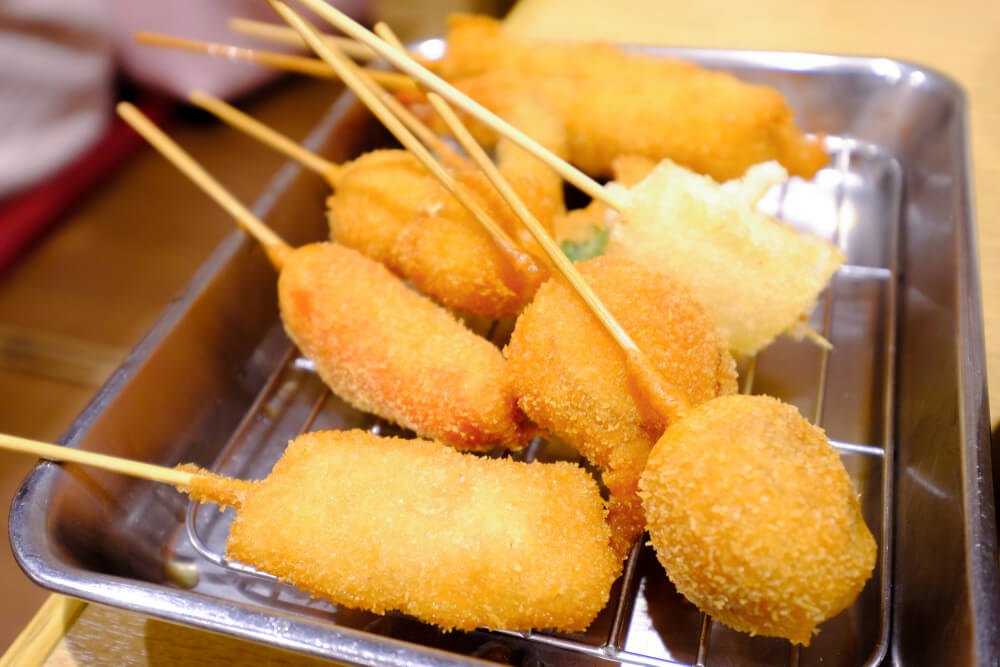 Kushikatsu (deep-fried skewers) is one of representative foods in Osaka.
Kushikatsu started 80 years ago. Now there are a lots of restaurants.
The ingredients of kushikatu in Osaka are pork, onion, beaf, dish, and vegetables. You will find what you like.
Most shop cook it in front of you. The harmony of crispy coating and juicy filling never stops you from eating it.
The important rule is that you are not allowed to dip kushikatsu in sauce twice when you eat it.
If you want more sauce, you should take much sauce at first time and put extra on the plate.
Then you use the extra if you need.
Tecchiri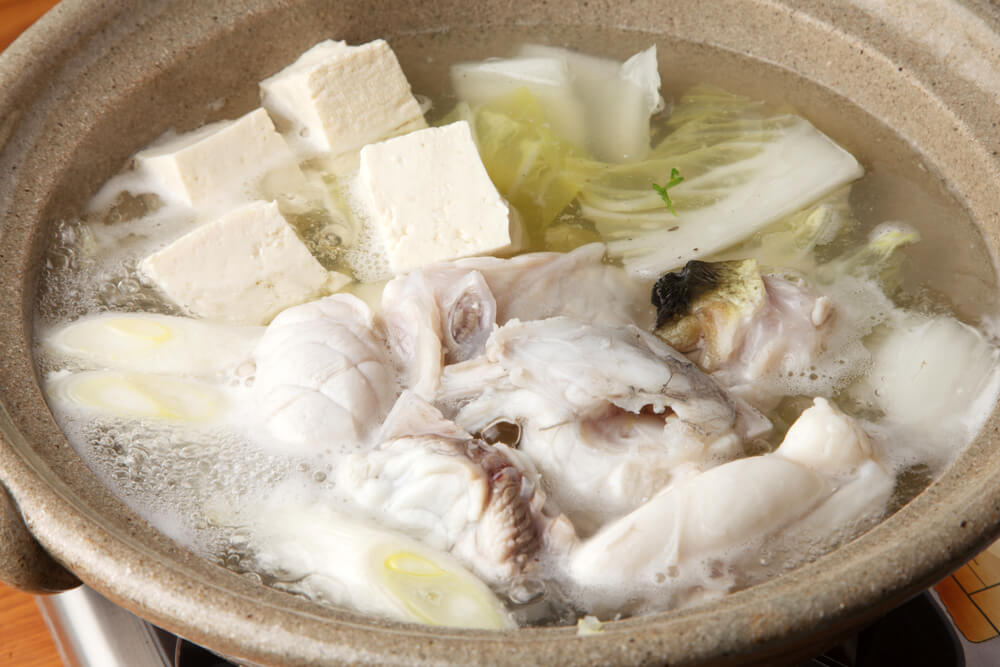 Tecchiri is a Japanese hot pot with blowfish.
This is a blowfish dish developed in western Japan.
Now, it is one of famous food in Osaka.
The hot pot including cut blowfish with plump texture and plenty of vegetable is perfect for winter.
It makes yourself feel cozy.
To finish off the meal, you should add rice in the soup of the hot pot. It becomes delicious risotto.
Tecchiri is luxury dish. If you want to make a special day during Osaka sightseeing, it is good for you.
Steak-jyu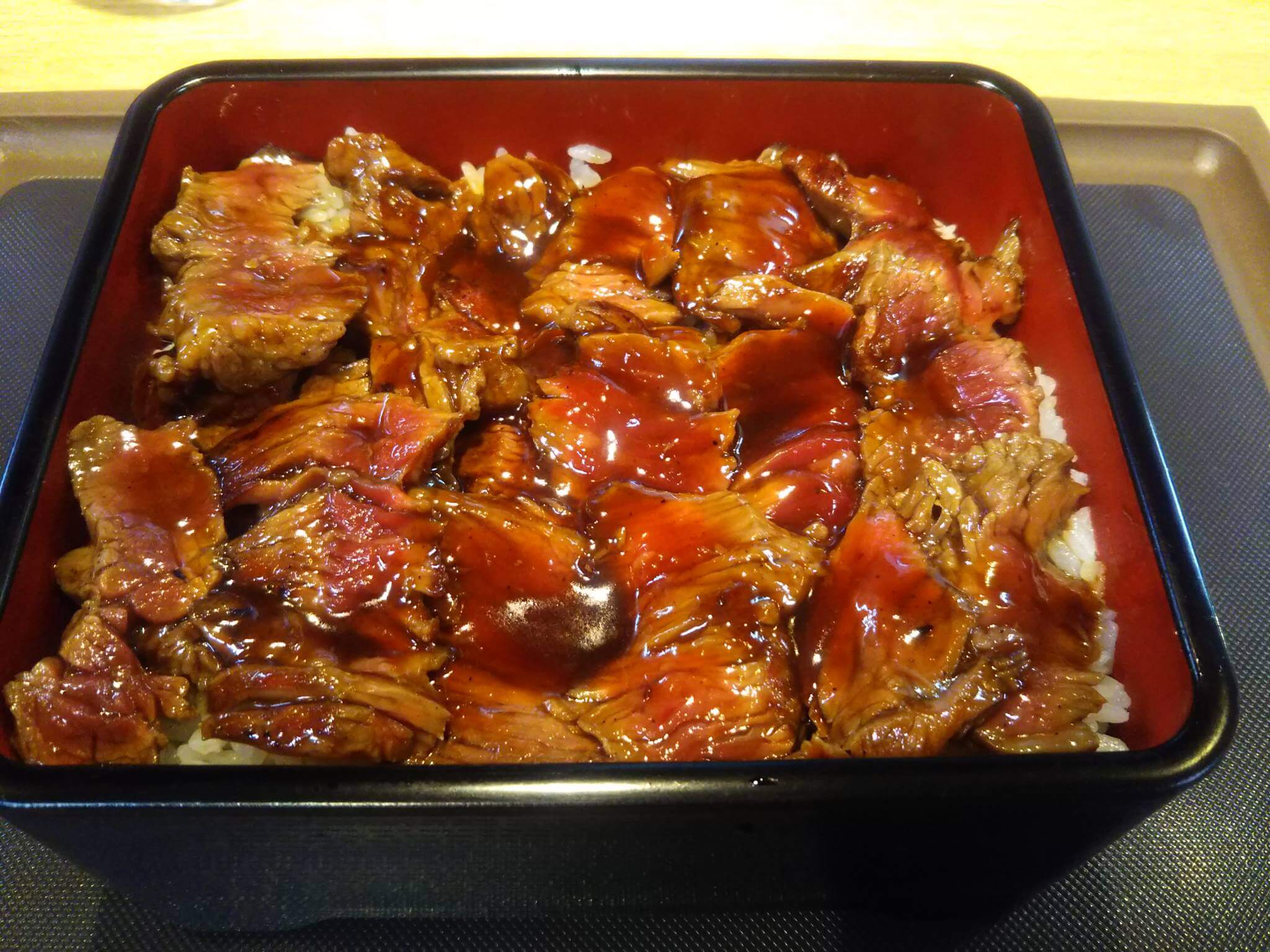 If you have never been to Osaka, you don't know steak-jyu (lacquer ware box of rice topped with steak) is loved by people in Osaka.
You absolutely imagine it's really good as you are told that there are full of steaks cooked medium rare seasoned with a bit sweet sauce in the box.
The lean beaf is juicy and elastic.
If you don't like steak, steak-jyu is must eat Osaka food.
Curry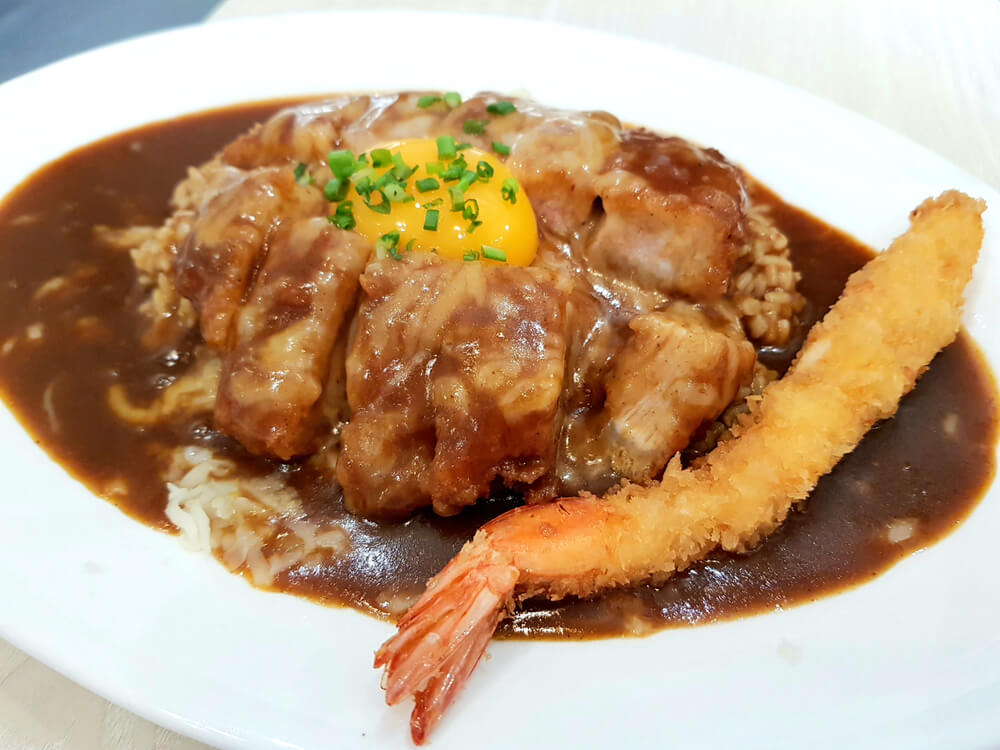 Japanese likes curry, actually people in Osaka love curry.
So Osaka has the original curry culture.
You doubt the reason why we suggest eating curry in Osaka.
Actually, you will meet various types of curry in Osaka. There are some creative cooked curries.
For example, a curry cooked with soup stock Japanese likes, added raw egg and so on.
If you love curry, try it at various restaurants.
What is the feature of Osaka food?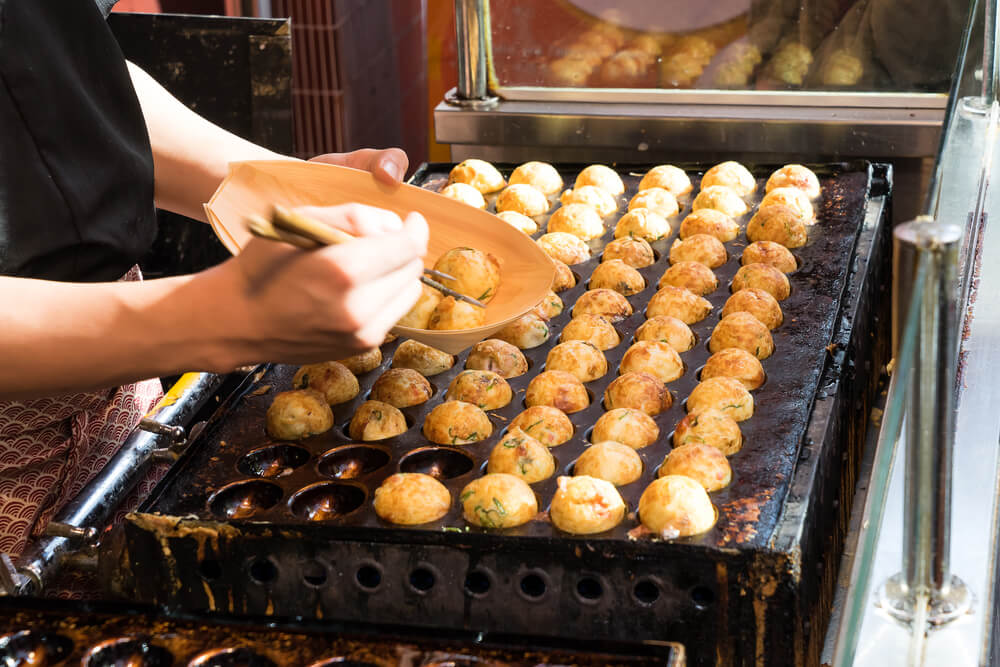 Osaka has been called as the nation's kitchen because fresh ingredients delivered from all over Japan. Moreover, people in Osaka like new things has developed the food culture of Osaka.
Osaka is full of various food everyone enjoy, such as luxury food like fresh fish and juicy meat, and cheap wheat flour dish like okonomiyaki and takoyaki.
Absolutely, wheat flour dish like okonomiyaki, takoyaki and Ikayaki is must eat food in Osaka.
Must visit restaurants in Osaka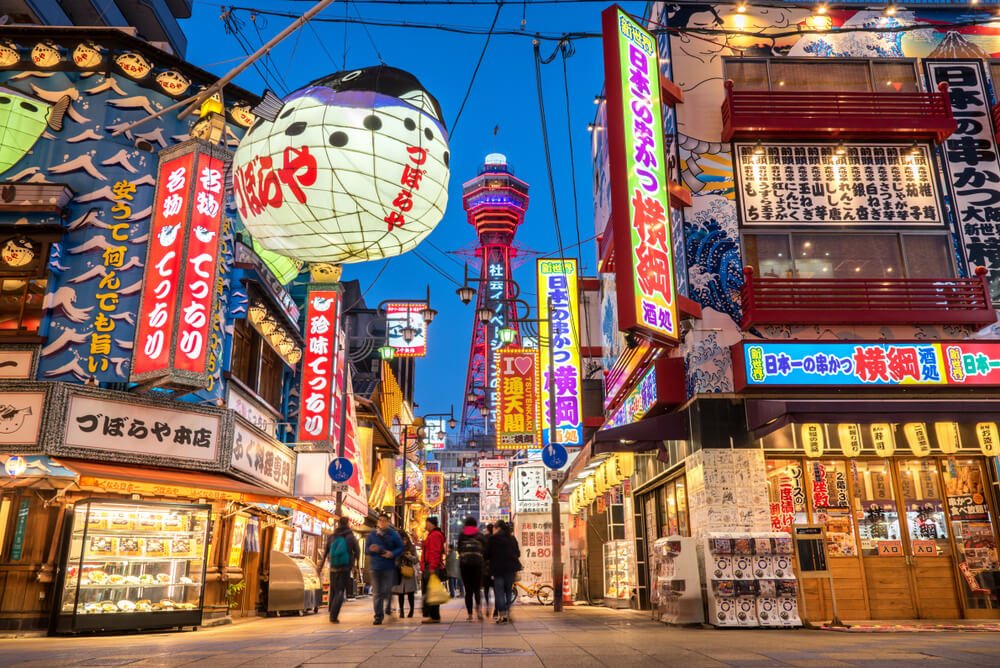 We introduce some of popular restaurants in Osaka.
When you come to Osaka, visit there.
1.Yukari Sonezaki-honten
Yukari was opened in 1950. This restaurants long loved by local people.
This is a chain restaurant, however you eat traditional and heavy okonomiyaki.
The popular dish is "Yukariyaki (1350 yen)," including shrimp, pork, scallop.
It is really tasty food. So it goes well with rich sauce.
Address : 2-14-13 Sonezaki, Kita-ku, Osaka-city, Osaka
By Station : 1 minute walk from Higashi-Umeda Station
Hours : 11:00 ~ 25:00 (L.O 24:00)
Closed : Irregular holidays
2. Hanadako
Hanadako is a takoyaki restaurant many people always stand in line.
You select sauce from not only standard sauce but also a variety of soy sauces.
Takoyaki including big and plump octopus matches rich sauce or soy sauce.
This restaurant always has a line, however you don't need to wait long.
I recommend going here to you.
Address : Shin-Umeda Shokudogai Association 9-26 Kakuda-cho, Kita-ku, Osaka-city, Osaka
By Train : 1 minutes from Umeda Station
Hours : 10:00 ~ 23:00
Closed : Open all year round
3. Momodani-Ikayaki Momodani
Momodani-Ikayaki Momodani started in 1950. It is said that this is the first Ikayaki restaurant in Osaka.
To make the taste of squid and wheat flour dough better, the mixture is grilled on both side at high temperature.
This Ikayaki is full of the flavor of squid.
The ingredients are carefully selected.
Ikayaki adding less sweet sauce is good for snack time.
Address : 2-21-28 Momodani, Ikuno-ku, Osaka
By Train : 456 m from Momodani Station
Hours : 11:00 ~ 20:30
Closed : Tuesday, Wednesday
4. Kushikatsu Matsuba
Kushikatsu Matsuba opened in 1949. It is familiar to local people because they eat what you want to eat soon.
Every kushikatsu costs under 200 yen. It is cheap and fast food.
It is long-loved restaurant. The restaurant is absolutely hit upon whoever want to eat kushikatsu.
Address : Shin-Umeda Shokudogai Association 9-26 Kakuda-cho, Kita-ku, Osaka
By Train : 2 minutes from Umeda Station
Hours : Weekday 14:00 ~ 22:00, Weekend & Holiday 11:00 ~ 22:00
Closed : 1/1,1/2,1/3
5. Ajihei
Ajihei is a good restaurant because it serves blowfish dish at reasonable price.
You eat it here all year along.
A set menu of blowfish is starting from 5000 yen.
You must be satisfied with the content of a set menu including tessa (blowfish sashimi) or fried one, yubiki (parboiled and cooled one), tecchiri (Japanese hot pot with blowfish), risotto and dessert.
If you want to enjoy blowfish dish, your wish comes true in Osaka.
Address : 7-7-7 Fukushima, Fukushima-ku, Osaka-city, Osaka
By Train : 5 minutes walk from Fukushima Station
Hours : April to September 15:00 ~ 22:30, October to March 15:00 ~ 23:00
Closed : Monday
6. Honmiyake Hankyusanbangaiten
Honmiyake at Umeda of Osaka is a beaf specialty restaurant with over 90-year history.
The restaurant always has a line to eat popular steak-jyu (970 yen).
Steak-jyu, which is lean beaf cooked with medium rare on a rice with sweet sauce in a lacquer ware box, is must eat food when you come to Osaka.
If you like beaf, you should eat a larger serving of steak-jyu (1430 yen).
Address : B2F Hankyu Sannan Gai, 1-1-3 Shibata, Kita-ku, Osaka-city, Osaka
By Train : 5 minutes walk from Hankyu-Umeda Station
Hours : 15:00 ~ 22:30
Closed : the 3rd Wednesday of every month
7.Osaka namba Jiyuken main shop
Jiyuken is the first western food restaurant in Osaka, founded in 1910.
The restaurant created "maze-curry"(mixed curry) to enjoy eating curry which was not popular in Japan at that time.
When you are served the mixed curry and rice topping with raw egg, you must be surprised with the scene.
However, people are addicted to the harmony of curry and egg.
Regular recommends adding Worcestershire sauce to the curry.
Address : 3-1-34 Namba, Chuo-ku, Osaka-city, Osaka
By Train : 3 minutes walk from subway Namba Station, 5 minutes walk from Nansai Namba Station, 6 minutes walk from Nihonbashi Station, 10 minutes walk from JR Namba Station
Hours : 11:30 ~ 21:00
Closed : Monday
Summary
Osaka overflows with food. So you enjoy from cheap wheat flour dish to luxury blowfish dish.
During Osaka sightseeing, you will be satisfied with Osaka food. However, be careful not to eat too much.
▶【Top 5】Osaka Sightseeing Spots and the Tips for walking around the city