Do you know an area called "Shinjuku Golden-gai" at Shinjuku where the city has many sophisticated high-rise buildings.
The area is filled with unique and small bars.
And the bars has a nostalgic atmosphere which attract people.
Famous people like writers and film directors used to visit here.
Now, Shinjuku Golden-gai gets attention from foreign tourists because of the unique atmosphere.
We introduce 5 must-visit bars and the tips for walking around Shinjuku Golden-gai.
What is Shinjuku Golden-gai ?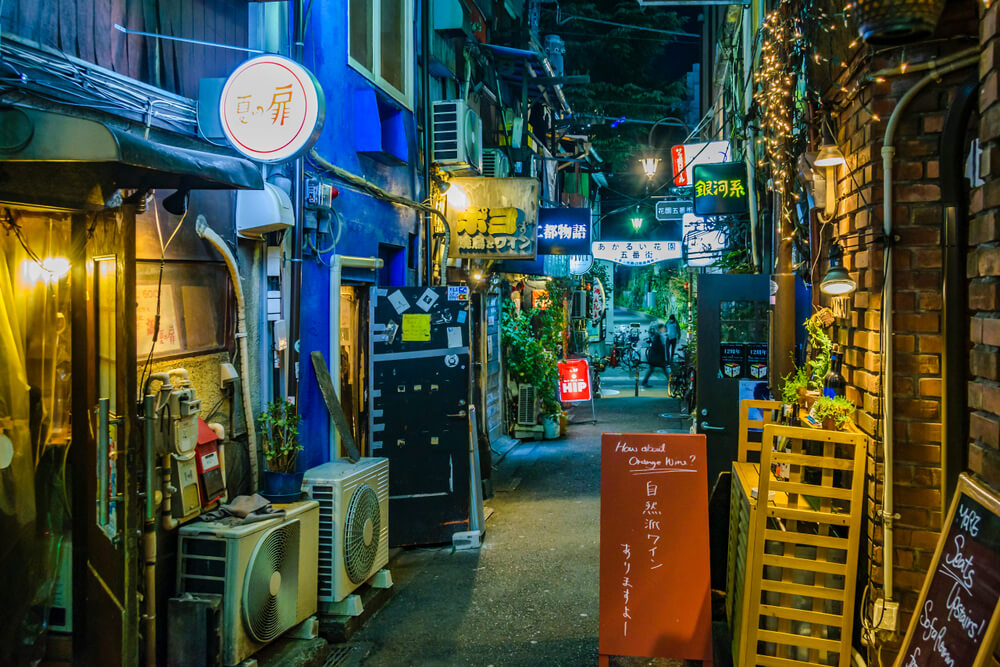 Shinjuku Golden-gai is the area where there are a lot of two or three stories buildings made of wood.
It is located at Kabukicho of Shinjuku in Tokyo. The small bars are gathered in about 6600-square-meter area.
Compared with Kabukicho which has many high-rise buildings and neon signboards, the area has nostalgic and cozy atmosphere.
Golden-gai started as a black market after the war.
Then, the bars were gathered there, which many writers and film directors used to visit to talk together with alcohol overnight.
For example, Fujio Akatsuka as a manga artist, Ryotaro Shiba, Endo Shusaku and Kageki Shimoda who are manga artists, Taro Okamoto as an artist, Nagisa Oshima as a film director, Bunta Sugawara and Yusaku Matsuda who are actors, and so on.
Now, stylish hidden or female-friendly bars are increasing. So people except regulars visit here.
Golden-gai thought as dirty secret of Shinjuku is the unique area gathering over 200 bars.
In recent days, foreign tourists visit here to feel Japanese nostalgic. You might see them go bar-hopping.
Many people are attracted by the night sightseeing spot, Shinjuku Golden-gai.
Where is Shinjuku Golden-gai ?
We introduce how to go to Shinjuku Golden-gai.
Address of Shinjuku Golden-gai
:1-1-5~10, Kabukicho, Shinjuku-ku, Tokyo 160-0021
The number of bars:about 280
Management association:Shinjuku Sanko Shopping Street Promotion Association, Shinjuku Golden-gai Trade Association
Location:The area between Shinjuku City Office and Hanazono Shrine.
Go out of the East Exit of JR Shinjuku Station and go to Yasukuni-dori.
Then, go toward Shinjuku City Office.(about 300 meters from the station, 6 minutes walk)
Go out of the South Exit of Seibu Shinjuku Station and go east (about 300 meters from the station, 6 minutes walk)- 5 minutes walk from the B3 exit of Tokyo Metro Shinjuku-sanchome Station,Or 1 minutes walk from the E1 exit.
5 must-visit spots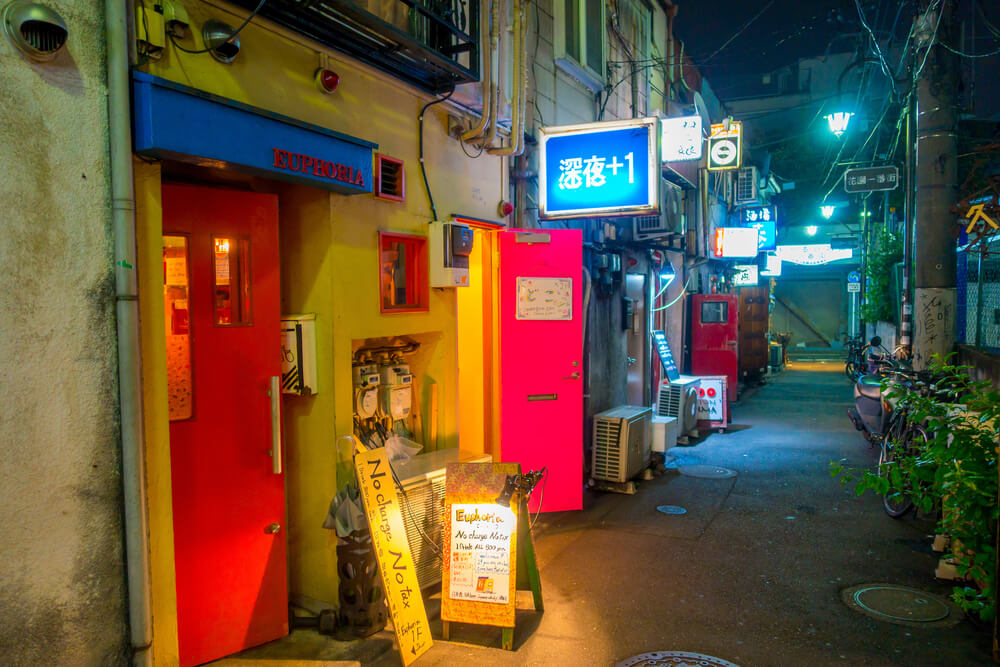 We introduce 5 nice bars where beginners and women visit easily.
1. Nomiya Shino
The feature of Nomiya Shino is a well-known hostess called Shino mama, which is founded in 1973.
It is a small and unique bar suited to Golden-gai, which a famous writer Kimimasa Tanaka used to visit.
You feel cozy atmosphere when you see home cooking lined on the counter table.
The famous dishes are pickled gourd and iburigakko(pickled Japanese white radish and carrot). In addition, you eat rare dishes like venison hamburg.
Now, her husband and young staff open the bar. If you are a beginner, they welcome you.
2. KRISHUNA
KRISHUNA is located at the edge of Golden-gai. It is a lounge bar designed to represent the Near and Middle east.
It is on the 2nd floor of the building facing Hanazonokoban-dori near Shinjuku terumaeyu.
After you go up narrow stairs and open a door, you enter a mysterious room as if you visited the Near and Middle east.
There are red colored walls, glitter lamps, cushions made from Morocco. In addition, there is filled with the smell of incense and spice. They offer an exotic atmosphere.
You feel relaxed here because you put off your shoes in the bar.
They serve a variety of alcohols and fusion cuisine.
You can smoke a hookah and watch a belly dance show.
Moreover, you get tarot cards fortune telling every Tuesday and Thursday.
You spend some cozy time as they allow you to bring your pet.
This is the nice bar loved for over 15 years in Golden-gai.
3. Darling
Darling is a bar filled with Golden-gai atmosphere
Darling is opened by a barkeeper who also works as actor.
They are located on 3 minutes walk from Shinjuku City Office.
Friendly barkeeper and female staff always welcome customers.
You feel cozy atmosphere here. So the bar is popular to beginners.
They serve a special menu and often hold pop star's events. It is a lively and entertainment spot.
4. Kaori no Yume wa Yoruhiraku
If you come to Kaori no Yume ha Yoruhiraku, you will listen to Japanese nostalgic songs.
The hostess works as a singer. She released her original song and held her live concert.
Her song is inspired by her favorite color, red.
The name of the bar is from a song of her favorite singer, Keiko Fuji. It is "Keiko no Yume wa Yoruhiraku."
The bar gets attention from many people because they preserve nostalgic atmosphere.
Many regulars keep their bottle behind the bar.
5. Cambiare
Cambiare is a nice Italian bar, which bring new style to Golden-gai.
They are good for those who want good alcohol and food.
They are popular to foreign tourists and women as a hidden bar for adult.
If you visit Golden-gai for the first time, you will have fun time.
The Tips for walking around Golden-gai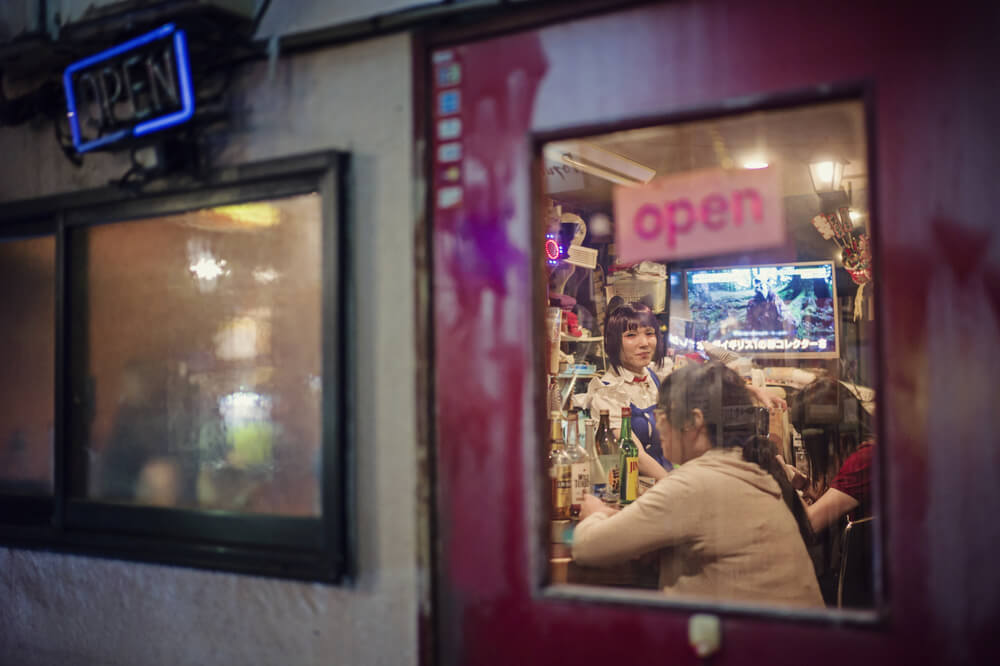 Golden-gai has different to normal place. So you should know the manners before you visit.
You must remember that the bars in Golden-gai are really small and narrow. You should not stay there longer.
After you enjoy drinking and talking with barkeepers or customers, you should leave there quickly. It is a tacit agreement.
The tips for Golden-gai is that you go bar-hopping and find your favorite bar.
Bars have only 10 seats or a standing bar style. So these are not suitable for a large number of people.
If you go to Golden-gai, you should go with a couple of people.
You just enjoy talking with the barkeeper and customers who is drinking when you visit.
You should buy a barkeeper or hostess a drink if you can. Then, you would have a great conversation with them.
What do you have to pay attention to in Golden-gai ?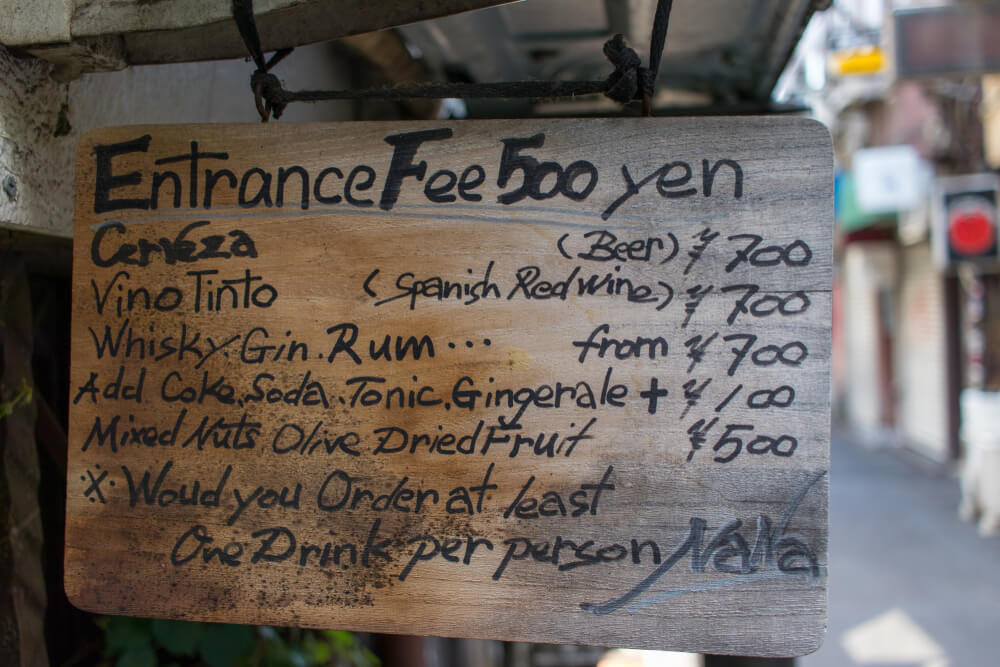 Most bars in Golden-gai charges the cover charge and a small appetizer served at first.
The cover charge is different depending on the bars. The average is 500 to 1000 yen.
If you go to a bar for the first time, you should check the cover charge in advance.
In recent days, a lot of foreign tourists visit Golden-gai.
So the bars put an information board in front of them, which explains whether the cover charge is charged or not.
Golden-gai used to have rip-off bars. Some people were claimed expensive payment.
Thanks to the redevelopment project and association management, there are no rip-off bars around there.
However, the price setting is different depending on the bars.
Some of them might charge way too much. So you need to check where you go to in advance.
Be careful when you are forced to go to a bar by those who tout.
The average price of a drink is about 600 yen.
However, the price might be 5000 yen at the bar which those who tout introduced.
If you worried about where to go, you should ask to the barkeeper.
The barkeeper introduces good and safe bars if you asked them that you are a beginner and want to know a good bar.
Summary
We introduced Golden-gai which is an entertainment district in Shinjuku.
Golden-gai is filled with only small bars. So you should go there with a small number of people.
Before you go there, you should check the cover charge. You will not be in trouble.
At night, you will have a fun time to talk with the barkeepers and other customers in Golden-gai.
Let's go to multiple bars, drink and feel nostalgic atmosphere.