Tokyo, a world-famous gourmet city has many conveyor belt sushi restaurants that offer plenty of food and entertainment.
Conveyor belt sushi restaurants are available at a reasonable price starting at 100 yen per plate and offers a wide range of menus in addition to sushi.
Recently, high-tech functions using high-speed lanes have also appeared so you can enjoy your meal while enjoying your meals.
Here are seven recommended conveyor belt sushi restaurants in Tokyo!
What is a conveyor belt sushi?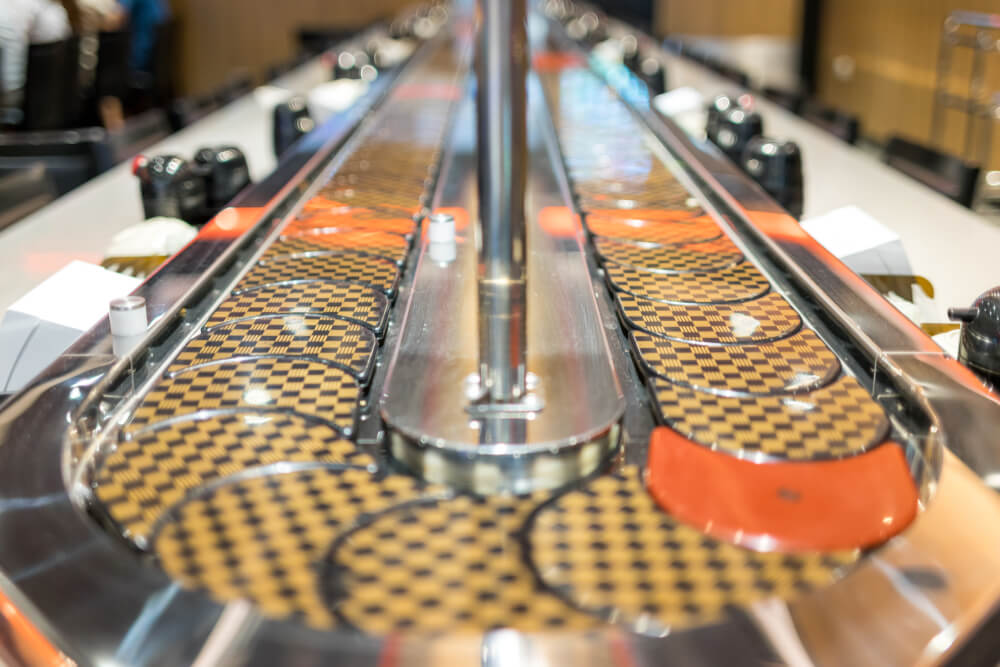 "Conveyor belt sushi" is a gourmet dining where sushi is placed on a small plate and rotated on a belt conveyor.
When customers select sushi from the touch panel,the dishes are carried on a rotating belt conveyor rolling thru the tables.
So when the selected order passing by it will make a sound to inform the customer to pick up their order.
If missed the same order will still rotate and come back to the same point as it rolls non stop.
Sushi and other foods including deserts rolls next to the table so It is fun to be able to take your favorite dish as it passes your table.
"Conveyor belt sushi" is not as expensive as full-fledged Edomae sushi but the price is reasonable and attractive.
The conveyor belt sushi can be used for a variety of purposes, from families with children to single businessmen and dating couples.
In Tokyo,there are many popular shops lined up as a fierce battlefield where delicious conveyor belt sushi can be found and are always busy.
Does the latest conveyor belt sushi go around?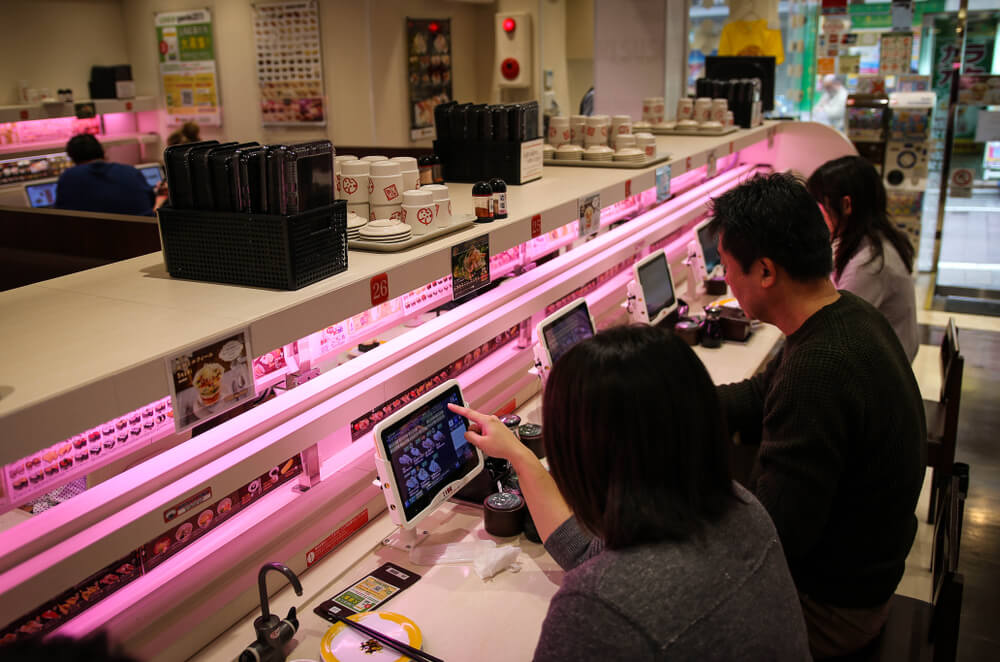 Speaking of conveyor belt sushi, as the name implies sushi rotates over the conveyor belt but the latest version tends to not rotate.
At "Genki Sushi Shibuya", is a revolving sushi chain developed mainly in the Kanto region, sushi is made as soon as receiving an order instead of rotating on the conveyor belt.
When a customer orders sushi on a tablet device sushi arrives on the high-speed lane.
This has the advantage of maintaining the freshness and quality of the sushi and eliminating waste.
【Top7】Tokyo conveyor belt sushi restaurants
Conveyor sushi in Tokyo is convenient because the touch panel used when ordering supports English, Korean and Chinese.
Recently, there are staff who can speak foreign languages so visiting tourists can relax and order with confidence.
Here are 7 recommended conveyor belt sushi restaurants in Tokyo!
①Uobei Shibuya
"Uobei Shibuya" is conveniently located about a 5-minute walk from JR Shibuya Station.
80% of the customer base is crowded with foreign tourists and it is a popular shop with a variety of menus other than sashimi.
All seats are counter seats and when you sit on the number seat, there is a touch panel in front of you.
You can order up to three items at a time and you can also choose non wasabi items,drinks and desserts.
The highlight of this restaurant is the speed in which sushi can be delivered at a very high speed!
If you take the sushi and press the "Genki-kun" button to display the high-tech system that returns the table to its original position.
②Heiroku sushi Shibuya Omotesando
"Heiroku sushi Shibuya Omotesando" is a cheap and tasty conveyor belt sushi restaurant with a 50-year history.
It is a 5-minute walk from Meiji-Jingumae Station and a popular restaurant with a casual atmosphere.
The reason why high quality sushi is reasonable because they buy their fish caught in Ishinomaki fishing port directly.
Popular classic sushi is monkfish liver,shiroko, yellowtail,tuna,whelk,mackerel,grilled foie gras and horse sashimi,alternative ingredients.
Japanese side menu includes chawanmushi and tempura and is recommended for foreign tourists.
③Mawashi Sushi Katsu Midori Meguro
"Katsu Midori Meguro" is a popular restaurant among conveyor belt sushi restaurants in Tokyo.
This is the first of a total of 10 chain stores and has approximately 200 types of menus.
It offers fresh ingredients and seasonal seafood at reasonable rates and is very popular with foreign tourists.
The most popular items are "Tuna" (100 yen per plate), "One Special Eel" and "Spilled Ikura".
There are counter seats and table seats but customers are usually waiting on a waiting list so even if they are lined up waiting for a table or counter seat , it is well worth waiting.
④Sushidaidokoya Shibuya
"Sushi Daidokoro-ya Shibuya "located on dogenzaka in Shibuya. This is a popular conveyor belt sushi restaurant with long business hours.
It is open until 5 am on weekdays and until 6 am on Friday and Saturday weekends so you can enjoy sushi on your way home late at night.
The popular menu is "3 kinds of tuna", which is a set of lean,medium toro and large toro.
Lunch time ,lunch set (with miso soup) from 11:00 to 14:30 pm on weekdays can be as low as 500 yen (excluding tax).
⑤Nemuro Hanamaru KITTE Marunouchi
"Nemuro Hanamaru KITTE Marunouchi", a minute walk from Tokyo Station Marunouchi South Exit is a sushi chain with 12 stores in Tokyo area.
Fresh materials are lined up by the purchase of the day. They have seasonal delicious foods mainly seafood from Nemuro, Hokkaido.
There are many valuable items such as "Nemuro-no-sanma" and "Tarabagani" with fat and you can enjoy sushi with outstanding freshness for as much as 130 yen per plate.
⑥Conveyor belt sushi Edokko Kanda
Edokko is 2 minutes walk from Kanda Station named as Kanda Edokko sushi chain.
The manager goes to Tsukiji Market every day and buys several kinds of fresh fish and offers them as recommended sushi.
It has a reputation for having more types of spatter than other conveyor belt sushi chains, larger spoilers and a variety of sushi.
Popular menus include 5 nigiri (sea urchin, toro, salmon roe), tuna lean, middle toro, sea bream, fresh octopus, sweet shrimp, kombu, hamachi, milt, sea urchin, etc.
Sashimi, snacks, sake and kids menu are also available so you can enjoy it with your family.
⑦Maguro-Tonya Miura Misaki Port Ueno
"Miura Misaki Port" is a 5 minute walk from Ueno Station Shinobazu Exit is a conveyor belt sushi developed mainly in Kanagawa Prefecture.
It has a reputation for its famous gunkan zushi,and it is a secret store because it has only one Ueno store in Tokyo.
"Tuna nakaochi gunkan" (100yen) is a popular menu that appears in the media as the excitement rises.
It is also characterized by splendid sprinkles such as engawa and sweet shrimp.
We recommend that you enter the store early because the store has a line only at the counter at lunch time.
You must know when visiting conveyor belt sushi restaurants
 
Conveyor belt sushi is easy to put in at a reasonable price but there are some manners to watch out for.
There are a few things you need to know before going to a sushi restaurant.
When you're ordering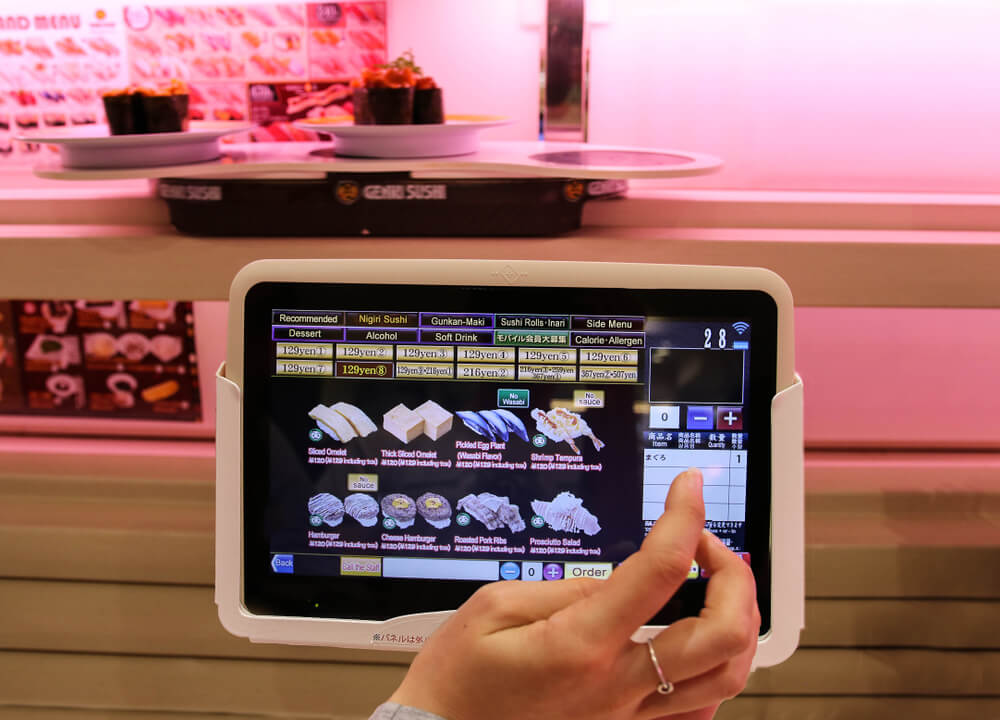 At the conveyor belt sushi bar you can take the sushi that goes around but it is not good idea to take the items ordered by other people.
If you pick up the plate please be careful and not to return it back to the belt ,since you touched the plate it is a bad manner to return it.
Even if you did not use chopsticks once you touched the plate ,for sanitary reasons do not return the plate to the rail.
No matter how much sushi you eat at conveyor belt sushi restaurant stacking up plates like a tower is no good so you can only pile up to 10 plates.
How to pay your bill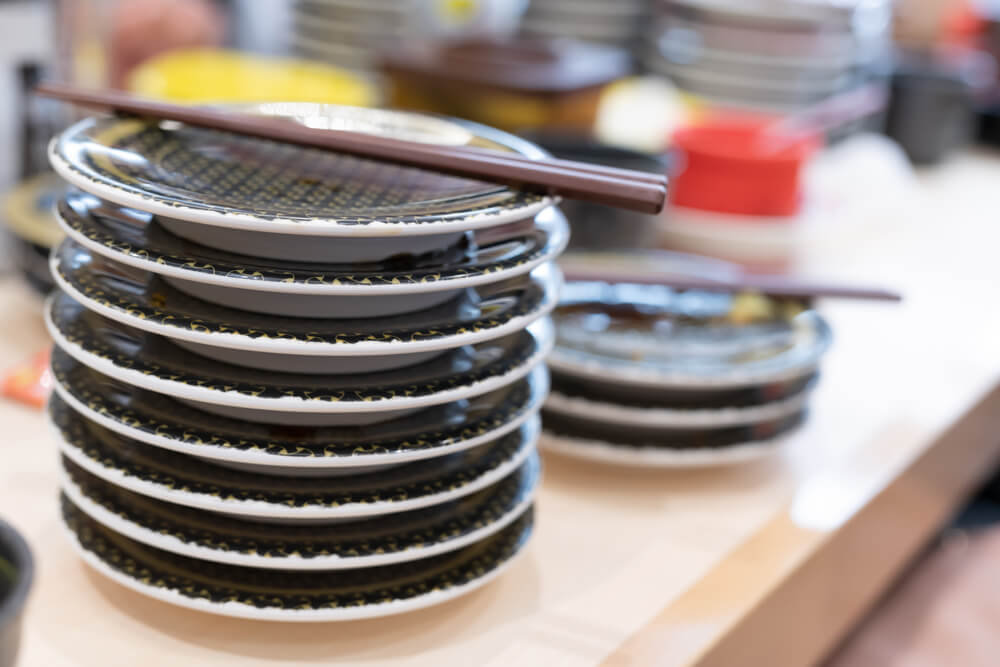 The price of conveyor belt sushi is about 100 to 300 yen and the color of the dish makes the price of the dish easy to understand.
To check out after a meal ,press the checkout button on the touch panel.
A waiter or waitress will count the plates and hand you the receipt so you can take that with the table number and pay at the counter.
Summary
In Tokyo, the number of delicious conveyor belt sushi that supports English, Korean and Chinese are increasing.
Please make sure to visit a handy and affordable conveyor belt sushi restaurant to find your favorite sushi restaurant.
▶【Top 5】Tokyo Sightseeing Spots and the Tips for walking around the city