Nagoya of Aichi prefecture is famous for Nagoya Castle with Golden Shachihoko (it is a mixture of a dragon and fish with thorns and sharp fang) and Atsuta shrine which worshiped by a lot of people including the imperial family.
Speaking of Nagoya food, you might hit upon only Hitsumabushi (finely chopped eel over rice) and Misokatsu(pork cutlet with miso sauce).
However, there are more.
Surprisingly, Nagoya has a variety of original local food. Only local people know these existence.
We introduce Nagoya standard food and little known food. When you go to Nagoya, try them.
Must eat Nagoya food
Miso-katsu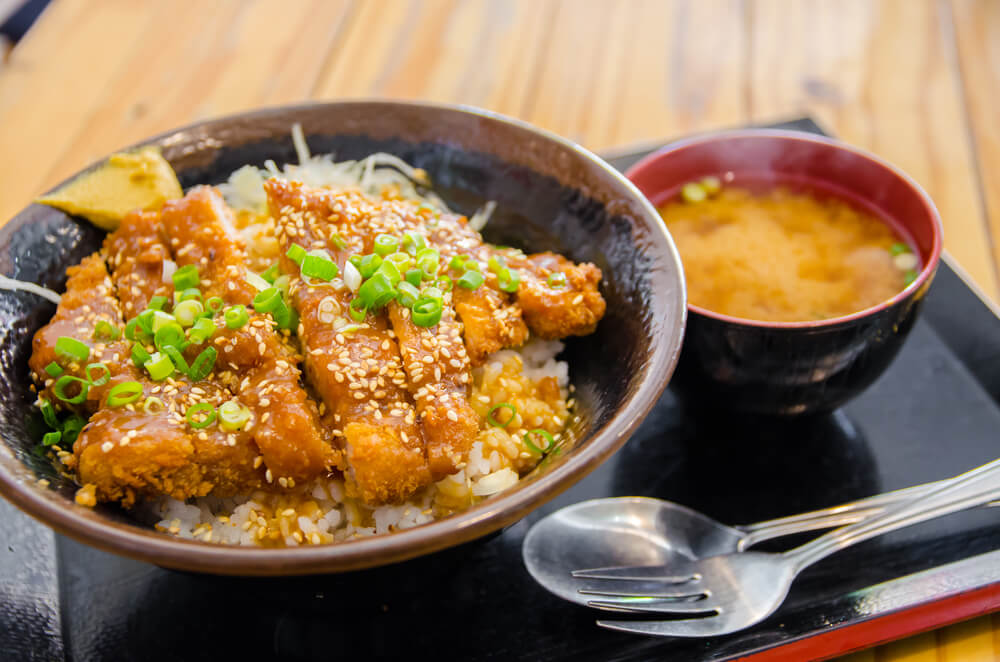 Miso-katsu is a pork cutlet topping with original miso sauce made by Hatcho Miso (miso fermented for long term), bonito soup stock and sugar.
As Hatcho Miso has been a local speciality since long time ago, it is naturally used for cooking.
There are a lot of Miso-katsu restaurants in Nagoya, moreover normal restaurants also has Miso-katsu on their menu.
It is a cozy food for local people.
The whole pork cutlet is soaked in miso sauce. Rich tasted sauce and juicy pork cutlet matches white rice.
You will eat large sized cutlet because the sauce tastes more mild than standard cutlet sauce.
Hitsumabushi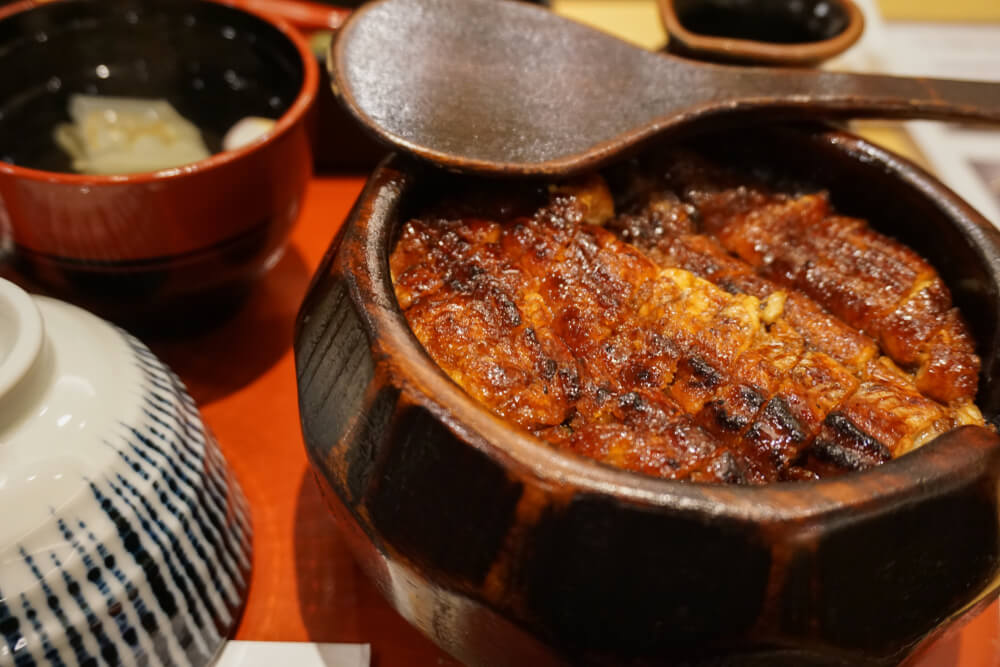 Hitsumabushi is famous Nagoya food, which is chopped grilled ell with sweet sauce over rice.
'Hitsu' means a wooden tub called Ohitsu for keeping cooked rice. 'Mabushi' means mix.
Hitsumabushi used to be served by Ohito, and mix and eat them. So it is called Hitsumabushi.
There is the eating procedure. To begin with, the whole eel dish is decided into three portions.
You put the first portion into your bowl and enjoy as it is.
Next, you put the second helping in and put on some condiments like Japanese horseradish or seaweed.
Then mix and eat them.
Lastly, you have the third portion in the same manner as the second portion plus broth poured over it like Ochazuke(boiled rice in soup).
Hitsumabushi offers you several ways to taste ell. So this is must eat food of Nagoya.
Misonikomiudon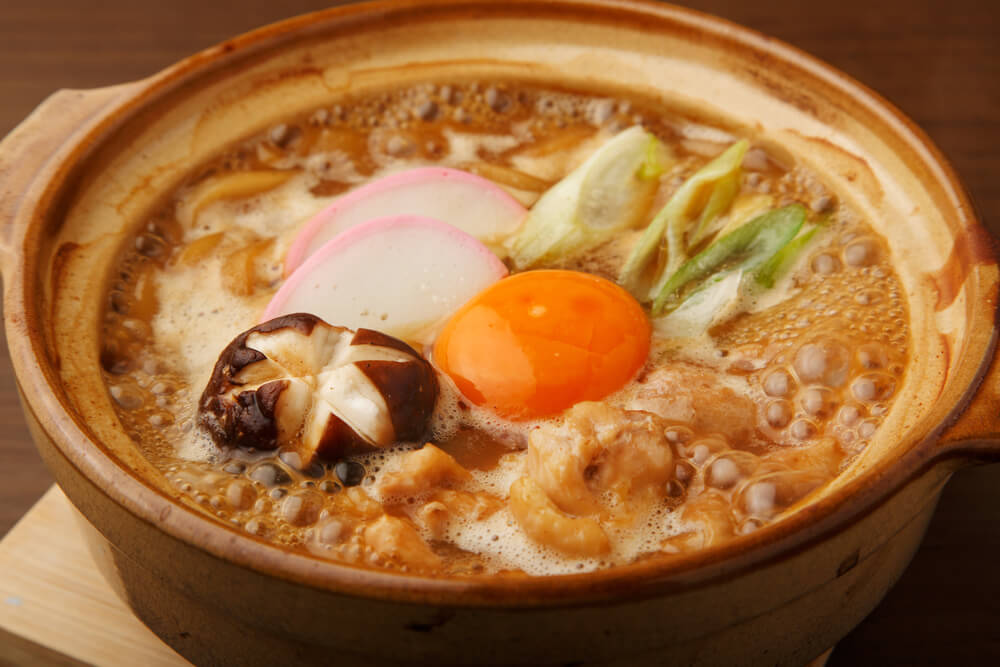 Misonikomiudon is also delicious Nagoya food.
It is chewy udon noodle boiled with Hatcho Miso soup in an earthenware pot.
It is one of dishes made at home. All udon noodle shops in Nagoya have Misonikomiudon on the menu.
If you have never eaten it, you must be surprised with noodle firmness.
But, you will be attracted by rich tasted miso sauce and chewy udon noodle.
Whenever you come to Nagoya, you want to eat it.
Ankake spaghetti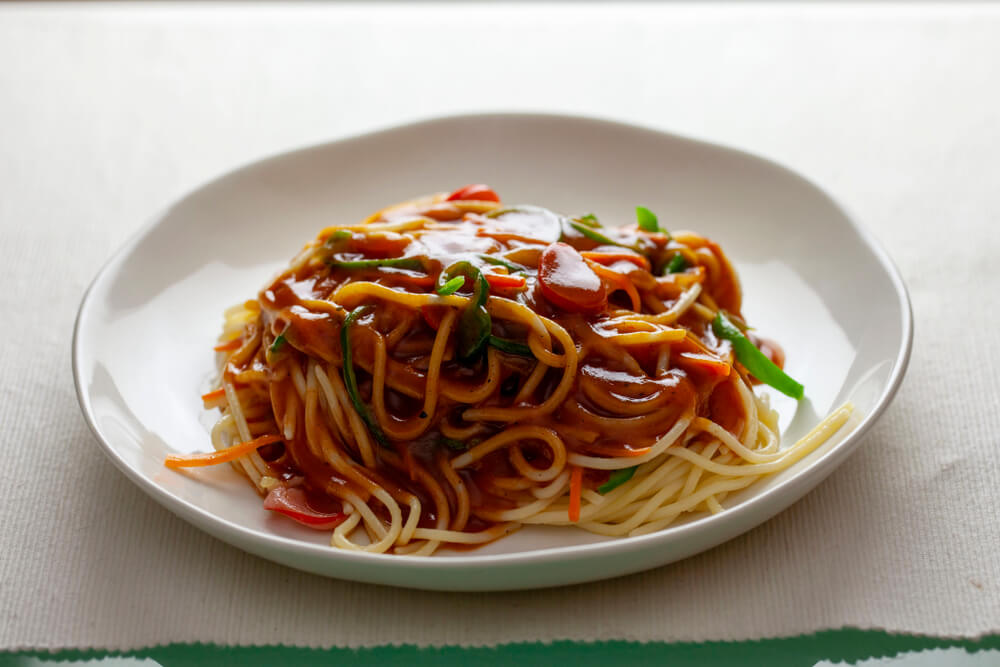 Ankake spaghetti is little known local food. Ankake is unique spicy sticky sauce.
The sauce is originated from meat sauce and changed to fit Japanese peoples' tastes.
The spaghetti is covered with Ankake sauce. Japanese tasted sauce attracts many people.
Depending on restaurants, fried shrimp or Vienna sausage is put on the sauce.
Many cafes have Ankake spaghetti on the menu. So it might be fun to try it at various cafes.
Mo-nin-gu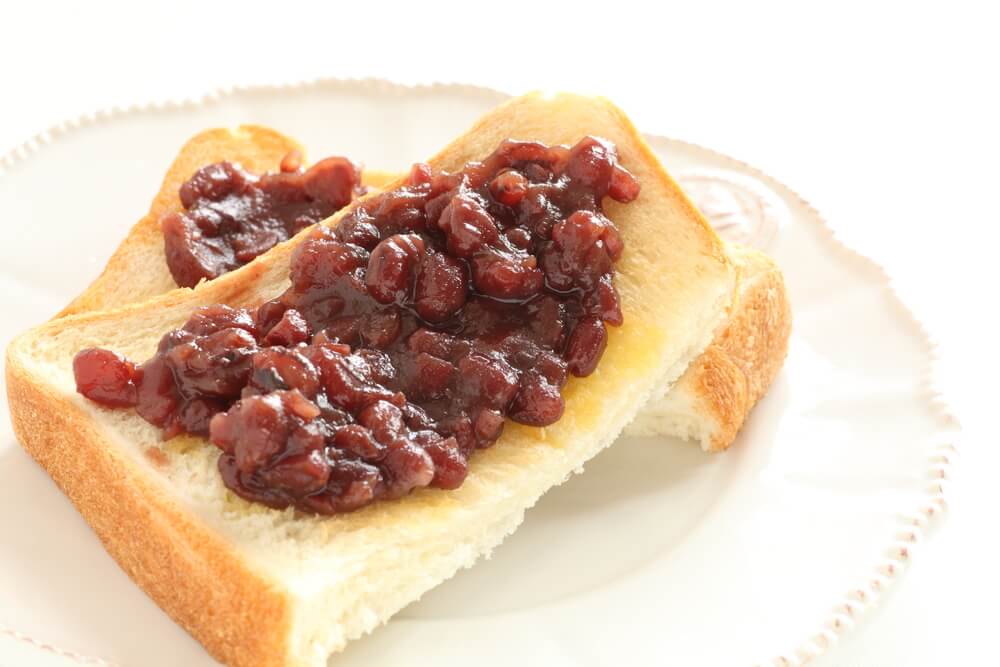 Nagoya has a lot of good-old cafes. So Nagoya is known as "cafe kingdom."
There is breakfast special called 'Mo-nin-gu' in Japanese.
If you order only a cup of coffee during morning, toast and a boiled egg are provided free of charge.
This 'Mo-nin-gu' style is spread all over Japan. Especially busy business people and housewives like it.
Nagoya cafe has traditional and comfort atmosphere unlike the latest cafes.
Why not go to Nagoya cafe instead of having a breakfast at hotel or home.
What is the feature of Nagoya food?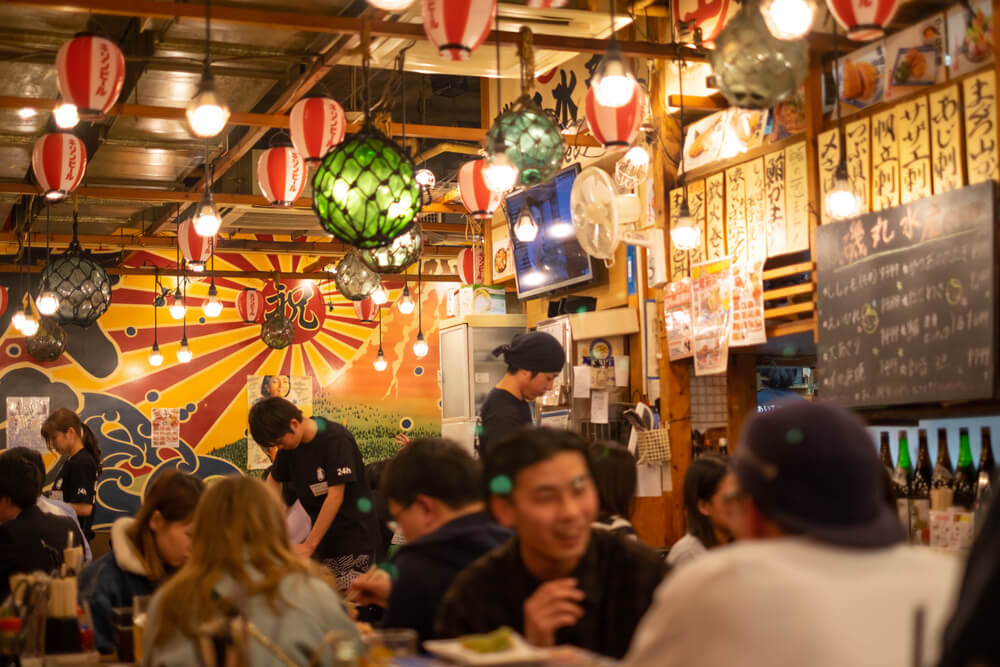 Most Nagoya people likes rich taste because there is traditional dark brown miso.
Hatcho Miso is one of dark brown miso made from only soy beans and salt. It is most popular miso in Tokai region.
Nagoya food tastes really rich because Nagoya people use salty and rich tasted miso for cooking.
So there are a variety of miso dishes like Misokatsu, Misonikomiudon, Misooden(vegetables and fish paste boiled with miso soup).
All of them have strong flavor.
Most Japanese like this taste. Nagoya is the heaven for those who love miso. Let's eat all miso dishes during sightseeing.
Must visit restaurants in Nagoya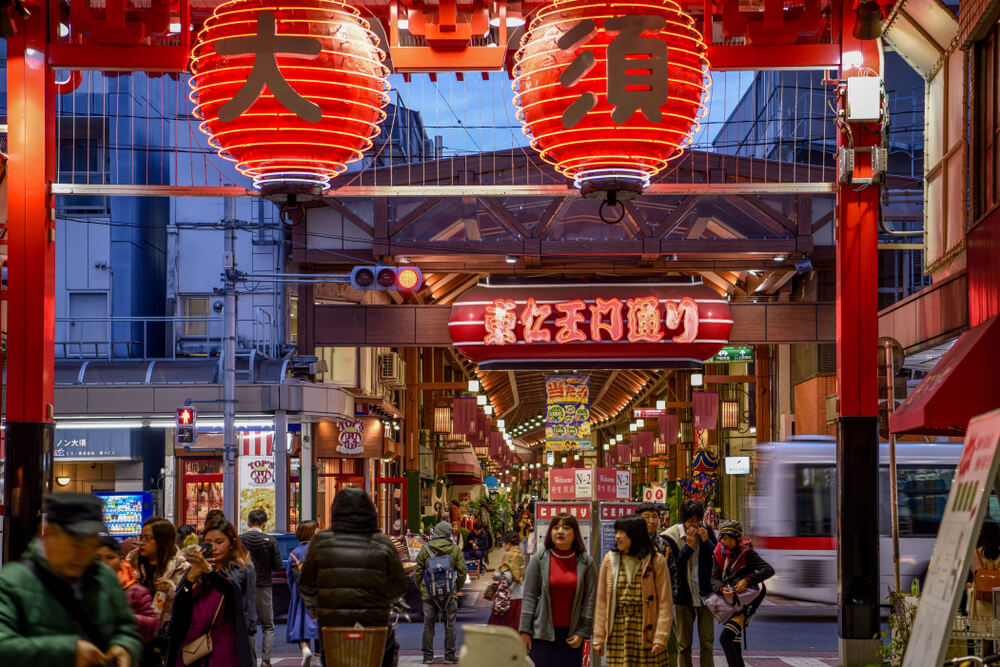 1.Yabaton
Yabaton is a famous misokatsu chain restaurant which many tourists knows.
"Waraji tonkatsu" is a yabaton's popular dish. It is a large sized pork loin cutlet.
You must be stuffed after eating it. Rich and mild miso sauce matches not only pork cutlet but also white rice.
Some people who don't have confidence to eat both pork cutlet and white rice order only pork cutlet.
You surely select normal sized pork cutlet. In addition, you can also eat pork fillet cutlet. You will find your favorite dish.
Address :3-6-18, Osu, Naka-ku, Nagoya City, Aich
By Train : 5 minutes walk from No.4 Exit of Meijo Line Yabacho Station, 8 minutes walk from No 12 Exit of Meijo Line Kamimaezu Station, 8 minutes walk from No 9 Exit of Tsurumai Line Kamimaezu Station
Hours : 11:00~21:00
Closed : Open all year round
2.Yamamotoya-honten
If you want to eat Misonikomiudon in Nagoya, you should go to Yamamotoya-honten founded in 1907.
It is a long-established udon noodle restaurant.
The feature of Misonikomiudon here offers miso soup using bonito soup stock made by specialists and chewy udon noodle made by only selected wheat flour and water.
Misonikomiudon is udon noodle in well-boiled miso soup. So you become warm from inside.
This brown colored soup tastes rich and mild, so you will drink all up. At last, you should put rice in the soup.
Address :6-5, Taiko-tori, Nakamura-ku, Nagoya City, Aich
By Train : 8 minutes walk from Sakura-dori Line Nakamura Kuyakusho Station, 8 minutes walk from Higashiyama Line Nakamura Nisseki Station
Hours : 11:00~22:00 (L.O. 21:30)
Closed : Open all year round
3.AtsutaHouraiken Jingu-ten
AtsutaHouraiken is known as the place of origin about Hitsumabushi. All local people knows the restaurant.
The original sauce has taken over since the restaurant opened. It is for over 140 years.
The fresh ell is grilled with high-grade charcoal. If you go there, you will meet traditional taste.
AtsutaHouraiken is a famous restaurant with a long waiting line. It is near a sightseeing spot, Atsuta shrine. If you come to Nagoya, try to visit there.
Address :2-10-26, Jingu, Atsuta-ku, Nagoya City, Aich
By Train : 4 minutes walk from Meijo Line Temma-cho Station, 10 minutes walk from Meitetsu Nagoya Line Jingu-mae Station
Hours : 11:30~14:30, 16:30~20:30
Closed : Tuesday, the 2nd and 4th Monday of every month
4.Spaghetti House Yokoi KITTE Nagoya-ten
Spaghetti House Yokoi is the originator of Ankake spaghetti. One of branches is located in KITTE Nagoya.
The sauce is made from meat and vegetables. And the feature of the sauce is little bit spicy taste by black pepper.
This sauce matches spaghetti.
Popular dishes are 'Milakan' topped with sausage, bacon, onion, green pepper and mushroom, 'Milannaise' with sausage, ham and bacon, and 'Ebi naise' with fried shrimp.
You will find your favorite dish because there are a variety of Ankake spaghetti.
Address : JP TOWER NAGOYA B1,1-1-1, Meikei, Nakamura-ku, Nagoya City, Aich
By Train : JP TOWER NAGOYA connected with Nagoya Station
Hours : Monday to Friday 11:00 ~ 23:00, Saturday, Sunday, Holiday 11:00 ~ 23:00
Closed : 1/1
5. Riyon
If you look for a famous cafe about 'Mo-nin-gu', you find 'Riyon' at first.
You will walk there from Nagoya Station. This traditional cafe serves morning set all day.
There are two kinds of 'Mo-nin-gu.' One is served with toast, the other is with hot pressed sandwich.
As for hot pressed sandwich, you choose what you put in from fruit, red bean paste, peanut cream, potato salad or vegetable salad.
The most popular flavor is red bean paste.
The sweet harmony with red bean paste and butter heal your body after walking around sightseeing spots.
As 'Mo-nin-gu' is offered all day, you eat it whenever you go there.
Address : Mitsui Building Bekkan B1,1-24-21, Meikeiminami, Nakamura-ku, Nagoya City, Aich
By Train : about 5 minutes walk from Nagoya Station
Hours :8:00 ~ 18:00
Closed : Open all year round
Summary
Nagoya is full of delicious miso food. Let's eat all kinds of miso food.
Moreover, Nagoya has original food culture like Ankake spaghetti or morning set. When you go to Nagoya, you enjoy delicious local food.
▶【Top 5】Nagoya Sightseeing Spots and the Tips for walking around the city