Kyoto is Japan's ancient capital.
There are not only beautiful historical shrines and temples but also delicious food.
We introduce famous Kyoto food and unique dishes originated here, which entertain everyone during sightseeing.
We picked up high-class and casual restaurant. When you go to Kyoto, try to go there.
Must eat Kyoto food
Do you know standard Kyoto food? There might be something rare than you expected.
Obanzai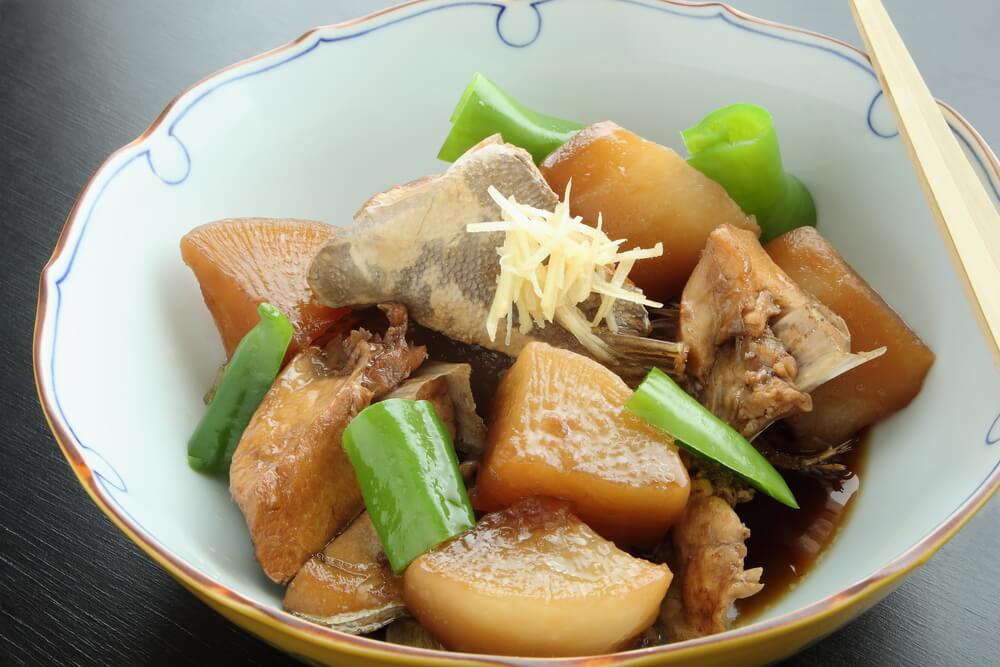 Obanzai means a side dish in Kyoto which has cooked since long time ago.
There is no specific side dish called Obanzai. All kinds of side dishes are called it.
The feature of Obanzai is that you taste ingredients itself and see the actual color of them because it is cooked with sotiphcated soup stock and light-colored soy sauce.
For example, Obanzai is a side dish using Kyoto vegetables stewed in bonito and kelp broth, and bean product like deep-fried tofu and freeze-dry tofu. Women like Obanzai because it looks health food.
Tofu and Yuba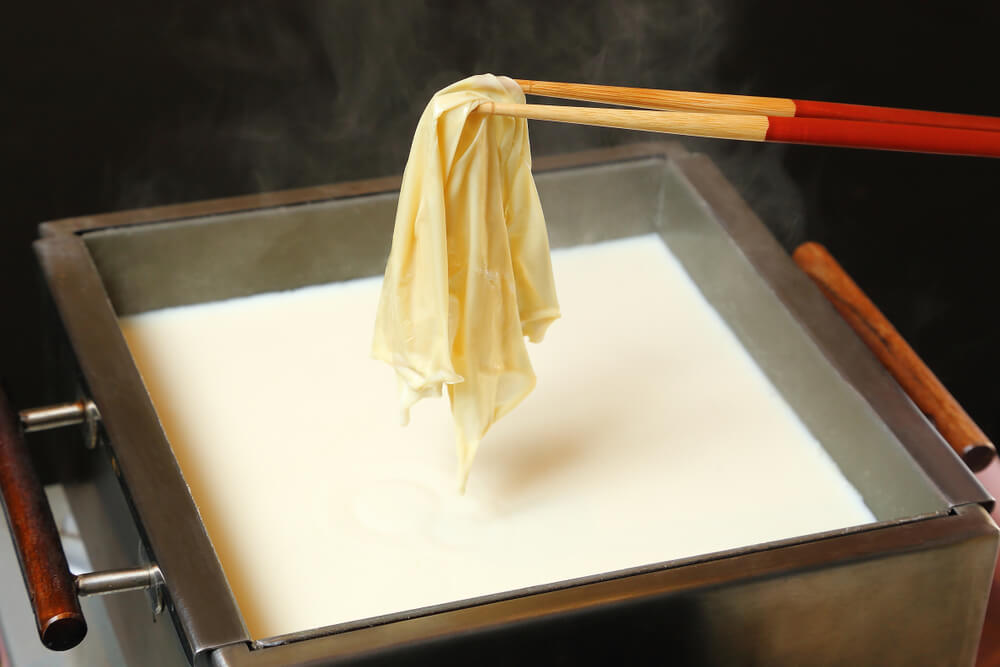 Tofu and Yuba made from soy beans are used for monk's meal called Shojin-Ryori, which is Buddhist vegetarian meal.
They are really useful ingredients in Kyoto because there are a lot of temples.
Yuba is soy milk skin. It needs pure water to make.
As water is clear in Kyoto, Yuba made in Kyoto has become a popular dish.
Kyoto Yuba is thin like a paper. It is used by being multiply piled up and dried.
There are a variety of eating styles like stewing.
Nishin Soba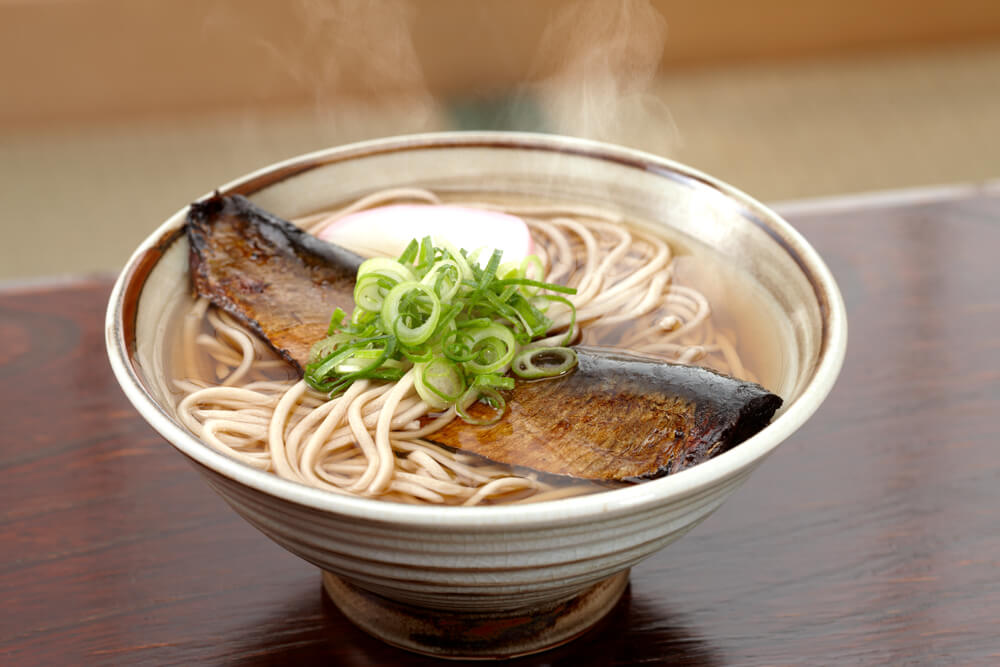 Nishin Soba has been created in Kyoto in Meiji era.
Kyoto has bought Nishin (herring) from Hokkaido as there is not surrounded by the sea.
To take days to transport from Hokkaido to Kyoto, Nishin was dried to keep it fresh.
Then, a dried Nishin started to be topped on the soba noodle. It is Nishin Soba.
The soba includes only stewed Nishin and Japanese leek.
However, many people are addicted to the taste by mixing the flavor of Nishin and simple soup.
Tsukemono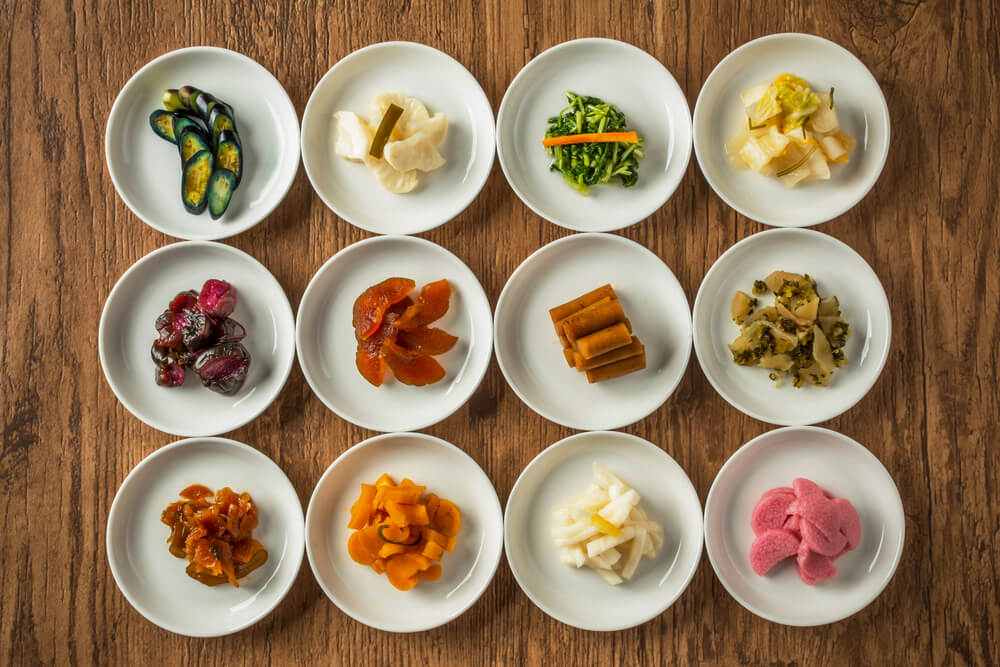 Tsukumono is pickled vegetables.
In Kyoto, a variety of vegetables are grown thanks to the environment blessed with pure water.
Vegetables grown in Kyoto used to be thought as precious ingredients because Kyoto is a landlocked area.
So the situation has developed the way to keep them fresh.
Kyoto Tsukemono really brings out the full flavor of the ingredients.
Little bit sour and mild taste match any dishes.
If you go to supermarket in Kyoto, you will find a variety of Tsukemono using rare vegetables.
It is good for your souvenir as it stays fresh for a long time.
Fish dish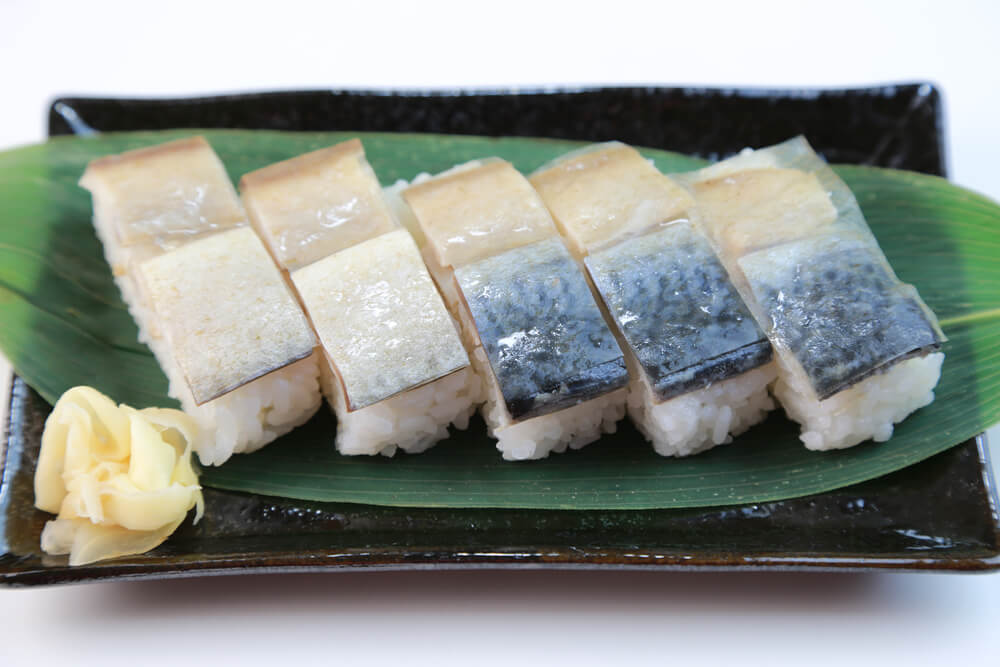 You must be doubt why Kyoto is famous for fish dish despite landlocked area.
Original fish dish has developed as there is no ocean.
Especially, Saba-sushi(mackerel) and sea ell dish are known.
Sea ell dish is popular in summer. You will hear the sound of cooking sea ell when you go to Kyoto in summer.
Sea ell is such a powerful fish that it can keep freshness despite long transportation distance.
So sea ell has become popular in Kyoto.
In summer, you should eat a light tasted dish using fatty sea ell.
Saba-sushi is famous fish dish in Kyoto. To keep mackerel fresh, it is cooked and conveyed to Kyoto.
Then, Saba-sushi has become a common dish in Kyoto. It is often offered on festival or ceremony.
The harmony of oily mackerel and light tasted vinegar rice helps you eat Saba-sushi more.
Saba-sushi is a good dish at when you take a ride on a train for several hours.
Sweets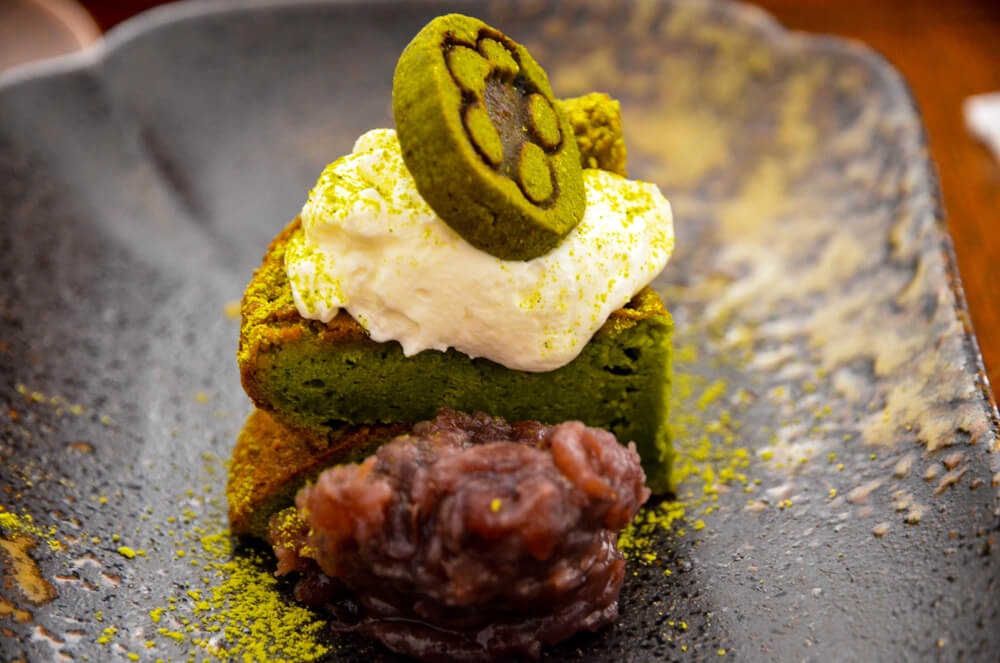 Kyoto must-eat food is sweets using Maccha.
Kyoto has been known for tea ceremony since long time ago. So Maccha become a common drink.
Now, many cafes in Kyoto offer sweets using Maccha. People have thought Kyoto as a city serving Maccha sweets.
You will find a variety of Maccha sweets wherever you go to sightseeing spots in Kyoto.
It is said that Maccha is healthy and brings out the best of sweetness. Some women like looking for Maccha sweets in Kyoto.
What is the feature of Kyoto food?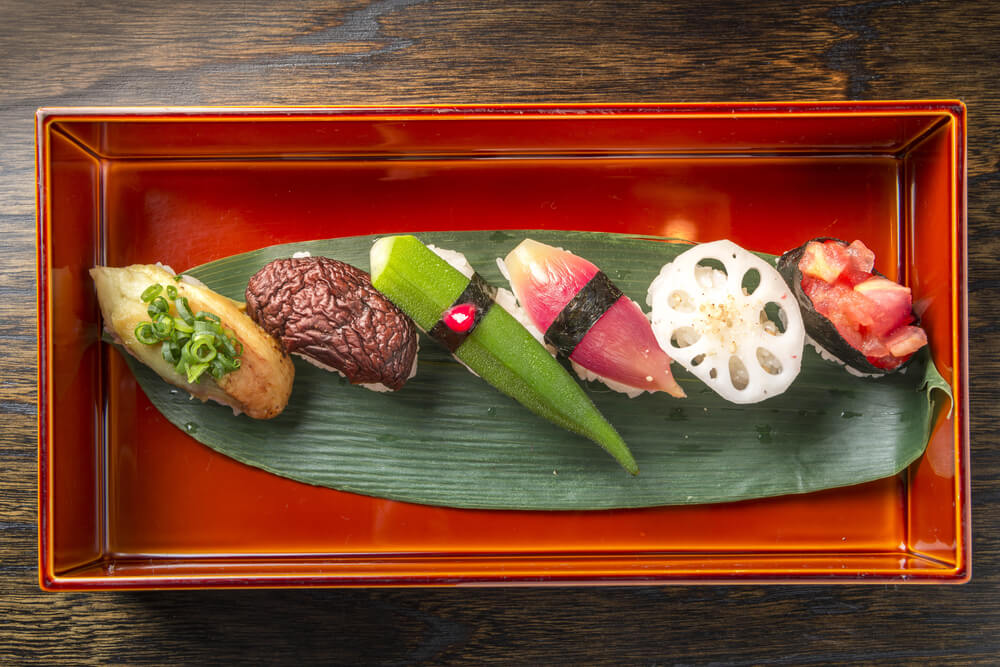 Kyoto is surrounded by mountains. And the beautiful river is flowing.
Kyoto's environment help the development of Kyoto food, which has pure water and rich soil.
Kyoto food mainly uses vegetables and soy bean product. In addition, Buddhism influenced Kyoto's food culture.
Besides vegetables, there is a great cooking technique in Kyoto.
It is a way to keep fish fresh to transport fish all the way from the sea.
As the technique was developed, Saba-sushi and sea eel dish have become common dishes in Kyoto.
Kyoto not only takes over traditional style but also accepts new culture.
So there are beautiful tea-ceremony dish and latest sweets, which everyone likes.
Must visit restaurants in Kyoto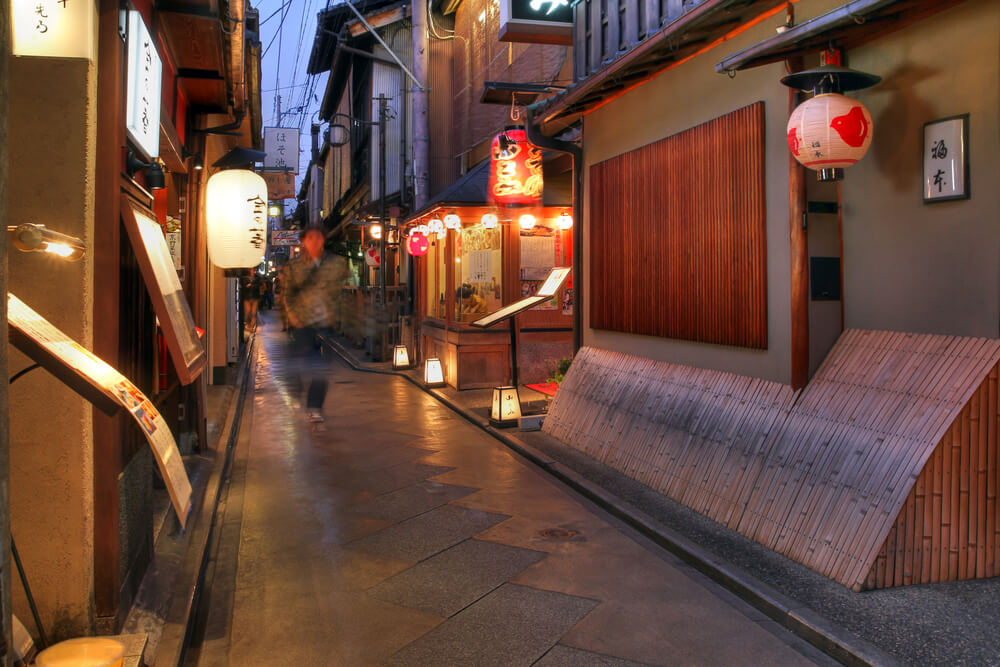 1. Menami
Menami is a restaurant known as the originator of Obanzai, founded in 1939.
It is located 2 minutes walk from Sanjo Station.
As soon as you go into the restaurant, you see some large plates of Obanzai on the counter table.
The popular dish is Obanzai daily assortment including 5 kinds of Obanzai.
You will eat standard Obanzai like stewed fish or vegetables and original one like Yuba spring roll.
Comfort taste make you drink more.
Address: 96, Nakajimacho, Sanjo-Agaru, Kiyamachidori, Nakagyo-ku, Kyoto City, Kyoto
By train: 2 minutes walk from Sanjo Station
Hours: 17:00~23:00 (L.O. 22:30)
Closed:Sunday(Monday is closed if a national holiday falls on a Sunday)
2. Seike Nijyojyo-ten
Seike is located near Nijo Castle, which is a famous sightseeing spot.
Seike has some branch. And Nijyojyo-ten is the first restaurant, which has traditional atmosphere.
Seike offers a variety of dishes like raw Yuba using clear water in Kyoto and soy milk.
There are 'Kumiage-Yuba,' which Yuba lifted from a pot boiling soy milk, and 'Kyo-Yuba-don' which is a rice bowl topped with Yuba.
This is Yuba speciality restaurant. If you visit Nijo Castle, you should visit here.
Address: 233-4 Daimonjicho, Kuromon, Oikedori, Nakagyo-ku Kyoto
By train: 1 minute walk from No.3 Exit of Tozai Line Nijojo-mae Station
Hours: 11:30~14:30, 17:30~19:30
Closed: Irregular holidays
3. Matsuba
Matsuba is the first restaurant offering Nishin Soba, which has lasted for 150 years.
Even locals loves Matsuba Nishin soba.
Soft and tasty stewed Nishin and elegant tasted soup make great harmony. If you like Kyoto, you should go to eat it.
There are two branches in GionShijo, which are Hon-ten and Kita-ten. Another branch is located in Kyoto Station.
If you want to enjoy the atmosphere, you should go to Hon-ten.
Besides Nishin soba, you eat a rice bowl and udon noodle.
Address:192, Kawabatacho, Sijyo-Ohashi Higashi-iru, Higashiyama-ku, Kyoto-City, Kyoto
By train: In front of No.6 Exit of Keihan Line Gion-shijo Station
Hours: 11:00~21:30 (L.O 21:00)
Closed: Wednesday (open if nationals holiday fall on a Wednesday)
4. Akoya jaya
Tsukemono is thought as one of souvenir in Kyoto. However, you eat it at a restaurant.
It is Akoya jaya, located on Sannennzaka near Kiyozumi Temple.
On weekends, many people wait to eat Tsukemono in the restaurant.
There are 20 kinds of Tsukemono, a variety of rice, miso soup and sweets.
It is all-you-can-eat style. So you eat Tsukemono as much as you want.
The price is 1450 yen. There is no time limit. After meal, you buy Tsukemono as souvenir.
Address: 3-343, Shimizu, Higashiyama-ku, Kyoto City, Kyoto
By train: 18 minutes walk from Keihan Line Gion-shijo Station
Hours: 11:00~17:00 (Last entry at 16:00)
Closed: Open all year round
5. Izuu
It is said that Izuu is spread Saba-sushi throughout the world.
Izuu is located in traditional architecture area. It has a history of 200 years. You eat delicious Saba-sushi.
Saba-sushi is made from oily mackerel from the Sea of Japan and white rice from Shiga.
Thick and rich mackerel matches vinegar white rice.
'Saba sugata sushi' (sushi using whole mackerel) is little bit pricy, 2430 yen, however, this is must-eat food in Kyoto.
Address: 367 Kiyomotocho, Higashiyama-ku, Kyoto City, Kyoto
By train: 5 minutes walk from No.7 Exit of Keihan Gion-shijo Station
Hours: 11:00~23:00 (L.O. 22:30)
Closed: Tuesday (Except national holiday)
6. Maccha House Maccha-kan
Maccha House Maccha-kan is such a popular cafe that there are always lines.
The cafe has 10 branches not only in Japan but also in asian countries such as Singapore and Honkon.
The most popular sweet is 'Uji-Maccha tiramisu' using Maccha and mascarpone.
If you eat this creamy sweet, you would like to eat it once again.
On weekends, many people visit the cafe to eat sweets. You might be wait for a while, however you should go here.
Address: 382-2, Komeyacho, Shijo-Agaru, Kawaramachidori, Nakagyo-ku, Kyoto City, Kyoto
By train: 2 minutes walk from Hankyu line Kyoto Kawaramachi Station
Hours: Monday to Thursday, Sunday and Holiday 10:00~21:00 (L.O. 20:30), Friday and Sturday, the day before Holiday 10:00~22:00 (L.O. 21:30)
Closed: Open all year round
Summary
Kyoto offers you traditional Kyoto food because there are still beautiful nature and culture.
So there is a sightseeing spot which attracts Japanese.
Many people in all generation have fun time in Kyoto, because there are traditional and luxury restaurant and the latest cafe serving Kyoto sweets.
If you go to Kyoto, try to visit the restaurant and cafe which we introduced.