Kagawa Prefecture is famous for Kotohira-gu Shrine and Udon noodle.
Kagawa Prefecture is blessed with mild climate thanks to facing the Seto Inland Sea.
So there is known as one of best place in Japan to gather high quality fruits and vegetables, and fresh seafood.
Among tourists, the place is famous for a treasure house of delicious food.
Some people visit Kagawa to eat tasty food.
In addition to udon noodle, we'll show you some delicious Kagawa food.
What should we eat in Kagawa?
I would like to tell you 6 must-eat food when you go to Kagawa.
Each of them give you great memory of Kagawa trip. The article will help you.
Sanuki Udon Noodle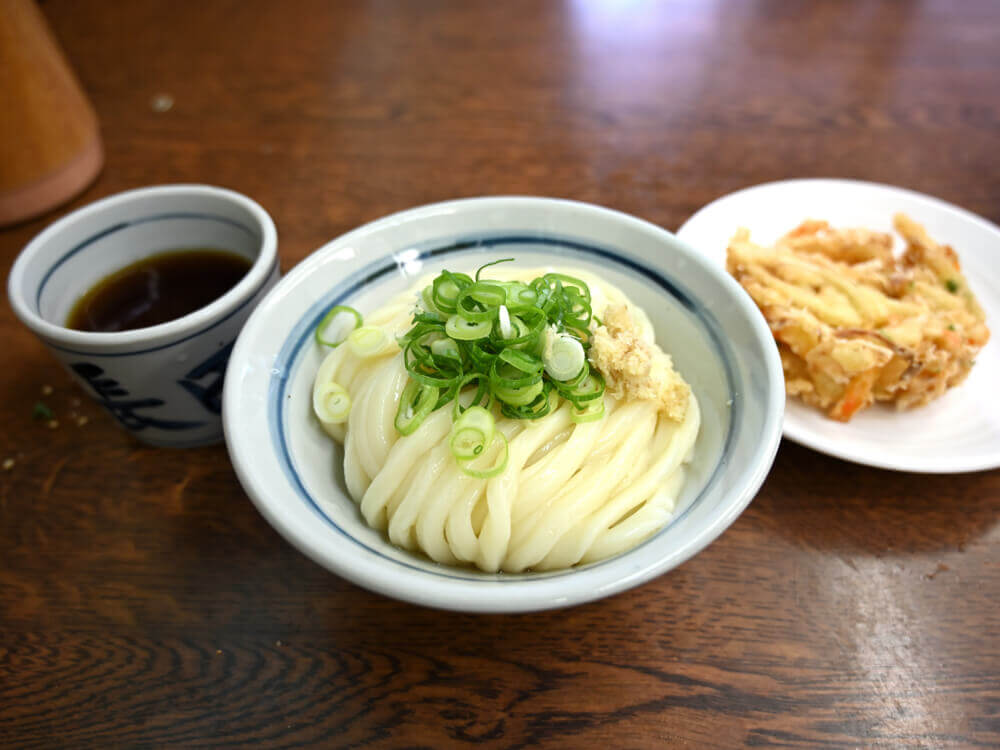 Kagawa must-eat food must be sanuki udon noodle. Some people visit Kagawa to eat udon noodle.
You must be surprised at taste and texture.
The feature of Sanuki udon noodle is chewy texture.
You must have never eaten such a firm noodle. You will admire powerful texture.
There are a variety of styles.
"Bukkake" is to eat sanuki noodle by pouring sauce into the noodle rinsed in cold water after boiling.
"Kamaage" is to eat noodle in a bowl with hot water. "Curry udon" is noodle mixed with curry soup.
Each style is great. When you go to Kagawa, let's go to eat noodles at several restaurants.
Pippimeshi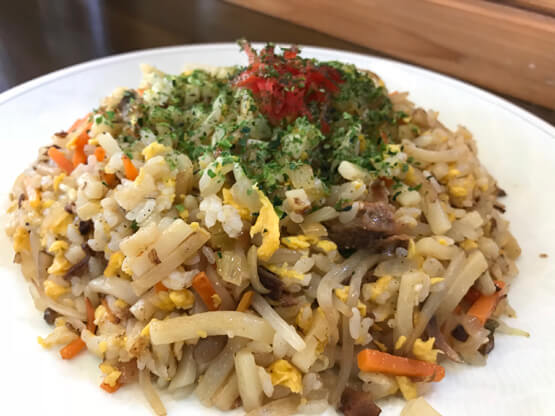 Pippimeshi is one of local food loved by people in Kagawa.
The Kagawa's cheap eats is similar to sobameshi (rice and soba noodle are combined).
This uses udon noodle instead of soba noodle.
"Pippi" means udon noodle. This is kagawa's dialect used to tell children about udon noodle.
The cute name expresses Kagawa people's love for udon noodle.
Usual ingredients of pippimeshi are rice flavored by udon's soup stock, udon noodle diced into 2 cm and other vegetables including pickled radish.
Savory taste grab your heart. So it is a dish that you want to cook at home.
Kasshayaki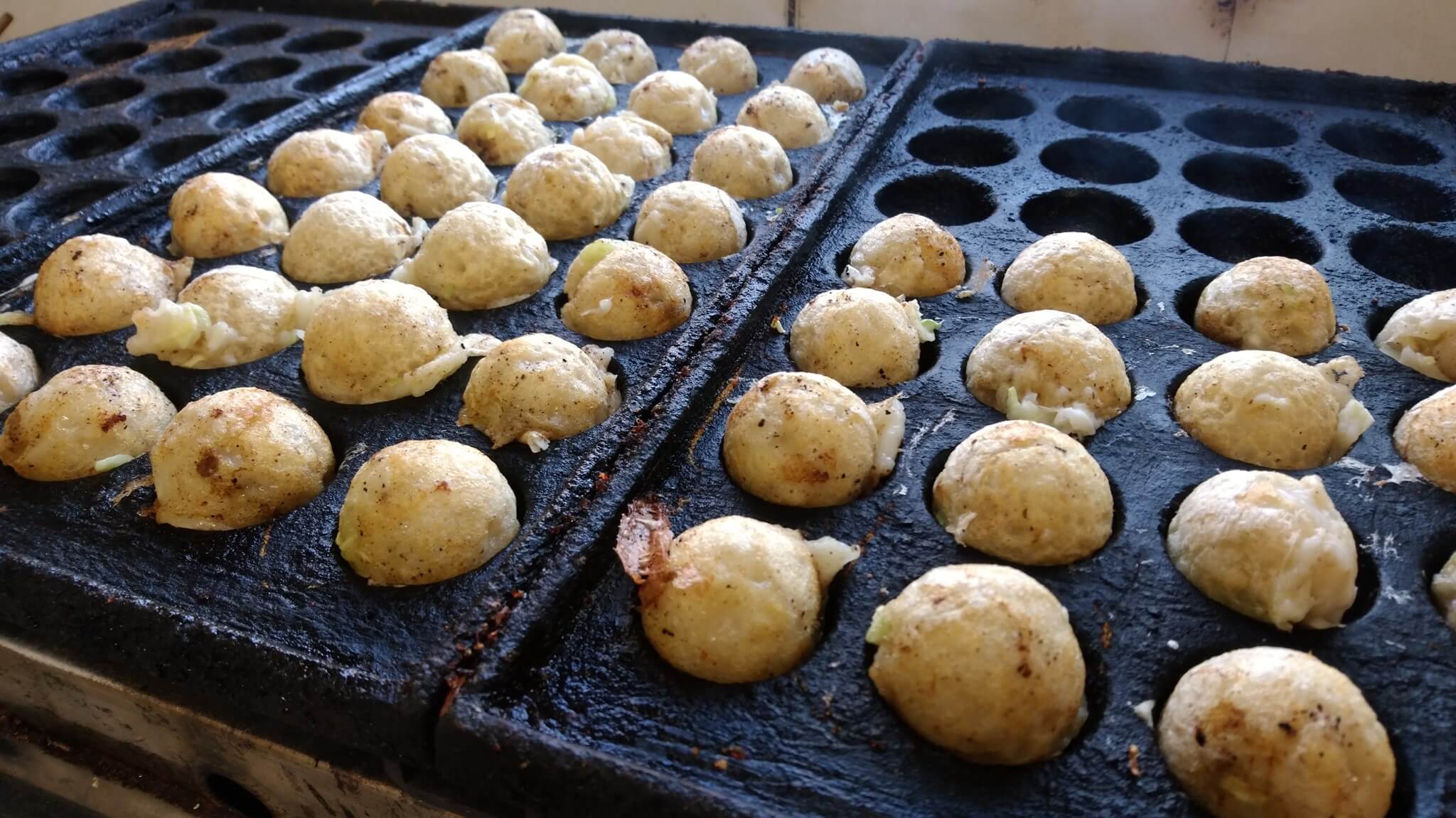 Kasshayaki is a representative food of Kagawa using whet flour
It looks like takoyaki (octopus dumplings), but it contains not octopus but curry flavored chicken.
In Kansai region (around Osaka), chicken is called "kashiwa."
In Kagawa, "kashiwa" changed into "kassha." So this food is called "kasshayaki."
Curry-spiced chicken and soft texture makes a great harmony in your mouth.
This is a kind of snack. When you feel a bit hungry during your travel, you should this cheep eats.
Honetsukidori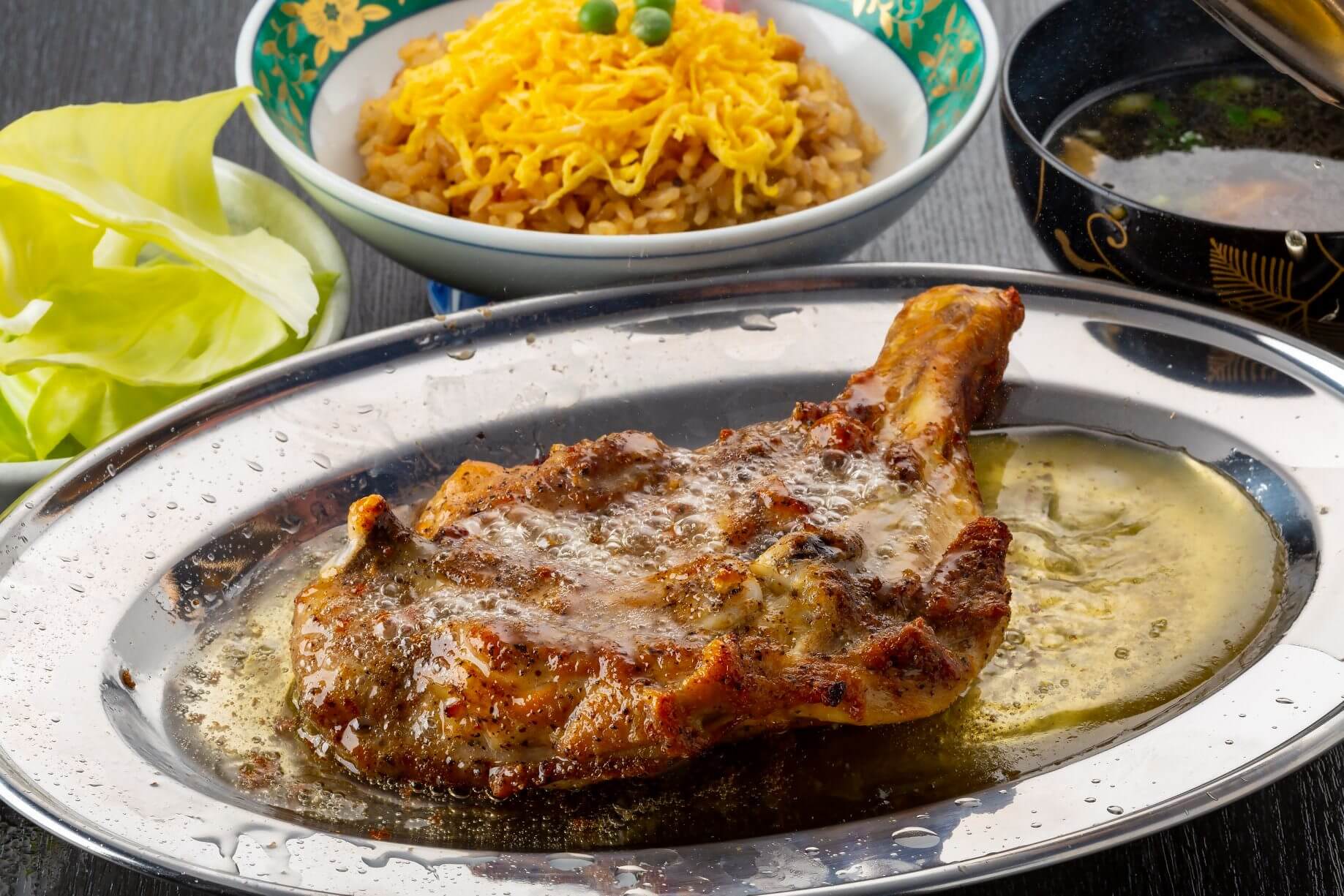 Honetsukidori is a popular food to local people.
It is a grilled chicken flavored with salt, pepper and original spices.
There are 2 types of honetsukidori. One is "Oyadori" with chewy texture and savory flavor.
Another is "hinadori" with soft texture. Both of them are juicy and tender.
Local eating style is to soak rice or bread in chicken broth.
This matches beer, so you can find it at Japanese style bars.
Sanukigyu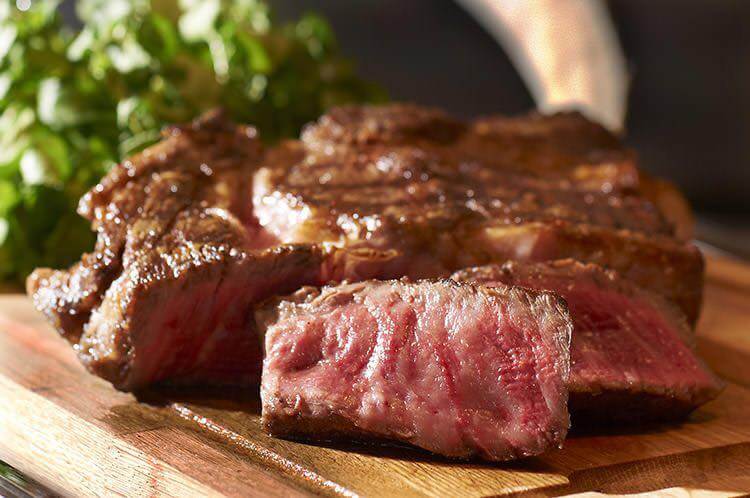 Sanukigyu is expensive beef, which is Japanese Black grown in Kagawa and satisfied with certain standard.
The cattle live in warm climate of the Seto Inland Sea, eating olives of Kagawa's Shodo Island.
Thanks to the situation, sanukigyu is marble beef well-balanced with red meat and fat.
Red meat is tender. Fat is sweet. So you should eat its sirloin steak simply flavored with salt and pepper.
If you want to spend Kagawa trip in luxury, you should eat this.
Wasanbon sweets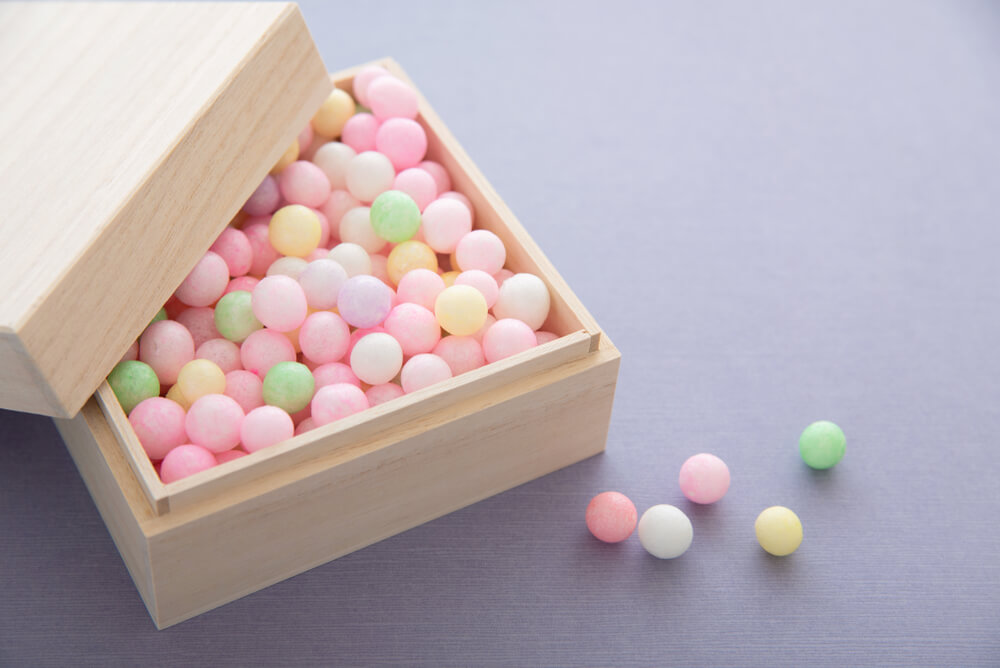 Since a long time ago, the sugar called "Sanuki-wasanbonto" has been made in Kagawa Prefecture.
The feature is mild sweetness and softness to melt in mouth.
In sightseeing spots of Kagawa, you will see a lots of sweets using wasanbon.
Especially, "Oiri" is a famous Japanese sweets, like "arare" (cubic rice crackers).
Arare is a sweets served at hinamatsuri (Girl's festival).
Round shap oiri will melt in mouth as soon as you put it in.
Around Seto region including Kagawa, it is regarded as a wedding sweets.
But it is also popular souvenir in Kagawa.
Sweets using oiri is well-known because of cute appearance.
What is the feature of Kagawa food?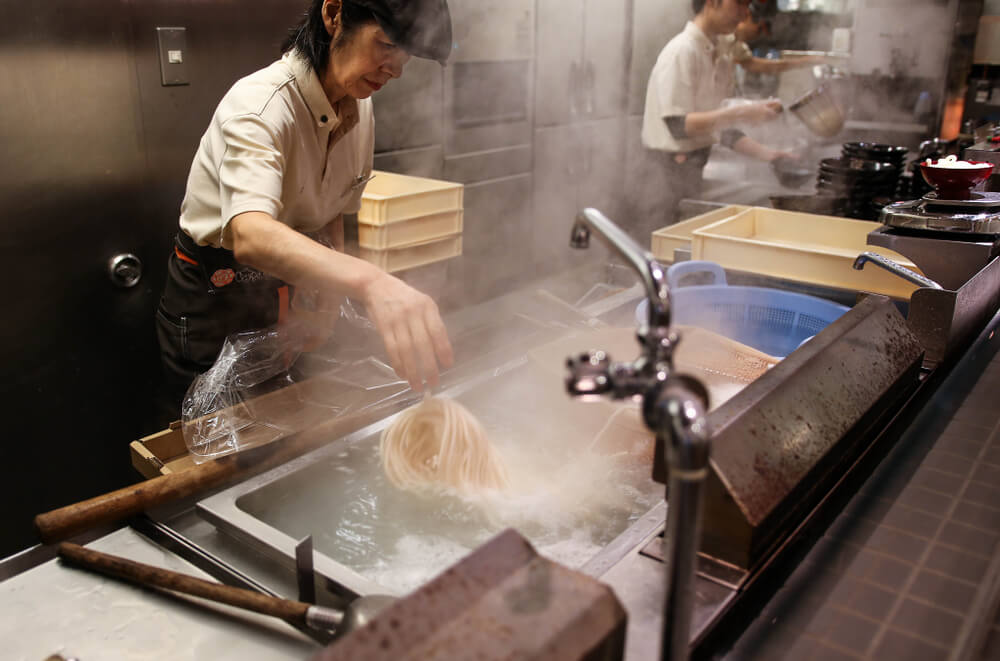 Mild and warm climate of the Seto Inland Sea has grown cattle, fish, vegetable and fruits since long time ago.
So local people have eaten many kinds of dishes.
Local food using local ingredients is still popular in Kagawa.
When you visit Kagawa, you will eat seafood from the Seto Inland Sea and sanukigyu grown with local olives.
Actually, Kagawa Prefecture is the first place in Japan to succeed in cultivating olive trees.
Speaking of Kagawa, udon noodle is must-eat food.
Kagawa people love udon noodle. So, they create original udon dish like pippimeshi and hamburger.
You would meet original udon food in Kagawa.
Must visit restaurant in Kagawa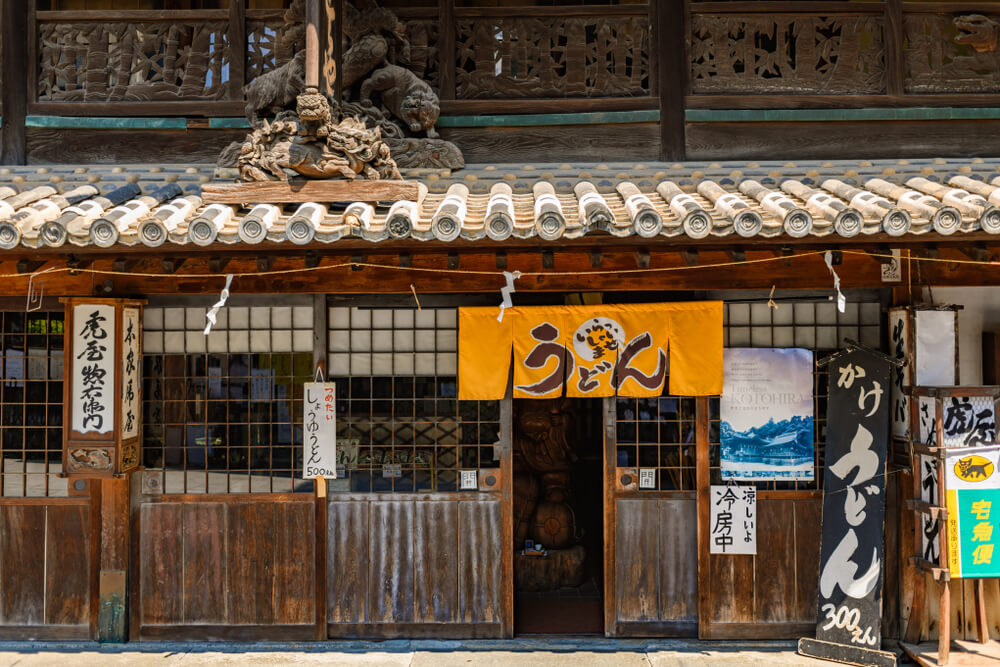 We introduce restaurants offering delicious local food we explained.
Each restaurant is famous in Kagawa. You should go there when you visit Kagawa.
Udon honjin Yamada-ya
This is one of best udon noodle restaurants in Kagawa.
The building of the restaurant is a large Japanese styled house registered as important cultural property.
It is known as a first restaurant offering "Bukkake" udon noodle.
Chewy udon noodle and delicious soup with top quality ingredients wait for you here.
A popular menu is "zarubukkake (570 yen)."
We pour rich sauce in udon noodle and eat with some spices.
While eating udon noodle, we get a great view of beautiful garden of the restaurant.
Address : 3186, Mure, Murecho, Takamatsu-shi, Kagawa
Holiday : Nothing
Hours : 10:00 a.m. ~ 8:00 p.m.
Price : 300 ~ 1300 yen
Osyokujidokoro Myojin
Myojin is known as the birthplace of pippimeshi, located near EAON Sakaide near Sakaide Station.
They cook pippimeshi with rice, diced udon noodle, bean sprouts, pork and pickled radish.
A secret ingredient, powders of dried sardine, turn rice and udon noodle into simple but tasty food.
The price is just 500 yen. This is good for lunch during your Kagawa trip.
Address : 2-1-47, Kyomachi, Sakaide-shi, Kagawa
Holiday : Sunday, National Holidays
Hours : 11:00 a.m. ~ 7:00 p.m.
Price : 500 ~ 1000 yen
Ganso Kasshayaki Honten
This restaurant created kasshayaki and made it popular. Now, kasshayaki is one of Kagawa's local food
They use chicken stewed with curry for 3 days. The cooking style creates original taste.
Chewy and curry flavored chicken is emphasized the existence by eating tender texture.
There are some interesting flavors. One is topped with cheese. So let's try various flavors.
It is good when you want to eat snack.
Address : Next to Gyogki no yu, 37-1, Shionoechoyasuharakamihigashi, Takamatsu-shi, Kagawa
Holiday : Monday
Hours : 11:00 a.m. ~ 5:00 p.m.
Price : ~ 1000 yen
Ikkaku Marukame Honten
Ikkaku Marukame Honten is a restaurant specialized in honetsukidori, located at a place 2 minutes walk from Marukame Station.
When you order popular menu "Oyadori," you will be served bite size chicken pieces.
It is easy for you to bite chicken and bone.
As soon as you eat it, tasty chicken flavor spread in your mouth.
The chicken is seasoned by pepper and spices.
You should order "rice balls with soup (308円)." It is a good eating way to dip rice balls into chicken broth.
Salted rice ball matches the soup. If you order with beer, you will keep drinking.
If you like tender texture, you should try "hinadori"
There are other menu using chicken such as torimeshi. So you should eat various menu.
Address : 317, Hamamachi, Marugame-shi, Kagawa
Holiday : Tuesday
Hours :
・Weekday 11:00 a.m. ~ 2:00 p.m. (L.O. 1:45 p.m.) 5:00 p.m. ~ 10:00 p.m.(L.O. 9:30 p.m.)
・Weekend & Holiday 11:00 a.m. ~ 10:00 p.m. (L.O. 1:45 p.m.)
Price : 1000 ~ 2000 yen
Steakhouse Ichigo
Steakhouse Ichigo offers top class sanukigyu to you. They have only private room.
The owner carefully selects and buy a whole sanukigyu.
You will eat any parts of cattle as you want such as sirloin and chateaubriand.
If you want various parts, you should order "Today's 3 Japanese Black assortments."
The dish offers best sanukigyu on that day, so you taste delicious beef.
Tender and oily beef gives you elegant taste.
If you want to treat yourself in Kagawa, you should go to the restaurant.
Address : 2306, Otashimomachi, Takamatsu-shi, Kagawa
Holiday : Irregular holidays
Hours :
・Lunch 11:30 a.m. ~ 3:00 p.m.
・Dinner 5:00 p.m. ~ 11:00 p.m.
Price : Lunch 2000 yen ~, Dinner 7000 yen ~
Nakanoya Kotohira
Nakanoya Kotohira is a souvenir shop located in Monzencho which is famous for Kotohira-gu Shrine.
Its nickname is "Konpira-san."
The popular menu is soft-serve ice cream topped with Kagawa's famous sweets, oiri.
The soft-serve using oiri has 2 flavors. You select from sweet potato or wasanbon flavor.
Colorful oiri is attached on the part of ice cream. The cute appearance is popular to young people.
Mild sweetness of the soft-serve lets your body heal after going up the long steps of Konpira-san.
Address : 796, Kotohiracho, Nakatadogun, Kagawa
Holiday : Nothing
Hours : 8:30 a.m. ~ 6:00 p.m.
Price : 300 yen ~
Summary
There are Kagawa's local food that we want you to eat.
In Kagawa, there are cheap eats loved by locals for long time and high quality beef.
So you will find delicious food besides udon noodle.
If you have a lunch, you should select sanuki udon noodle or kasshayaki.
At dinner, why not try to have sanukigyu or honetsukiniku? So you enjoy Kagawa food all day.
When you go to Kagawa, please go various place and discover delicious food.
▶︎【6 Tourist Spots in Kagawa】A treasure trove of hidden sights