Aomori prefecture, the northmost region of the main island of Japan, is surrounded by the sea, such as Sea of Japan and Pacific Ocean.
As it is abound with nature, its food culture has been developed.
Now, the region is called as "a treasure trove for great ingredients."
There are delicious local food.
It is such a popular sightseeing place in Japan that even people who love to travel absolutely decide to go there.
This time, we will show must eat 7 dishes to you.
When you visit Aomori, this article will help you have great time.
What is must eat food in Aomori?
Aomori offers you delicious food using local ingredients. You need to eat these 7 dishes during Aomori trip.
Senbeijiru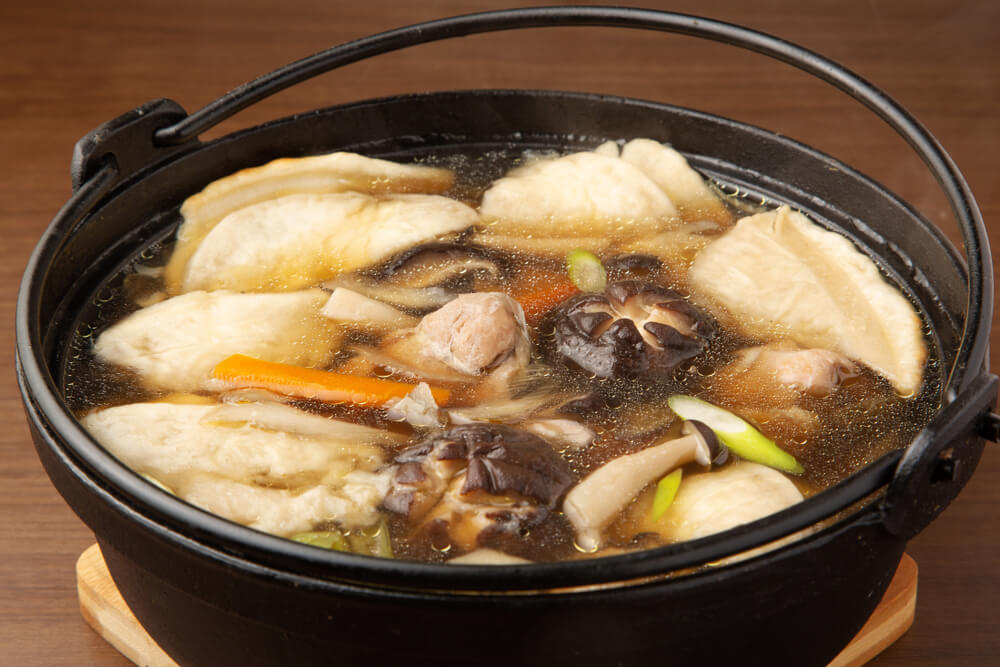 This is Hachinohe City's traditional dish, one of city in Aomori.
This is a kind of Japanese hot pot including vegetables, meat, fish and Nambu senbei.
Nambu senbei is local speciality which is cracker made from wheat and buckwheat flour.
Senbeijiru's feature is savory smell and soft texture of Nanbu senbei.
Originally, Nanbu senbei is crispy, but it become soft by being soaked and stewed in the soup.
This is an essential dish in cold winter for local people.
Nokkedon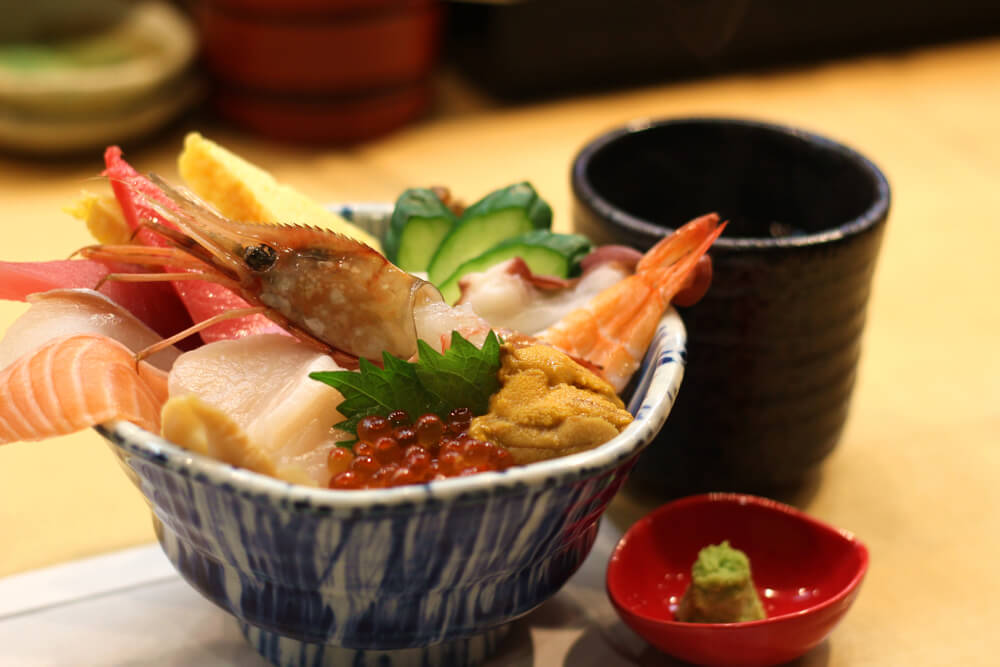 If you want to eat a lot of seafood from Aomori, you should order Nokkedon, which is a rice bowl topped with seafood you selected.
You can get it at the market dealing in fresh ingredients.
Firstly, you take only rice in a bowl at the market.
Next, you go around and look for ingredients you want to eat.
Lastly, you ask the staff to put some ingredients on your rice bowl.
You make your original rice bowl consisted of your favorite food.
So it is a popular dish to tourists.
You choose not only seafood but also tempura, vegetable dishes and pickled vegetable.
Let's make your special dish here.
Oma tuna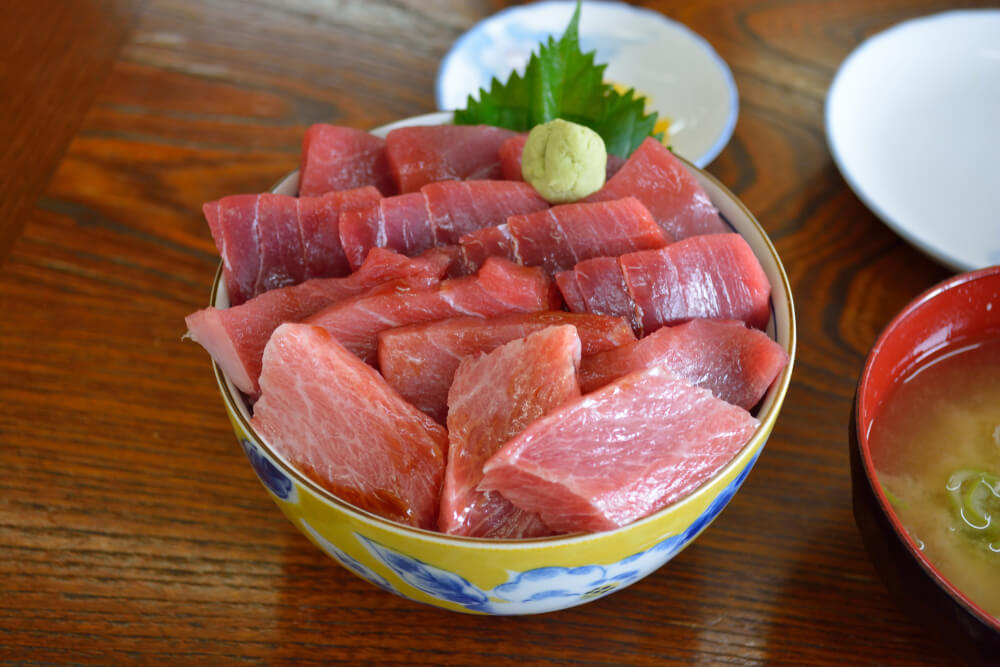 You absolutely need to eat Oma tuna when you visit Aomori.
Oma tuna caught in the sea near Aomori is called as "black diamond."
It has perfect appearance, taste, and smell. A black tuna had been sold at about 200 million yen before.
It is thought that Oma tuna from Aomori is unaffordable.
But there are many restaurants offering it at reasonable cost.
You should eat this tuna when you visit there.
Kuroishi Tuyuyakisoba (Fried noodles in soup)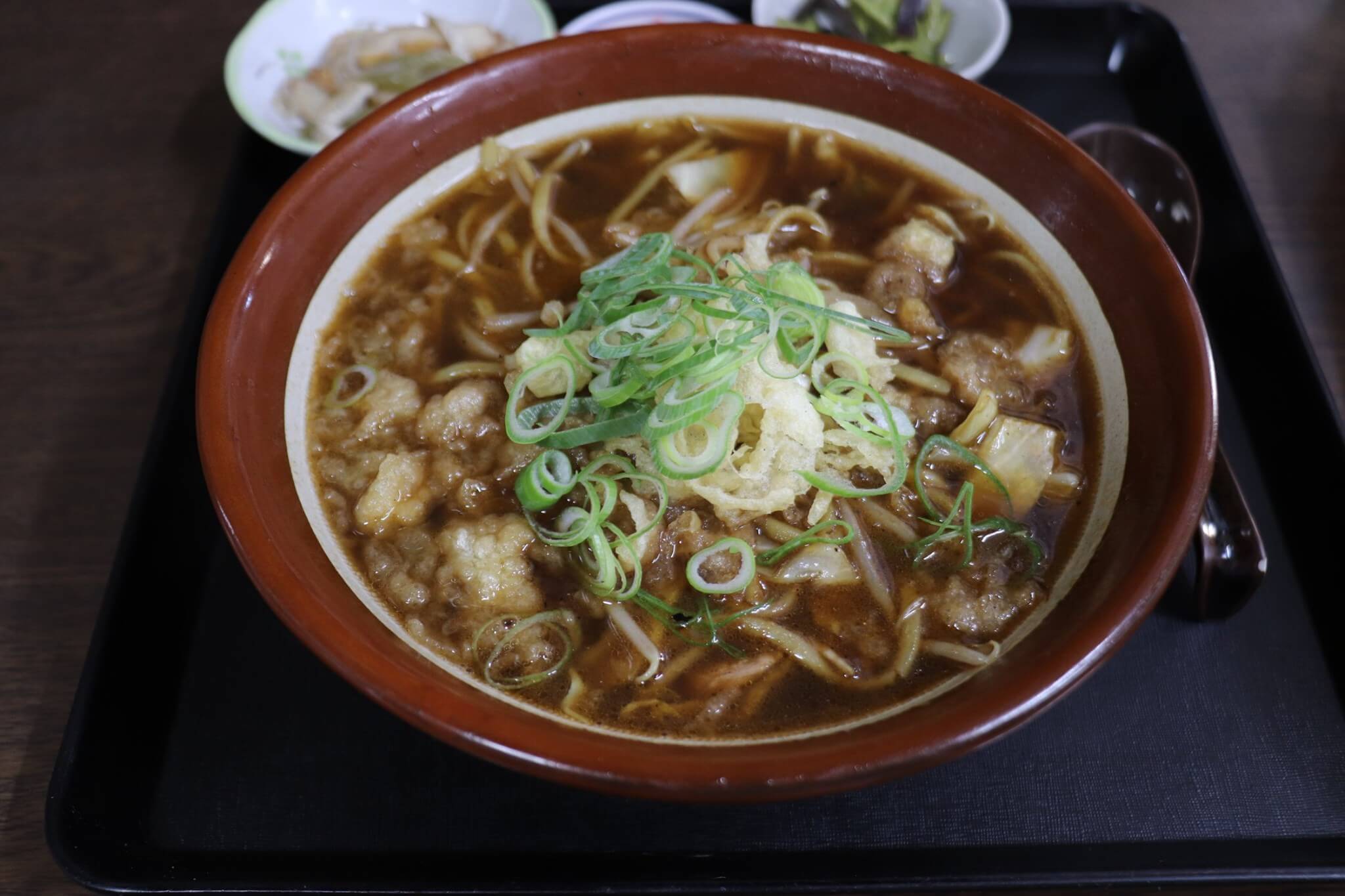 Kuroishi tuyuyakisoba is Aomori's standard cheap eats.
The dish is invited by being soaked yakisoba in warm soba or ramen soup because people want to spend a comfortable time in cold winter.
The yakisoba which the dish uses is noodle about 5 millimeter in diameter and seasoned by Worcestershire sauce.
The soup is made from chicken or pork. The noodle matches the soup well.
Moreover, the taste of the soup is changed into rich one because the sauce of the noodle is dissolved.
If you like noodles, it is worth trying to eat it.
Ichigoni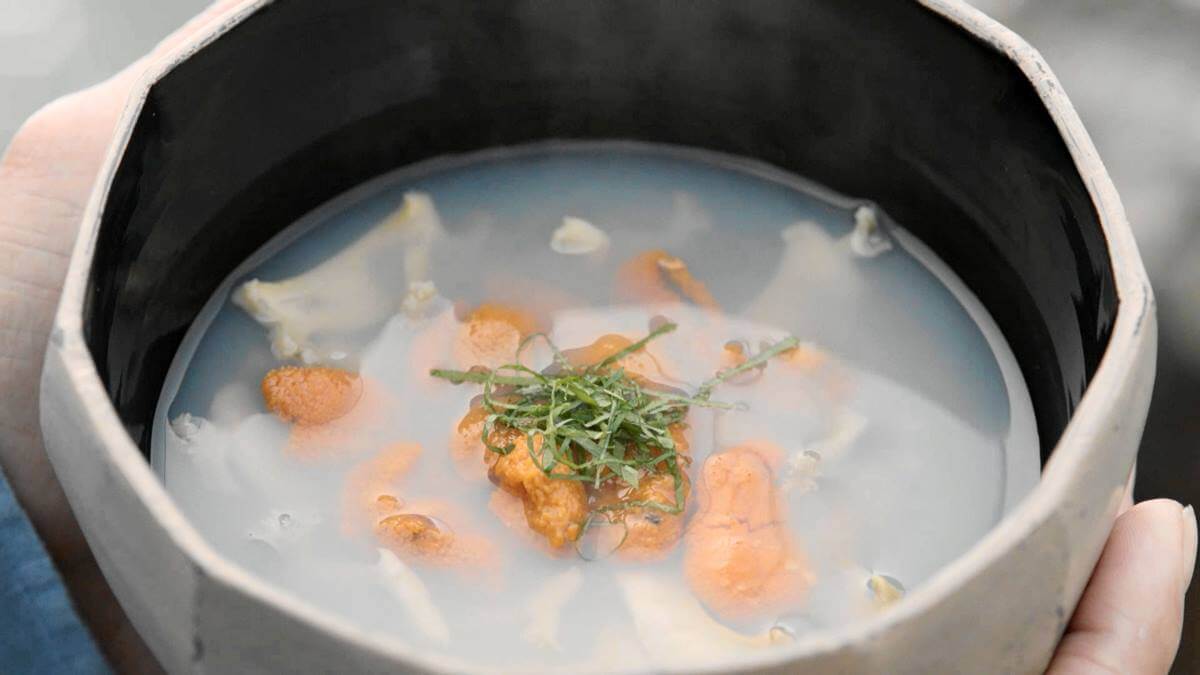 Ichigoni is a soup with sea urchin and abalone, one of specialties in Hachinohe City.
Ichigo means strawberry in Japanese.
So when you hear the name, you might imagine sweets using strawberry jam.
The origin of the name is that the sea urchin in the soup looks like strawberry.
Ichigoni is seasoned by only salt and soy sauce.
But the base of the soup is made from urchin and abalone.
So the taste is elegant.
If you like seafood, you must eat ichigoni.
Apple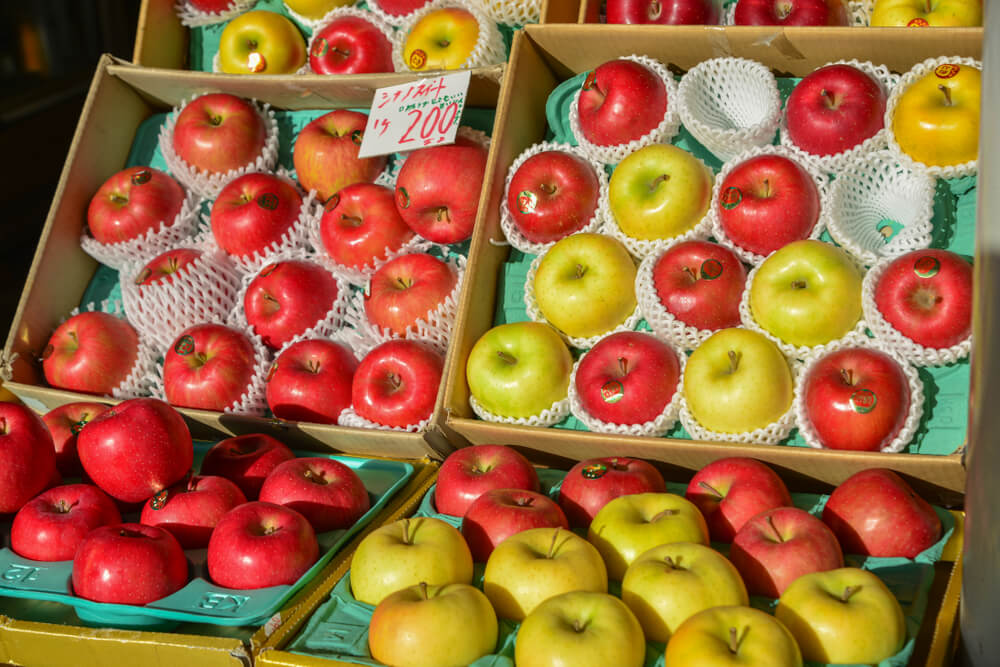 Aomori's most popular speciality is apple.
Apple called "Tsugaru" is created in Aomori. Its feature is sweet and juicy.
Aomori's apples has great appearance and taste.
The taste of apple is thought as a kind of artwork.
So the apple is used for sweets and juice in Aomori.
There are various foods using apples.
So If you're interested in, please go to eat apple's dishes at some restaurants.
Miso Curry Gyunyu Ramen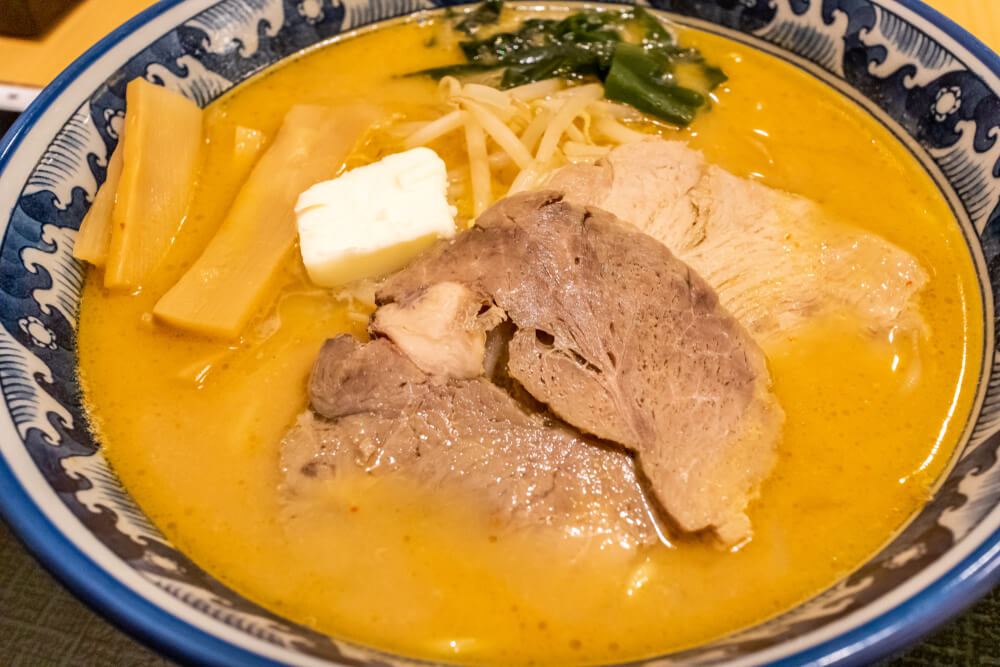 Besides tsuyuyakisoba, ramen is also popular cheap eats in Aomori.
This is a ramen topped with butter and vegetables in miso soup mixed with curry and milk.
You may be surprised at the combination of ramen and milk.
But, rich miso soup become mild taste by milk.
In addition, the rich tasted soup matches butter.
We recommend that people who is tired of normal miso ramen eat this ramen.
What is the feature of Aomori food?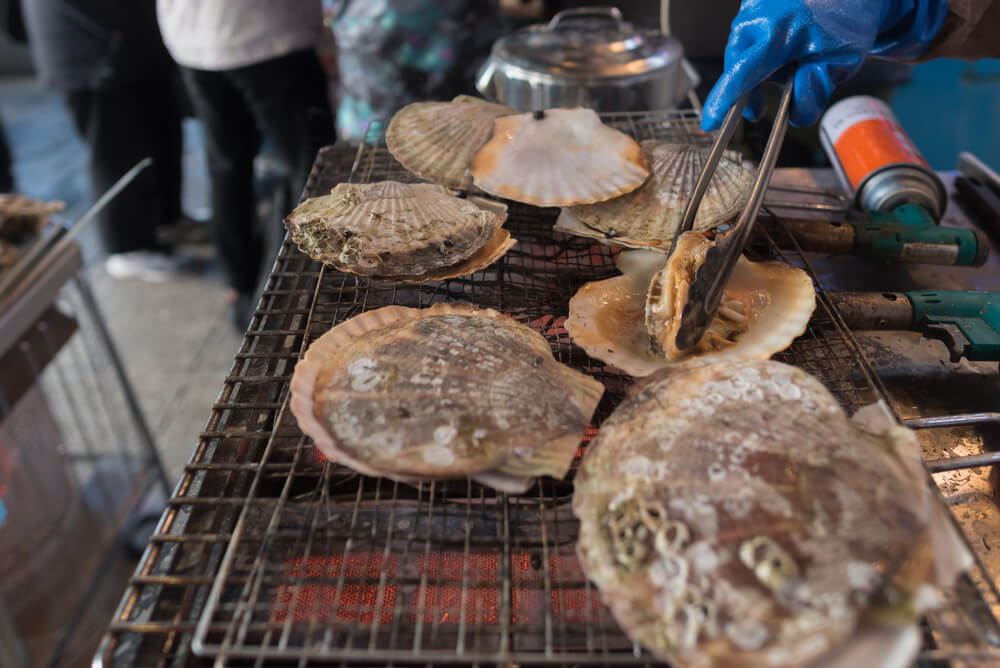 Aomori is blessed with fertile land because it is surrounded by mountains and the sea.
So Aomori has had rich food culture since before.
Actually, Aomori's climate is differ according area. In result, Aomori has diverse food cultures.
Tsuruga region mainly uses rice for cooking, which is the western part of Aomori.
In Nanbu region, multi grains food is main ingredients like senbeijiru, which is the eastern part.
In Shimokita region, potato is always used, which is a peninsula in the northern part.
Coastal area's famous food is seafood such as ichigoni and Oma tuna.
Wherever you go in Aomori, there are delicious food. So it is a good sightseeing place to go around.
Must visit restaurant in Aomori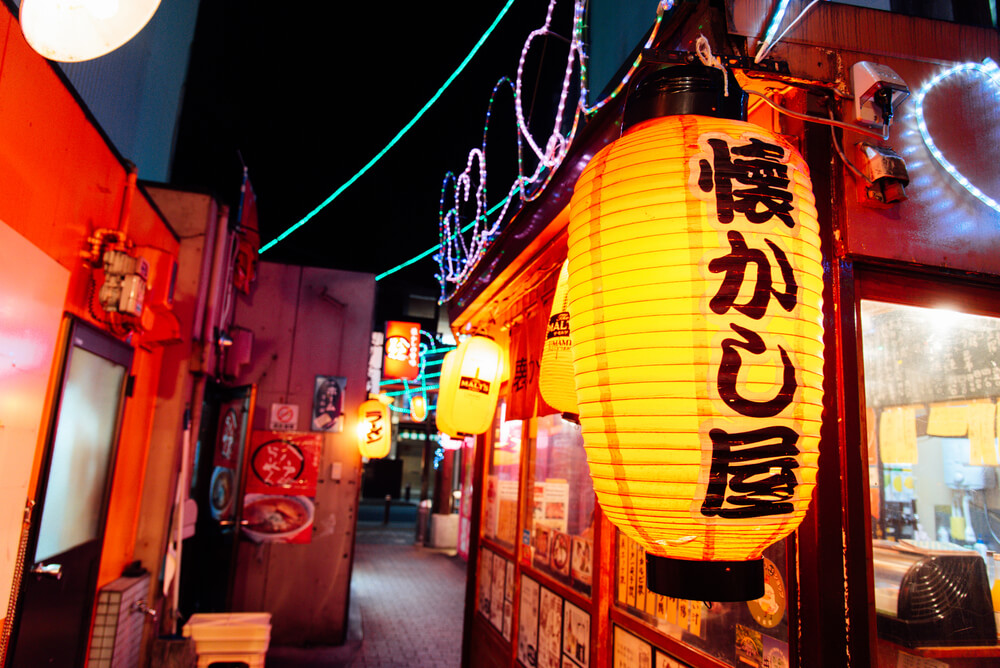 There are amazing restaurants in Aomori. So we introduce best restaurants of them.
These restaurants are easy to visit. I hope you enjoy there.
Minato Shokudo
This is famous for seafood rice bowl, which is located near Mutsuminato Station.
The restaurant stands at the street in the fish market.
So you will eat dish using fresh seafood caught on that day.
Besides seafood, you will eat senbeijiru here.
The popular menu is seafood rice bowl combo with senbeijiru.
You will satisfied with delicious seafood and warm senbeijiru.
Address:45-1, Kubo, Minatomachi, Hachinohe city, Aomori
Hours:6:00 a.m. ~ 3:00 p.m.
Holiday:Sunday
Price:1,000 ~ 1,999 yen
Aomorigyosai Center
After 5 minutes walk from Aomori station, you will reach a famous market for Nokkedon.
There are over 30 shops in the market.
You will find what you want to eat in a lot of ingredients.
Looking for and going around fresh ingredients is like treasure hunt.
There are not only seafood but also some pickled vegetables and side dishes.
Address:1-11-16 Furukawa, Aomori city, Aomori
Hours:7:00 a.m. ~ 3:00 p.m.
Holiday:Every Tuesday
Price:1,000 ~ 1,999 yen
Sakanakui-no-Oomanzoku
The restaurant is run by a fisherman who caught Oma Tsuna sold at the highest price in Tukiji of Tokyo.
You will meat great Oma tuna here.
In addition to tuna, there are various food using fresh seafood from Daima area.
The popular food is "tuna sashimi combo" including fatty, middle and lean tuna, miso soup and side dish.
Thickly cut tuna melts on your tongue as soon as you eat it.
Address:17-377, Omataira, Oma, Omamachi, Shimokita-gun, Aomori
Hours:8:00 a.m. ~ 6:00 p.m.
Holiday:Irregular holidays
Price:3,000 ~ 3,999 yen
Myoko Shokudo
If you want to eat tuyuyakisoba, you must visit this restaurant.
It is known as the first restaurant of tuyuyakisoba.
Its popular food is surely "ganso tsuyuyakisoba (700 yen)".
This is consisted of yakisoba noodle and the soup using for Japanese soba noodle.
Your appetite will satisfy with abundant vegetables on the noodle. The soup is delicious because it is mixed with the sauce of the noodle.
Address:66, Motomachi, Kuroishi city, Aomori
Hours:11:00 a.m. ~ 6:00 p.m.
Holiday:Irregular holidays
Price:999 yen
Nanbu-mingei-ryori Kura
The restaurant serves Nanbu cuisine which is one of Aomori's local cuisine.
You will eat strange traditional food here such as ichigoni, senbeijiru and fried soba noodle.
You will make great memories of Aomori here because you eat Nanbu cuisine in Japanese good old atmosphere.
Address:1F, 28, Jusannichimachi, Hachinohe city, Aomori
Hours:5:00 p.m. ~ 10:30 p.m.
Holiday:Irregular holidays
Price:2,000 ~ 2,999 yen
Aji-no-sapporo Onishi
The restaurant is the originator of miso curry milk ramen, 10 minutes walk from Aomori Station.
Its ramen uses standard toppings such as grilled pork, seasoned bamboo shoots, bean sprouts and seaweed.
On eating miso flavored soup, you taste spicy curry flavor.
But milk make it mild taste. If you eat it once, you will want it again.
Address:1-15-6, Furukawa, Aomori-city, Aomori
Hours:11:00 a.m. ~ 9:30 p.m.
Holiday:Nothing
Price:999 yen
Summary
These are delicious local food we recommend.
Aomori has various food cultures depending on regions.
So you will want to visit Aomori again and again.
Aomori's local food which you can't find anywhere except Aomori is important feature to attract tourists.
When you go sightseeing in Aomori, we are happy that you try to eat all dishes we introduced.