Located in the westernmost part of Honshu, "Yamaguchi Prefecture" has many historical buildings and is often used as a stage for NHK Taiga drama series.
The "tsunoshima Ohashi" where you can enjoy a magnificent view and the "Karato Market" where you can enjoy blowfish in Shimonoseki are also hot topics.
We would like to introduce some tourist spots and city walking tips that are recommended for first-time visitors to Yamaguchi Prefecture.
Location of Yamaguchi
Yamaguchi Prefecture is located in the westernmost part of Honshu, The prefectural capital is Yamaguchi City and the largest city is Shimonoseki City.
The Kanmon Bridge, which spans the Kanmon Strait, is the gateway to Kyushu, connecting Shimonoseki City in Yamaguchi Prefecture and Moji Ward in Kitakyushu City in Fukuoka Prefecture.
Yamaguchi Prefecture is also attracting new attention for the fact that the Hagi Industrial Heritage Site was registered as a World Heritage Site.
6 must-visit sightseeing spots in Yamaguchi
Yamaguchi Prefecture is famous for its abundant nature, such as Akiyoshido, which boasts the largest scale in Japan, the Karst Plateau of Akiyoshidai and Tsunoshima where the cobalt blue sea spreads.
Yamaguchi prefecture which is famous for the Fuguya Lion Festival where you can enjoy local gourmet food at the Karato Market and Kintai Bridge.
For families with children we recommend scenic spots such as the aquarium, zoo and Akiyoshidai.
Motonosumi Shrine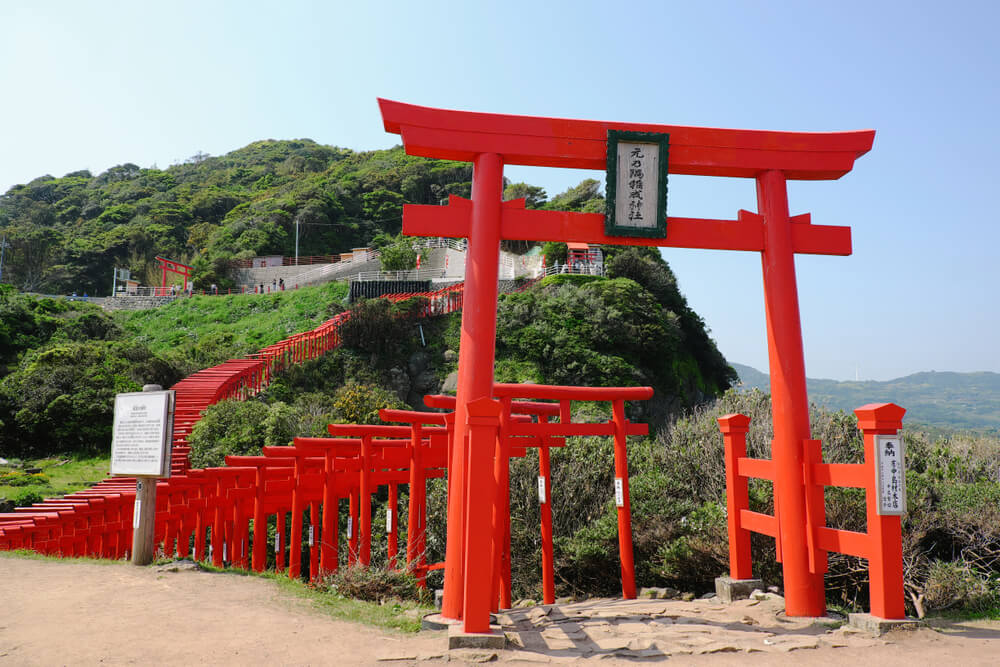 Motonosumi Shrine was founded in Nagato City, Yamaguchi Prefecture in 1954 and is famous for its prosperity.
Throw your offering in the offering box at the top of the 6-meter Otorii gate and your wish will come true.
The view of 123 torii gates which is more than 100 meters away from the Ryugu side is a masterpiece.
Announced by CNN in 2015, Motonosumi Inari Shrine is once again receiving attention as one of the "31 most beautiful places in Japan.
"The mysterious scenery created by the cobalt blue sea and the red torii gate in front of you is worth a visit .
Tsunoshima Bridge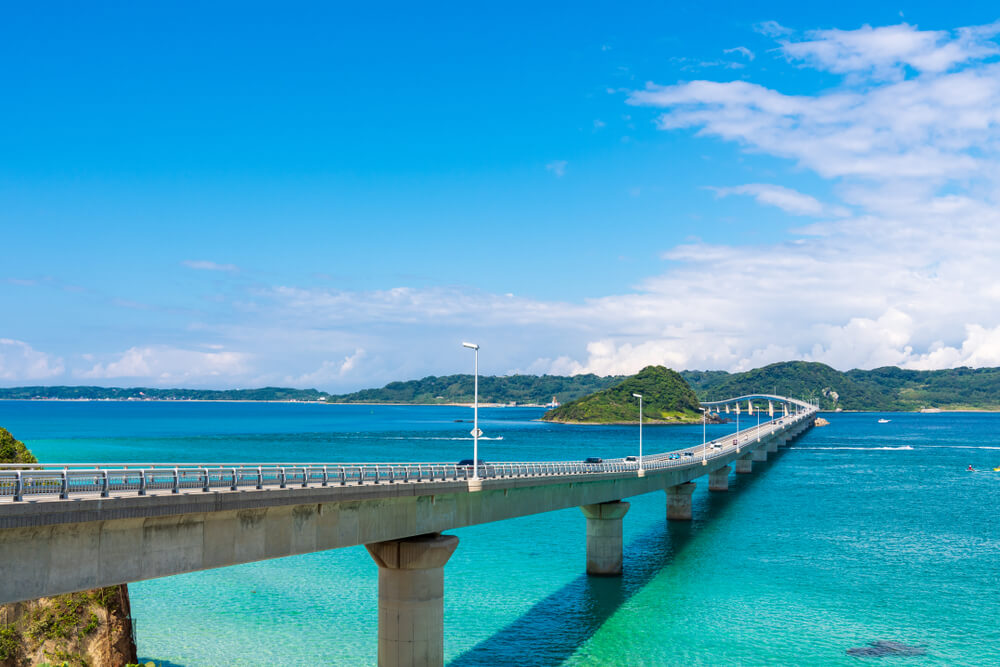 Tsunoshima Ohashi, Shimonoseki City is a general road that opened in 2000 and has a total length of 1,780m.
As a remote island bridge, it is the second longest bridge in Japan following the total length of 1,960m of Kouri Bridge in Okinawa Prefecture.
"Tsunoshima Ohashi" connects the mainland to "tsunoshima" in Toyohoku-cho, Shimonoseki City at the northwest end of Yamaguchi Prefecture.
The emerald green sea seen from "tsunoshima Ohashi" the white sandy beach is a scenic spot famous for filming movies and commercials.
At dusk, stop by "Amagase Park" or "Makizaki Kaze Park" and watch the magnificent sunset.
Akiyoshi-do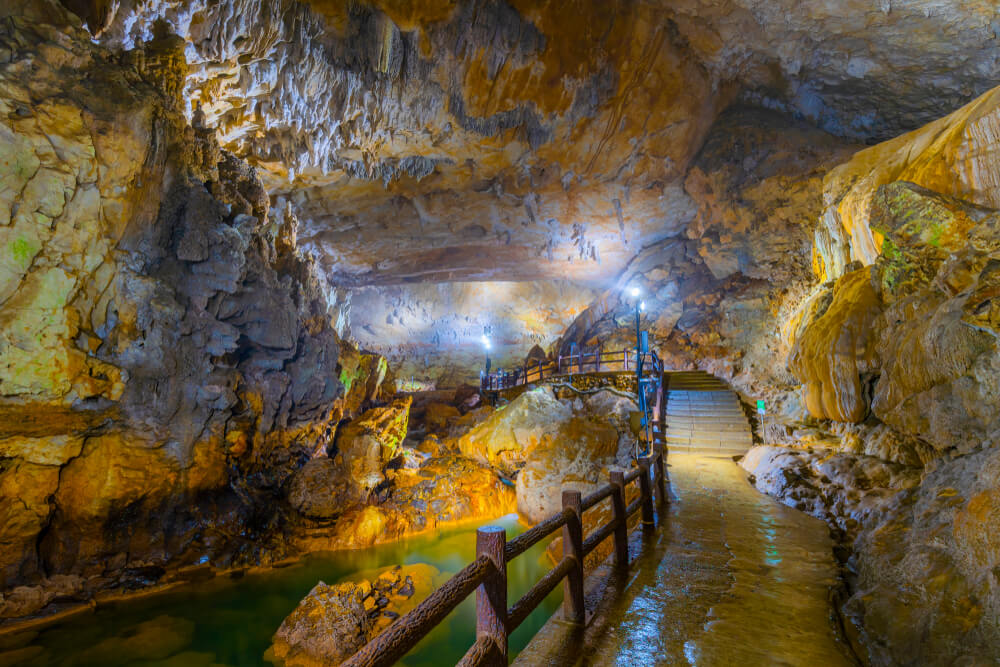 Akiyoshido, a special natural monument of the mining city, is one of Japan's leading limestone caves beneath the karst plateau called Akiyoshidai.
The sightseeing course in the cave is about 1 km, the temperature in the cave is 17 ℃ throughout the four seasons and the summer is cool and the winter is warm so you can walk comfortably.
Inside the course, there are "Hundred pieces" and a plate of stalactites "Douchi Fuji".
It is Japan's largest tourist cave and is overwhelmed by the eternal beauty of nature.
Hagijo Town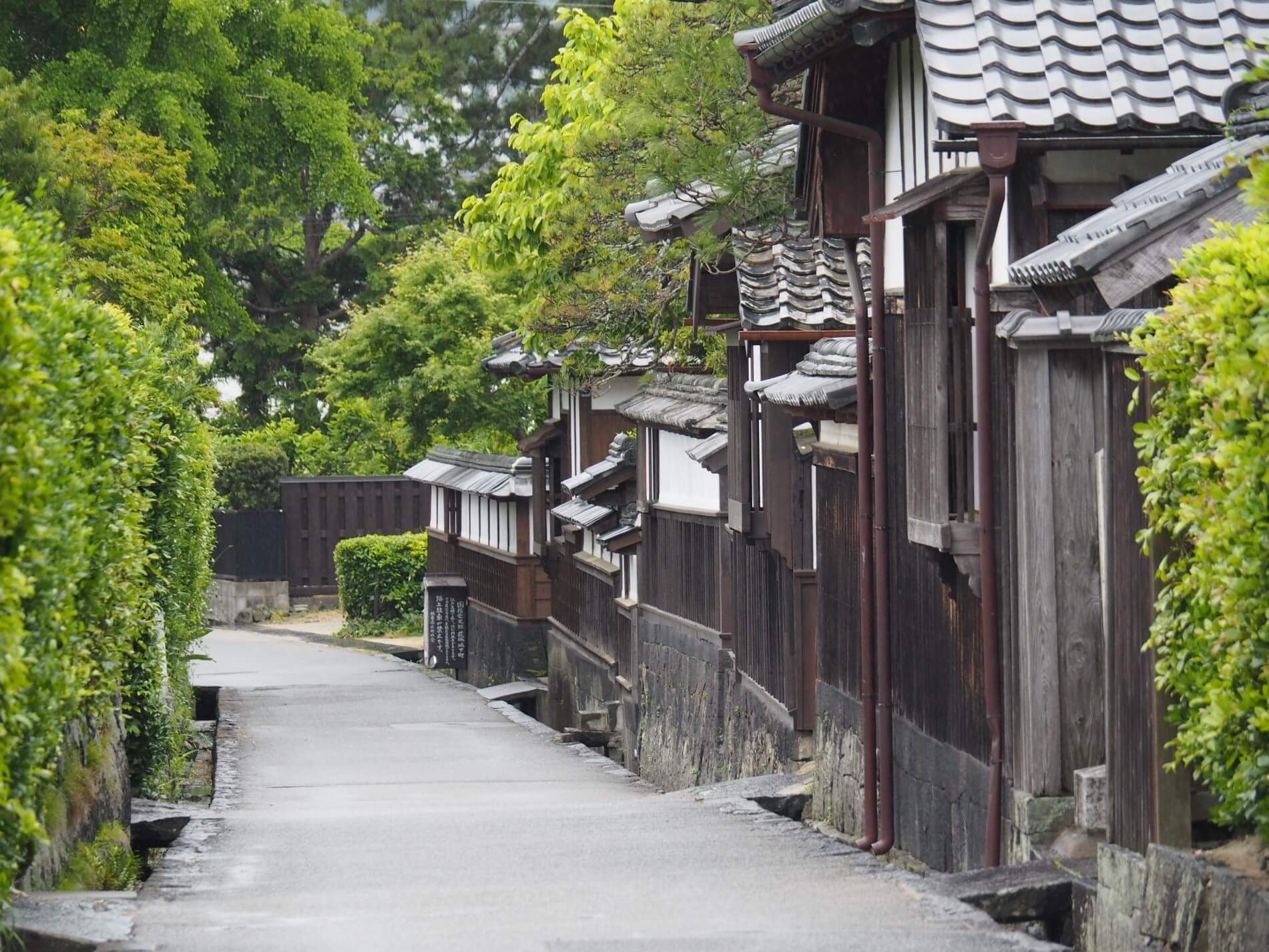 "Hagi Castle Town" in Hagi City is a charming castle town that retains the image of the castle town for 260 years.
From the outer moat of the former Hagi Castle, a castle town spreads around Hagi Castle built by Terumoto Mouri.
Around May, you can smell the sweet scent of summer orange while exploring the beautiful city of white walls, namako walls and blackboard walls.
In 2015, it was selected as a "Meiji Japan Industrial Revolution Heritage" and was registered as a World Heritage Site in the same year.
Kintai Bridge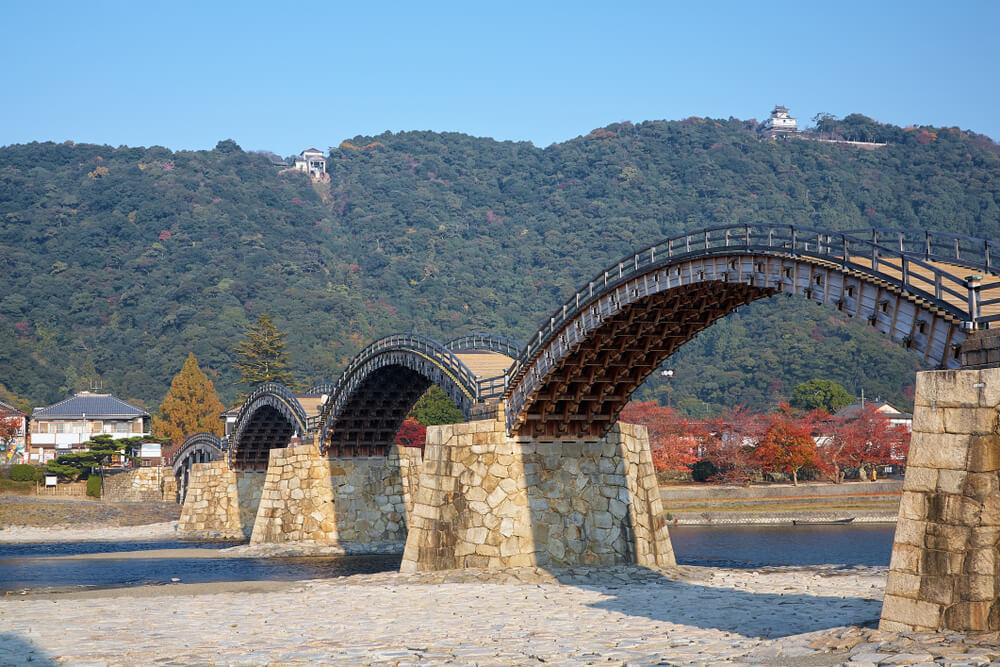 Kintaikyo Bridge, located in Iwakuni City, Yamaguchi Prefecture is one of the three major bridges in Japan.
The beautiful view of the five arch bridges over the clear stream Nishiki River known as the best wooden bridge in Japan is a masterpiece.
The scenery of the four seasons is attractive, such as cherry blossoms in spring, autumn leaves, cormorants in summer, night view of fireworks and snow in winter.
From the cruise ship which is visited by many tourists every year so you can enjoy the beautiful scenery of cherry blossoms and autumn colors.
Beppu Benten Pond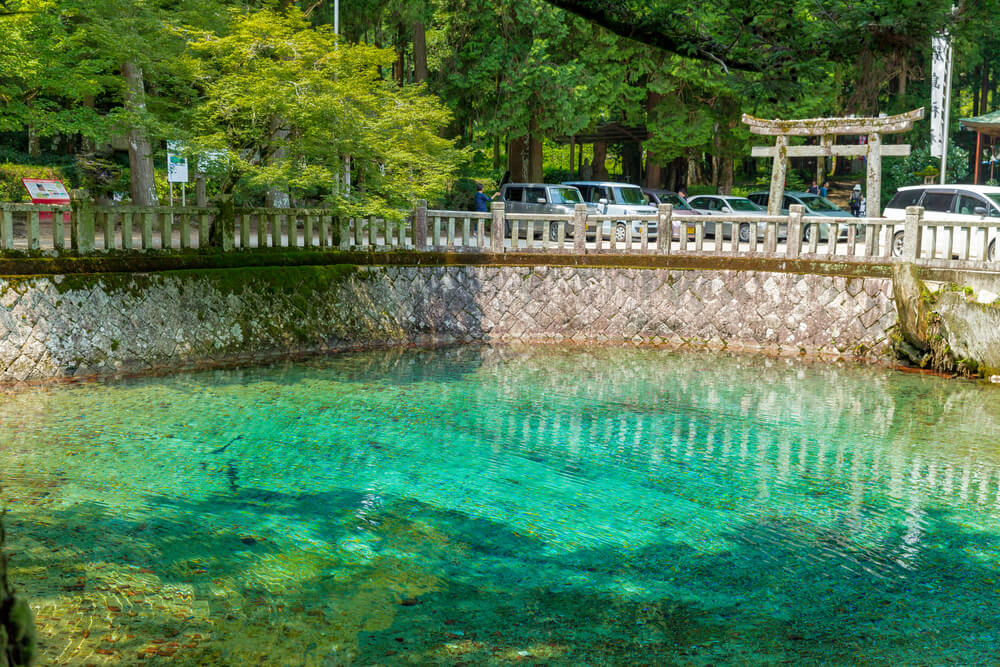 "Beppu Benten Pond" is spring water in the precincts of Beppu Itsukushima Shrine at the foot of Akiyoshidai and Akiyoshido.
Water with a high transparency of 14 degrees was selected as one of the "100 Famous Waters of Japan" designated by the Environment Agency.
The mysterious and transparent cobalt blue fountain is photogenic and is attracting attention as a mysterious fountain.
The beautiful blue color is due to the unique karst topography of the region, which is made up of limestone.
The crystal-clear water, which contains calcium, looks mysterious blue when it is illuminated by sunlight and reflected by blue light.
How to get around while sightseeing in Yamaguchi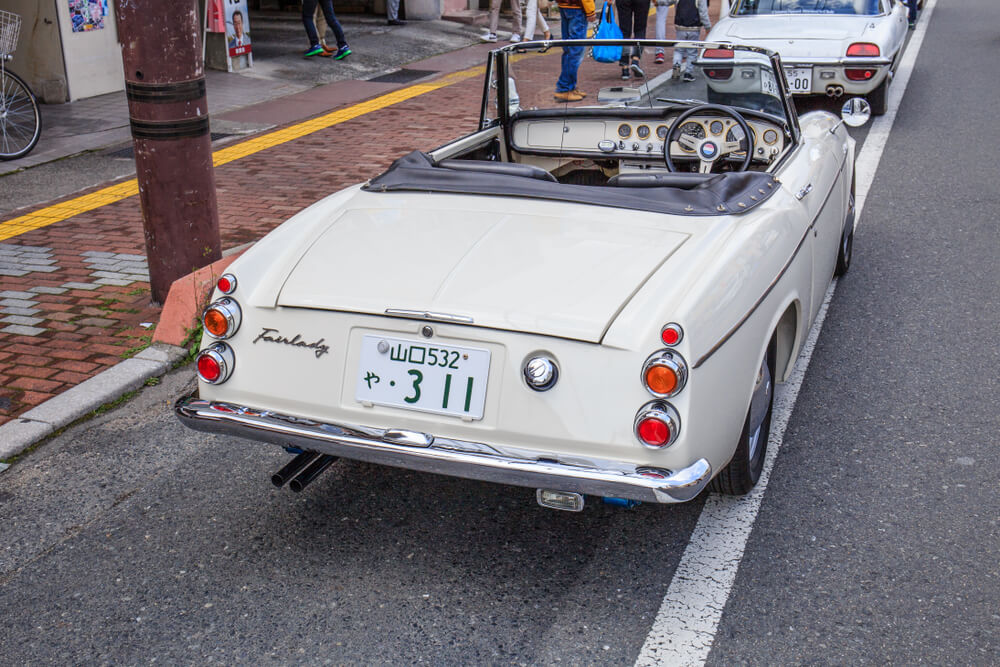 There are various tourist spots in Yamaguchi Prefecture so we recommend that you go by car.
There are few public transportation such as buses and trains and waiting time is quite long.
We recommend renting a car to visit famous places such as "tsunoshima" in Shimonoseki and "Kintaibashi" in Iwakuni.
How to enjoy walking around Yamaguchi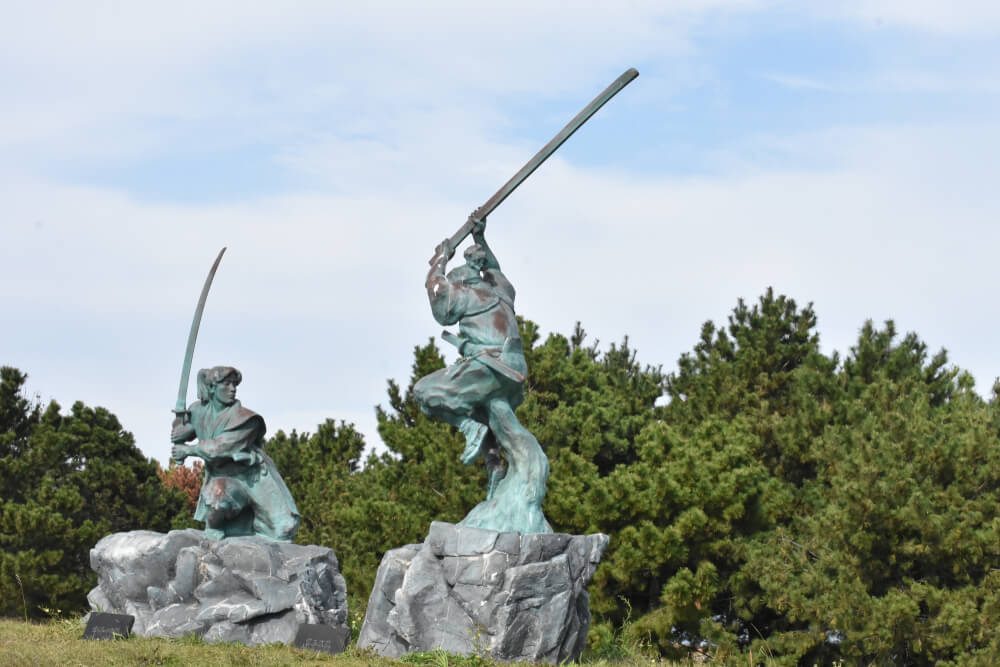 If you are new to Yamaguchi, take a stroll around Shimonoseki, where you can enjoy historic sites and gourmet food.
At the Karatsu market near the Kanmon Strait, local gourmets such as seasonal fish, puffer fish and seafood bowls are gathered.
You can easily enjoy seafood gourmet at an affordable price so Let's stop at the city walk.
"Mimo-suso Park" where you can see the sea is a historical park where the battlefield of Atami where Genji and Heike clashed remains.
At night, don't forget the spectacular night view of Kaikyo Dream Tower.
How to choose an activity for sightseeing in Yamaguchi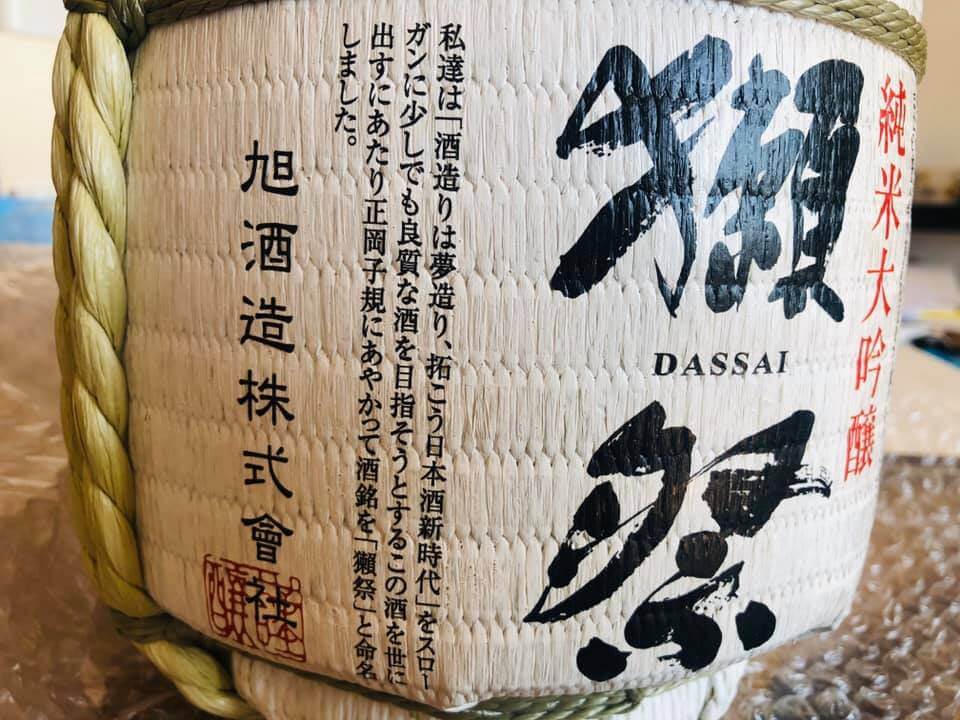 Dasai Asahi Sake Brewery is one of the most famous sake brands in Japan.
You can enjoy the manufacturing method and taste of pure rice Daiginjo sake with a rice polishing rate of 50% or less.
The Shunan Factory Night View Cruise is a popular tour where you can watch the sunset over the Seto Inland Sea and Shunan Bridge.
How to choose a meal for sightseeing in Yamaguchi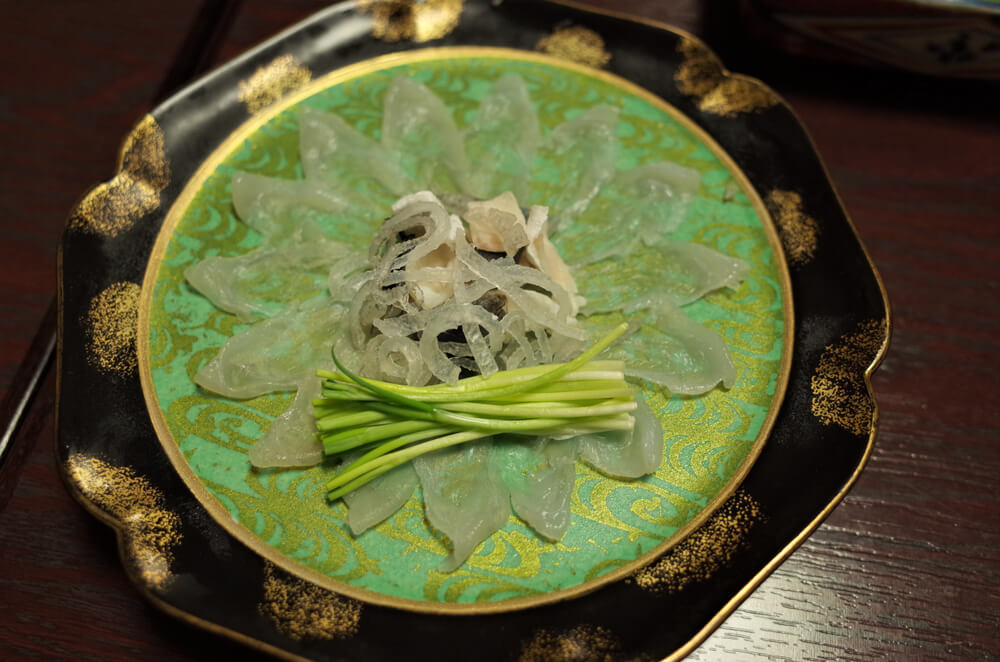 Shimonoseki City, Yamaguchi Prefecture is known as the center of pufferfish and the locals call it "fuku" instead of "fugu".
In the morning, if you go to the Karato Market kitchen in the Kanmon area, you can enjoy fresh seafood such as Fuku soup, Fuku no Nigiri and Taiburi.
Kasado Hirame caught in Kasado Bay and is popular for its firm and crunchy texture.
You can enjoy sushi "Hirame no sashimi", seafood rice bowl and "fugu sashimi" made with fresh ingredients at a reasonable price.
"Bali soba" is a local dish that uses freshly fried crispy noodles and various vegetables and sauces.
When it comes to local gourmet food in Yamaguchi, "Kawara-soba" is a must-try.
Kawara-soba is a soba dish in which brown soba and meat are grilled on a hot tile and dipped in a warm sauce.
Original Kawara Soba Takase, the birthplace of Kawara Soba, has a good reputation in the local area.
How to buy souvenirs for sightseeing in Yamaguchi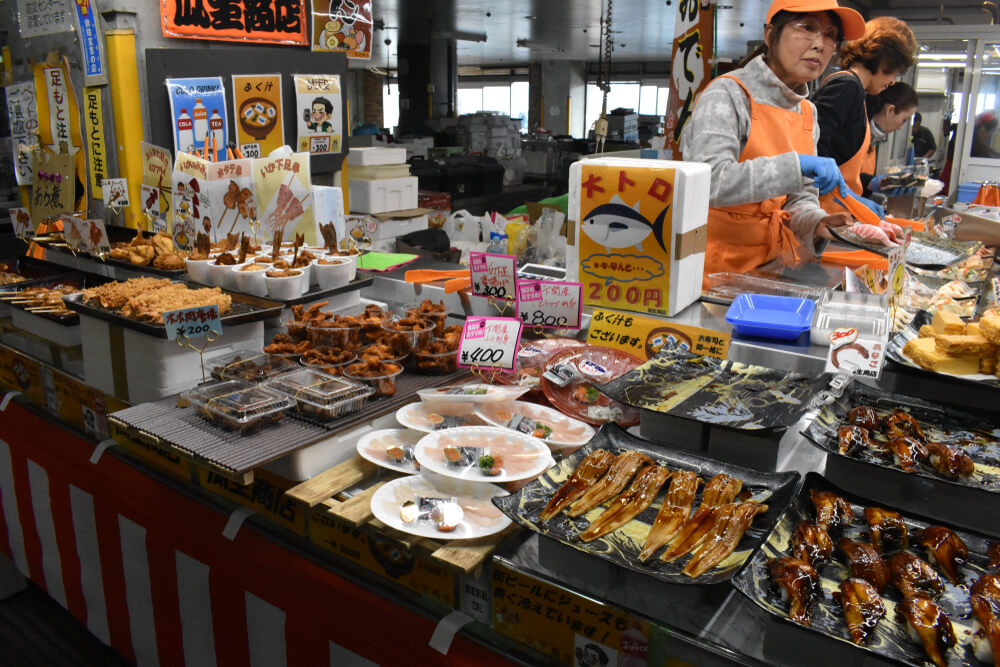 Yamaguchi souvenirs include Shimonoseki's specialty "Fugu" and "Uni" as well as souvenirs and sweets made with summer's famous tangerines.
"Iso soy sauce sea urchin" is a popular dish in which salt is added to horse and sea urchin immediately after landing in the Sea of Japan.
When you sprinkle it on hot rice, the rocky scent stimulates your appetite, and you can enjoy a rich flavor. Recommended because it will last longer.
Mikuni Main Store "Natsumikan Marine" is a classic souvenir that uses Hagi's special product and summer mandarin oranges.
Honey that has been used since 1918 has been added to the summer orange flavor making it a perfect souvenir for Yamaguchi.
Good season for sightseeing in Yamaguchi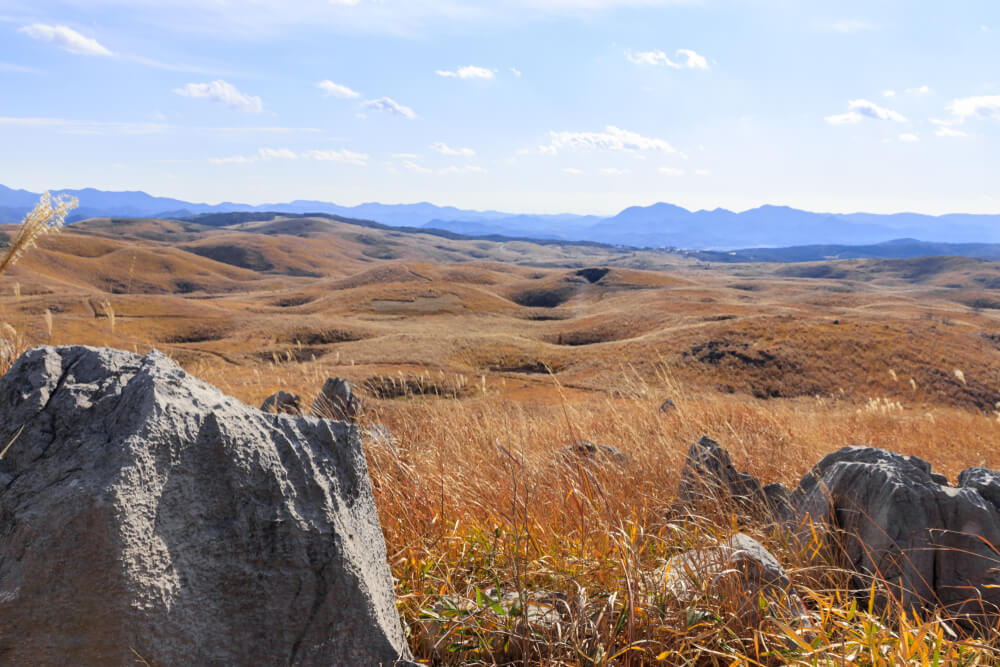 The best time to visit Yamaguchi is from October to November when the weather is stable and the autumn leaves can be enjoyed.
Autumn is the best time to enjoy seafood, fruits and vegetables.
The Seto Inland Sea side has a mild climate all year round but there is a record heavy snow zone from the Sea of Japan side to the inland side.
There is a big difference between the average temperature on the Sea of Japan side and the Seto Inland Sea side and the amount of snowfall in winter, so you can take measures against the cold.
Summary
You can enjoy the scenery and gourmet food when you visit autumn-colored Yamaguchi Prefecture such as "chomon-kyo" and "Ryoshokuji Temple".
Please try a new discovery in Yamaguchi Prefecture surrounded by the blessings of nature.