Kanazawa City of Ishikawa gets a lot of attention because there are beautiful nature and town around the castle.
In addition, it is within easy access of Tokyo and Osaka.
If you depart from Tokyo, it takes 2 hours and a half by JR Hokuriku Shinkansen.
If from Osaka, it takes 2 hours 40 minutes by the limited express 'Raicho.'
Why not go to Kanazawa City to enjoy the landscape at Noto peninsula and local food next holiday?
We introduce 5 sightseeing spots and the tips for walking around Ishikawa.
Where is Ishikawa located ?
5 must-visit sightseeing spots in Ishikawa
Ishikawa used to be called Kaga. In Edo period, the federal lords of Kaga(current southern part of Ishikawa) created prosperity.
And the history is still famous in Japan. So Kanazawa City is known as a town of a load of Kaga.
Kanazawa City has a garden with beautiful scenery, Kenroku-en, and an aquarium introducing the Sea of Japan.
If you want to walk around, you should go to Higashi Chaya District and Omicho Market Shopping Area.
You will feel historical atmosphere and enjoy local food.
Let's check 5 must-visit sightseeing spots in Ishikawa.
1. Kenrokuen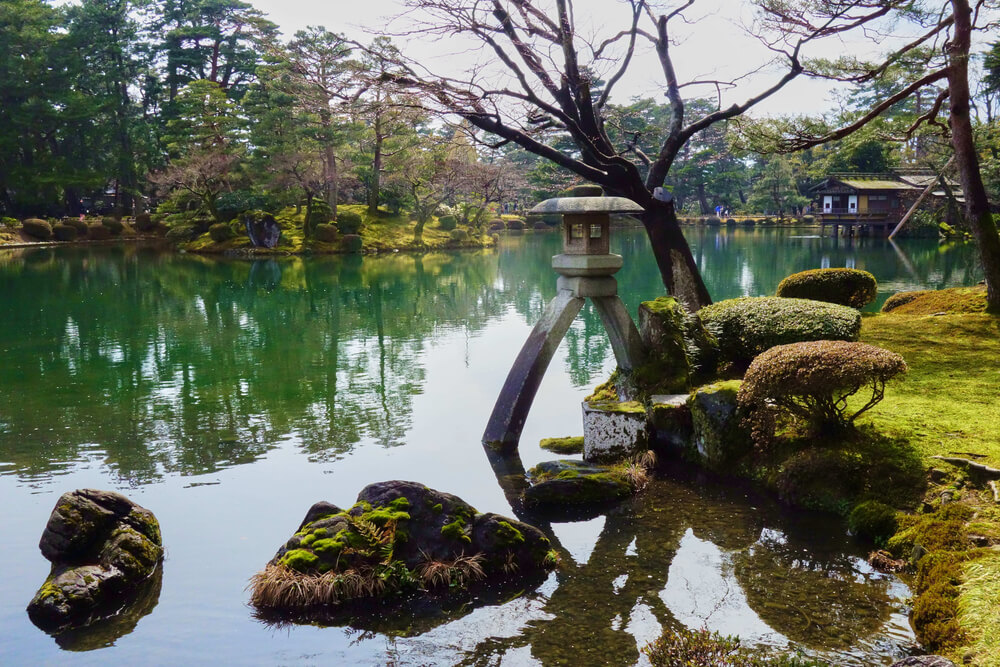 Kenroku-en stands as one of the three most beautiful gardens in Japan along with Kairaku-en in Mito and Koraku-en in Okayama.
The garden is registered as Special Scenic Spot because it shows a different flavor in each season.
Pond, fall, artificial hill and teahouse are sparsely located in over 100,000 square meters garden.
You will visit these spots during walking around.
Kenrokuen was founded and extended over generations by the feudal lords of Kaga.
And it introduced the element of "strolling-style" garden, which is typical style in Edo period.
You will enjoy seasonal scenery like cherry blossoms, red leaves and snow while taking a walk in the garden.
If you use Rokusho Course (Barrier-Free Course), you can see typical spots of the garden for 40 minutes.
Kasumiga-ike Pond has sites of beautiful scenery arranged around it such as Sazae-yama hill, Uchihashi-tei tea house, Kotoji lantern, Niji-bashi bridge, Karasaki pine tree and Horai island.
2. Notojima Aquarium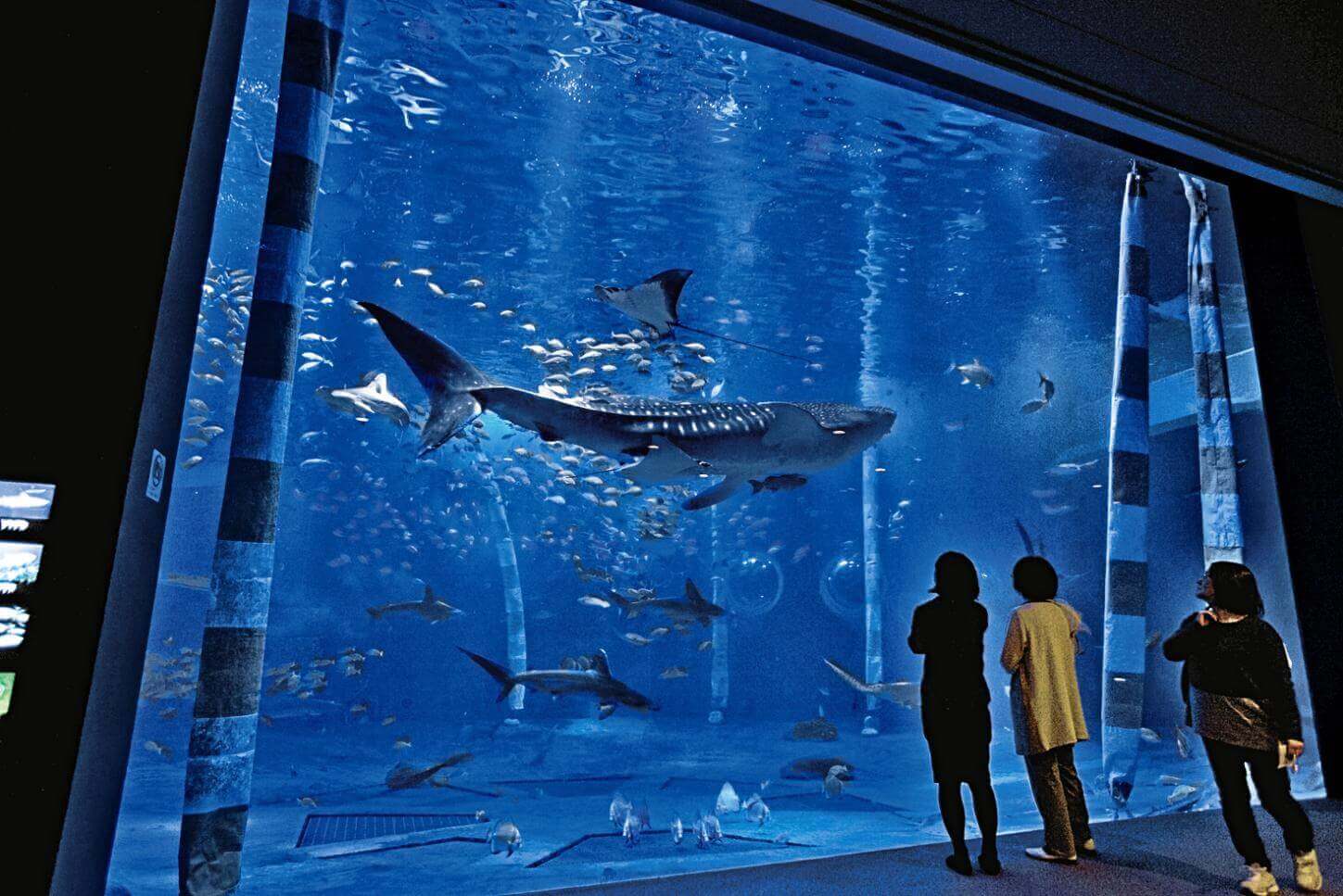 Notojima Aquarium is located at Noto Peninsula surrounded by great nature.
This is a popular spot to meet a variety of marine creatures.
The aquarium introduces 40,000 marine creatures representing about 500 different species in the largest water tank in the Sea of Japan.
You should go to Whale Shark Zone: Blue World, which shows whale sharks for the first time in the Sea of Japan side.
At The Sea Bream's Fantasia of Light and Sound, you will see the school of large fish living in the sea around Noto peninsula swimming to the tune of piano melody.
You also enjoy a dynamic shows by jumping and dancing dolphins and sea lions.
In addition, you can feed and touch penguin and sea otter at Penguin walk and Sea otter feeding time.
Next to the aquarium, there is a fishing spot called Umiduri center.
You will fish with seeing the view of Nanao Bay. Fishing can be enjoyed by everyone.
3. 21st Century Museum of Contemporary Art, Kanazawa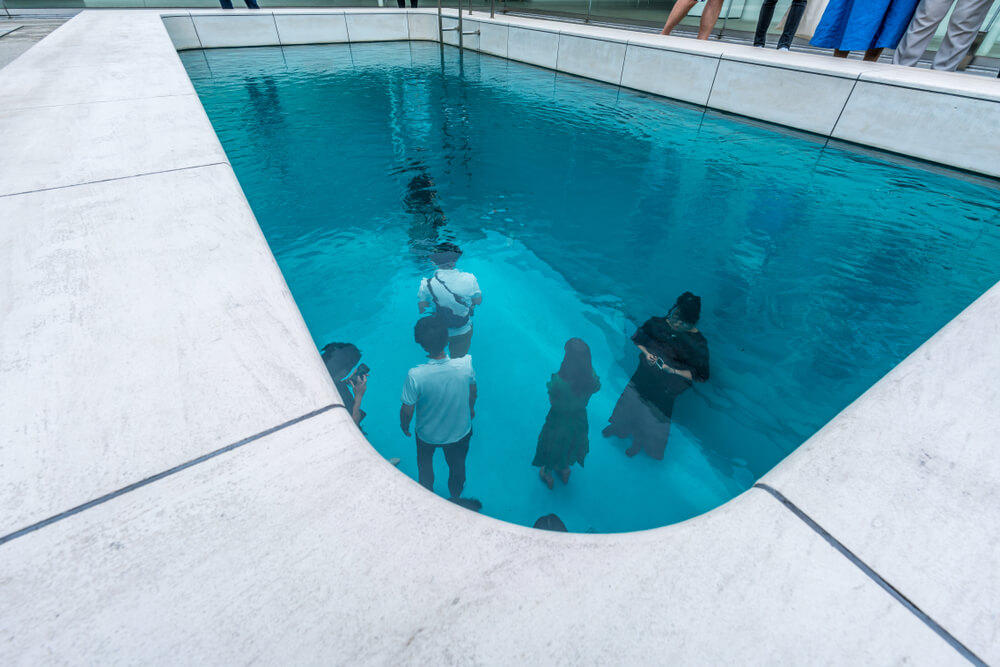 21st Century Museum of Contemporary Art, Kanazawa get attention as a new sightseeing spot in Ishikawa, which opened on October 9 in 2004.
The museum is located at the center of Kanazawa City. Locals call it Marubi. It is a circular museum with glass wall and white colored roof.
This is a modern museum with the largest number of visitors in Japan.
It is designed based on the concept, "Museum open to the city like a park." So the building provides people with open feeling.
The museum is divided into two areas. One is Exhibition Zone required admission fee. The other is Public Zone for free.
You will go around Kenrokuen and the museum for a day because the museum is near Kenrokuen.
In addition, the museum is close to entertainment districts in Kanazawa, Katamachi and Korinbo. It is a good idea to visit museum after walking around there.
4. Higashi Chaya District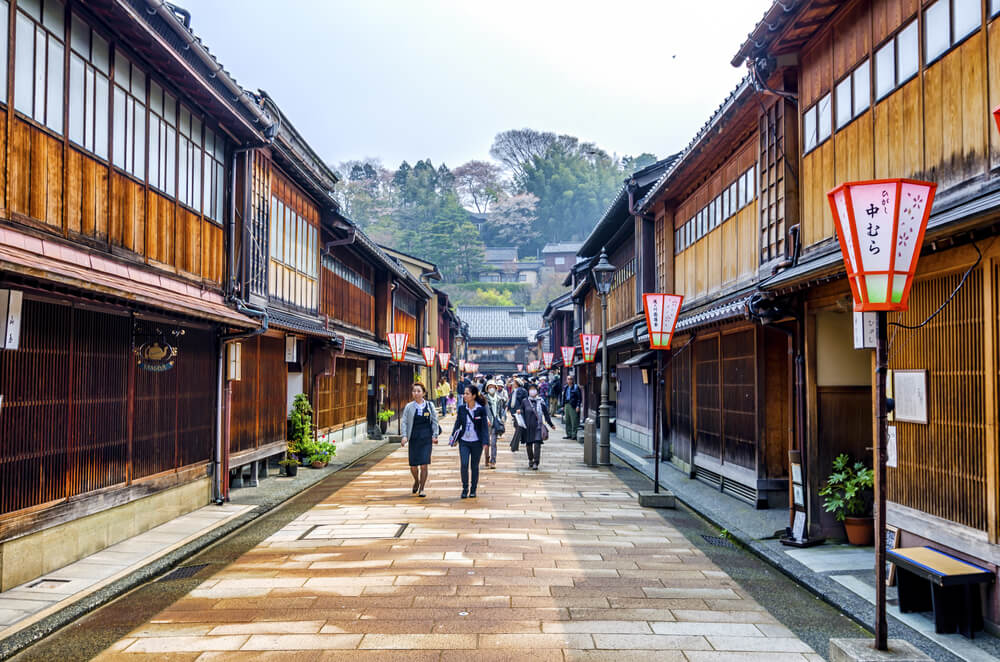 Higashi Chaya District is an area preserved as Japan's cultural assets.
There are historical chaya houses stood in a row and filled with tasteful atmosphere.
This district is the symbol for Kanazawa traditional culture.
If you are walking on stone paved road and around the house with reddish brown lattice called "bengaragoshi," you feel as if you were in Edo period.
The chaya house is used as cafes or shops for Japanese sweets, traditional crafts and general goods.
It becomes a popular spot to foreign visitors in recent days.
A chaya house, Kaikaro offers tourist a chance to see traditional chaya's exquisite interior, which are a tea ceremony room with gold-laced tatami mats and vermilion-lacquered stairs.
Some of female tourists rent and wear kimono to walk around this district.
It is getting attention on Instagram because the view of the district provides Japanese and photogenic atmosphere.
If you take a photo in tasteful and traditional chaya houses, it will be a good souvenir.
There are prestigious restaurants, casual cafes and shops offering traditional crafts. You will enjoy having a meal and looking for souvenirs here.
5. Kanazawa Castle Park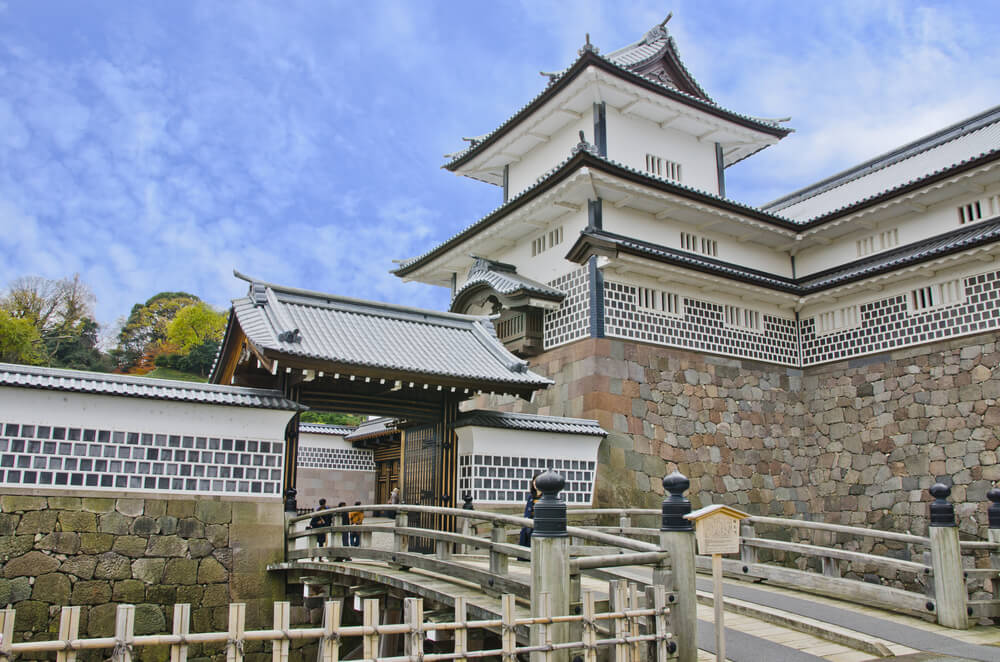 Kanazawa Castle Park is known as a historical sightseeing spot along with Kenrokuen.
The castle has been burned down except Ishikawa-Man gate, Sanjukken Nagaya and Tsurumaru Storehouse Since 1996, the buildings have been opened to public.
There are a lot of nice places except Ishikawa-Man gate, Sanjukken Nagaya and Tsurumaru Storehouse registered as Important National Cultural Asset.
At night, you will see the fantastic illuminated park.
How to travel while sightseeing in Ishikawa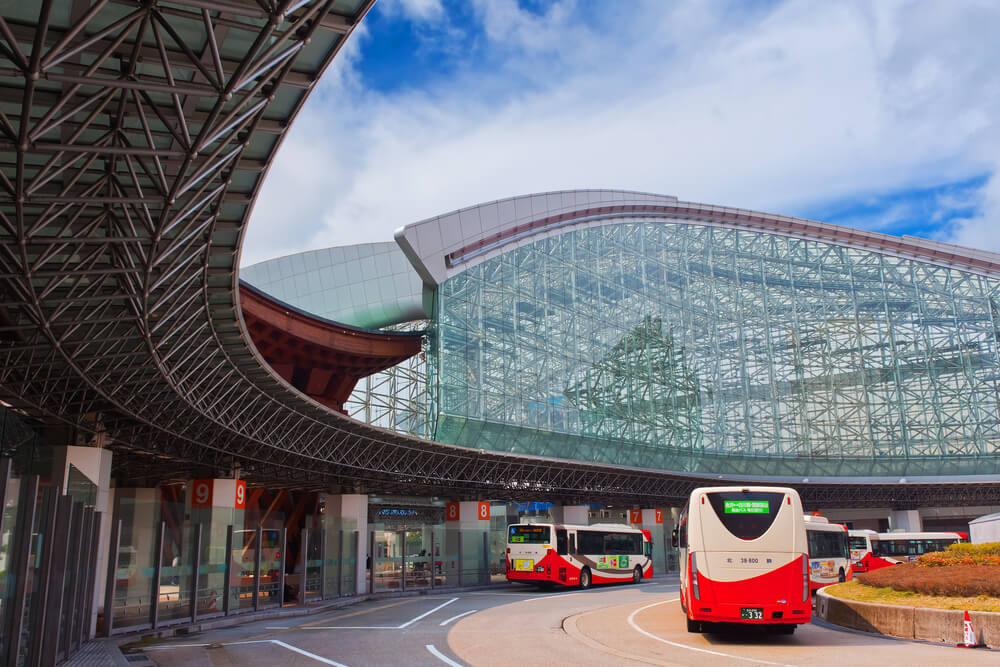 If you want to go to not only the city but also hot spring area and the seaside, you should use a car.
Senrihama Nagisa Drive Way is a good place to drive because you enjoy driving on a sandy beach. It is 40 minutes drive away from Kanazawa Station.
If you go to only Kanazawa City, you should use Kanazawa Loop Bus which runs through popular sightseeing spots for about 40 minutes.
In addition, there are Kenrokuen Shuttle and fixed-route bus.
※Hokuriku Rail Road Co.,Ltd One-Day Pass 500yen (adult), 250yen(child)
Enjoy walking around Ishikawa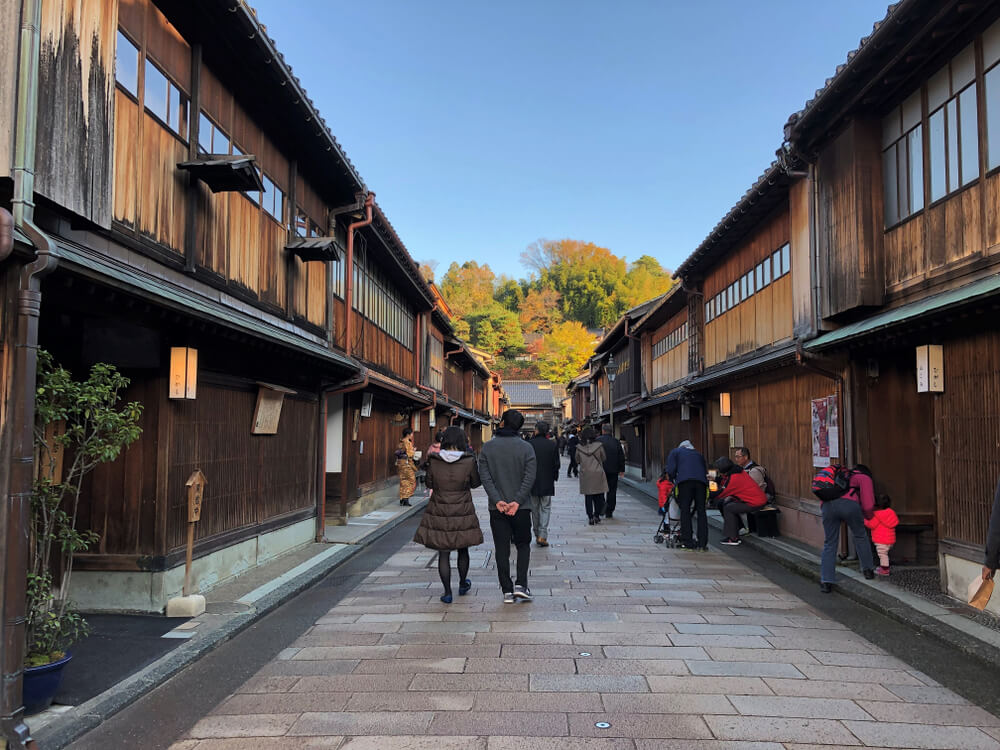 Popular sightseeing spots is gathered in Kanazawa City. So you will visit many places by a day trip.
Omicho Market Shopping Area with about 300 years of history is a friendly area to locals.
There are over 180 shops for fresh fish, vegetable, fruit, Japanese pickles and sweets on a narrow street.
Omicho Ichibakan in the area is a kind of mall gathered shops and restaurants.
Wajima Morning Market in Wajima City is one of the largest morning markets in Japan. There are over 200 street stalls at the market.
At eight every morning, fresh seafood, dried product, vegetables and traditional crafts are displayed at street stalls.
Almost all products has no price tags. So you will negotiate a discount.
You should eat famous foods at the market, Egara Manju and Ishizu Senbei.
A quite hot spring village called Yuwaku Onsen is 20 minutes drive away from Kenrokuen. It relaxes your body which tired with sightseeing.
Ishikawa sightseeing activities
Ishikawa has a lot of indoor and outdoor activities.
Tsukiusaginosato is a place to play with over 50 rabbits for free. However, you need to pay money to feed and hug rabbits.
There are over 2,000 kinds of rabbit goods. Every weekends, many people visit here.
About 400,000 square meters traditional handcrafts village, Yunokuni no Mori, offers an experience to make traditional crafts at a thatched-roofed building.
Meals in Ishikawa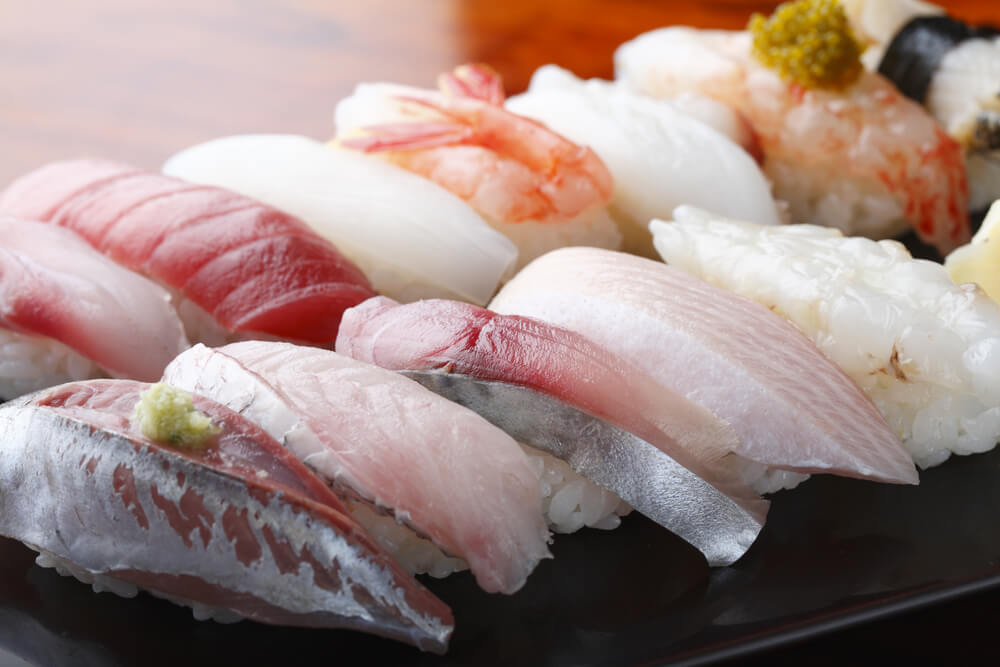 The features of Ishikawa are not only great nature and many historical buildings but also fresh seafood from the Sea of Japan.
You must eat sushi and a rice bowl with seafood using seasonal fish like snow crab, sweet shrimp, rockfish and oyster.
In addition, there are some local foods: Hanton rice(crisply battered and fried seafood topping a thin omelet), Kanazawa oden(simmered local ingredients), Kanazawa curry(curry with cutlet and lettuce).
Ishikawa is blessed with vegetables and rices. So you will enjoy delicious dishes in Ishikawa.
Souvenirs in Ishikawa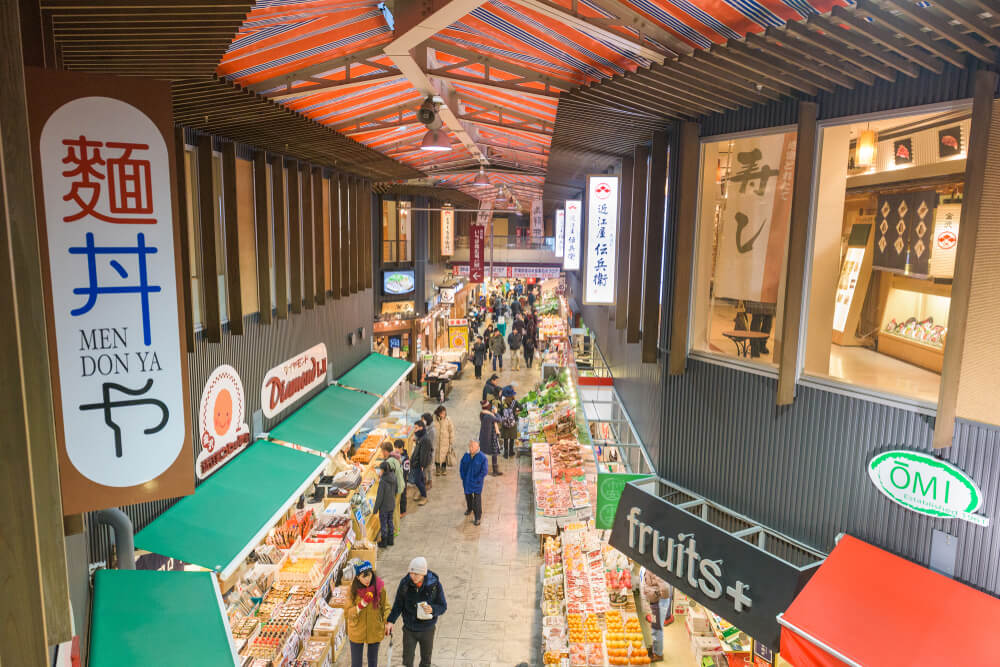 Ishikawa's traditional crafts are popular to tourists from all over the world: Wajimanuri lacquer ware, Kutani ware and Kagayuzen kimono.
You will see craftsman's technique with your own eyes, which has lasted since Edo period.
If you want to buy Japanese sweets, you should choose Jiroame(soft candy in a pot) which is natural sweet taste by the original recipe. You also use it as seasoning.
This is a health food which has been loved by locals since Edo period.
Miso Manju is a steamed miso tasted bun filled with handmade white kidney bean paste.
People likes this mild taste. You can't stop eating if you take a bite.
Best season for Ishikawa sightseeing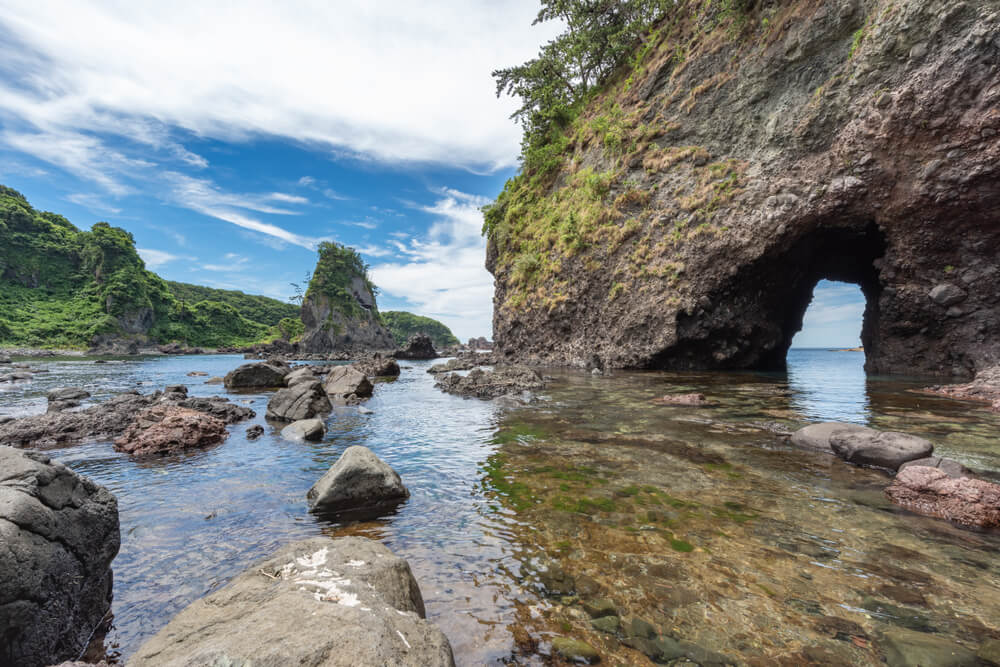 The best season in Ishikawa is spring with cherry blossoms and autumn with red leaves.
In spring, Kenrokuen offers the great view of cherry blossoms. If you want to see it at night, you should bring a jacket and scarf.
Hyakumangoku festival is held in Kanazawa every June. You see Kagayuzen Toronagashi in which paper lanterns are floated down a river and take part in some events at Kenrokuen.
*Kagayuzen Toronagashi may be canceled this year because the fire happened during the event in 2018.
In autumn, you will enjoy a variety of seafood, drive around Ishikawa and going to hot spring.
Summary
Kanazawa City of Ishikawa is an attractive place with the feature of classic town and modern atmosphere.
You will have great time for only a day in case you go there from Tokyo and Osaka.
Please make travel plans, using this article.