Hokkaido has about 22.1% of the land in Japan and a lot of sightseeing spots with great nature.
The popular cities like Sapporo, Hakodate and Otaru are known for the area to see historical architecture and eat seafood.
Noboribetsu has abundant hot spring. Furano has beautiful lavender fields. And Shiretoko has World Natural Heritage Site. There are a lot of spots to visit.
We introduce must-visit sightseeing spots and the tips for walking around Hokkaido.
Where is Hokkaido located ?
5 must-visit sightseeing spots in Hokkaido
Hokkaido has popular sightseeing places. So you enjoy traveling there with family, friend or partner. We'll tell you 5 must-visit spots.
1. Former Hokkaido Government Office Building (Red Brick Office)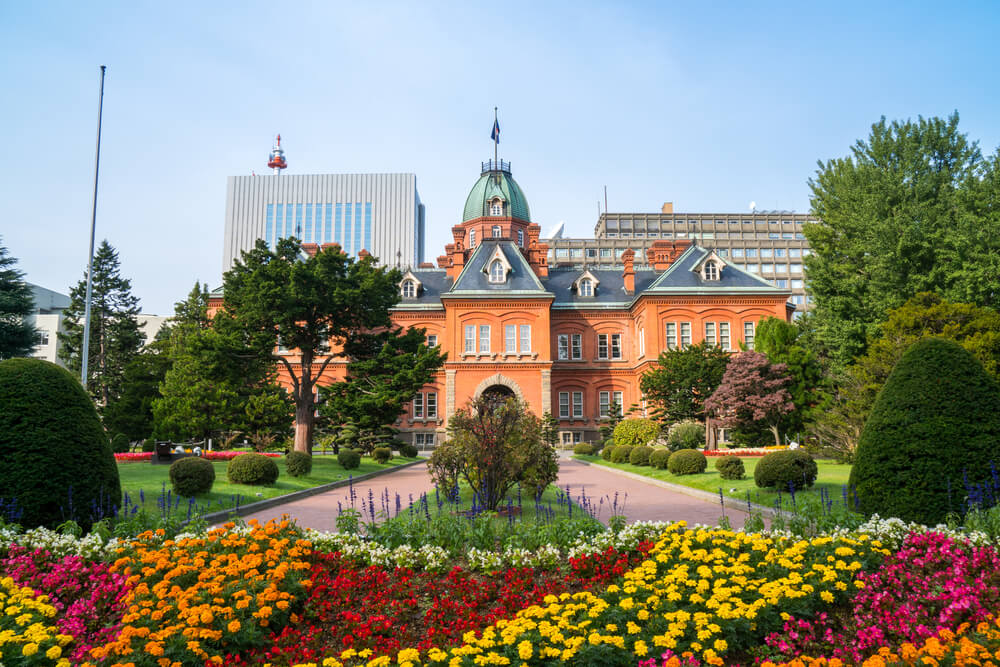 Former Hokkaido Government Office Building (Red Brick Office) built in 1888 is the symbol of Hokkaido.
The red star on its exterior wall means the Hokkaido Development Commission. It is a precious historical European architecture because it accepts American neo-baroque design.
It is registered as an important cultural property. It has a feature that most of building materials is from Hokkaido.
In the office, there are exhibitions about Hokkaido history. You can see them for free.
Volunteer guides tell you about the architectural technique of the building. For example, the glasses made in Meiji period and double doors against cold weather.
2. Noboribetsu Hot Spring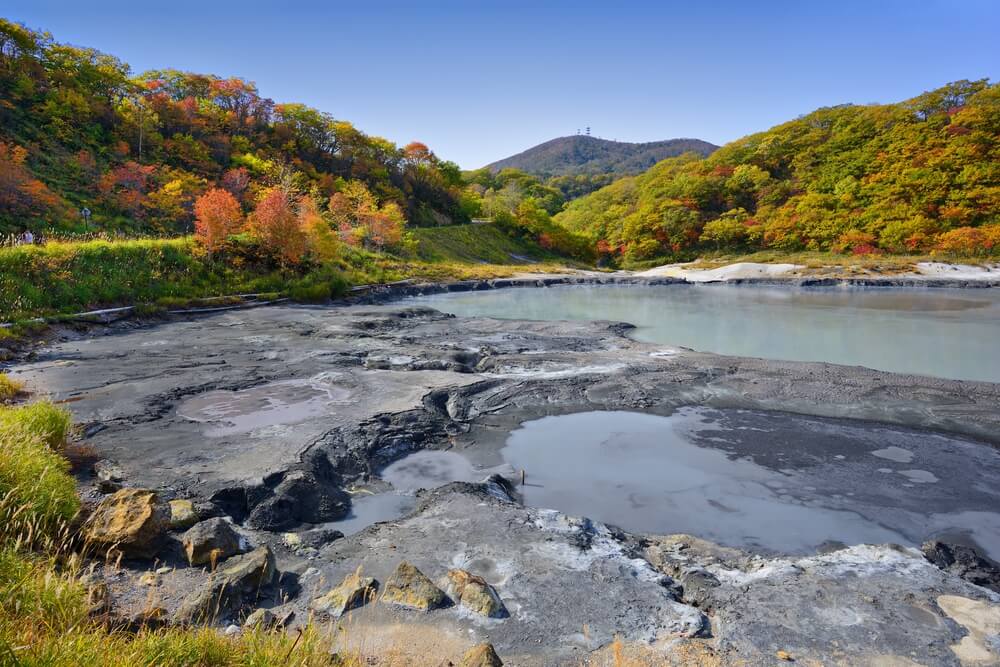 The famous hot spring area in Hokkaido is Noboribetsu.
The spring source is a spot called "Jigokudani," which is explosion crater made by the eruption of Hiyoriyama. You can see boiling water from a number of gushing points or fumaroles along the valley.
This hot spring has nine kinds of spring qualities such as sulfur spring, alum spring, chalybeate spring, sodium bicarbonate spring, radium spring and so on.
At jigokudani, hot spring water with smoke is gushed out about 10,000 tons per day.
There are a lot of hot spring inns and shops around there. You will find many kinds of demons. For example, red demon, blue demon, parent and child demon, hell demon.
They are the symbol of Noboribetsu because people think jigoku(the hell) is where demons live.
On the sidewalk along Oyunuma River, there is natural foot bath where a lot of tourists visit.
3. Muroran Port Night View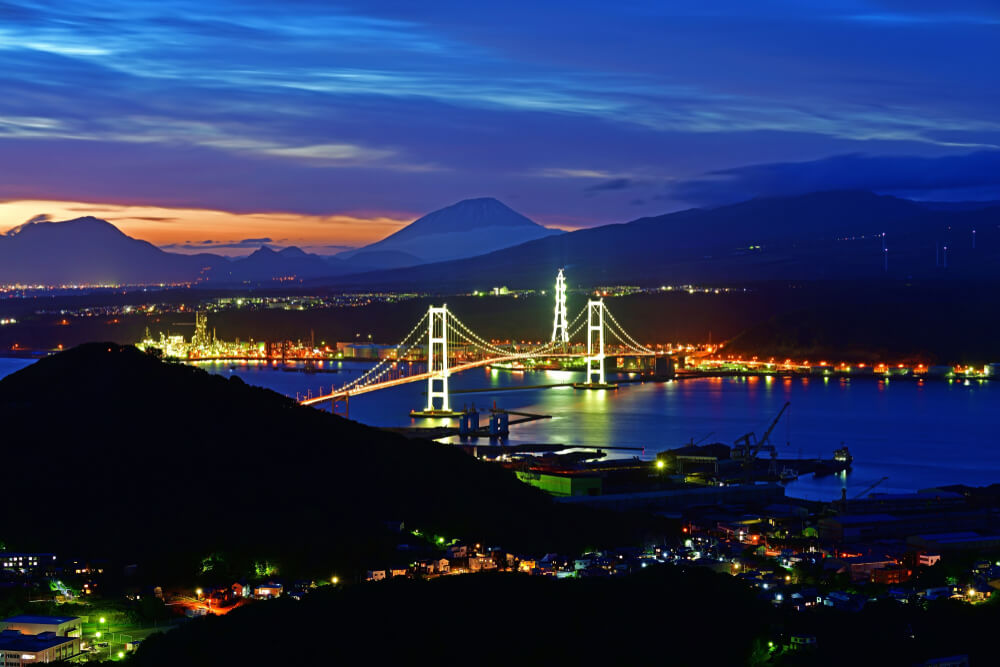 Muroran Port is developed as an important position in the transportation to connect with Hokkaido and the main island of Japan. Now, It becomes a popular night view spot.
The illuminations of the industry area around bay and Hakucho Bridge offer you a fantastic night view.
There are some facilities with observation deck to enjoy the view. In addition, there are bus tours and cruises with night view.
The observation deck of mt. Sokuryozan is 200 meters above sea level, which is the highest place in the city.
You can get a full view of Muroran Port from there, which is registered as one of night view heritage of Japan.
Illuminated Shiratori bridge and many lights in industries make Muroran Port brighter.
You can enjoy the night view from many places, which are observation deck of Shiratori Bridge, Hacchodaira, Shukutsu Park, Shiomi Park and so on.
4. Asahiyama Zoo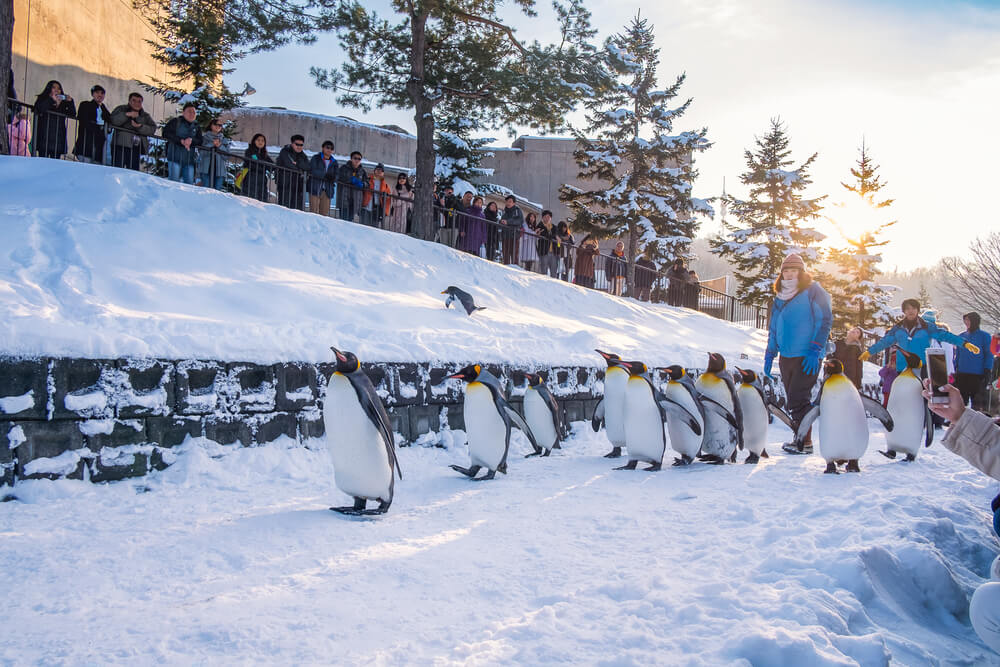 Asahiyama Zoo is famous because they show us real animal life with the facility made for each animals.
You can walk and see some animals below them.
They breed about 100 kinds of animals, which are mainly consisted of animals in the Arctic Circle.
The feature of the zoo is the exhibition method that you can see animal's natural ability.
You can very closely see polar bears jumping into a large pool and earless seals swimming in the cylinder water tank.
The underwater tunnel which penguin is swimming in surprises you because you see as if penguin flied over your head at high speed.
At the Children Farm, there is the smallest duck in the world. It is really adorable.
5. Tokachigawa Hot Spring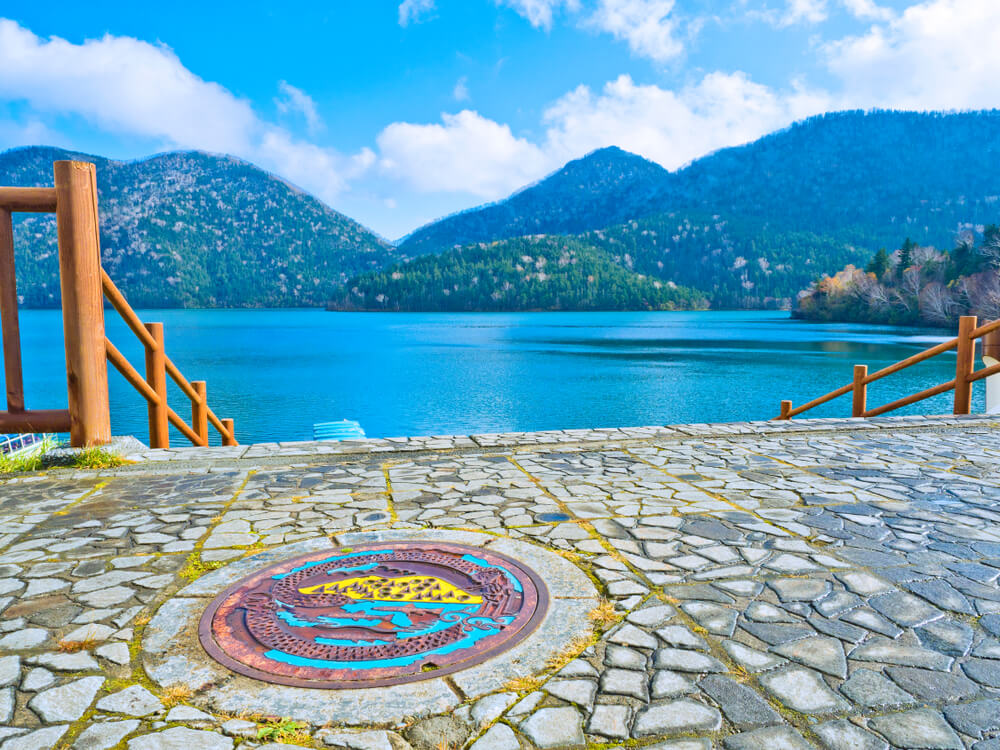 Tokachigawa Hot Spring is at Katogun of Hokkaido.
It is a moor hot spring derived from reed and other native plants, registered as Hokkaido Heritage.
This hot spring water contains abundant natural organic ingredients compared with general hot spring.
The moor hot spring is rare in the world.
The water has excellent skin-moisturizing effect. So it is well known as a hot spring for beauty and popular to women.
You can get a rental bicycle at the hot spring resort run by Tokachigawa Onsen Tourist Association.
It might be a good idea to go cycling with family.
Let's enjoy shopping at stores with products used a moor hot spring water and soy products, and taste fresh vegetable.
How to travel while sightseeing in Hokkaido
You can go around sightseeing spots smoothly if you use a rental car.
If you would like to travel by train, you should buy a free pass of Hakodate or Furano line which have a landscape of a beach.
Hokkaido Free pass, a rail pass providing unlimited use of almost all JR trains on seven consecutive days, offers you Hokkaido scenery from the train window.
There is a bus tour with audio guide system, Regular Sightseeing Bus, by Hokkaido Chuo Bus.
You can select a tour from over 25 routes. It is good for tourists who stays for only a short time because they can go around smoothly.
Enjoy walking around Hokkaido
If you would like to walk around town, the popular spots are Odori Park at the center of Sapporo and Tanukikoji Shopping Street which has opened since Meiji era.
Susukino is one of entertainment districts in Japan. There are many Izakaya(Japanese pub) and Karaoke bars. So a lot of people come here.
If the weather in Sapporo is bad, Tanukikoji Shopping Street with arcade is a good place.
If you go to Otaru with historical monuments, Otaru Sakaimachidori Shopping Street serves a glass museum, sweets shop and restaurants with local food.
Hokkaido sightseeing activities
Lake Toya Ranch at Abutagun has a horseback riding experience with a full view of Toya Lake.
For children, they offer you a lesson about how to control and ride on the horse before the experience.
You must be moved by the wonderful landscape of the lake in front of you after you go up a hill through a forest.
Rafting and canoe are also exciting activities. You enjoy playing them, surrounded by great nature of Mt.Yoteizan and Niseko.
Paragliding Tokachigawa at Tokachigun gives you an experience of aerial walk.
Meals in Hokkaido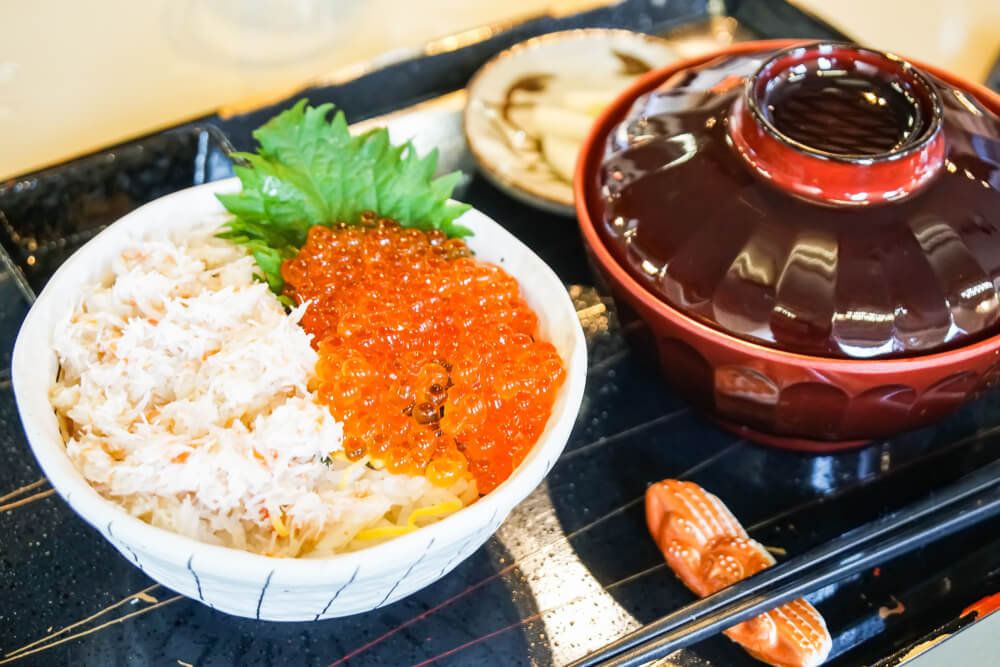 We think many people can't wait for having a meal in Hokkaido.
Hokkaido has huge area of land and is full of nature.
So there are a lot of ingredients gathered from the sea and mountain.
About seafood, you will get seasonal ones at Hakodate Morning Market.
The catch of hairy crab in Hokkaido is the best in Japan. You can eat the most creamy crab meat here.
Crabs are caught throughout the year in the sea about Hokkaido. You should taste them during Hokkaido traveling.
The best season for King and snow crabs is from April to May.
You enjoy eating them by many kinds of cooking methods like grilling or boiling.
"Hanasaki" at Sapporo City has a popular menu to serve whole freshest king crab.
In autumn, salmon and salmon come into season. The best season is from September to November.
Sapporo and Hakodate have seafood restaurants, however the freshness is very different from Ishikari region with salmon fishing ground.
Urchin is caught everywhere in Hokkaido throughout the year.
It is delicious ones that caught in Rijiri, Rebun and Shakotan from June to August.
You must be surprised with creamy taste of purple sea and elegant sea urchin raised on good kelp with abundant notorious.
▶【Restaurants in Sapporo】5 local foods to eat during Sapporo sightseeing
Souvenir in Hokkaido
To buy souvenirs, you should go to Chitose Outlet Mall Rera which is about 10 minutes drive from Shin-Chitose Airport.
There is a free shuttle bus at Shin-Chitose Airport. It takes just 10 minutes to get there.
The mall has more than 140 shops about closings, sports and outdoor goods, grocers.
Besides, there is a flight information board about Shin-Chitose Airport.
If you would like to buy Hokkaido food and products, you will get common or new ones at Shin-Chitose Airport.
Best season for Hokkaido sightseeing
If you enjoy great Hokkaido nature like climbing a mountain and walking in a lavender field, you should go there from June to September. It is cool climate.
Hokkaido gets cold sooner than the main island of Japan. The best season of red leaves is also different from there.
If you would like to see red leaves, you should come to Hokkaido from the end of September to October.
If you would like to go skiing and snowboarding, the best season is from December to March.
In addition, you can experience Hokkaido winter activities like dogsled, a tour of floating ices, fishing for hypomesus, and so on.
Summary
Urban areas like Sapporo and Hakodate is good sightseeing spots in Hokkaido.
However, it is also nice to get back to nature in Furano with beautiful lavender fields and Shiretoko near the sea with floating ice.
Hokkaido is known for the most hot spring spots in Japan. Take an outdoor bath and taste delicious seafood at Noboribetsu.
In Hokkaido, there are snow festival and events for famous food. You will have fun time if you come here every season.
You should check where you go before your travel. Then, go around sightseeing spots smoothly and find good points of Hokkaido.