The Hakone area of Kanagawa prefecture is one of Japan's leading tourist destinations where you can enjoy the resort atmosphere on a day trip from Tokyo.
If you spend a relaxing time at Hakone Yumoto or Ashinoko Onsen, you can heal your daily fatigue.
For a long-term trip to Hakone, visit the Sengokuhara area with its museums.
We will introduce popular sightseeing spots in Hakone and tips for walking around the city all year round.
Location of Hakone
Hakone machi, Kanagawa Prefecture, is on the east side of Hakone Pass in western Kanagawa Prefecture.
Hakone is located in the center of Fuji Hakone Izu National Park and is a popular tourist destination with easy access from the city center.
The nature of the four seasons is beautiful and you can take a boat to Lake Ashinoko.
6must-visit sightseeing spots in Hakone
Hakone Yumoto Station, the gateway to Hakone sightseeing, has a limited express romance car and restaurants and souvenir shops line up in front of the station.
In the Tonosawa area, there is a relaxing power spot "Fukazawa Zeniarai Benten".
In the Sengokuhara Kogen, you can hike in the clear air while admiring the beautiful Sengokuhara Susukino Meadow.
①The Sculpture Forest Museum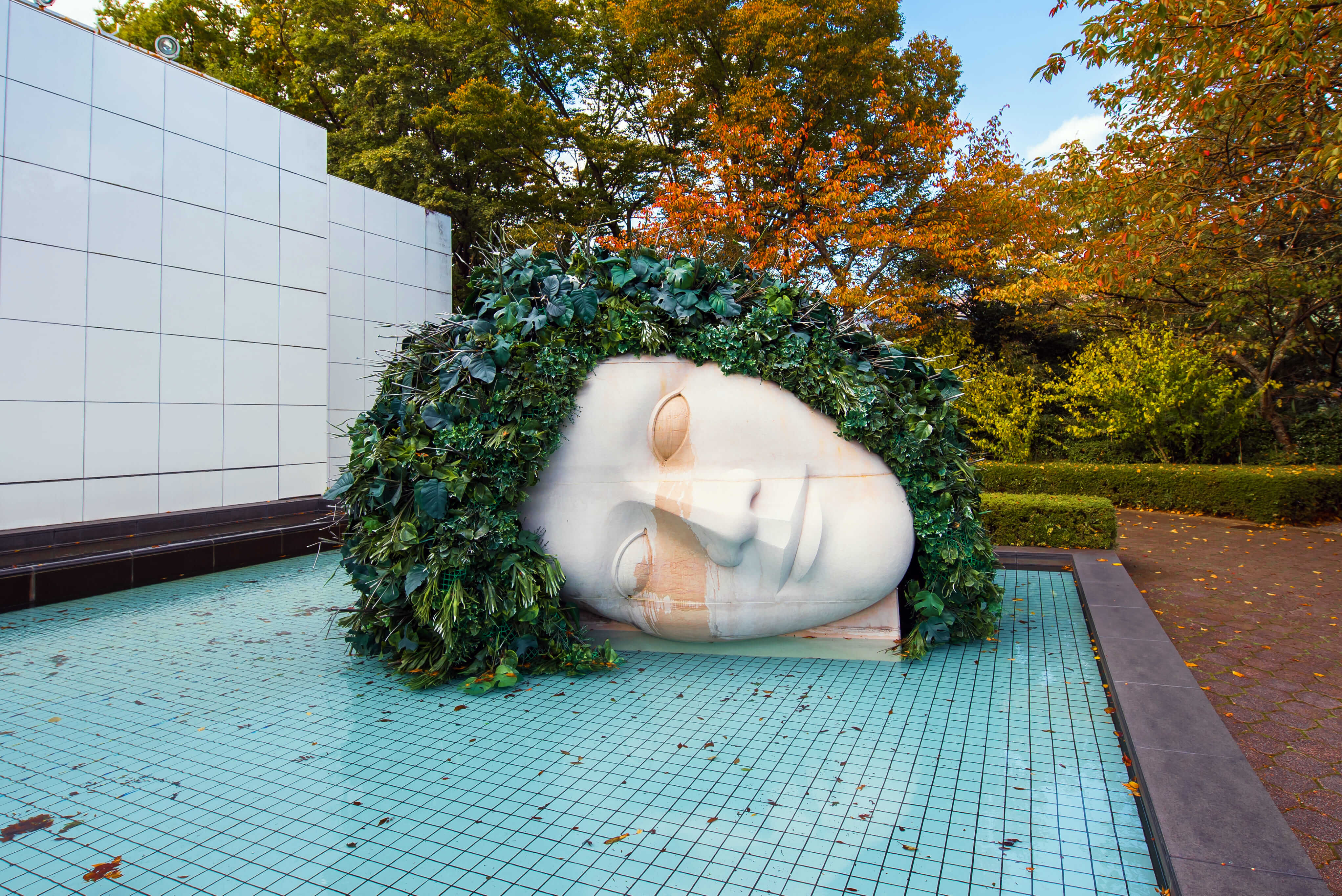 The "Forest Sculpture Museum" opened by the Fuji Sankei Group in 1969 is Japan's first open-air museum.
The vast grounds combine nature and art with gardens and museums, indoor exhibition spaces.
You can enjoy more than 300 works such as Picasso, Rodin, Moore, and Miro.
The lush gardens offer magnificent views of the majestic mountains. Hakone and the magnificent nature of the four seasons.
It is a blissful time to enjoy art appreciation while soaking in the hot spring footbath flowing on the premises.
②Lake Ashinoko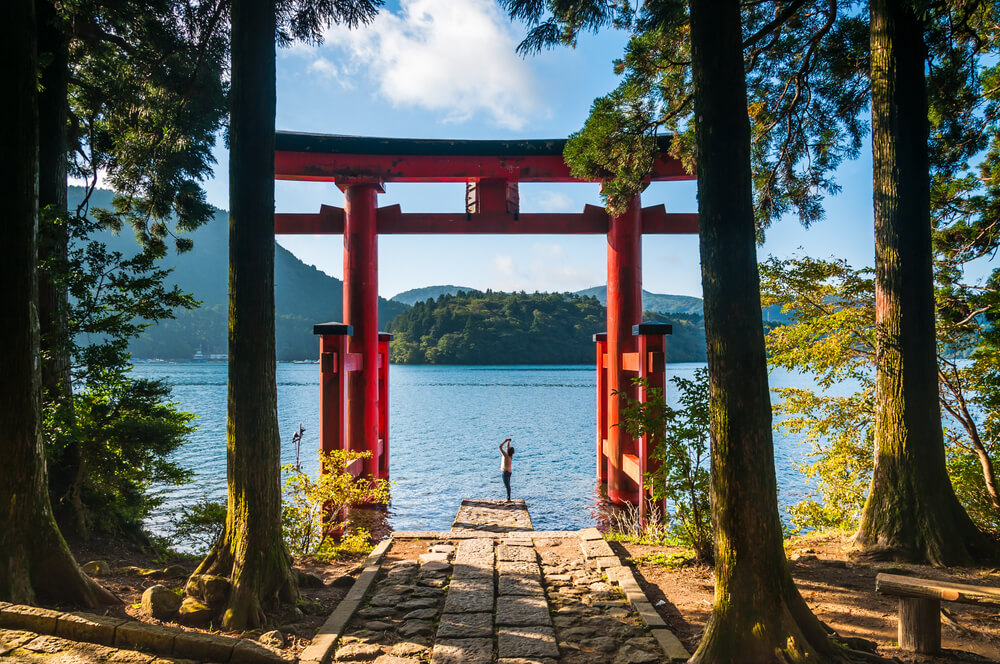 Lake Ashi is 724 meters above sea level and is a caldera lake formed by an eruption about 3000 years ago.
About 19km centered around Lake Ashinoko the lakeside is a popular destination for historic sites, many tourist attractions and restaurants.
Lake Ashinoko, walk on the water while looking at Mt. Fuji.Spend time on mountain cruises and lakes.
For an efficient lake trip, enjoy stunning views of the Hakone Pirate Ship or Lake Ashinoko Cruise.
③Hakone Kowakien Yunessun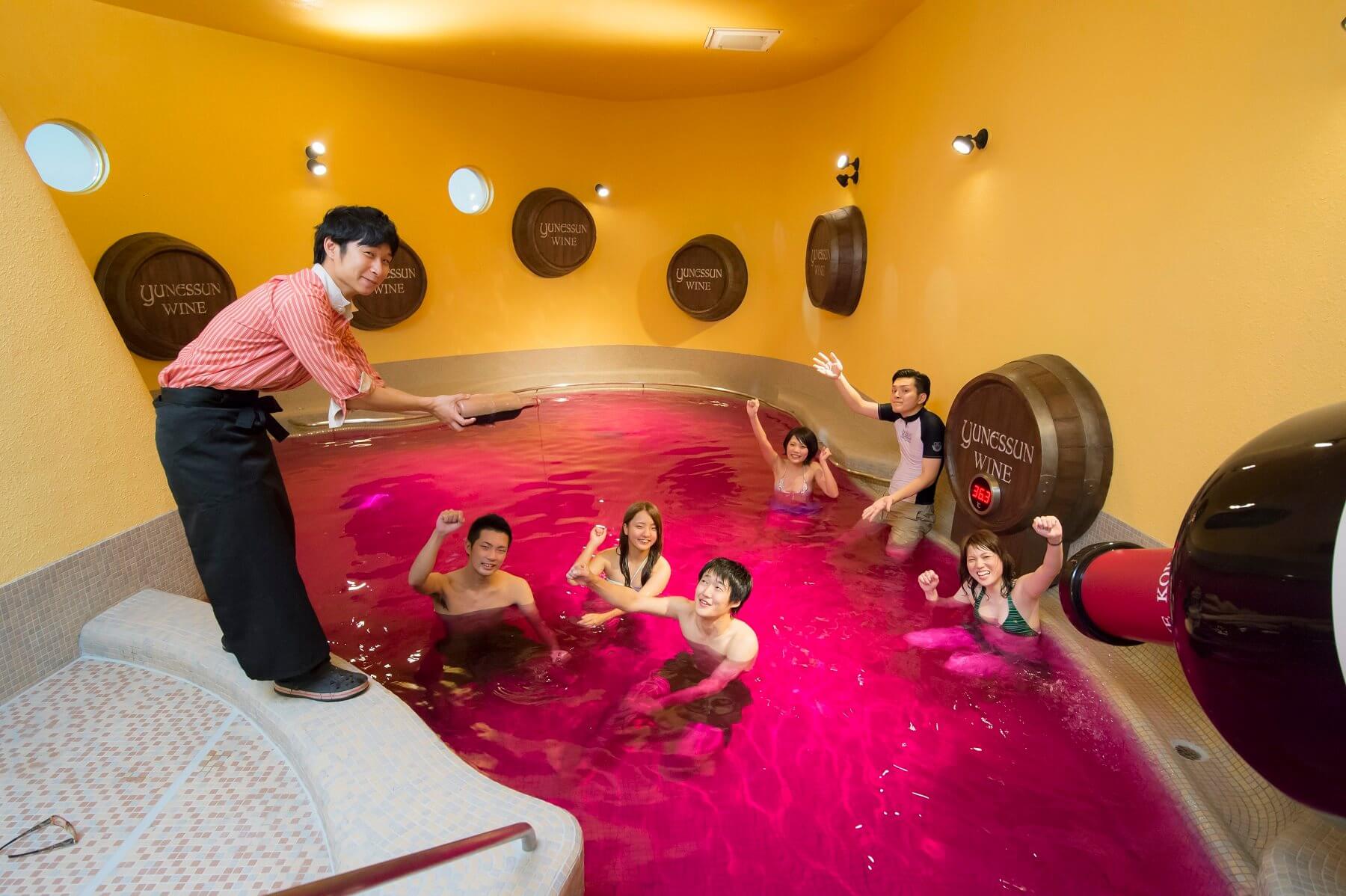 Hakone Hot Springs Amusement Park "Hakone Kowakien Yunessun" is a hot spring facility that the whole family can enjoy.
An amusement where you can enjoy the nature of Hakone and the outdoor bath all year round.
For children, the large water slide of hot water and the hot spring "Yunessun" where you can enjoy swimming are popular.
From the open-air bath, you can soak in the hot springs of Hakone while admiring the magnificent views of the mountains of Hakone and Sagami Bay.
④Hakone Ropeway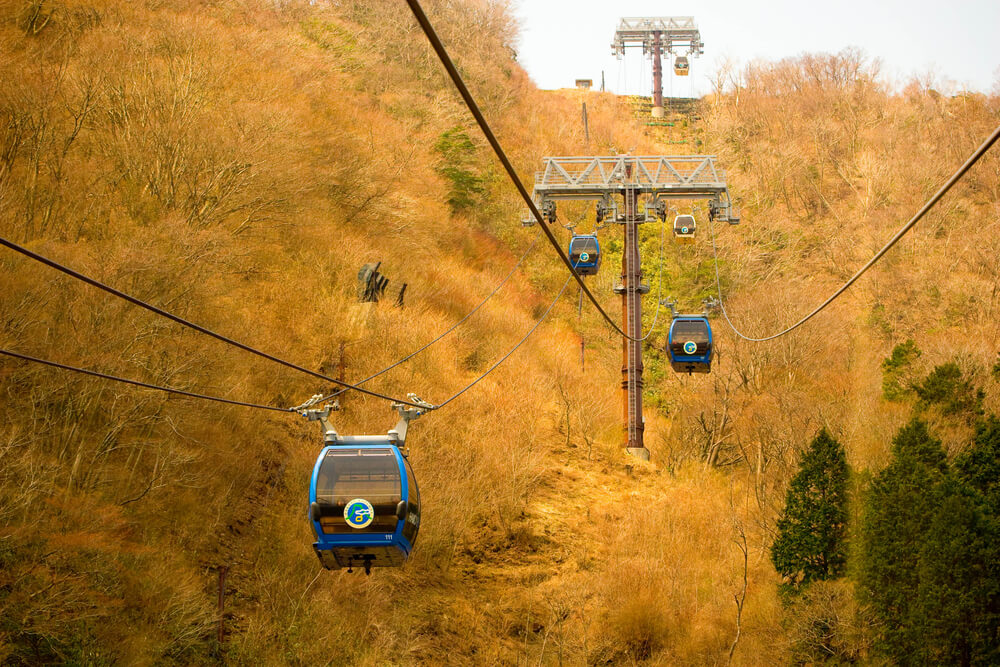 "Hakone Ropeway" is a ropeway connecting Sounzan Station and Togendai Station in Hakone-machi, Ashigarashimo-gun, Kanagawa Prefecture.
The ropeway operated by Hakone Ropeway Co., Ltd. boasts the longest 4km in Japan.
The cableway departs from Sounzan Station and climbs to Owakudani Station at an altitude of 1,044m in about 25 minutes.
To Togendai Station, you can enjoy a walk in the air for about 20 minutes while enjoying the spectacular view of Lake Ashi and Mt. Fuji.
For sightseeing in Hakone and Owakudani, please use the "Hakone Ropeway" with a a panoramic view of Fuji and Lake Ashinoko which are the plumes of Owakudani.
⑤Hakone Glass Forest Museum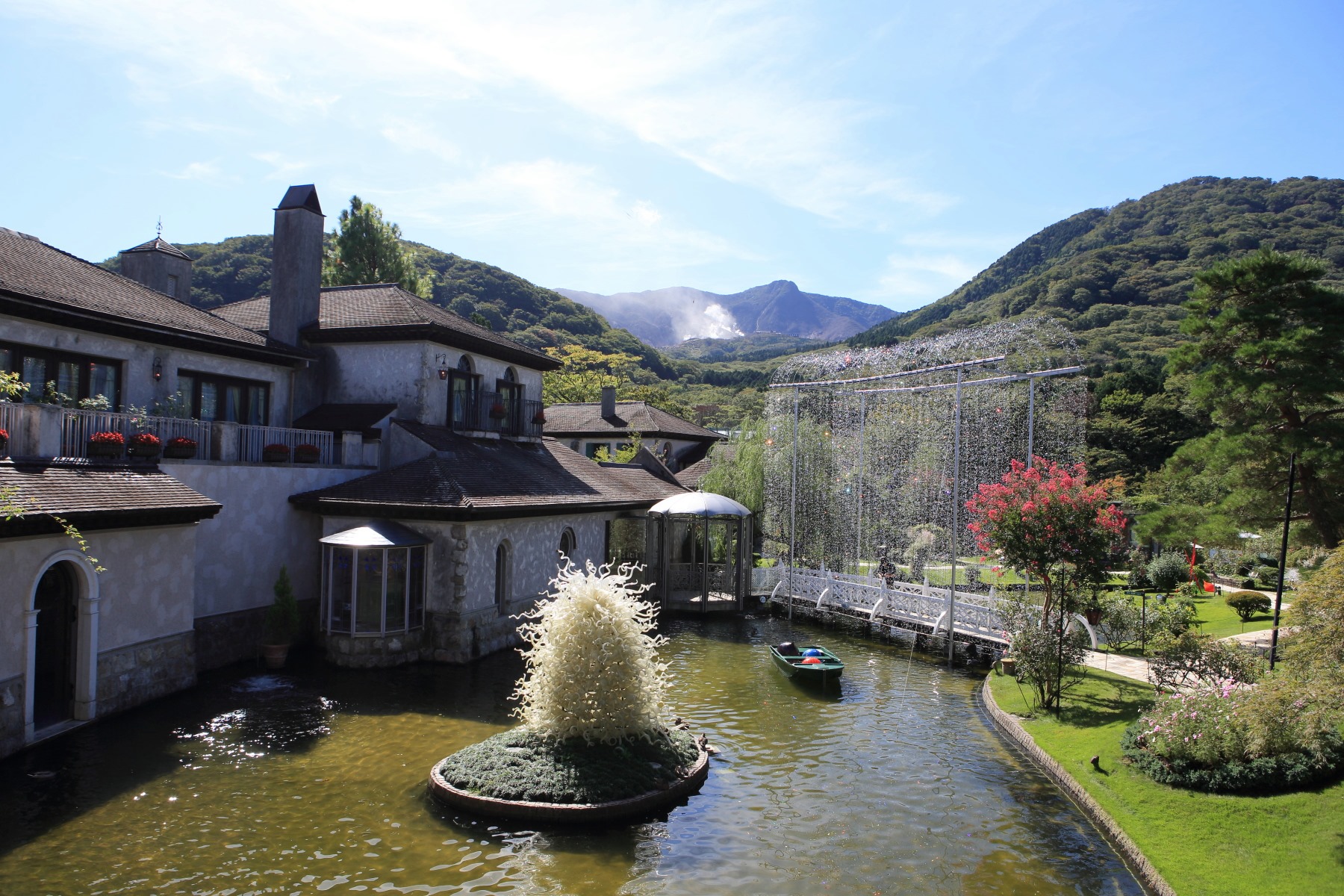 The Hakone Glass Forest Museum in Hakone Sengokuhara is Japan's first museum specializing in Venetian glass.
The seasonal flowers and lush gardens are exactly like the water city of Venice.
The Hako Art Museum has the "Venetian Glass Museum" and the "Contemporary Glass Museum," which display about 100 glass products from around the world.
La Canzone serves Italian cuisine while listening to authentic Canzo live music.
⑥Hakone Pirate Ship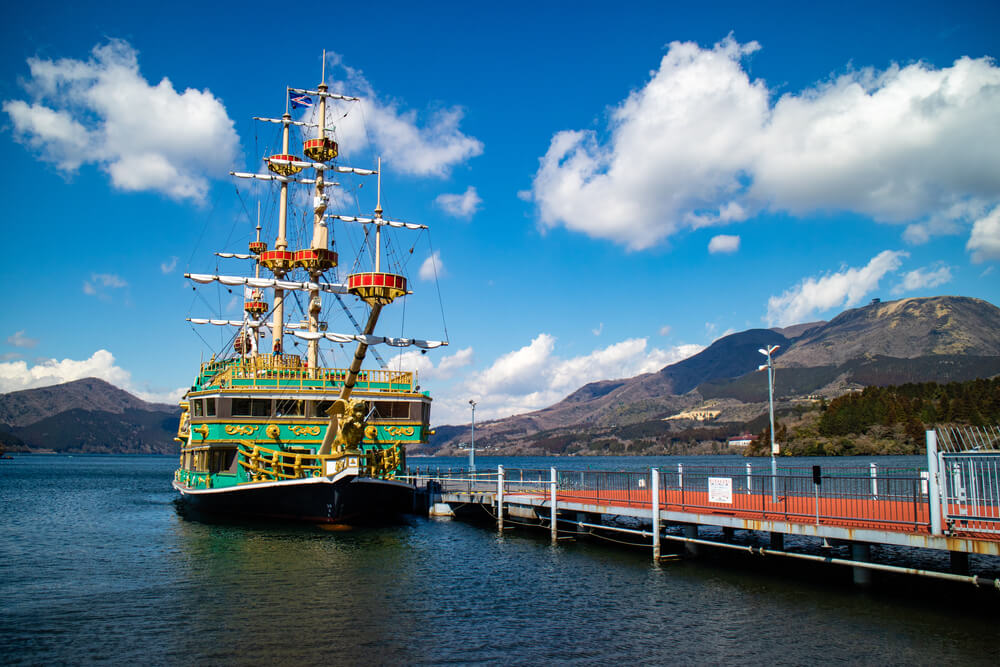 The "Hakone Pirate Ship" operated by Hakone Kankosen Co., Ltd. is a ship floating in Lake Ashinoko and Hakone with Mt. Fuji in the background.
There are three pirate ships: Royal II, Bertha, and Victory, and the staff who dressed as pirates will guide you inside the ship.
Connect to Togendai of Hakone Lake Ashinoko, Hakone Town and Moto Hakone's tourist spots and enjoy the magnificent view of Mt. Fuji from the boat.
The Hakone Pirate Ship, which has the image of a medieval European sailing ship has a gorgeous appearance and you can enjoy an extraordinary cruise.
How to get around while sightseeing in Hakone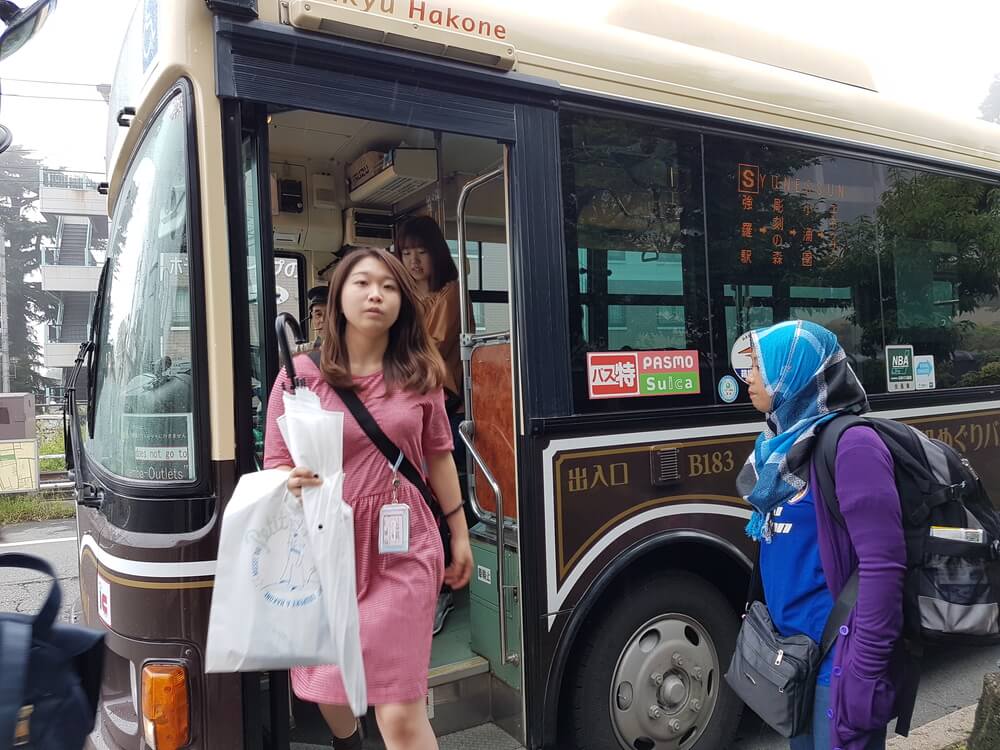 If you want to see a specific place, please use a train or a local bus.
Hakone trains are operated by Hakone Tozan trains, and buses are operated by Hakone Tozan buses, Izu Hakone buses and sightseeing facility tour buses.
Most of Hakone's attractions can be reached by train or local bus.
How to enjoy walking around Hakone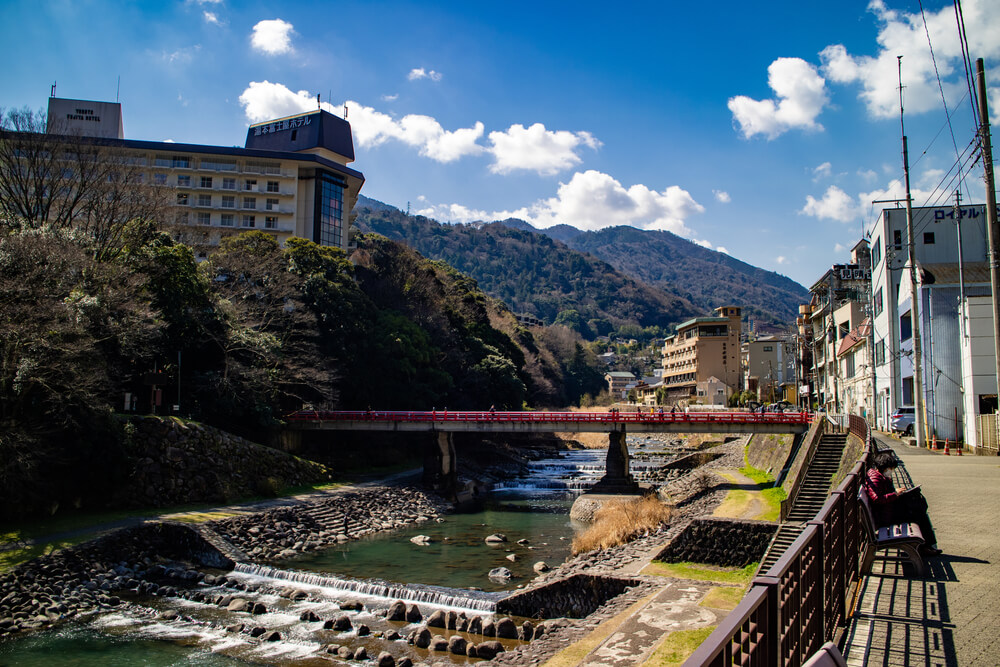 There are many souvenir shops, gourmet foods, and day-trip hot spring facilities around Hakone Yumoto Station.
At Hakone Yumoto Ekimae Shopping Street, it is recommended to eat "castella", "honey soft cream" and "kamaboko karaage" with one hand.
Within walking distance from Hakone Yumoto Station, the "Hakone Folk Museum" is a museum that introduces the history of Hakone Onsen.
At the Honma Yosegi Museum, you can see the works of Yosegi-zaiku from the Edo period to the early Showa period.
How to choose an activity for sightseeing in Hakone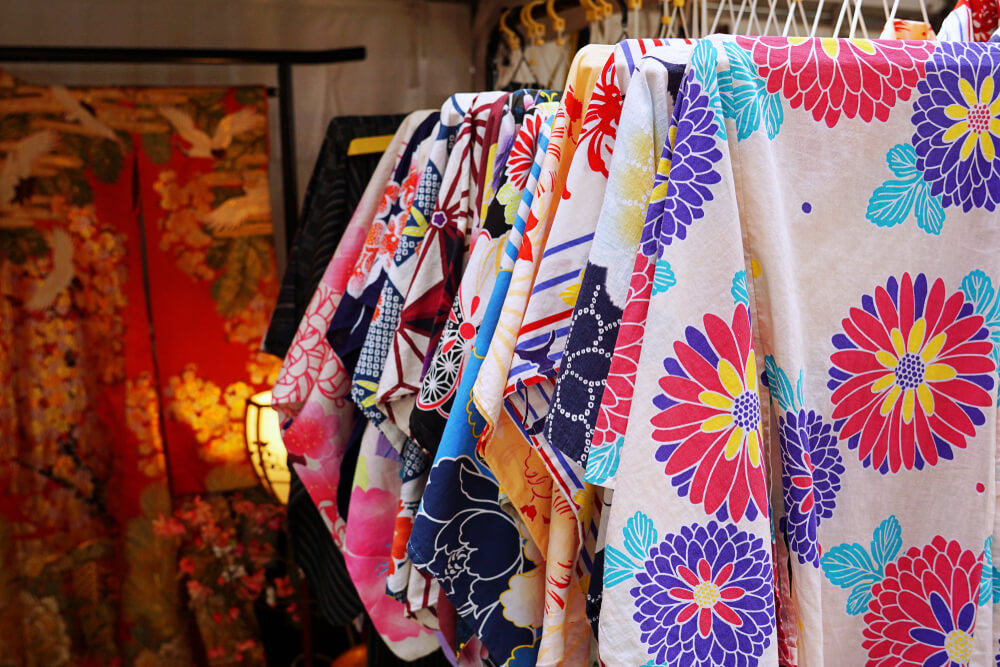 "Hakone Yumoto Station Experience Workshop" is a glass art experience workshop in front of Hakone Yumoto Station.
"Fusing" is a popular accessory for women who make accessories using Italian Venetian glass.
For families, we recommend the "Sandblast" course of sandblasting and sculpting glass.
It will be an impressive glasswork that will be baked at high temperature and completed in about 10 days.
Yukata and kimono rentals near Hakone-Yumoto Station are popular activities to explore Hakone.
How to choose a meal for sightseeing in Hakone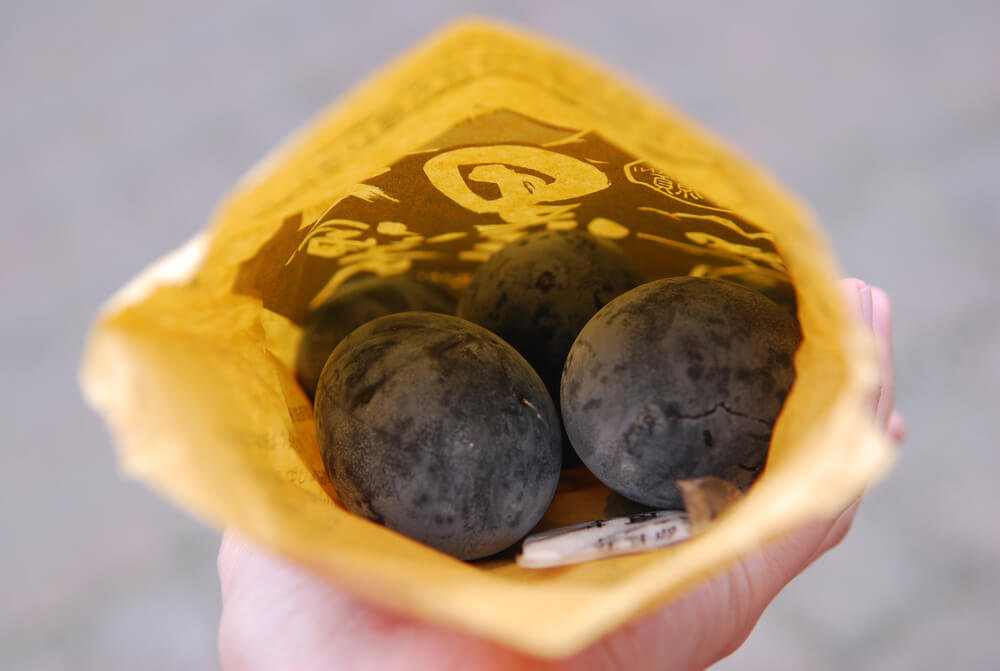 Hakone is popular for its tofu dishes and soba noodles made of clean water.
At the restaurant "Irorisaryo Hachiri" in the Hakone-Yumoto surve charcoal grilled fish and meat after the hot spring.
The long-established Kyoto Nanzenji Temple "Hyotei", which has won 3 Michelin stars for 10 consecutive years has a reputation for authentic kaiseki cuisine.
At "Egg Chaya" inAshigarashimo-gun,Hakone-machi Okuwakudani's famous "Kurotamago" is very popular.
How to buy souvenirs for sightseeing in Hakone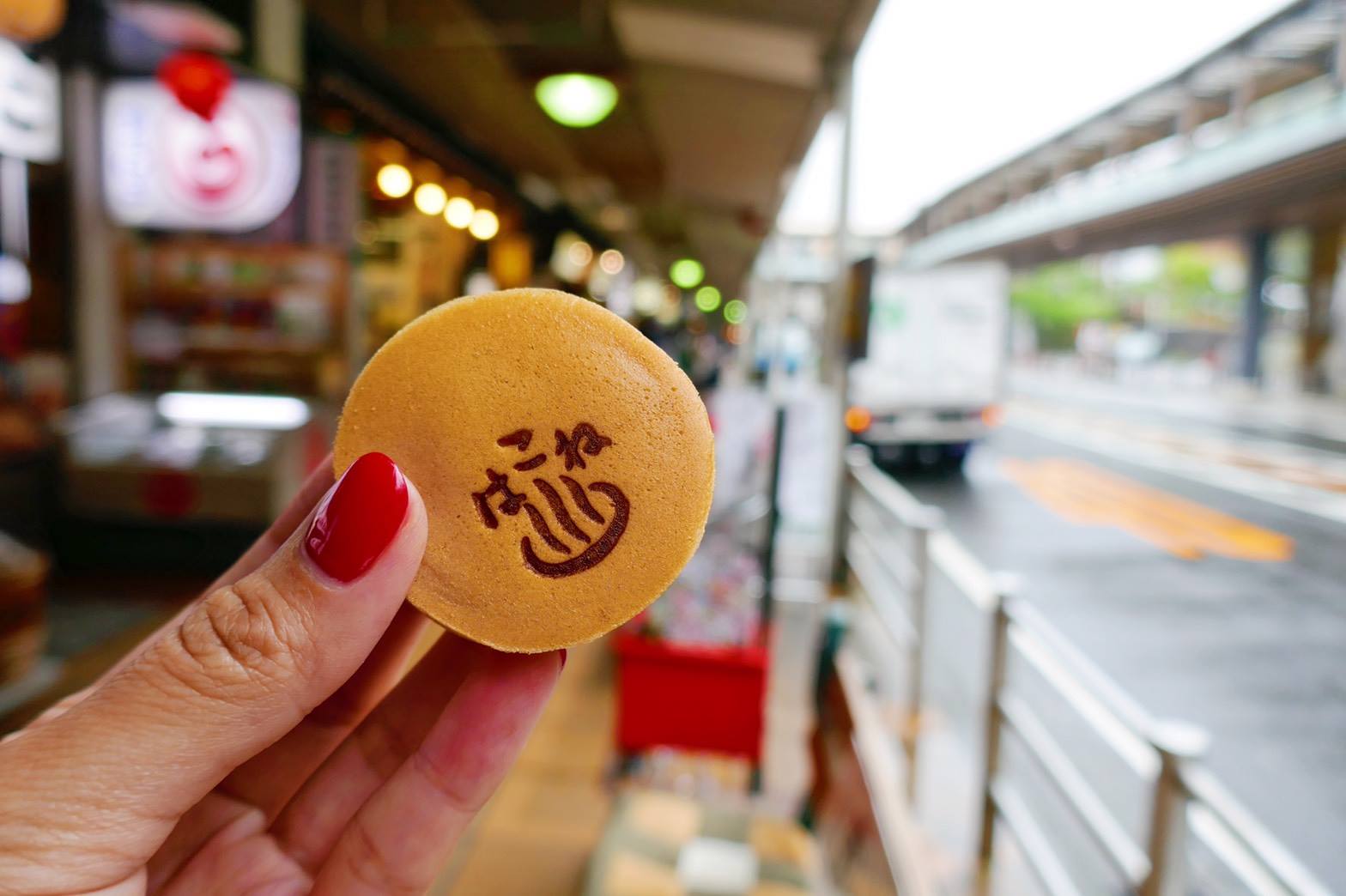 There are many souvenir shops in Hakone Yumoto, from sweets to cute miscellaneous goods.
In recent years, the popular product "Hanjyuku-bakutan", which uses soft-boiled eggs for fried kamaboko.
Marukiya, about a 1-minute walk from Hakone Yumoto Station has a wide selection of dried fish, local sake,Hakone Manju,and kamaboko.
For Hakone crafts, please see Hakone Parquet "Ichimatsu Coaster" which combines trees to create beautiful patterns.
Good season for sightseeing in Hakone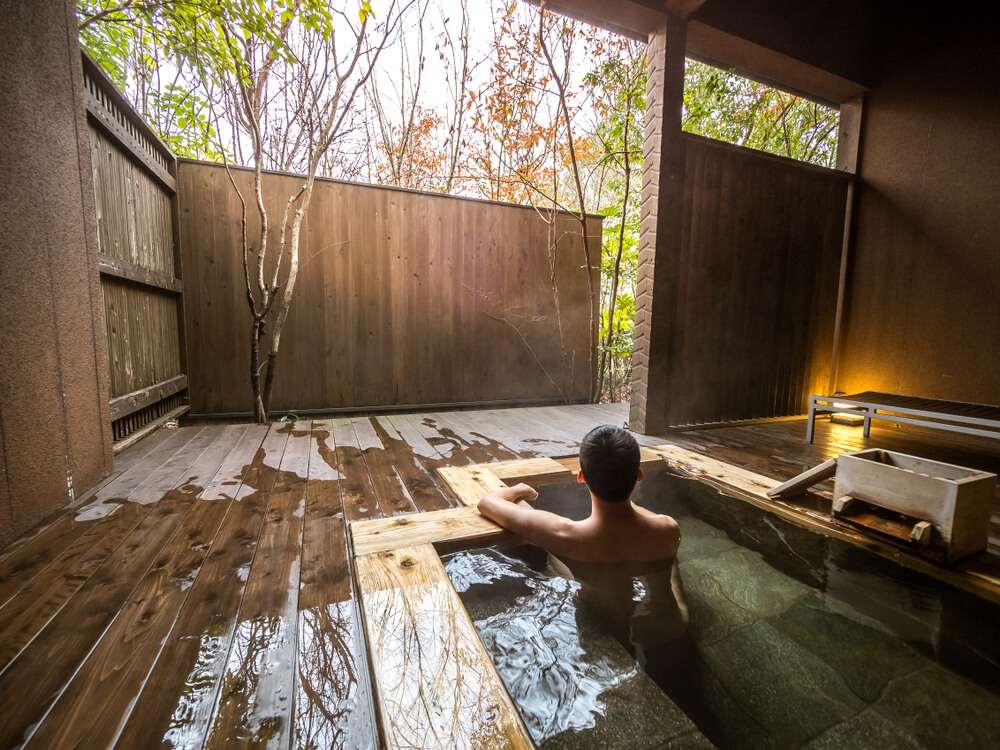 Hakone is a popular tourist destination all year round, but the best time to visit is November.
In Hakone, you can see autumn leaves from late October to mid November.
From the ropeway, you can look down on the autumn leaves and feel the autumn nature of Hakone.
From late September to early November, Sengokuhara Kogen has a spectacular view of golden grass.
Summary
Hakone which is easily accessible from the Tokyo metropolitan area with full of attractions where you can enjoy hot springs, arts, and gourmet food all at once.
You can fully enjoy even on a day trip, but why not stay overnight and take a leisurely trip to Lake Ashinoko?