Kumamoto prefecture is rich in nature because of its agriculture and livestock are thriving, it is a treasure trove of delicious food.
Meats and vegetables grown in the magnificent nature of Mt. Aso,You can also enjoy eating seafood and walking around.
Local gourmets such as horse sashimi and Kumamoto ramen as well as specialty pepper lotus root are famous for souvenirs.
When visiting famous tourist spots such as Kumamoto Castle and Aso be sure to check out delicious food in Kumamoto.
We will introduce selected gourmet restaurants and shops in Kumamoto.
Must try foods in Kumamoto
Kumamoto Prefecture is blessed with high-quality ingredients such as fresh meat, seafood, vegetables and offers a wide variety of local cuisine that is unique.
That's full of charm, such as horse meat sashimi, hot pepper lotus root, fresh local fish sushi and rich Kumamoto ramen.
Horse Meat Sashimi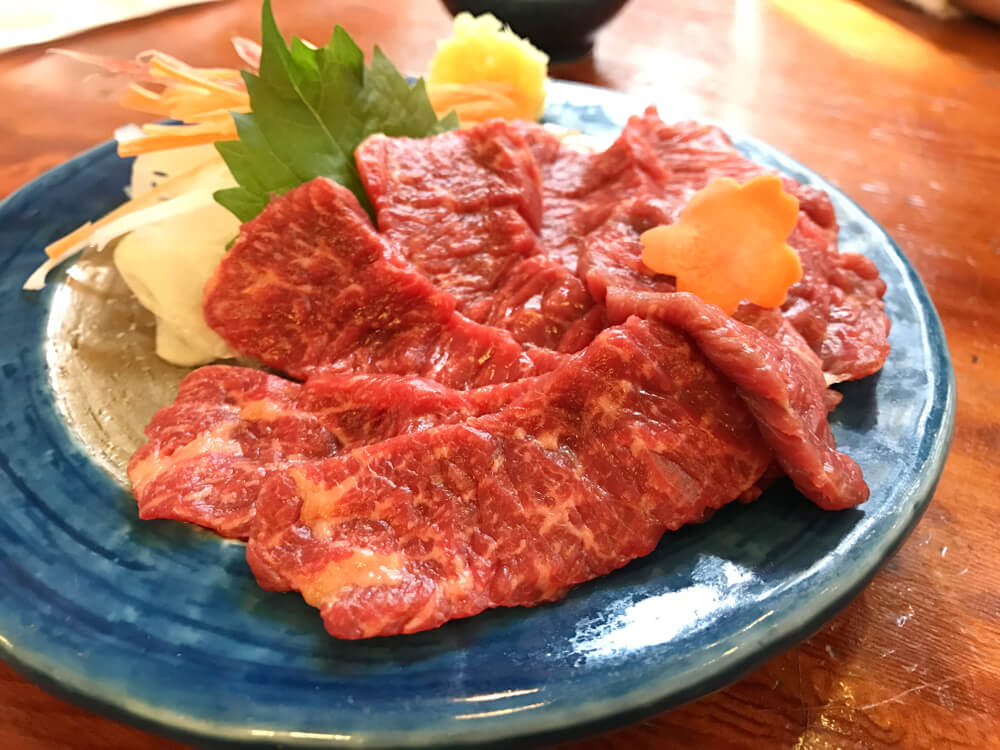 When you come to Kumamoto Prefecture, the sashimi of "horse sashimi" is a must-eat dish.
Kumamoto prefecture is ranked first in production and consumption among 47 prefectures.
And horse meat sashimi is a standard local dish in the area.
It is said that the culture of eating horse sashimi began with the war horses that Kiyomasa Kato ate when he went to the continent for troop dispatch in Korea.
Kumamoto has long been popular as cherry meat and there is a culture of eating raw horse meat on a daily basis.
It is common to eat horse sashimi with sweet soy sauce,grated garlic and ginger.
Horse meat has high nutritional value such as vitamins and minerals,Ingredients with low calories and low cholesterol.
Mustard Lotus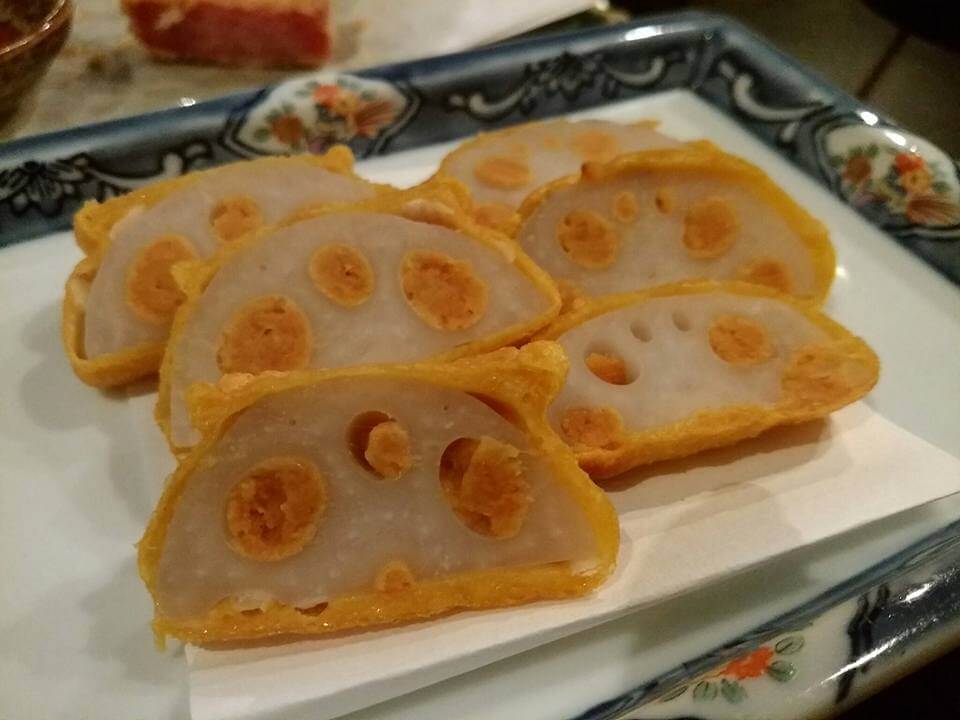 A local dish representing Kumamoto called "Mustard Lotus/Karashi renkon" is a popular food as a classic souvenir in Kumamoto.
Hot pepper miso is tightly packed in the lotus root and It has been made in Kumamoto's homes since ancient times.
The crisp feel of the lotus root and the spicy miso that passes through the nose and it goes well with alcoholic snacks.
The outer yellow part of the sliced lotus root is flour or turmeric fried batter.
Dago Soup/Dango Soup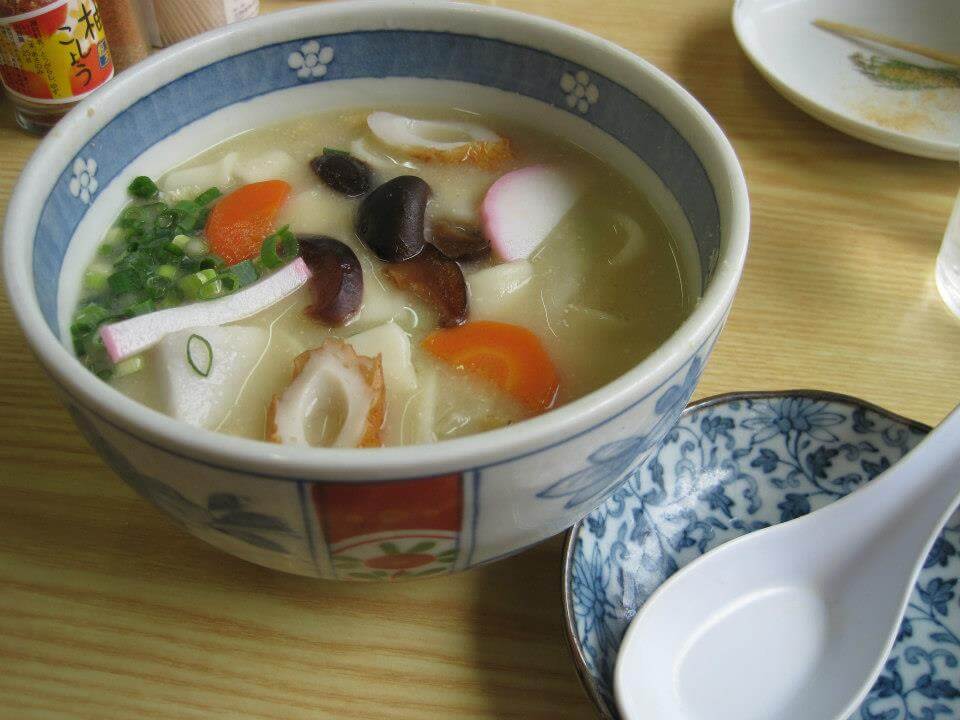 Dango soup a local dish of Oita Prefecture is called "Dago Soup" in Kumamoto Prefecture and widely eaten throughout Kyushu.
It is a stewed soup that is made by adding flat dumplings, seasonal vegetables and meat ingredients made by kneading flour and seasoning with soy sauce or miso.
Ingredients vary from region to region,In the Aso region there are many miso bases with many mountain ingredients and in the Amakusa Ariake region fish and shellfish ingredients.
Topping Kyushu's specialty yuzu pepper doubles the taste.
Taipien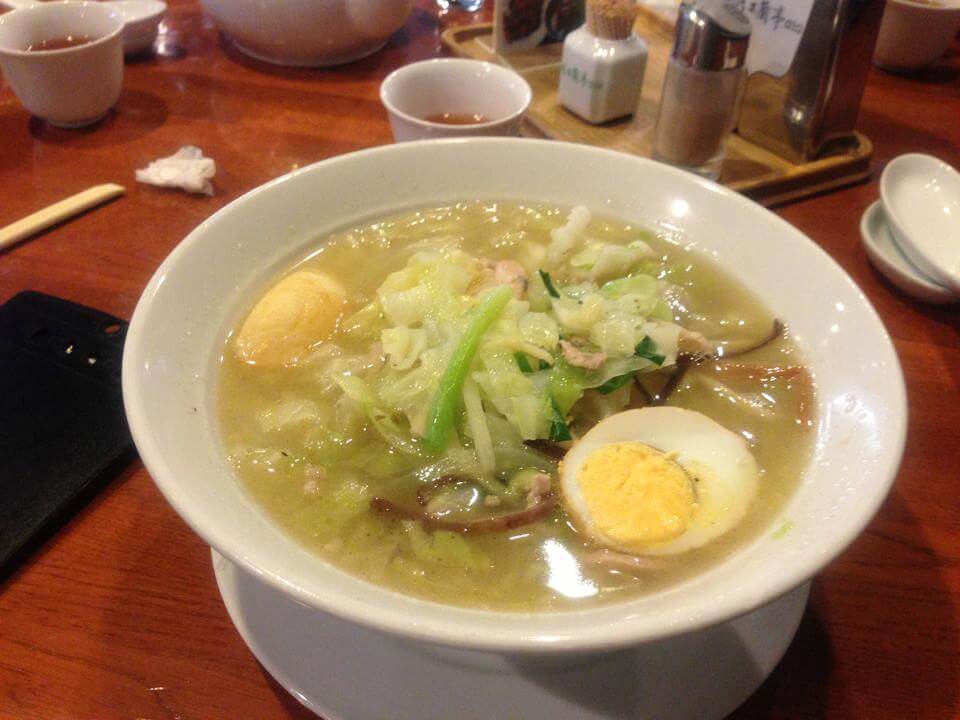 Taipien, A Chinese dish originated in Fujian province of China is also famous as a local dish in Kumamoto.
In China, soups include duck eggs and tongue swallows, while the Kumamoto version includes chicken eggs and vermicelli.
The history of Taiping Yan was handed down from overseas Fujian province of China during the Meiji era.
Seasonings of soups such as soy sauce, salt, and tonkotsu vary depending on the shop and home.
Aso Red Beef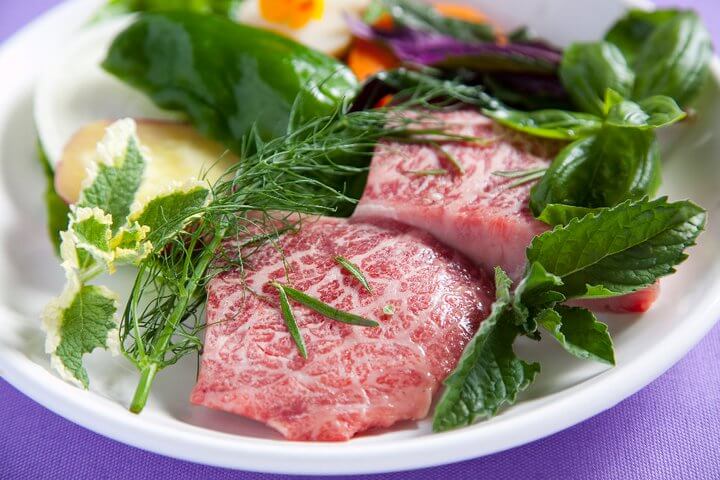 "Aso's Red Beef" is a brown beef brand that is grazed on the vast grasslands of Aso.
"Akaushi", which grew up leisurely in the majestic pasture of Aso has a lot of lean meat and is characterized by moderate fat taste and softness.
We recommend "Aka Gyudon", which is a bowl of rare red beef with only its surface baked and topped with hot spring eggs.
Kumamoto Ramen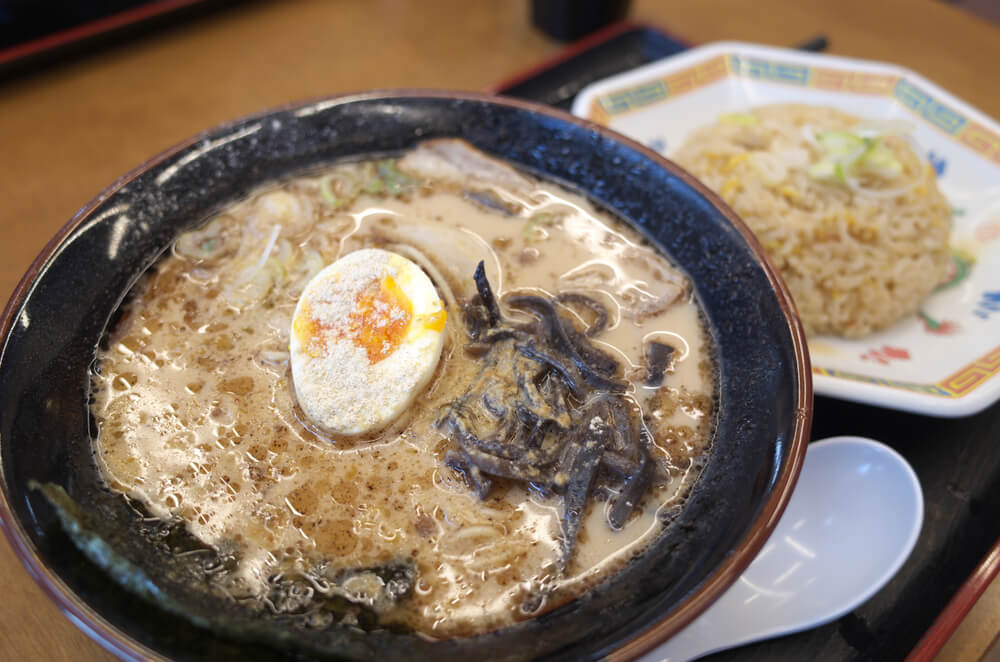 In Kumamoto city, "Kumamoto Ramen" is a popular tonkotsu ramen that features a rich pork bone soup.
It is said that it spread to Kumamoto City from Kurume City, Fukuoka Prefecture which is the original birthplace of Tonkotsu ramen.
It is characterized by plenty of garlic and appetite and mer oil floating on the soup surface.
Takana Rice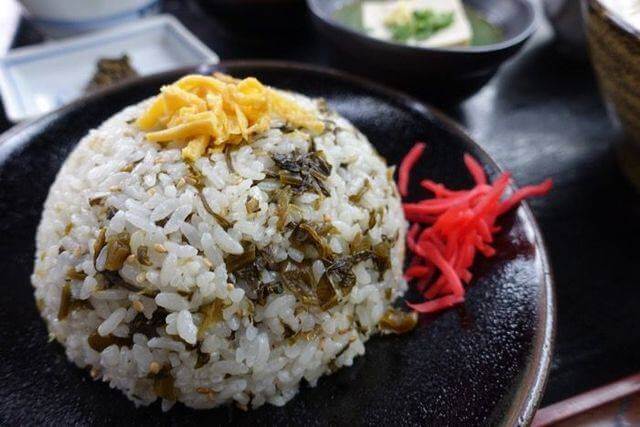 "Takana Meshi" is a local dish made by chopping Takana pickles finely, frying, mixing roasted eggs and rice and seasoning with fried sesame and soy sauce.
It is often eaten in the Chikugo region of Kumamoto prefecture because it uses Aso Takana as a specialty of Aso.
What is the feature of Kumamoto food?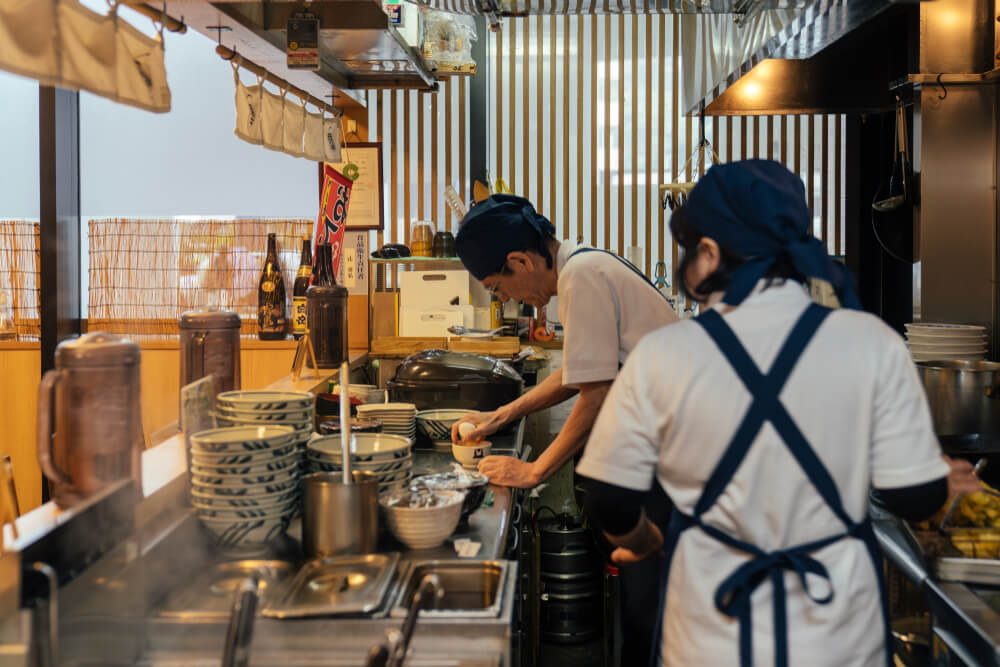 "The Land of Fire "Kumamoto's gourmet is clean and beautiful Also known as "Waterland".
All the water consumed in Kumamoto city is provided by groundwater and it has been selected as one of Japan's Top 100 Underground Waters.
Sake "Ariake Sea" and "Yatsushiro Sea -Shiranui Sea" that make use of such beautiful water are popular sakes nationwide.
Would you like to enjoy the seafood and mountain food brought up in rich nature with the famous sake of Kumamoto?
Must visit restaurants in Kumamoto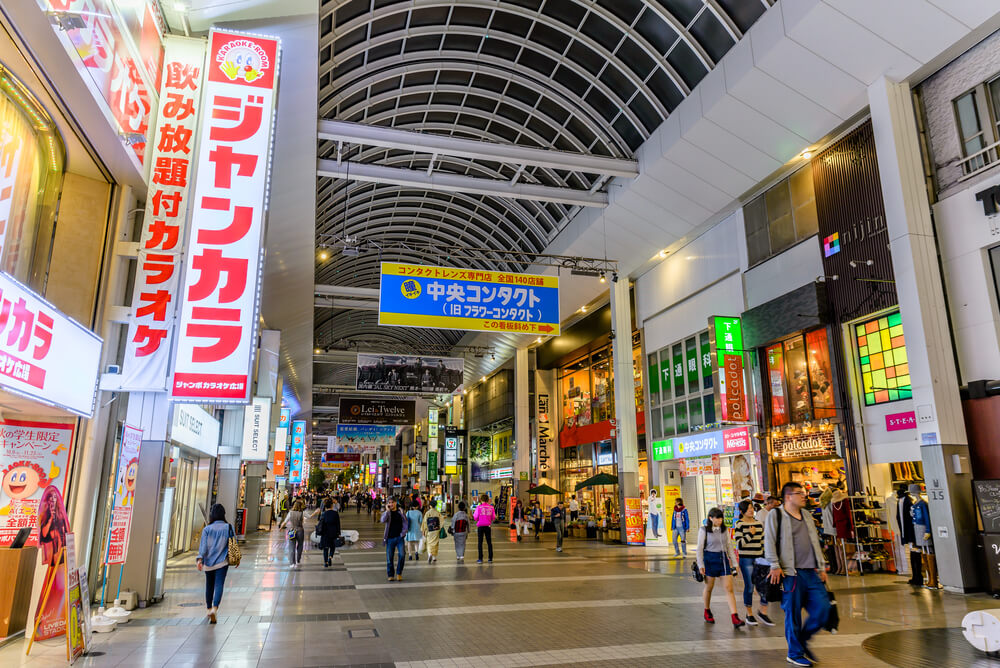 Kumamoto's local cuisine and gourmet have a wealth of specialties such as meat, sashimi, vegetables and casual gourmet.
Here are some shops that offer such delicious foods in Kumamoto.
Horse Meat Suganoya
The horse meat restaurant Suganoya, directly connected to Kumamoto Station offers a popular local assortment of fresh horse sashimi.
We offer various parts such as fresh horse sashimi, lever sashimi, red meat, tataki, sakura yukke that melt in your mouth.
It has a reputation for freshness and umami because it has a vast independent farm that focuses on nutrient-rich pastures, famous waters and homemade feed.
Address:3-15-30 Kasuga, Nishi-ku, Kumamoto-shi,Kumamoto Higo Yokamon Market
By train:Kumamoto station
Hours:11: 00-15: 00 (L.O. 14:30), 17: 00-23: 00 (L.O. 22:00) 2:00
Closed:Irregular holiday
Murakami Karashirenkon Store
A long-established store that has been in business for over 50 years"Murakami Karashirenkonten" is a famous shop that frequently appears in the media.
Kumamoto's specialties, mustard lotus/Karashi renkon,mustard croquette and burger burger are also recommended as souvenirs.
In the shop, you can also experience the spicy "Karashi renkon making" of your choice.
Address:3-5-1 Shinmachi, Chuo-ku, Kumamoto-shi
By train:Kumamoto Station
Hours:8:30 to 17:00
Closed:Irregular holiday
Toge Tea Park Dagojiruya
The old-fashioned Kumamoto local dish "Dago soup" has a lot of vegetables in a hot iron pan.
There is also a museum of Soseki Natsume, which is crowded with customers from outside the prefecture on weekends.
Address:5-4 Kawachicho, Nishi-ku, Kumamoto
By train:Sojo University station
Hours:11: 00-17: 30
Closed:Tuesday
Kamidori Pavilion Korantei
Founded in 1934, Kamidori Pavilion Korantei is a restaurant that has been loved locally in Kumamoto.
 
Add ingredients filled with umami such as vegetable, squid, shrimp to chicken glass soup and plenty of smooth vermicelli.
The seasoning uses gentle sweet Fukensho natural salt made by the traditional sun-dried formula.
The combination of the scent of seafood and the sweetness of vegetables and the crispness of early spring makes the taste delicious.
Address:1-15 Kamidori, Chuo-ku, Kumamoto-shi
By train:Kumamoto station
Hours:11:00 to 21:30 (L.O.21: 00)
Closed:New Year's Eve / New Year only
Yakikuni no Sato: Hakkenden
This is a restaurant where you can fully enjoy the authentic red beef yakiniku from the local area.
Aka beef grown in the majestic grasslands of Kumamoto and Aso has the flavor and richness of Wagyu beef and is characterized by the taste of red meat.
Aso's local gourmet "Aka beef bowl" is a popular menu that allows you to easily taste a medium rare roasted red beef steak.
Address:Maki 109, Aso City, Kumamoto
By train:Uchimaki Station
Hours:11: 30-14: 00, 17: 30-22: 00
Closed:Monday
Kokutei Ramen
 
Traditional Kumamoto ramen is topped with tonkotsu-based soup, thick noodles and savory fried garlic and mer oil.
Kumamoto Ramen with a mellow and deep flavorIt is also perfect for after drinking alcohol.
Address:2-1-23, Nihongi, Nishi-ku, Kumamoto-shi
By train:Kumamoto station
Hours:10: 30-20: 30
Closed:Third Thursday of every month
Aso Cuisine Himeji
The popular Aso cuisine Himeji,popular set meal with takana meals is full of Aso specialties such as horse sashimi and red beef.
Takana rice using 100% Aso rice, the taste of vegetables delicious soup and the stewed hormones.
Address:1732-1 Otome, Aso City
By train:Uchimaki Station
Hours:11:00 am-15:30pm, 11:00 am-19:30pm
Closed:Tuesday
Summary
There are many ryokans in Kumamoto with many hot spring facilities and offers a variety of local dishes.
Why don't you go out on a gourmet tour when you go sightseeing in Kumamoto?