Kochi Prefecture has famous sightseeing spots and events, such as many beautiful beaches and traditional festival, located in Shikoku Region, Western Japan.
Kochi has various local ingredients thanks to thriving with agriculture and facing to the Pacific Ocean.
So, there are many local food.
Today, we will show you selected delicious local food. If you plan to go to Kochi, this article helps you.
Must eat food in Kochi
We tell you about only 7 Kochi food, such as fresh fish from the Pacific Ocean and popular cheap eats.
Katsuo no Tataki (Seared Bonito)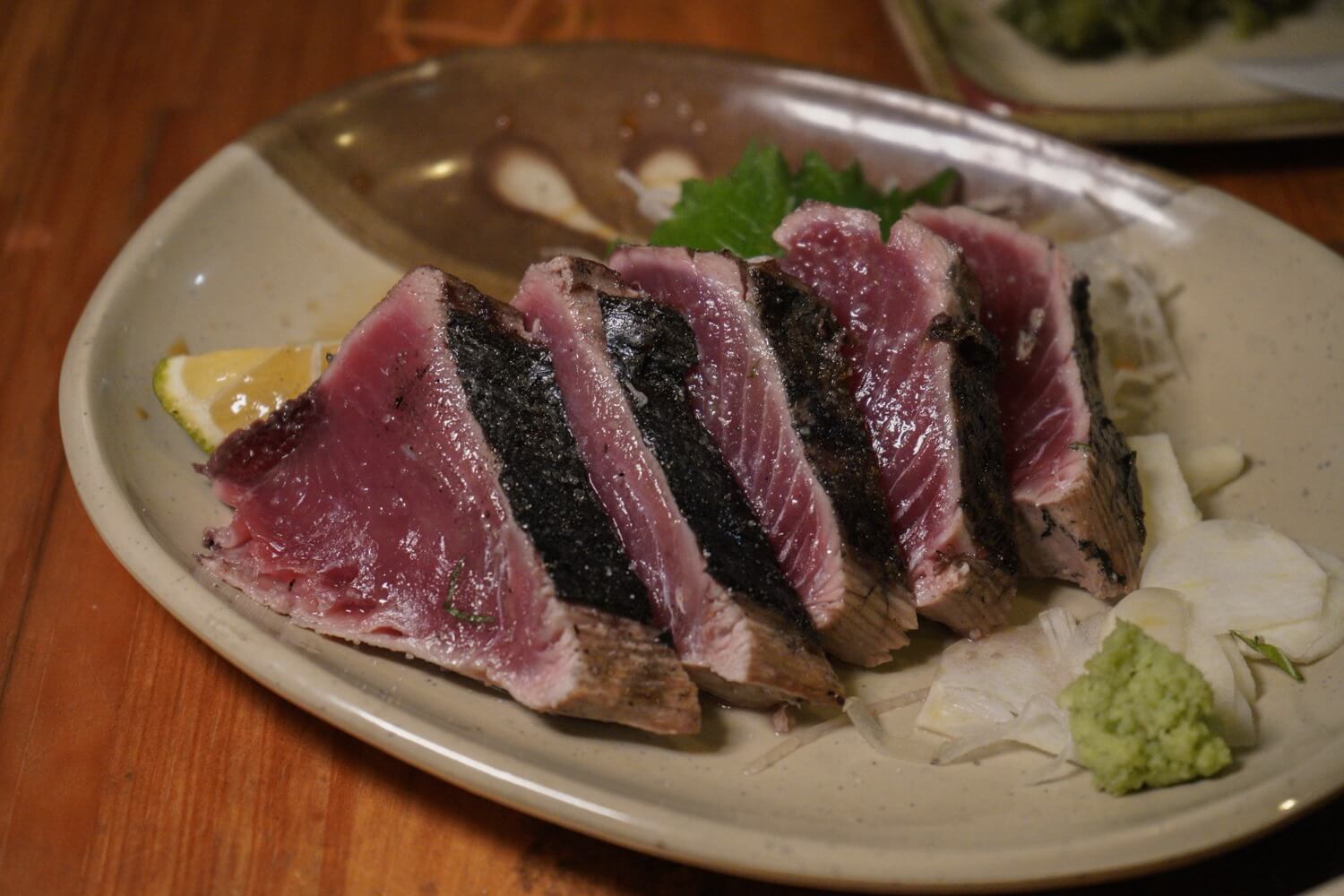 Katsuo no tataki is well-known as Kochi's local cuisine.
So you eat anywhere besides Kochi Prefecture. But, if you want to eat delicious one, you should go to Kochi.
When you eat it, you taste savory skin of katsuo, seared and smoked with straws, and katsuo meat with firm texture.
Its flavor is simple, but you will not stop eating after you eat a slice of it.
When we eat katsuo no tataki, we put myoga ginger, grated ginger and garlic and pour ponzu sauce on the katsuo, which is made of soy sauce with citrus juice.
Yatai Gyoza (fried small dumpling)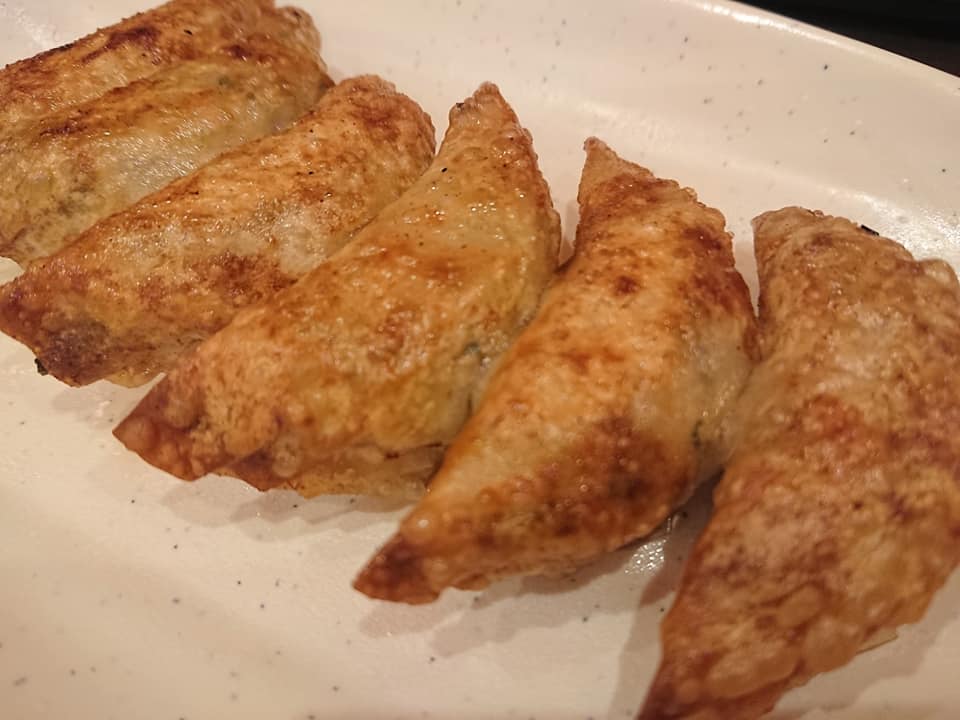 Japanese loves dumplings. So it is a popular food in Japan.
In Kochi, there is local dumpling called "Yatai gyoza" which local people love.
Yatai gyoza is smaller than normal dumpling. Its origin is to offer local people as snack while they are drinking at food stands.
Actually, Most people in Kochi really like alcohol.
People often finish off a meal with yatai gyoza.
This small dumpling contains basic ingredients and local chinese chive and ginger.
It is as big as woman eat all. So it is good for snack when you are a bit hungry.
Shamo nabe (Japanese hot pot with Shamo chicken)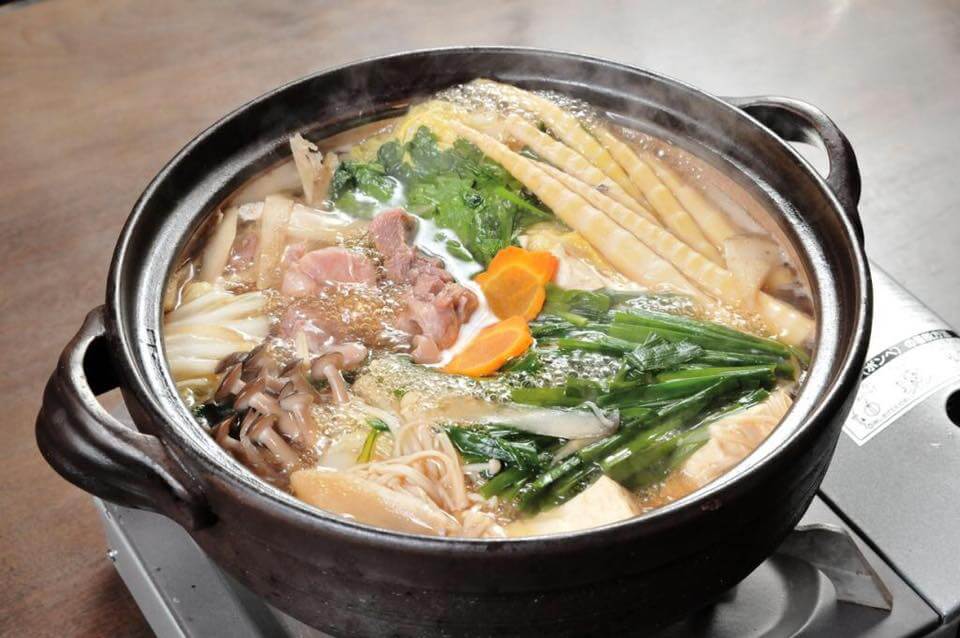 Shamo nabe is known as Kochi's winter dish.
This has been loved by local people for long times.
Sakamoto Ryoma, Kochi's famous person, also really like shame.
The feature of shame is chewy texture and rich taste.
In addition, the soup stock is so good that many people can't stop eating.
You should finish off a meal with udon noodle put in the soup.
Utsubo dish (Moray eel dish)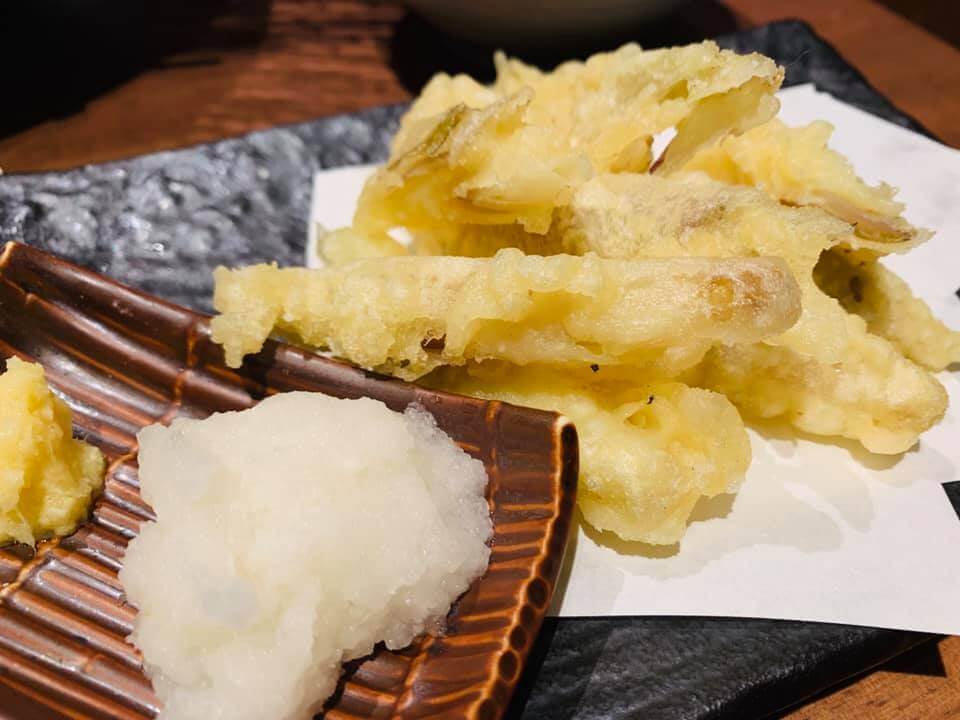 Utsubo is called "gang of the sea".
This brutal creature has grim face and appearance like large snake, so everyone don't like it.
But, it is as popular as katsuo in Kochi.
Utsubo has beautiful fish meat against the appearance. It tastes plain but good.
So we eat it as sashimi, Japanese hot pot and Utsubo no tataki (Seared moray eel).
A little sweet meat has chewy texture. Some people say that they prefer utsubo to katsuo.
This is a delicacy that we want you to eat.
Nabeyaki ramen (Ramen in clay pot)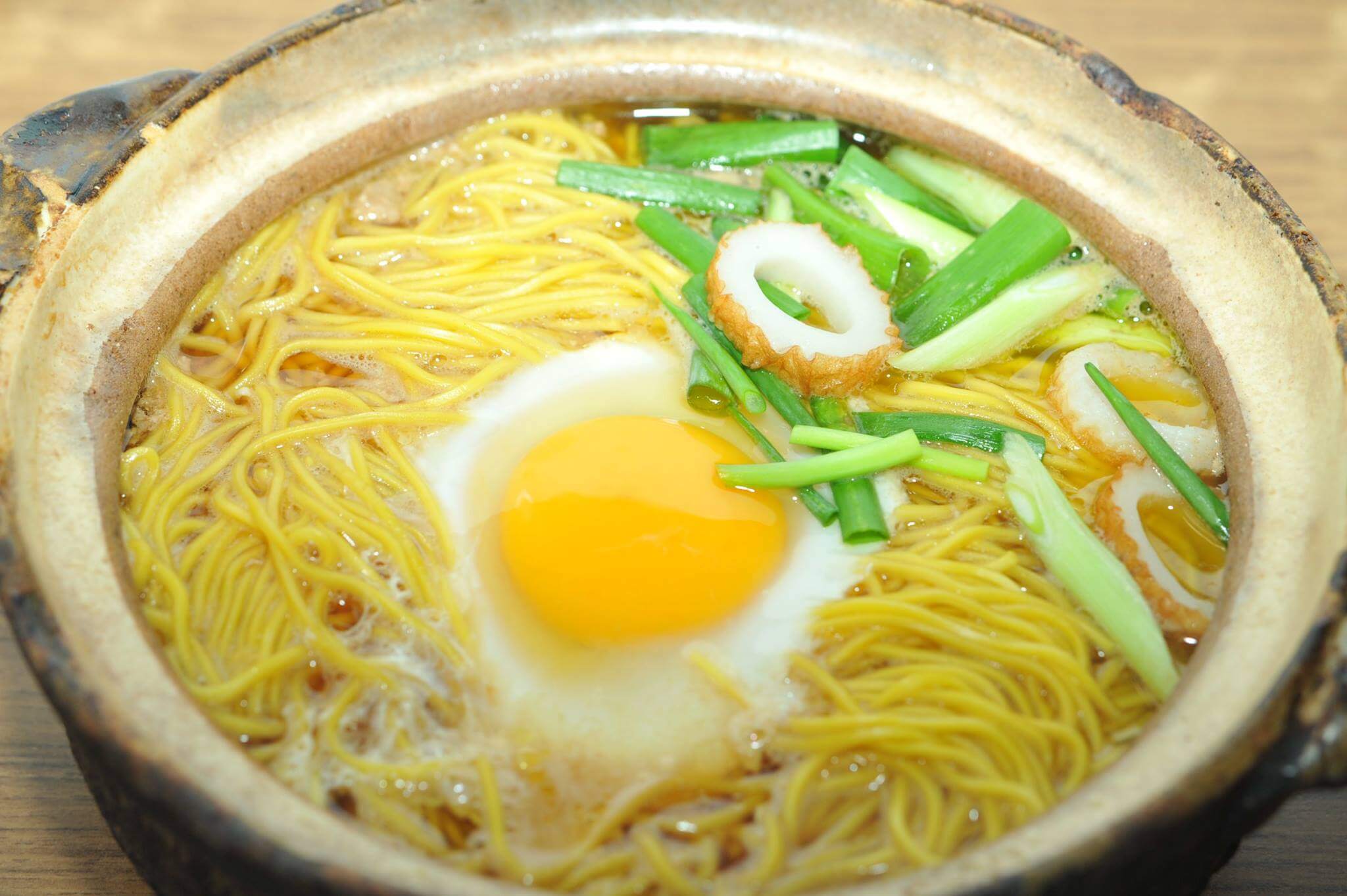 All prefectures in Japan has local ramen. Kochi's local ramen is Nabeyaki ramen.
Nabeyaki ramen was created at a dining hall in Suzaki City in the 1940s.
Nabeyaki ramen is a ramen stewed with clay pot, which is thin straight noodle with Japanese leek, egg, chicken and chikuwa (tube-shaped fish cake) in chicken soup.
The clay pot holds warmth, so we eat steaming hot ramen until we take the last bite on.
This warm dish is popular especially in winter. If you taste its simple flavor, you will eat it again.
Muroto Kinmedon (a rice bowl with red bream)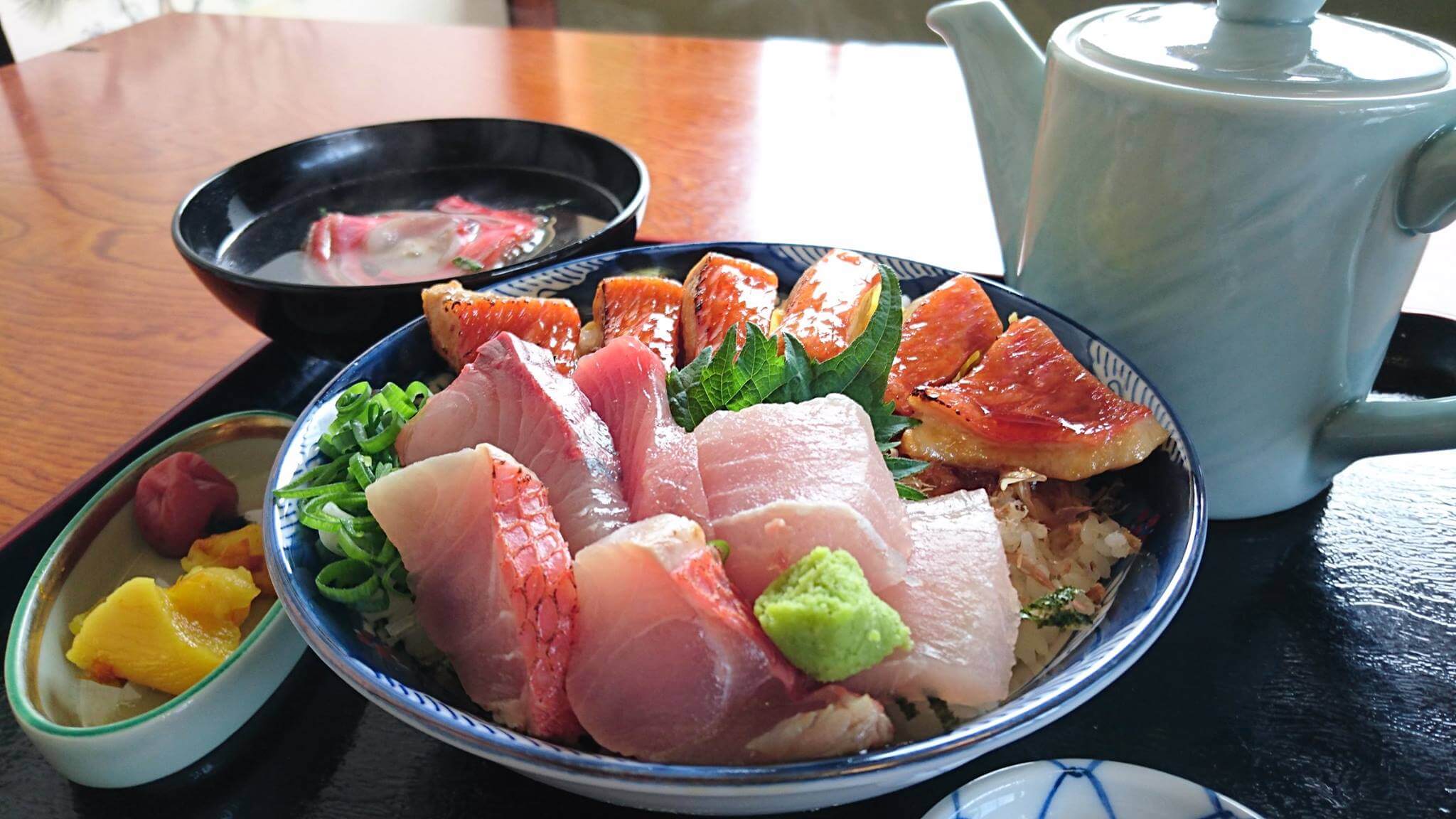 Muroto city in east of Kochi has the largest haul of kinmedai(red bream) in Japan. You will eat fresh kinmedai caught on that day.
There are many kinds of kinmedai dish.
Especially, Kochi people like Muroto kinme don, which is a rice bowl topped with grilled kinmendai and fresh sashimi and served with kinmedai soup.
Sweet stewed kinmedai matches white rice. Many restaurant put kinmedai sashimi on the rice bowl.
So you enjoy kinmedai as much as possible.
Shimanto pork
Shimanto-cho, a town in west of Kochi, has the largest number of pigs and its farms in Kochi.
Shimanto pork is the pig grown there. This is a best meat that you should eat when you visit Kochi.
The pork has well-balanced combination with meat and fat.
Sweet fat is good for various pork dish, such as butadon(a rice bowl topped with stirred pork), kakunidon(a rice bowl topped with stewed pork) and misokatsudon(a rice bowl topped with fried pork and miso sauce).
Shimanto pork is absolutely good if it become any food.
If you like pork, you should eat various Shimanto pork dish.
What is the feature of Kochi food?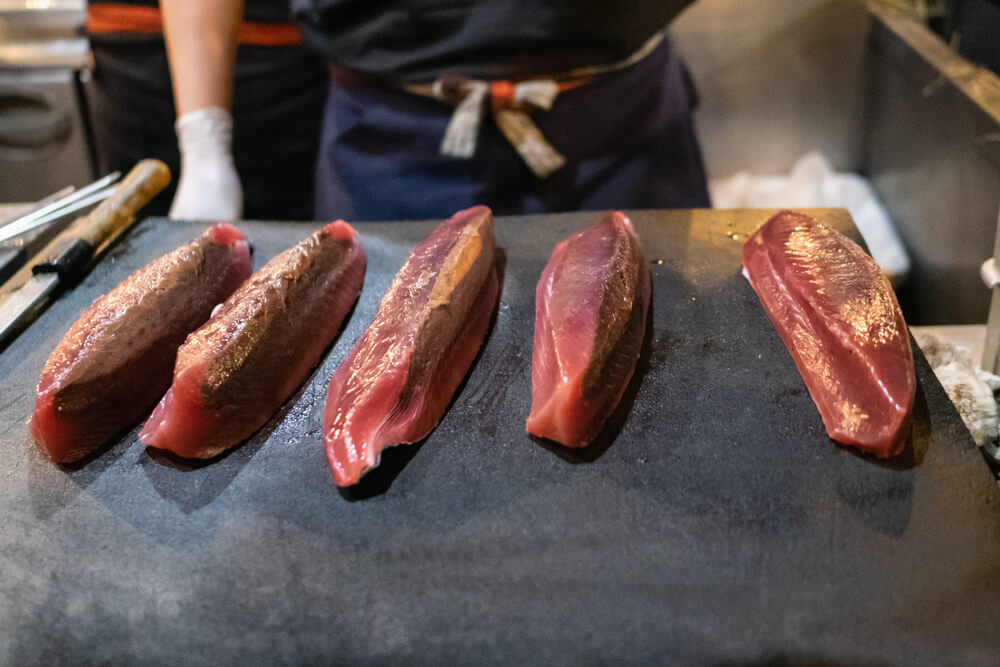 Kochi's famous food is fresh seafood because Kochi is blessed with ingredients from the Pacific Ocean.
Especially, katsuo is popular fish in Kochi.
Kochi is the first place of katsuo's consumption in Japan.
It is easy to catch and eat katsuo on that day. So fresh katsuo is Kochi's standard dish.
Kochi people love drinking. So there are various dish going great with alcohol. And Kochi has a famous food stands area.
Original gyoza and ramen are also popular because they are good for snack.
Must visit restaurant in Kochi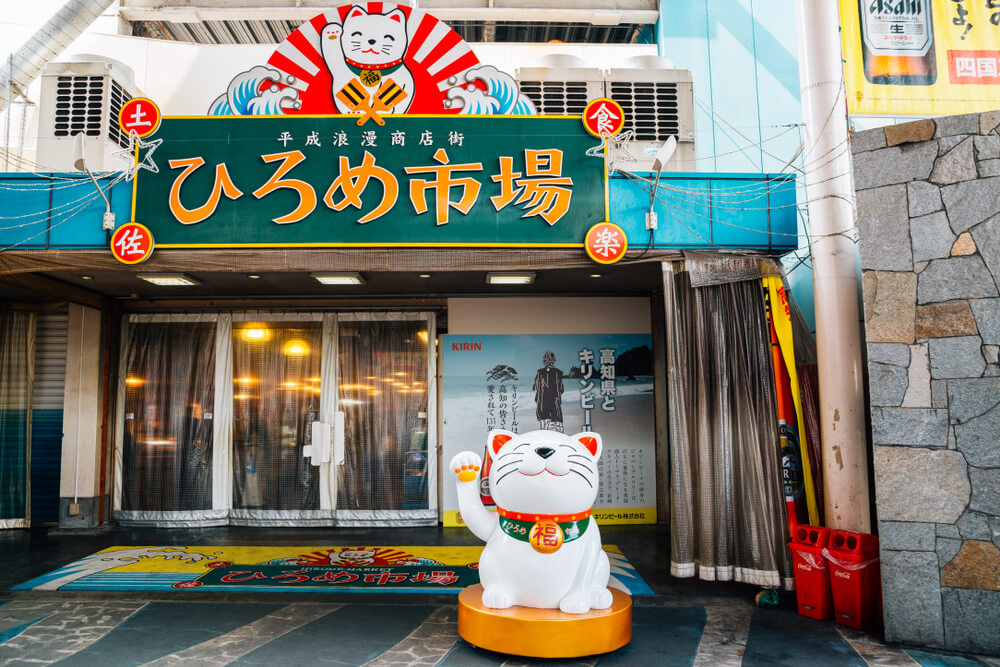 Fujimi
This is a seafood Japanese restaurant loved by local people.
It is 10 minutes walk from Kochi station.
It is known as a place to eat fresh seafood from the sea facing Kochi at reasonable price.
Popular menu is, of course, Katsuo no tataki. There are 2 dressings, ponzu or salt.
Whichever dressing you choose, you taste delicious katsuo.
You eat not only katsuo but also other luxurious fish, such as kue (grouper) and hamo (conger eel).
Many foreign tourists visit the restaurant because they taste Japanese professional seafood dish here.
Address:1-3-34, Ookawasuji, Kochi-shi, Kochi
Hours:5:00 p.m. ~ 10:00 p.m. (Mon to Sat)
Holiday:Sunday
Price:Lunch 10,000 ~ 14,999 yen, Dinner 8,000 ~ 9,999 yen
Junchan
In Kochi City, there is an entertainment district called Greenroad.
Many food stands come out here at night. The area is crowded many people until early morning.
Junchan stands in the southernmost part of Greenroad, with over 50-year history.
Its yatai gyoza has crispy dumpling's wrapper and vegetables.
And its small size is good for snack to go with alcohol.
In addition, another popular menu is mayonnaise ramen topped with a lot of mayonnaise.
This is better taste than we expected. So many people come back to eat the ramen.
Address:Nijudaimachi, Kochi-shi, Kochi
Hours:7:30 p.m. ~ 4:00 a.m.
Holiday:Monday, Tuesday, Sunday, Bad weather
Price :1,000 ~ 1,999 yen
Shamoden in Hirome Market
Hirome Market is a shopping area containing 40 restaurants offering Kochi food and 20 souvenir or cloth shops.
Shamoden is located in the market and known as a restaurant serving delicious shame.
You meet various shame dish, such as standard shame nabe, croquette using shame, shame ramen.
Especially, the best dish is Mizutaki, which a dish is to boil chicken and vegetable in the water and eat with rock salt.
After boiling them, their broth become soup. The soup is so tasty that you can drink all.
Address:2-3-1, Obiyamachi, Kochi-shi, Kochi
Hours:Weekdays 11:30 a.m. ~ 2:30 p.m./ 5:00 p.m. ~ 10:00 p.m., Weekends and National Holiday 11:30 a.m. ~ 10:00 p.m.
Holiday:Monday
Price:1,000 ~ 1,999 yen
Tatakitei
Tatakitei serves Tosa (old name of Kochi) cuisine.
Its famous menu is not only Katsuo no Tataki but also utsubo dish.
It is also the first restaurant to create the skill of cooking utsubo.
We meet best utsubo dish that the owner chef cooked.
The popular menu is utsubo's sashimi.
Thin-sliced sashimi has chewy texture because utubo is high protein fish.
We think you enjoy the texture you have never experienced.
Some people say that utsubo is better than blowfish. How about trying to eat utsubo?
Address:2-3-1, Hariyamacho, Kochi-shi, Kochi
Hours:5:00 p.m. ~ 11:00 p.m.
Holiday:Monday
Price:4,000 ~ 4,999 yen
Hashimoto Shokudo
Hashimoto shokudo, a dining hall with long history, serves nabeyaki ramen.
It is 10 minutes walk from Tosashinjo Station.
The menu is only nabeyaki ramen, rice and beer.
There are several size of ramen, normal, large and extra large.
They offer you piping hot ramen in clay pot.
After nabeyaki ramen become popular, many restaurants put various ingredients in the ramen.
But Hashimoto shokudo follows standard style. Their ramen is topped with only egg in soy sauce chicken soup.
The soy sauce is local product. It is simple dish but feels us comfortable.
Address:4-19, Yokomachi, Susaki-Shi, Kochi
Hours:11:00 a.m. ~ 3:00 p.m. (L.O. 2:50 p.m.)
Holiday:Sunday, National Holidays
Price:500 ~ 1,000 yen
Kagetsu
It is known as the best restaurant in Muroto City.
There is kinmedon using fresh kinmedai.
They also offer super kinmedon(2,400 yen), 1.5 times larger than kinmedon.
In addition to kinmedon, there are grilled kinmedai, sashimi using seasonable fish, kinmedai soup.
When you eat kinmedon, you first eat some sashimi.
Next, you have rice with grilled kinmedai.
You need to leave some rice and kinmedai because you should boil rice and kinmedai with soup stock at last.
Then, you appreciate kinmedai.
When you visit Cape Muroto for sightseeing, you should stop by there.
The restaurant satisfies your appetite.
Address:2586 Murotsu, Muroto-shi, Kochi
Hours:Lunch 11:00 a.m. ~ 1:30 p.m., Dinner 5:00 p.m. ~ 9:00 p.m.
Holiday:Irregular holidays (Dinner time on Sunday and National holidays )
Price:Lunch 1,000 ~ 1,999 yen, Dinner 5,000 ~ 5,999 yen
Mikaku
It is a restaurant offering Shimanto pork dish. You will eat butadon won the prize.
A large amount of stirred pork is topped on the rice. It has savory and chewy texture.
When you take a bite of it, you taste pork's sweetness and good fat.
Sweet and spicy sauce seasoning pork matches white rice.
The hearty dish must make you happy when you tired with a trip.
Address:6-30, Shigekushicho, Takaokagun Shimantocho, Kochi
Hours:8:00 a.m. ~ 8:00 p.m. (Thus to Tue)
Holiday:Wednesday
Price:1,000 ~ 1,999 yen
Summary
These are our recommendation.
Kochi has various delicious dish because there is blessed with fresh ingredients from the Pacific Ocean.
Kochi's must-eat food is especially katsuo and Utsubo.
We hole you have great time in Kochi which has great nature and food.