There are many kinds of Japanese food.
Japanese wagyu beef is thought as the best food among them.
When we are asked what Japanese wagyu beef is, we naturally imagine marbled beef.
So, do you really know what Japanese wagyu beef is?
In fact, there are various Japanese wagyu beef.
And every flavor is different.
So we will tell you about Japanese wagyu beef in detail to understand the goodness of Japanese beef.
What is Japanese wagyu beef ?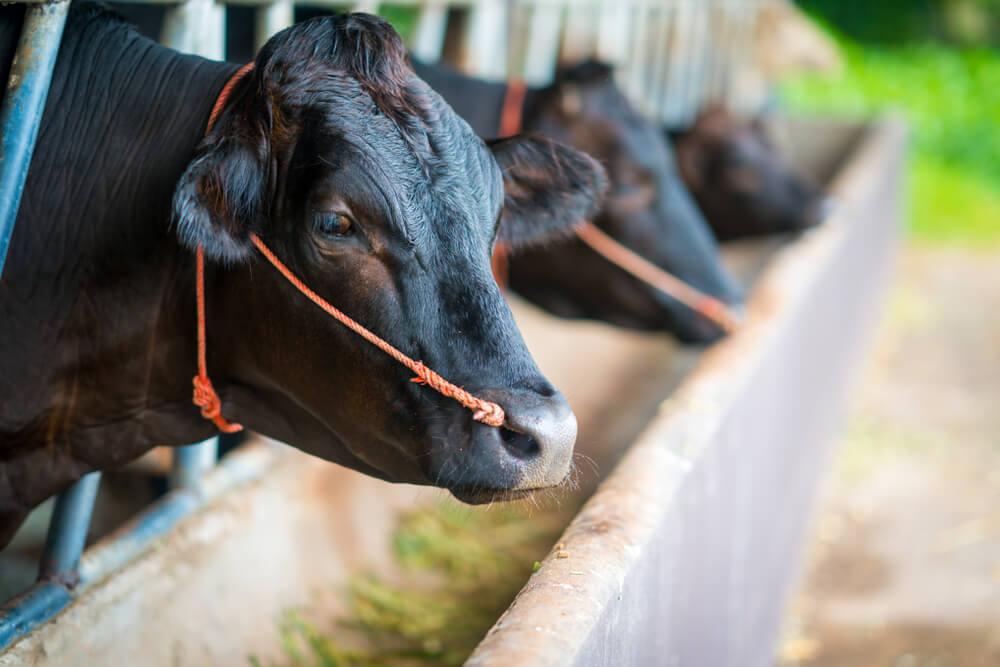 Many people think Japanese wagyu beef is equal to domestic one. However, there are a big difference between them.
Domestic beef is a cattle grown in Japan longer than other country, that is a cattle lived in Japan for a long time and processed can be domestic beef in regardless of species and place of the birth.
If a cattle borns in Japan and grows up in foreign country, it is not recognized domestic beef.
However, a cattle which born in foreign country and grow up in Japan can be called domestic beef.
Japanese wagyu beef is a cattle created by breeding between native Japanese cattle species.
Japanese wagyu beef has species like fruits and vegetable.
For example, strawberry species is "tochiotome" and "amaou." Potato is "Mayqueen" and "Inka-no-mezame."
So, we introduce the species of Japanese wagyu beef.
What is types of Japanese wagyu beef?
There are only four types admitted as Japanese wagyu beef in Japan. Other cattle can't allow to be named as it.
We will explain one by one.
Japanese Black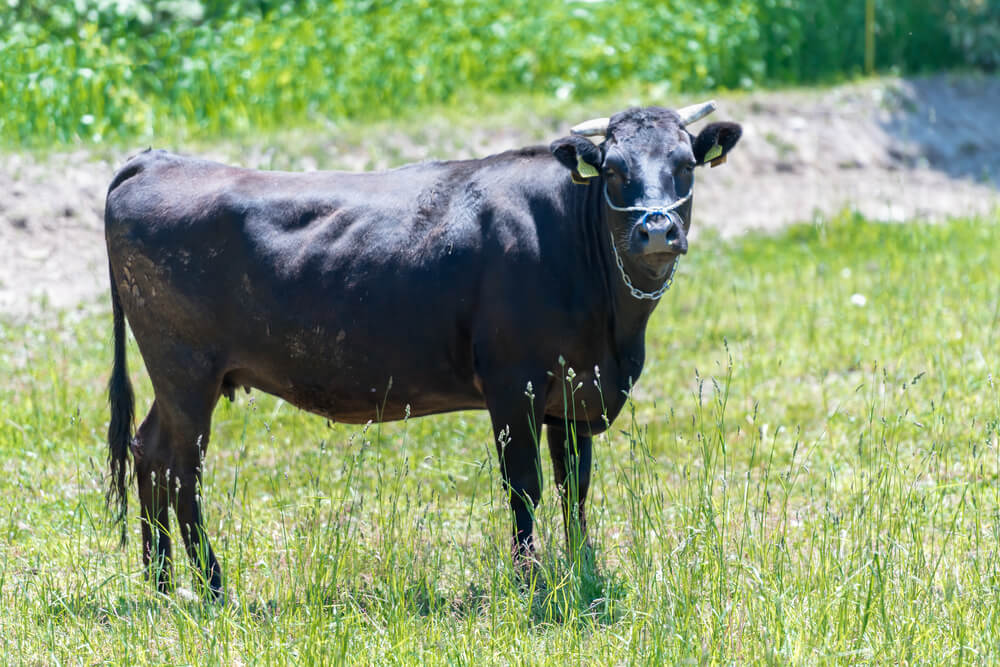 Japanese Black is a type accounts for 90% of Japanese wagyu beef.
The number of breeding it is No.1 in Japan.
Its feature is marbled meat called "sashi" in Japanese, which means fat is distributed through the muscle fibers.
It has a texture that melt in the mouth and superb sweet flavor of fat.
So it is thought as "a king of Japanese wagyu beef."
All famous Japanese wagyu beef such as Matsuzaka beef, Kobe beef, Maezawa beef, Tajima beef, Ohmi beef, is Japanese Black.
High-class Japanese-style restaurants often offer Japanese black.
If you eat it once, you must be impressed with the taste.
Japanese Brown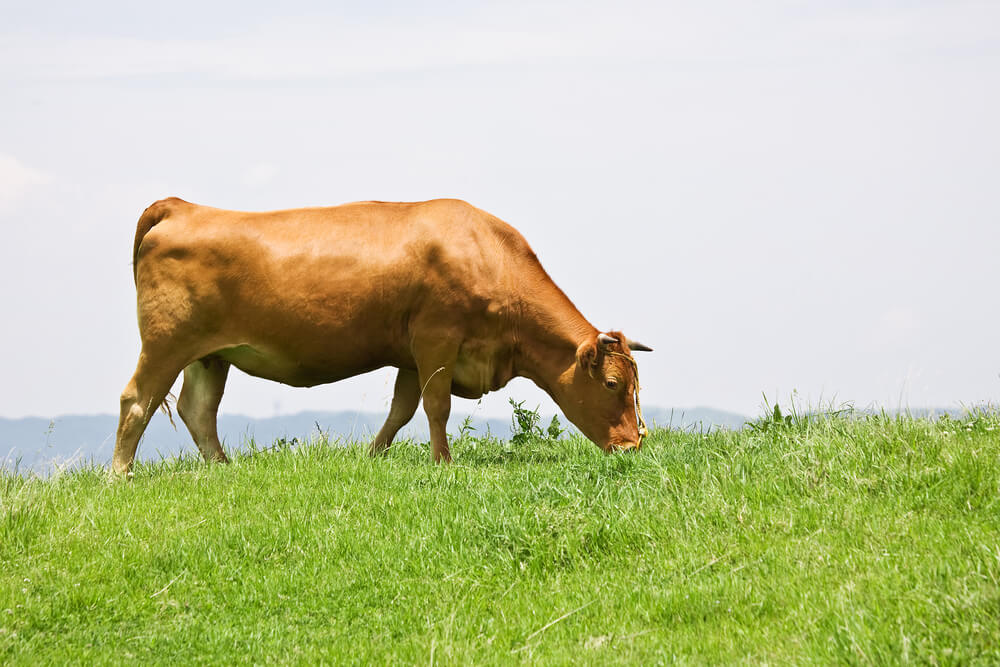 Japanese Brown is the second large number of breeding in Japan. It is mainly bred in Kumamoto and Kochi Prefecture.
Its feature is that the amount of red meat is more than Japanese Black. Red meat is light taste but juicy.We can taste natural flavor of ingredients.
Those who don't like fat meat love this Japanese Brown because it has less fat.
Japanese Poll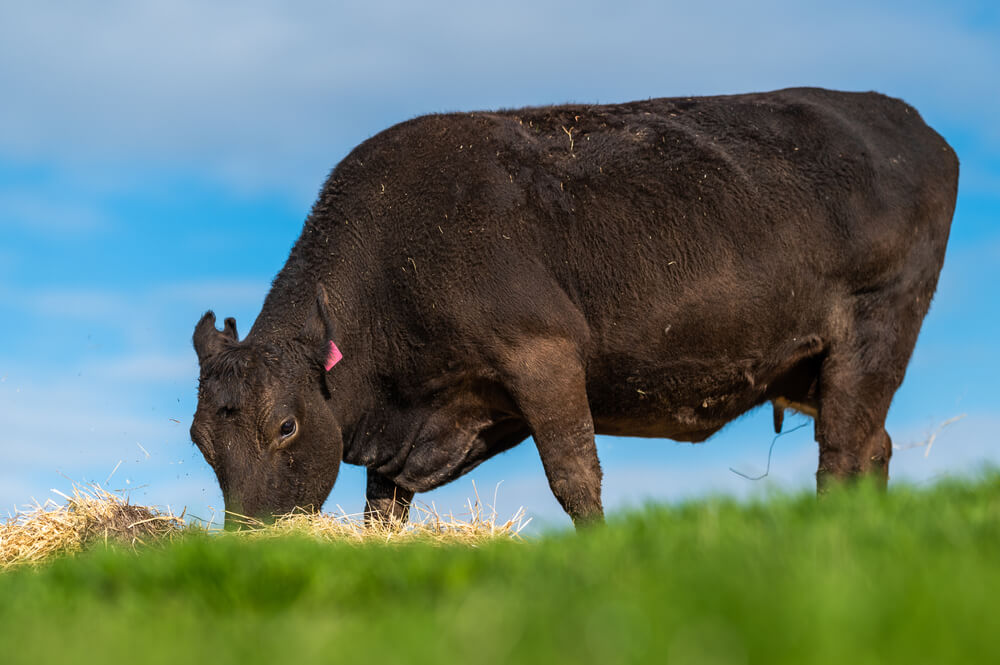 Japanese Poll is the smallest number of breeding in Japan. Main rearing area is Yamaguchi Prefecture.
It has no poll and looks more black than Japanese Black.
Red meat portion is more than fat, compared to others.
When marbled meat boom came, the breeding number was decreased.
Now, it comes back into the limelight because healthy red meat grows in popularity.
On the contract to marbled beef of Japanese Black with delicate taste, Japanese Poll makes us feel we eat meat.
Because its red meat is rich than others.
Japanese Shorthorn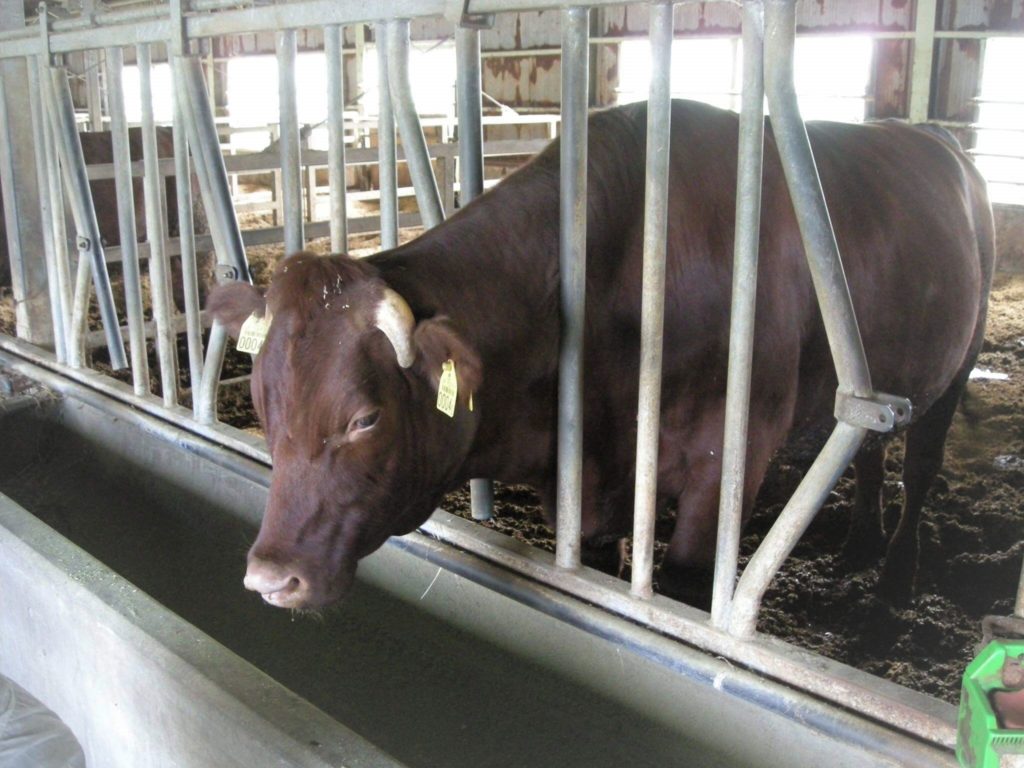 Japanese Shorthorn is the third number of breeding in Japan.
It is strong for cold, so mainly bred in Tohoku region and Hokkaido.
Japanese Shorthorn is reared by grazing, comparing to Japanese Black growing in cattle barn for a long time.
So it has healthy and a little firm red meat.
The beef draw attention to foreigners because it is grown without any restriction.
Breeding method to care for cattle is greatly popular to health-conscious people.
What feature do delicious Japanese wagyu beef have?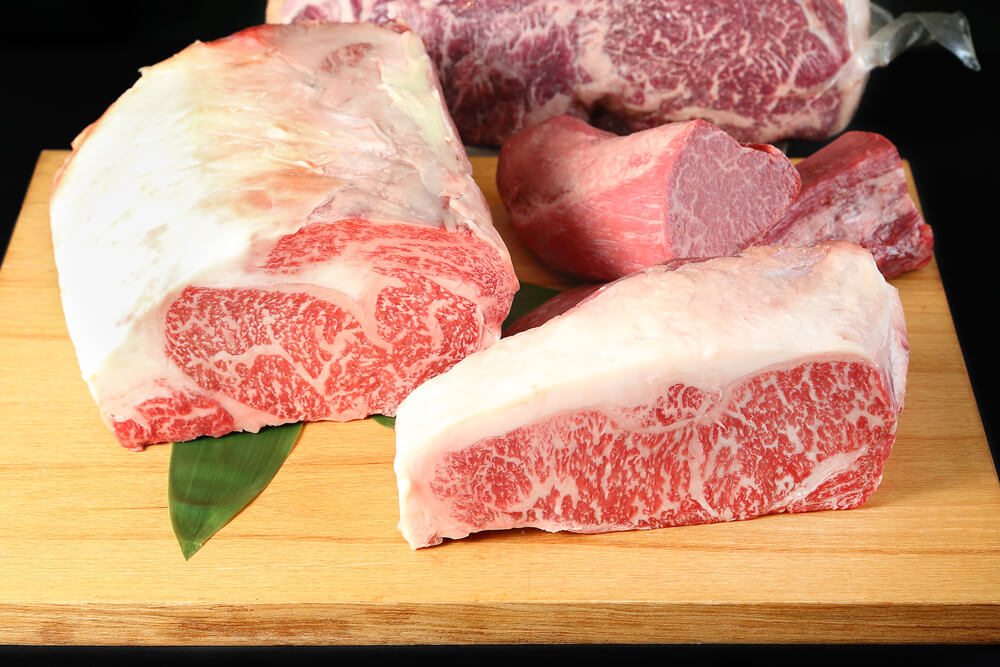 The secret of delicious Japanese wagyu beef is fat finely inserted into red meat in good balance.
The fat meat is so delicate that it can melt by body temperature.
When you take it in your mouth, its good flavor spreads in your mouth.
Besides, red meat is juicy. It goes well with fat.
Depending on the amount of fat in red meat, it is decided whether the Japanese wagyu beaf is good or not.
How to select delicious Japanese wagyu beaf
If you buy and cook Japanese wagyu beaf by yourself, all that matters is to select great one.
So, we introduce some tips to get good wagyu beef.
Parts
The tenderest parts of meat is chuck eye roll, spencer roll, sir-loin and tenderloin.
Except these parts, it is firm because of muscles.
Depending on what you cook, tender parts are good for steak and sukiyaki (Japanese hot pot with beaf and vegetables).
Color
Japanese wagyu beaf's color is different depending on sex, type and parts.
One thing I can say for sure is to select clear red colored meat.
Brown or dark colored meat is not fresh.
Fat
Red meat delicately marbled with fat. When you eat it, it will melt in your mouth.
Do not select not marbled beaf or only red meat (I think the meat is impossible).
Tasty fat is shiny, delicate and milky white color.
The history of Japanese wagyu beef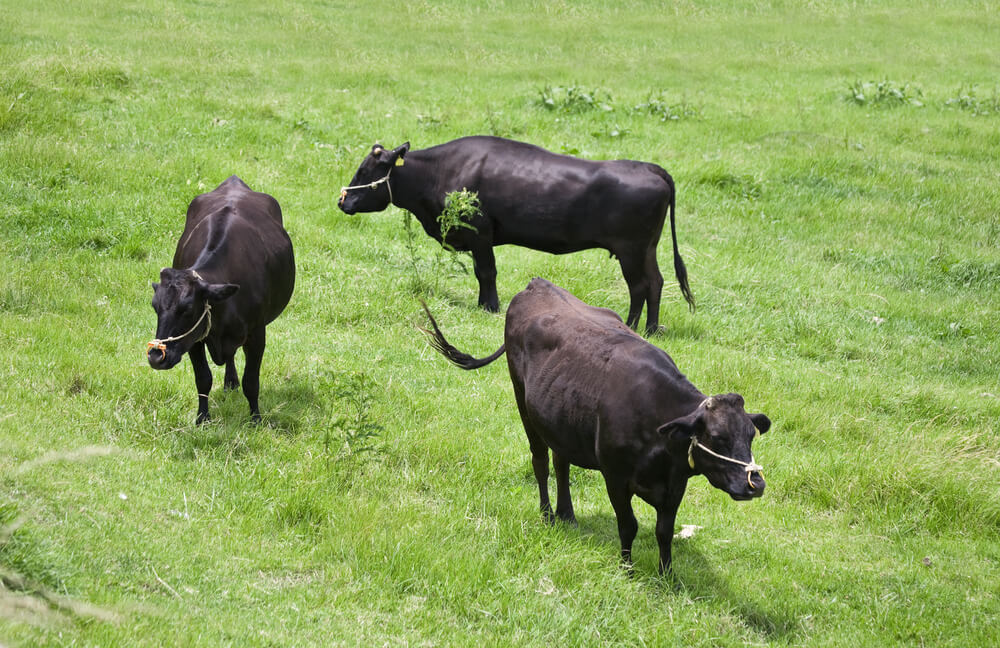 It is certain that beef had been eaten since Jomon period.
Spread Buddhism, beef was not used for ingredient because it forbade to kill any creatures.
However, when Christianity was accepted and foreigners came to Japan in Meiji period, the demand for beef was increased.
So even common people became to eat beef.
After that, Japanese beef has mated and improved.
In 1937, Japanese black was born.
This is the origin of Japanese wagyu beef.
Popular brand beef
We introduce, especially, famous and delicious brand beef among Japanese wagyu beef.
Brand beef is not a type of cattle. It is the name of beef.
Kobe beef
Kobe beef is one of three Japanese wagyu beef.
It is Japanese black of Tajima beef meets a certain criteria, which is produced in Hyogo Prefecture.
The feature of Kobe beef is the meat quality highly refined and marbled, which is called "sashi."
You will be moved by the sweet and melt-in-your-mouth fat .
Ohmi beef
Ohmi beef has 400 years history. It is cattle meets the criteria and is bred in Shiga Prefecture.
It is also called as one of three Japanese wagyu beef. (sometimes, Yonezawa beef is replaced).
Compared to other Japanese black grown in limited area, Ohmi beef is bred in the whole Shiga Prefecture.
So it is easy to buy it at reasonable price regardless of good quality.
Tajima beef
Tajima beef is thought as the root of three Japanese wagyu beef. It is bred in Hyogo.
It is the origin of brand beef. The meat quality is refined.
And it has excellent balance between red meat and strong sweet fat.
Melt-in-your-mouth quality is particularly noteworthy.
Its taste will be better after letting it rest.
This is suitable for any dish such as steak and sukiyaki.
Maezawa beef
Maezawa beef is Japanese black fattened in Maezawa area in Iwate Prefecture.
Marbled beef has sweet flavor and juicy red meat.
The original meat is so good that it has moderate amount of fat and red meat with moist texture, but hamburg made from the beef is also a masterpiece.
Maezawa area has a famous dish using Maezawa beef, called "Maezawa beef nigiri."
It's a kind of sushi that Maezawa beef is on a rice.
Matsuzaka beef
Matsuzaka beef is a Japanese black reared in and nearby Matsuzaka city in Mie Prefecture.
It is the beef fulfilling the requirement.
It is one of three Japanese wagyu beef.
Many people think that Japanese wagyu beef is equal to Matsuzaka beef.
It has such a refined marbled beef that it is called as "meat masterpiece."
We enjoy strong taste of fat and rich taste of red meat.
Hida beef
Hida beef is bred in Hida region in Gifu Prefecture. It is Japanese black meeting the criteria.
It has been awarded twice in Japanese wagyu beef show called wagyu olympic.
It is marbled such that fat is delicately inserted into the red meat.
Its fat is refreshing. You can taste the flavor of red meat. It has an excellent balance.
Sendai beef
Sendai beef comes from Miyagi Prefecture. This is the finest meat of Japanese black.
Miyagi Prefecture's speciality is rice.
Sendai beef is grown and fed with good rice.
So, good marbled beef is tasteful and mellow. It is more juicy than others.
When you eat it, your mouth is filled with its flavor.
Yonezawa beef
Yonezawa beef is Japanese black fulfills certain conditions. It is bred in Yamagata Prefecture.
It is one of three Japanese wagyu beef (sometimes Ohmi beef is replaced).
Taking a long time to grow up, fat is delicately inserted into red meat. The red meat became tasteful.
The fat is so delicate. You feel as if it melted in your mouth.
As cattle feed rice, they have no distinct beef smell. The beef goes well with any dish.
Saga beef
Saga beef is a cattle bred by livestock farmers joined in Japan Agriculture Cooperatives Saga.
Its quality is highly recognized in Japanese black.
Its feature is tender texture and marbled beef that the fat finely inserted into red meat.
Its fat flavor is strong.
So it is suitable for simple dish like steak, yakiniku (burned meat) and shabushabu (a dish paper-thin sliced beef is cooked in a hot-pot of boiling broth).
You can enjoy the its taste.
In Saga, the beef is used for local food, "gyusoboroni," which is a dish simmered minced Saga beef with spicy-sweet sauce.
Miyazaki beef
Miyazaki beef is Japanese black bred in Miyazawa Prefecture. The beef satisfies the condition.
Its feature is moderate firm texture, well-marbled meat and rich flavor.
Miyazaki beef is tasteful and rich scent. So it is good for steak and sukiyaki.
Popular in other countries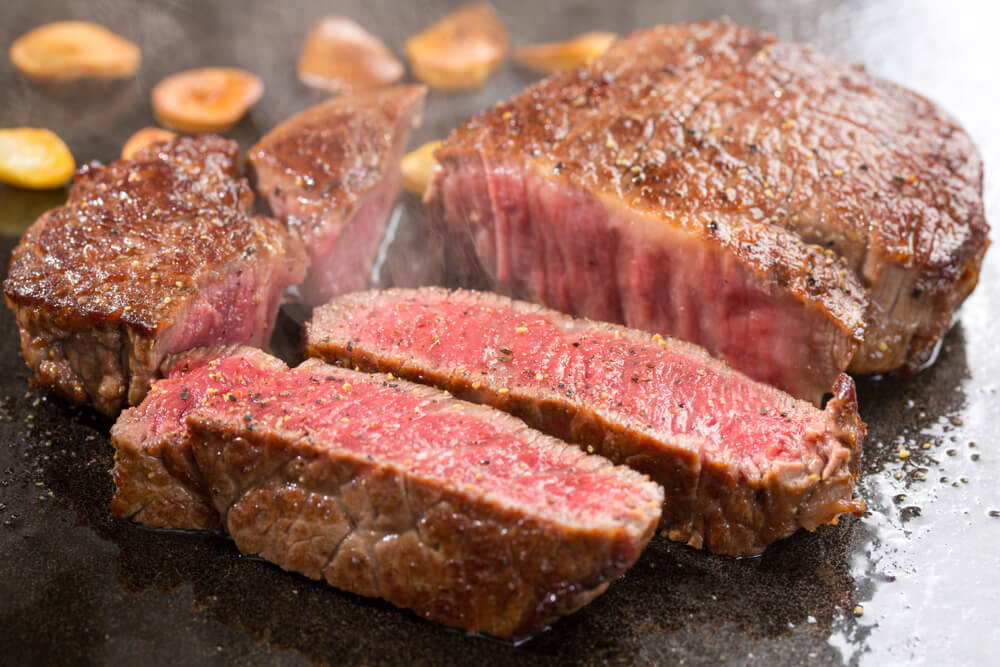 In Foreign countries, beef has basically larger portion of red meat than wagyu beef.
So people all over the world is impressed with the taste of marbled meat. The meat becomes popular.
Especially, Kobe beef is such a famous beef that it was registered as one of the nine most expensive foods in the world in 2009.
And Kobe beef becomes its nick name, because it is called "kobegyu" in Japanese.
In Japan, there are various brand beef that can't find in foreign countries.
So we hope you eat several types of brand beef at restaurants.
Summary
If you would like to eat delicious dish in Japan, there is no option except Japanese wagyu beef.
You must be surprised at an excellent balance between red meat and fat.
You will enjoy melt-in-your-mouth smoothness which other meat don't have.
If you go to the area famous for brand beef, you will make better memories.